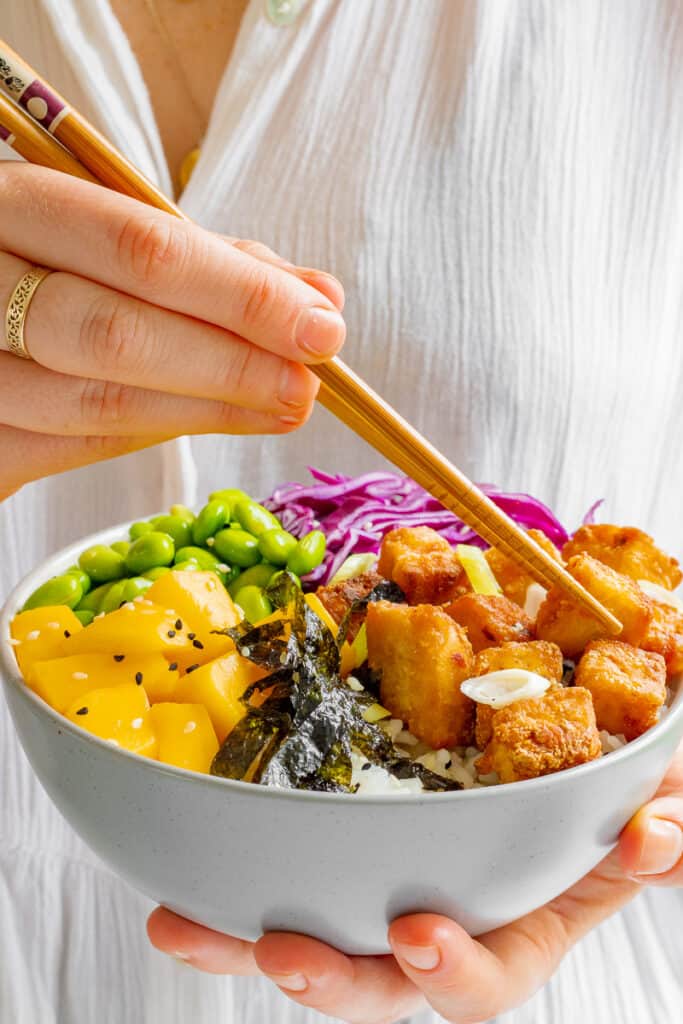 Has a dish ever screamed 'EAT ME' more than this chilli tofu poke bowl?
I think not.
Fluffy white rice laced with crispy tofu, sweet ripe mango, vibrant red cabbage, delicate edamame and a punchy ginger-chilli dressing. It's the ultimate meat-free poke bowl!
WHAT IS A POKE BOWL?
Build-your-own poke shops are popping up all over the place and every hip London cafe has one on their menu. But what is it?!
'Poke' (pronounced POH-keh) means to cut or slice in Hawaiian. It refers to the various colourful toppings arranged and served over rice. Traditionally, poke bowls are prepared with cubes of raw fish – usually tuna or salmon, vegetables, fruit and seaweed, all drizzled in a salty dressing. It's like sushi but in a bowl! I wanted to keep my recipe meat-free. This crispy ginger-chilli tofu poke bowl is completely plant-based. It gives you all the goodness of the original but is easy to make at home and far more affordable.
BUILDING THE PERFECT POKE BOWL
Rice. It all starts with the rice. White rice acts as a great neutral base and makes the toppings vibrant colours pop!
Dressing. A umami mixture of sweet and sour ginger, garlic and toasted sesame oil.
Peppery red cabbage.
Edamame beans.
Sweet juicy mango.
Tofu. This crispy tofu is marinated in chilli, ginger and soy. It's full of flavour, utterly moreish and so darn crunchy.
Toppings. Shredded sheets of nori and black & white sesame seeds take this poke bowl to the next level.
VARIATIONS
As with most of my recipes, this tofu poke bowl can be completely customised. Keep the dressing the same but feel free to play around with the toppings. The possibilities are endless!
Here are my suggestions:
Rice: White rice can be swapped for brown rice, Thai sticky rice (super delicious), wild rice or quinoa. For a lower-carb version, you could use cauliflower rice.
Veggies/fruit: A great rule of thumb is to use two types of veggie and one fruit per bowl. Avocado, radish, cucumber ribbons and/or shredded carrot are other great vegetable options. For fruit, why not try pineapple or orange?
Protein: If you don't want to use tofu, tempeh is another perfect vegan option. If you aren't a plant-based eater, you could also use raw fish (make sure it is top quality and as fresh as possible) or chicken marinated in the same way.
Toppings: Pickled vegetables, crispy onions, chilli flakes, sriracha, seaweed salad or sliced jalapenos would all help to make this chilli tofu poke bowl special.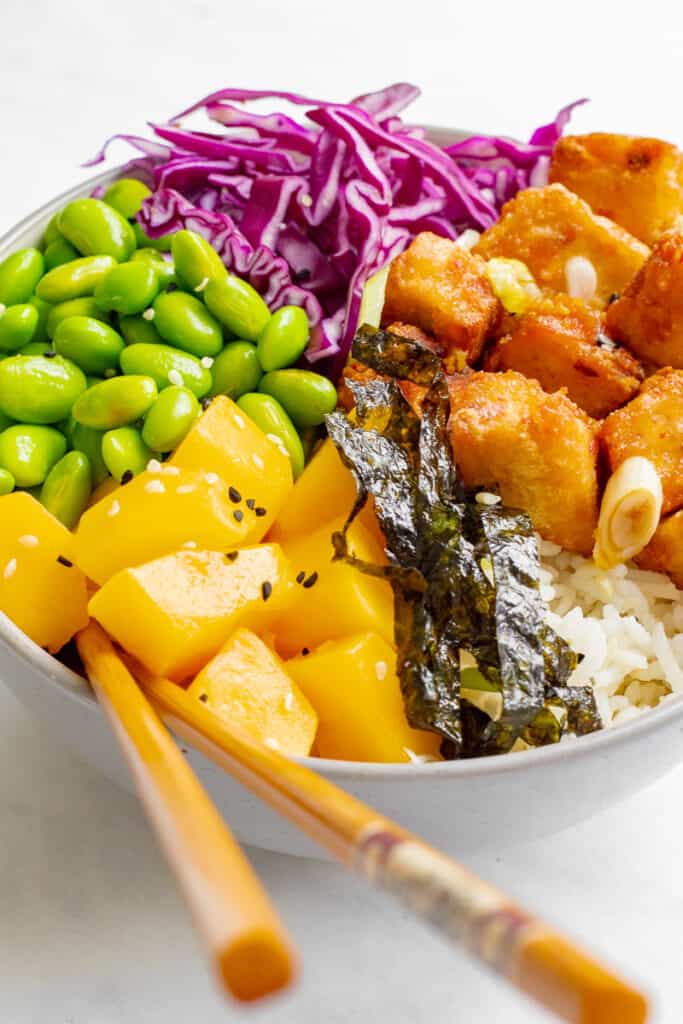 Poke bowls are trendy af and you know what, I'm not mad about it. They make a fantastic lunch, are fab for meal-prep and are as nutritious as they are delicious. You've got to try this recipe out. It's unreal.
If you make it, please let me know! You can tag me in photos on IG @georgieeatsuk, use the #georgieeats or leave me a comment down below. Keep smiling!
G x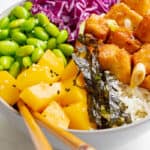 CHILLI TOFU & MANGO POKE BOWL
The ultimate meat-free poke bowl! Fluffy rice laced with crispy tofu, sweet ripe mango, vibrant red cabbage, delicate edamame and a punchy ginger-chilli dressing. Vegan, GF & healthy.
Ingredients
1

280g pack

extra firm tofu

1

tbsp

freshly grated ginger

2

tbsp

soy sauce

1

tsp

chilli flakes

300

g (2 cups)

rice

1

tbsp

cornflour

2

tbsp

olive oil

1

mango

diced

¼

red cabbage

shredded

250

g (1 cup)

edamame beans

Sea salt & freshly ground black pepper
For The Sauce
1

clove

garlic

minced

1

tbsp

freshly grated ginger

3

tbsp

soy sauce

1

tbsp

honey/maple syrup

1

tbsp

toasted sesame oil

1

tbsp

apple cider vinegar
To Serve (optional)
4

sheets

nori

Sesame seeds
Instructions
Drain the tofu, then use a tea towel to press down on it several times to remove any excess moisture. Cut the tofu into bite-size cubes and press down on them again until no visible moisture is left on the surface.

Mix together the ginger, soy sauce and chilli flakes in a large bowl. Add the cubes of tofu and mix to combine. Cover and let it marinate for 15 minutes.

Meanwhile, put the rice on to cook according to the packet instructions. Drain and set aside.

Pour the cornflour out onto a plate and season with salt and pepper. Roll and coat each cube of tofu in the cornflour mixture, then shake off any excess.

Heat the oil in a large pan over a medium-high heat. Once hot, add the tofu pieces and fry for 2-3 minutes each side until golden and crispy. Transfer the tofu to a plate lined with kitchen roll to soak up any excess oil.

While the tofu is cooking, mix together all the ingredients for the sauce in a small bowl until combined. Cover and refrigerate until serving.

Divide the rice between bowls and spoon a few tbsp of sauce over each one. Arrange the tofu, mango, red cabbage and edamame beans on top and finish with the nori sheets and sesame seeds (if using). Serve with the remaining sauce drizzled over top.
Recipe Notes
For varitations and suggestions on this recipe, see within the post. 
All leftover components of this recipe will keep for up to 2 days refrigerated in seperate containers. The tofu will lose its crunch, but can be reheated in the oven to crisp it back up.
Vegan: Use maple syrup rather than honey.
Gluten-free: Use tamari or gluten-free soy sauce.
A few ingredient notes: 
It is important that you use extra firm tofu for this recipe. Other variants do not work as well!
Watch out for any added sugars, preservatives or E-numbers in your tamari or soy sauce.The ingredient list should be very short and simple.
Make sure your maple syrup is 100% maple syrup and not maple 'flavoured' syrup. You could also use honey if you prefer. If you can find it, try to use raw honey as it is less processed.
If you love tofu, why not try my crispy tofu hoisin stir-fry recipe out too?!