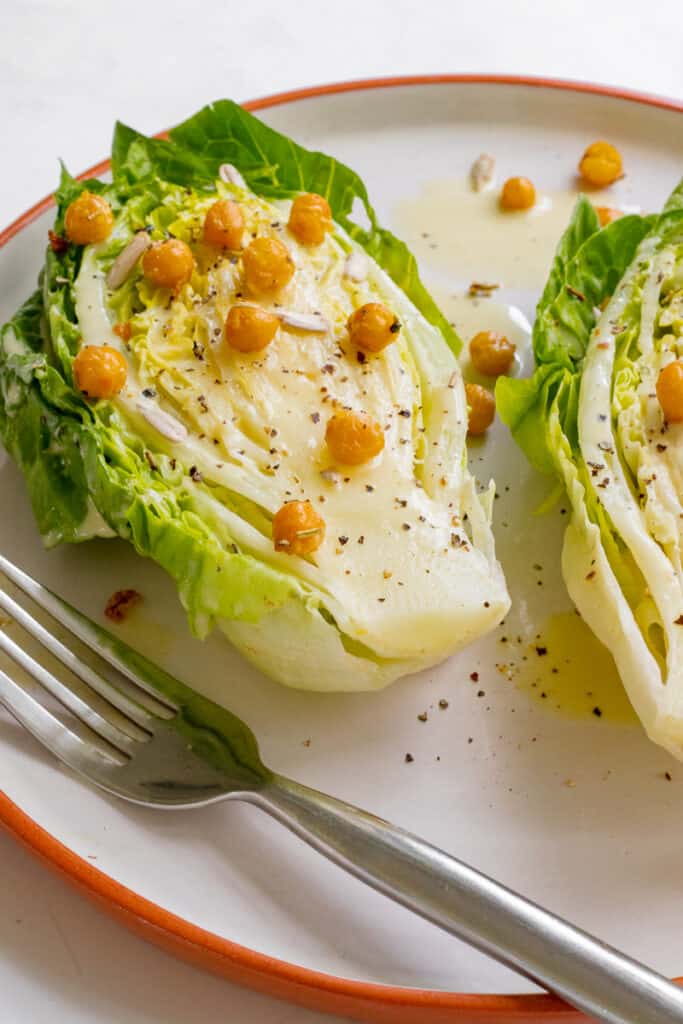 There are a million trillion Caesar salad recipes on the internet. And yes, although it's nothing new or imaginative, I still felt there was room for just one more. This vegan Caesar salad is a fresh, plant-based take on the classic recipe. Crisp little gem lettuce drizzled in a creamy Caesar dressing, topped with crunchy garlic & rosemary chickpea croutons and nutty sunflower seeds. It's the perfect crowd-pleasing dish that's packed full of nourishing ingredients. Everyone loves it! Vegan or not.
This vegan Caesar salad has 3 main components with an optional 4th:
Lettuce. Traditionally Caesar salad is made with romaine lettuce. Here, I have opted for little gem. Little gem is great if you want to serve this how I have done, in a rather aesthetically pleasing manner, as they are perfect plate size. However, if you would prefer a rustic bowl of salad, go for chopped cos or romaine.
Caesar dressing. The classic Caesar dressing is made with egg, anchovies, parmesan and lots of oil. I have lightened it up by using yoghurt as the base. It's the easiest and tastiest dressing going. Just whack the ingredients in a blender and whizz until smooth. Drizzle it on this vegan Caesar salad or use it as a ranch style dip for veggies. It's delicious.
Croutons. Arguably everyone's favourite part of a caesar salad, croutons are key. These garlic & rosemary crispy chickpeas give this recipe the crunch it so desires. Although, of course, there is nothing wrong with classic bread croutons, make these once and you'll be obsessed. Chickpeas never tasted so good.
Optional: An extra protein. If you are serving this vegan Ceasar salad as a main dish rather than a side, you may want to add some extra protein. Keep it traditional with a grilled chicken breast (obviously for the non-vegans), or serve it with crispy tempeh or tofu. The baked tofu from this recipe compliments it excellently.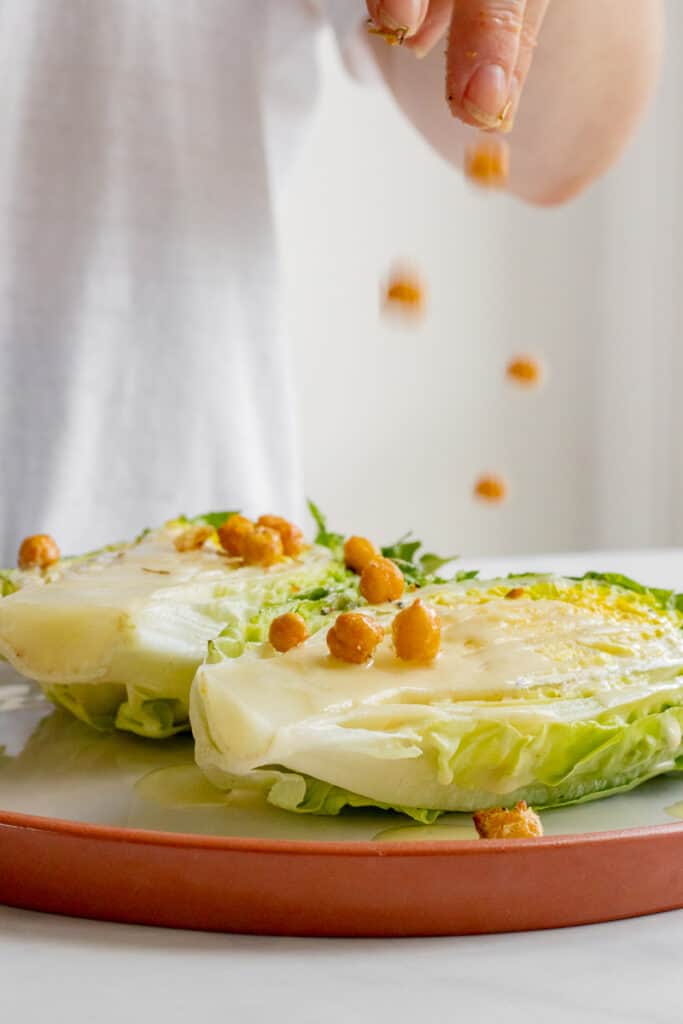 ALL HAIL THE CRISPY CHICKPEAS
Seriously, if you haven't tried making crispy chickpeas yet, you must. They are fab sprinkled over salads for an added crunch or just on their own as a quick snack. If you find yourself reaching for crisps or other salty afternoon pick me ups, maybe try these instead. They are uber easy to make and a great way to get in some extra fibre. Straight out the oven, they are hot and deliciously crunchy. As they start to cool, they become slightly chewy – equally as delicious.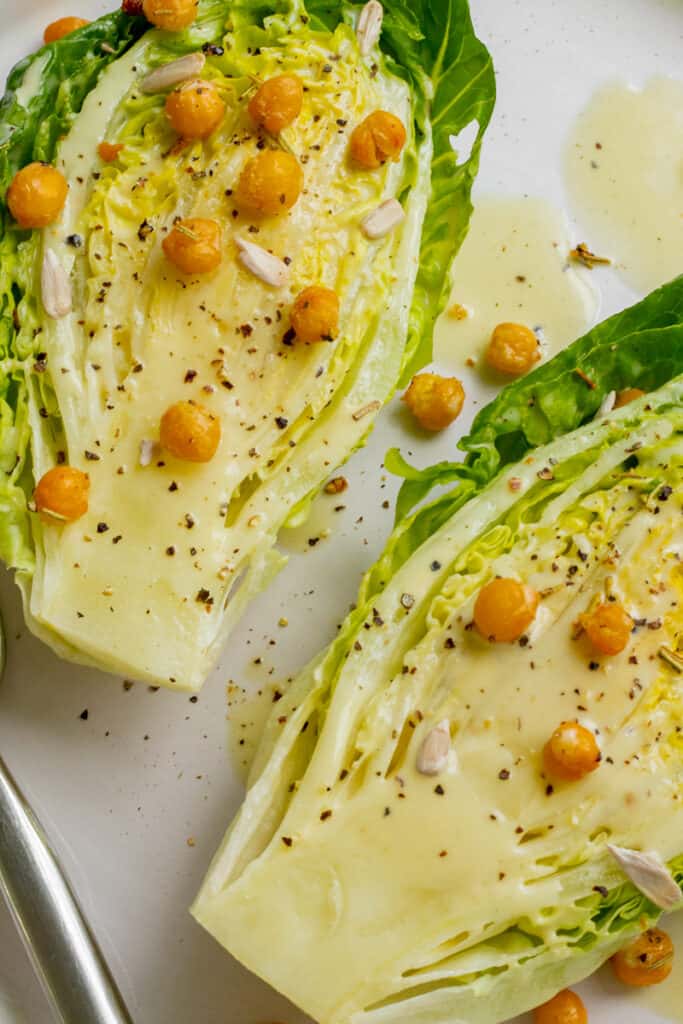 I hope you love this weeks recipe. This vegan Caesar salad is one for everyone to enjoy, whether you are plant-based or not. By no means do you need to serve it as fancily as I have done. It's rather nice and rustic just all chopped up and mixed together in a bowl too!
If you make it, please let me know! You can tag me in photos on IG @georgieeatsuk, use the #georgieeats or leave me a comment down below. Keep smiling!
G x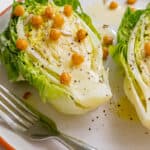 VEGAN CAESAR SALAD WITH CHICKPEA CROUTONS
Crisp little gem lettuce drizzled in a creamy Caesar dressing with crunchy garlic & rosemary chickpea croutons. A fresh, lighter and plant-based take on the traditional dish. Vegan, gluten-free & healthy.
Servings
4
as a starter, or 2 as a main course
Ingredients
4

little gem lettuce

halved

Sprinkle of sunflower seeds

A protein of choice*

Sea salt & freshly ground black pepper
For The Garlic & Rosemary Chickpea Croutons
1

400g can

chickpeas

1

tbsp

olive oil

1

tsp

garlic powder

1

tsp

dried rosemary
For The Caesar Dressing
125g

(½ cup)

dairy-free plain yoghurt

2

tbsp

olive oil

1

tsp

maple syrup

2

tbsp

lemon juice

2

cloves

garlic

2

tsp

capers

1

tbsp

dijon mustard

1

tbsp

nutritional yeast**
Instructions
Preheat the oven to 180°c fan/200°c/400°f.

Start with making the chickpea croutons. Drain and rinse the chickpeas, then use a clean tea towel to dry them thoroughly. Transfer them into a bowl along with the oil, garlic powder, dried rosemary and 1/2 tsp sea salt then mix to combine. Pour the chickpeas out into one single even layer on a lined baking tray and bake in the oven for 25-30 minutes, or until golden and crispy.

Meanwhile, Combine your dressing ingredients, along with a large pinch of salt & pepper in a blender and blitz until completely smooth. Taste and adjust seasoning.

To serve, arrange the little gem between plates and top with a generous drizzle of the Caesar dressing, a sprinkle of crispy chickpeas, sunflower seeds and your protein of choice*.
Recipe Notes
This vegan Caesar salad is best served immediately, although any left over dressing can be kept in the fridge for up to 3 days. 
*  This Ceasar salad is great as is as a side dish or appetizer. To serve as a main course I would recommend adding some extra protein. Grilled chicken breast (or vegan alternative), fried tempeh or crispy tofu all work well.
** Nutritional yeast is a powder often used in vegan dishes to give a cheesy flavour. You can find it in most supermarkets, but if you would prefer you can subsitute this with equal quantities of parmesan cheese (or dairy-free equivalent), or leave it out all together.
Looking for more simple salad recipes? Why not try this Spiced Carrot and Lentil Salad recipe too?!