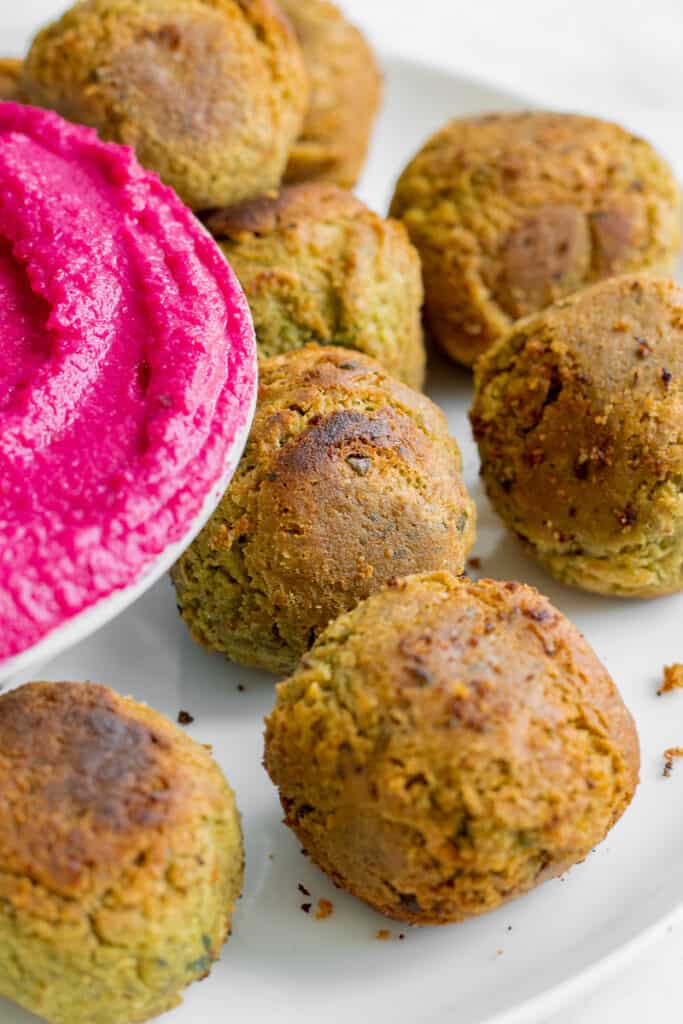 These 5 ingredient falafel will blow your mind. Crispy on the outside, fluffy in the middle, jam-packed full of flavour and ridiculously easy to make. It's the only falafel recipe you will ever need!
I've had my fair share of falafel. I've eaten them in countless restaurants; made them from scratch in the traditional way, soaking the dry chickpeas overnight; and also purchased many fresh/frozen packets from the supermarket. Unfortunately, I always seem to be disappointed. Dry, tasteless and just rather lacklustre… Then I made these 5 ingredient falafel. WHAT. Who knew falafel could taste this good.
They are made from just 5 simple, affordable ingredients:
Chickpeas (Sometimes known as garbanzo beans). They are packed full of protein & fibre and are the main ingredient in falafel. Traditionally falafel is made with dried chickpeas which are soaked overnight. For extra convenience and to save 10+ hours, these 5 ingredient falafel use canned chickpeas instead.
Garlic. For a punch of flavour.
Parsley. Fresh herbs add zing and make these falafels so delicious! You can substitute parsley for fresh coriander if you prefer, or use a mixture of both.
Cumin. To add spice and a taste of the Middle East.
Gram flour. A flour made from dried chickpeas. You can find it very inexpensively in the international aisles of supermarkets or online. It is important to give these 5 ingredient falafel the right texture.
You will also need sea salt, black pepper and olive oil for cooking. Yes, I haven't included them in the 5 ingredients – but I'm allowed a little creative license, right?
HOW TO SERVE 5 INGREDIENT FALAFEL
Serve them as in the pictures with beetroot hummus. (Recipe here! Use variation 'pink hummus'). It is the perfect dish to serve as part of a summer lunch spread.
Make a falafel wrap by stuffing a pita bread generously with the falafel, lots of salad and a drizzle of tahini sauce from this recipe.
You can make these 5 ingredient falafel balls into burgers instead! Shape the chickpea mixture into burger patties, freeze and cook as instructed until crispy. Serve in a toasted bun with hummus, roasted red peppers and slices of avocado.
Use your favourite salads, roasted veg and dressings to create colourful bowls. Top with these falafels and voila! You have lunch fit for a royal. Head over to my Instagram for lots of buddha bowl inspo!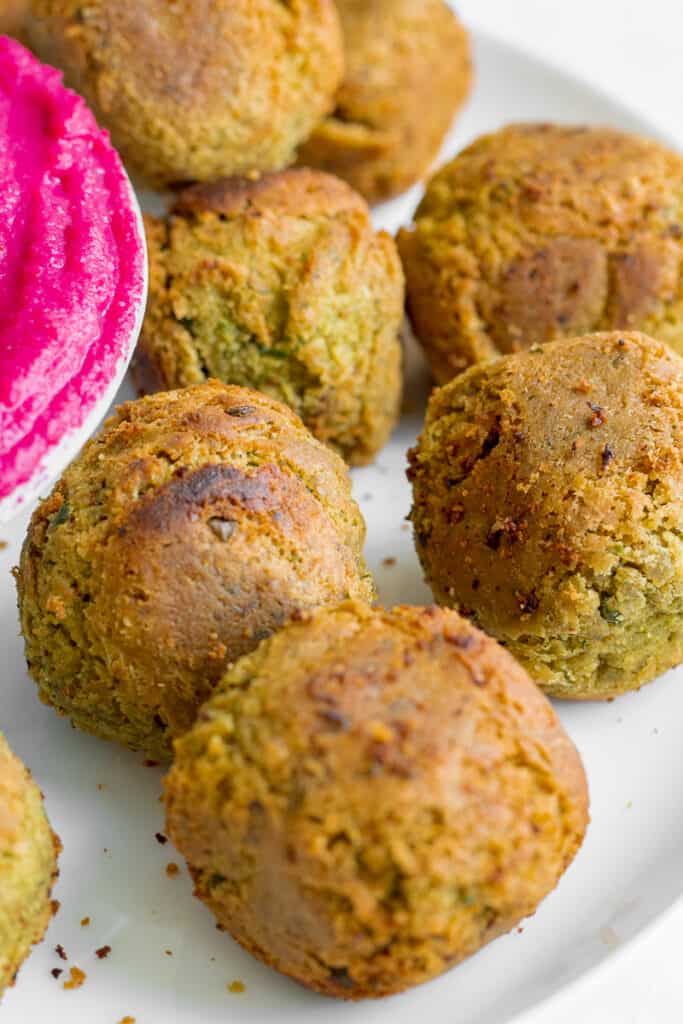 If you love falafel, you need to try this recipe! They are ideal for meal prep as you can make them in advance to keep in the freezer. Whenever you need them, just fry straight from frozen – no need to defrost. How very convenient.
If you make these 5 ingredient falafel, please let me know! You can tag me in photos on IG @georgieeatsuk, use the #georgieeats or leave me a comment down below. Keep smiling!
G x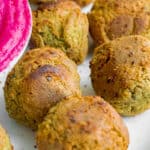 5 INGREDIENT FALAFEL
Crisp on the outside, soft in the middle and incredibly easy to make! With only 5 simple ingredients, this falafel recipe is the only one you'll ever need! Vegan, GF & healthy.
Total Time
1
hour
15
minutes
Ingredients
1

400g can

chickpeas

drained & rinsed

1

large clove

garlic

15

g (½ bunch)

fresh parsley

1

tsp

cumin

4

tbsp

gram flour

Sea salt & freshly ground black pepper

Olive oil

for frying
Instructions
Add the chickpeas into a food processor along with the garlic, parsley, cumin, 1 tsp sea salt and a generous few pinches of black pepper. Whizz into a chunky paste. To help it along here, you may need to stop once or twice to scrape down the sides of the processor.

Place the chickpea paste into a bowl and mix in the gram flour. Use your hands to roll the mixture into 10 small balls. Place the ball onto a plate and freeze for 1 hour until firm.

Heat a large frying pan over medium-high heat and add just enough oil to coat the bottom of the pan. Once the oil is hot, place the falafel into the pan and fry, turning regularly, until the whole surface is crispy and golden (around 10 minutes). Serve immediately.
Recipe Notes
For infomation on ingredients and ideas on how to serve these falafel, see within the post. 
To make ahead, roll the falafel into balls and place into a freezer safe container. Freeze for up to one month before cooking straight from frozen following the instructions in step 3.