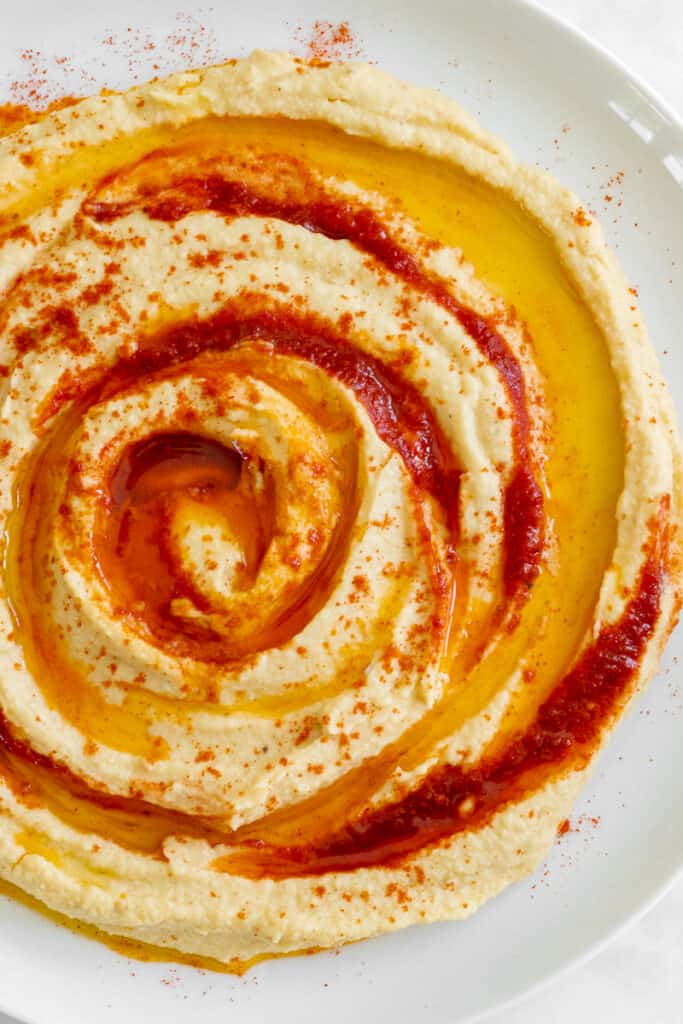 Here it is! The only recipe that matters: The best hummus ever.
I get through a batch of this hummus every week without fail. Whether it's with salad, pasta, pizza or on it's own with a spoon, I am yet to find a dish it doesn't make 100x better. The fact is, hummus is one of life's great joys, like the feeling of climbing into soft clean bedsheets or the smell of freshly cut grass. You can't deny it and you know I'm right – hummus is where the heart is.
HUMMUS TOP TIPS
I have become a slightly self proclaimed hummus snob connoisseur. No longer am I satisfied by any old supermarket tub. It's this hummus or no hummus in my opinion.
Making hummus is an art form – it needs passion, technique and love. Don't go about it willy nilly, this is serious stuff we are talking about here. To help you out, here are my 3 top tips for the best hummus ever:
Use fresh lemon juice. None of the plastic squeezy stuff please. Fresh lemon juice can't be compromised.
Good quality olive oil. Level up your hummus with the best extra virgin olive oil you can afford. I promise the difference is astounding.
Don't skimp on the salt. Use sea salt or Maldon salt and be generous. Don't worry if you think it looks like a lot, packaged hummus contains far more salt than you will be putting in yours.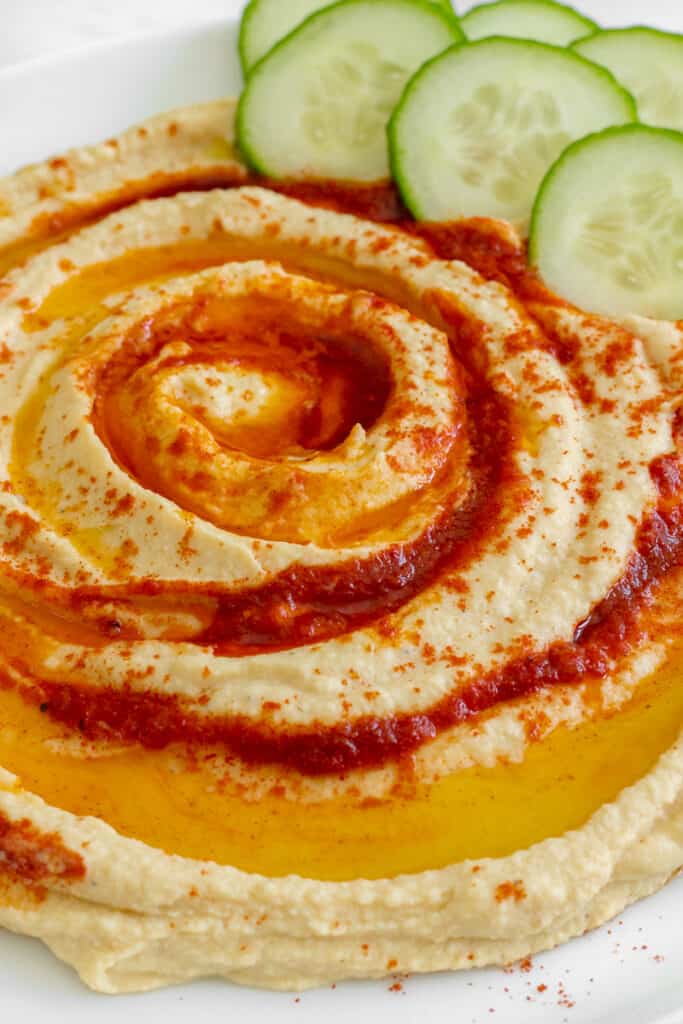 VARIATIONS
Personally I love this hummus as is, but if you feel like mixing it up, here are a few variations:
Sun-dried Tomato Hummus: Add a large handful of sun-dried tomatoes into the blender with a dash more water and blend until smooth.
Pink Hummus: Omit the water and throw 250g of beetroot (without vinegar) into the blender along with the other ingredients.
Peri-Peri Hummus: Swap the harissa topping for a generous drizzle of peri-peri sauce.
Roasted Garlic Hummus: Preheat the oven to 180ºc fan/200ºc/400ºf. Cut a cm or so off the bottom of a whole head of garlic so it can sit upright. Peel off the outer layer of skin and place on a sheet of foil. Drizzle the garlic with a little oil and wrap up the foil to make a parcel. Roast in the preheated oven for 40-45 minutes until soft. Allow the garlic to cool a little, then use your fingers to squeeze the roasted garlic out of each clove into the blender along with the remaining ingredients and blend until smooth.
Butterbean hummus: Run out of chickpeas? No problem. Try the same recipe using a tin of butterbeans instead. It's a fresh take on a classic.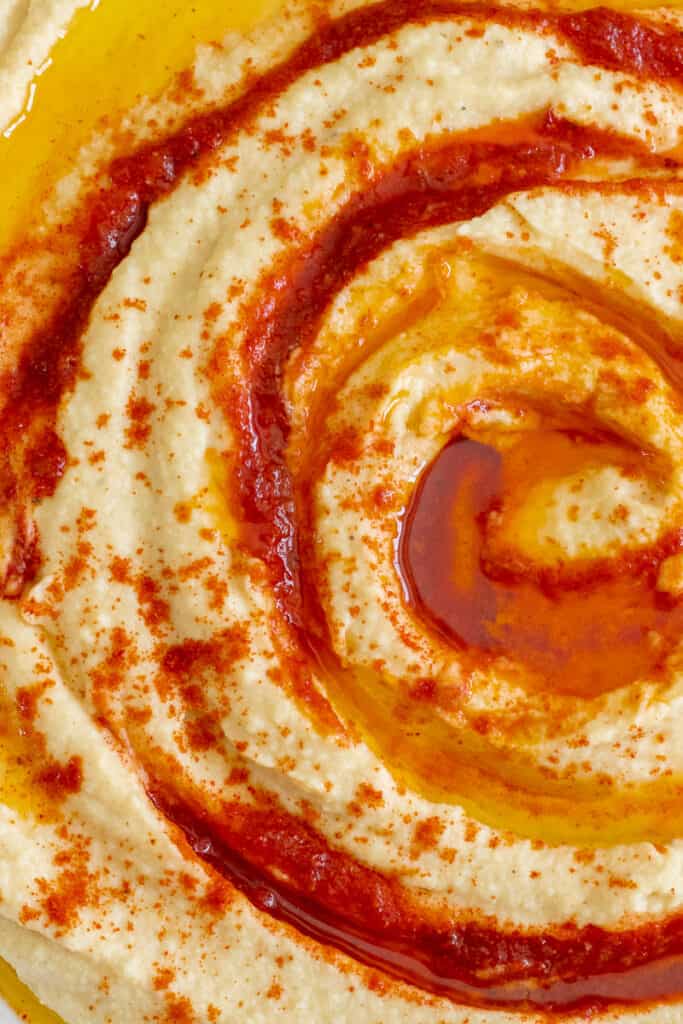 So just incase you weren't quite clear – I love hummus. If you are as passionate on the subject as I am, then be sure to try out the best hummus ever. You'll never look back.
If you do make it, please let me know by tagging me in a picture on insta @georgieeatsuk, using the #georgieeats or leaving me a comment down below. Keep smiling!
G x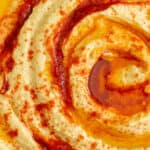 THE BEST HUMMUS EVER
The only hummus recipe you'll ever need. Creamy, silky smooth and with a touch of spice. You will never look at a tub in the same way again! Easy to make, vegan, GF & healthy.
Ingredients
1 400

g

can chickpeas

drained & rinsed

1

large

clove garlic

peeled

1

heaped tbsp

tahini

½

tsp

cumin

Juice ½

lemon

2-3

tbsp

olive oil

Sea salt & freshly ground black pepper
Instructions
Add all the ingredients into a food processor along with 1tsp of sea salt and a big pinch of black pepper. Blend until smooth, adding a little more olive oil if needed.

Taste and adjust the seasoning. You may need more lemon, cumin or salt and pepper here. Add small amounts at a time, blending in between until your hummus is perfect.

Transfer the hummus into a bowl/airtight container and swirl the harissa on top. Serve chilled.
Recipe Notes
This hummus will keep for up to 4 days in an airtight container in the fridge.
For variations and tips on this recipe, see within the post.
A few ingredient notes: 
Canned chickpeas are great here as they are affordable and readily available. For extra special silky hummus, try using jarred chickpeas. 
When buying tahini have a look at the label to make sure it is 100% sesame with no added oils or preservatives. I personally buy this one.
Use an extra virgin olive oil rather than just olive oil – it makes all the difference!
Hummus not for you? Why not try out some of my other dips & sauces recipes! Healthy BBQ sauce is a particular favourite.