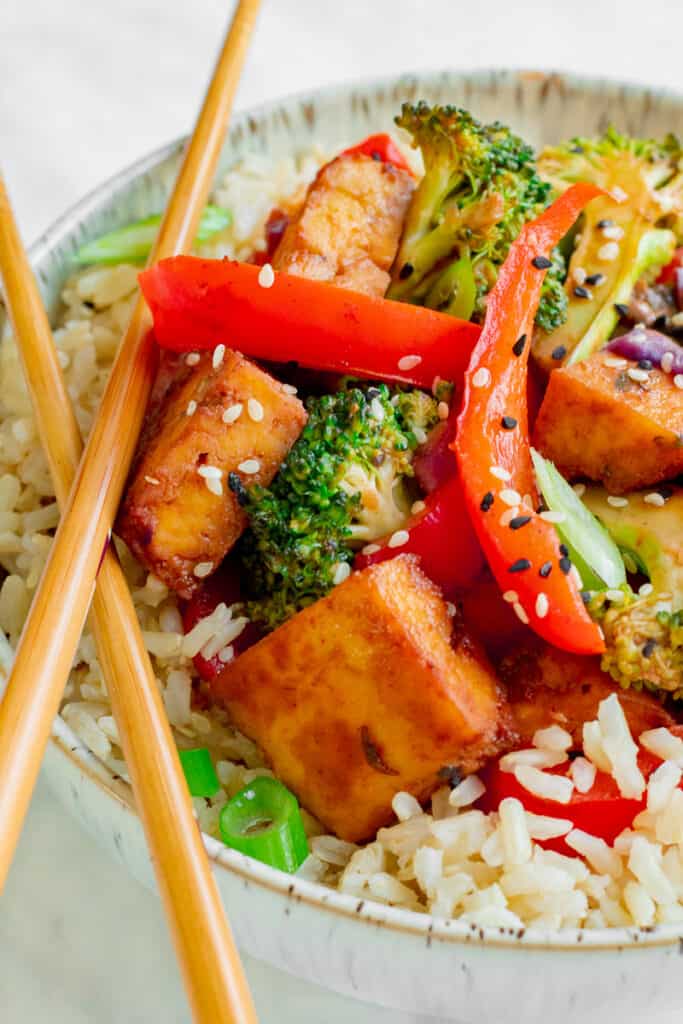 I LOVE a good stir-fry and this crispy tofu hoisin stir-fry is as good as they get. Fresh vibrant veggies and crispy baked tofu in a sweet sticky hoisin sauce atop of bed of nutty brown rice. It's comforting, counts as 4 of your 5-a-day and is sure to become a weekday dinner favourite.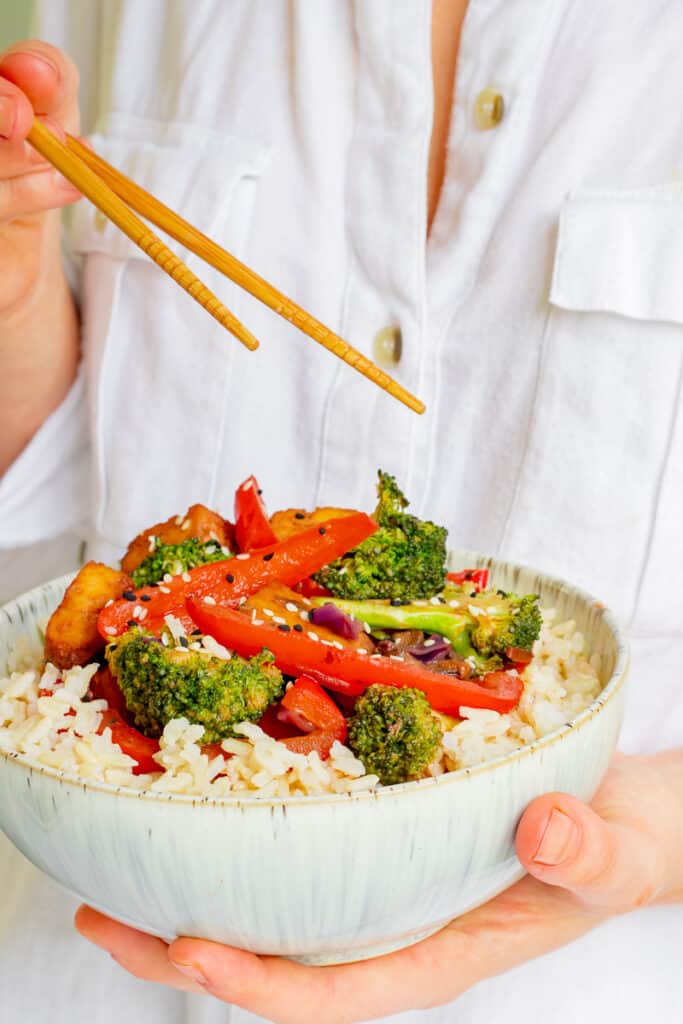 Tofu has never been a favourite of mine. I have always found it desperately bland and it's texture just rather bizarre. Whilst food shopping a few weeks ago, a pack caught my eye and somehow made it into my basket. I thought, challenge accepted! Let's see if I can get tofu to taste good…
It turns out, I CAN.
The trick is to dry it out in the oven. When baked, the tofu becomes crisp on the outside and chewy in the middle. There are a variety of different tofus out there, but I've found extra-firm tofu works the best in this recipe. Try it and you won't look at tofu the same way again.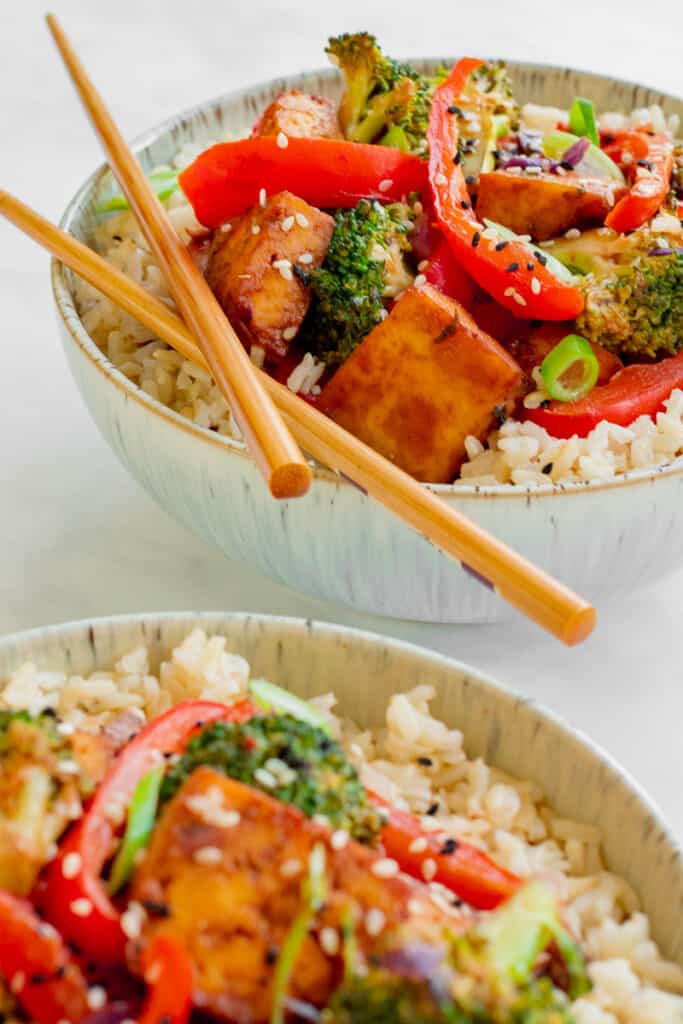 MAKE THIS CRISPY TOFU HOISIN STIR-FRY YOUR OWN!
I've written this crispy hoisin tofu stir-fry recipe with a combination of my favourite stir-fry vegetables as a suggestion. The beauty of a stir-fry is that you can use whatever you may have in the fridge. Here are a few more ideas if you feel like mixing it up:
mangetout/sugar snap peas
pak choi
baby corn
courgette
carrot (use a speed peeler to slice into ribbons)
green beans
3 TIPS TO STIR-FRY SUCCESS
Keep it hot hot hot. If your pan is too cool, the veggies will sweat rather than fry. You need to get your wok/frying pan to at least a medium-high heat. If you are confident, a high/the highest heat is even better. When you add the oil it should shimmer in the pan. If it doesn't – make it hotter!
Be prepared. They say success is in the preparation, and this crispy tofu hoisin stir-fry is no different. Have everything prepared and ready to go; when you start the stir-fry, you want no distractions. Think of stir-frying like a high-maintenance boyfriend. It requires your full attention, at all times.
Don't be scared! There will be smoke, there will be steam and there will be a lot of sizzling. Don't be afraid! Just use a long pair of tongs and keep everything moving constantly to avoid any burning.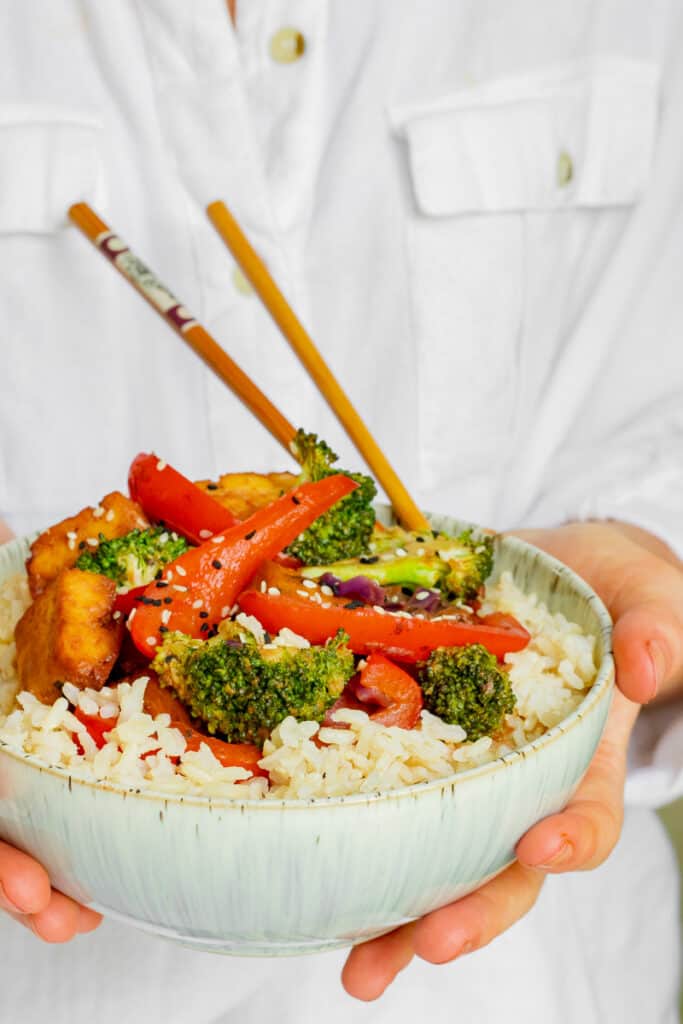 I hope you love this crispy tofu hoisin stir-fry recipe. It's a fabulous weeknight dinner with leftovers making a perfect lunch the next day. If you make it, please let me know! You can tag me in photos on IG @georgieeatsuk, use the #georgieeats or leave me a comment down below. Keep smiling!
G x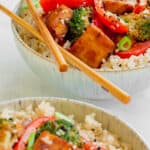 CRISPY TOFU HOISIN STIR-FRY
Fresh vibrant veggies and crispy baked tofu in a sweet sticky hoisin sauce all atop of bed of nutty brown rice. Vegan, GF & Healthy.
Ingredients
280

g pack

extra firm tofu

3

tbsp

rapeseed oil

1

tbsp

tamari/soy sauce

300

g (1 ½ cups)

brown rice

1

head broccoli

2

red peppers

¼

red cabbage

300

g

mushrooms

Sea salt & freshly ground black pepper
Sauce
3

dates

stones removed

1

garlic clove

1

tbsp

apple cider vinegar

1

tbsp

tomato purée

2

tbsp

tamari/soy sauce

1

tsp

Chinese five-spice

1

tbsp

peanut butter
To Serve
4

spring onions

sliced

sesame seeds
Instructions
Preheat the oven 180°c fan/200°c/400°f.

Drain the tofu, then use a tea towel to press down on it several times to remove any excess moisture. Cut the tofu into bite-size cubes and press down on them again with the towel until no visible moisture is left on the surface.

Add the tofu cubes into a bowl along with 1 tbsp of oil and 1 tbsp of tamari/soy sauce. Give it a mix to coat the tofu, then pour everything out onto a lined baking tray, making sure the pieces of tofu are evenly spaced. Bake in the oven for 25-30 minutes until golden and crispy.

Put your brown rice on to cook according to the packets instructions.

To make the sauce, whizz all the ingredients together in a blender along with 6 tbsp of water and 1 tsp of sea salt until smooth. The sauce should be pourable – if it is too thick add another 1-2 tbsp of water and blitz again.

Chop the broccoli into small florets, slice the peppers, shred the red cabbage and halve or quarter the mushrooms so that everything is roughly the same size.

Heat a wok/large frying pan over a high heat. Add the oil and once hot, add the broccoli. Fry for 3 minutes to give it a head start, then add the rest of the vegetables. The pan may look very full, but the vegetables will shrink whilst cooking. Stir constantly until the vegetables are vibrant and cooked through. Season with lots of black pepper, then stir through the sauce. Quickly mix in the crispy tofu and remove from the heat.

Spoon the rice into bowls and ladle the stir-fry generously overtop. Finish with the spring onion and a sprinkling of sesame seeds. Serve immediately.
Recipe Notes
Any left over stir-fry can be kept in the fridge for up to 3 days. Reheat in the oven until piping hot.
For variations or suggestions on this recipe, see within the post. 
It is important that you use extra firm tofu for this recipe. Other variants do not work as well!
Gluten-free: Use tamari or gluten-free soy sauce.
A few ingredient notes:
Looking for more weeknight dinner inspo? Try my samosa wraps!