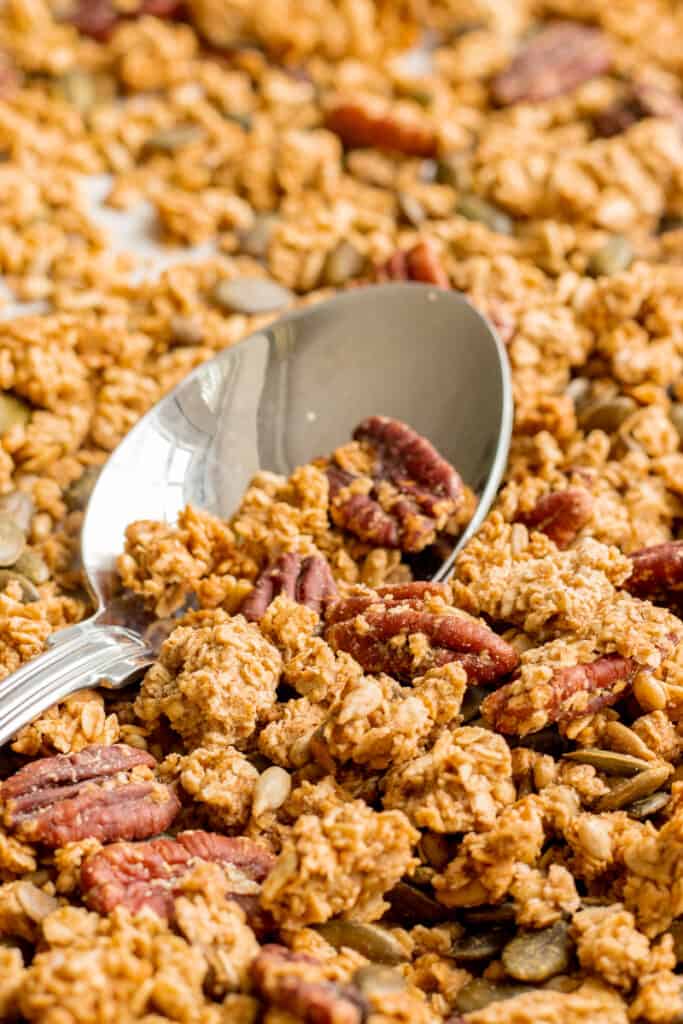 *WARNING* This maple sea salt granola is highly addictive.
Enjoy at your own risk…
Shop brought granola never seems to quite hit the spot. I always find it overpriced, packed with sugar or just a little 'meh'. Trust me, I have tried them all. As a (self-proclaimed) granola connoisseur, I feel I am rightly qualified to state: This maple sea salt granola is the best granola in the world. Salty-sweet clusters of crunchy oaty goodness. It's nutritious, naturally sweetened and with only 8 ingredients, remarkably easy to make.
TIPS TO THE BEST GRANOLA EVER
It's all about the oats. Use old-fashioned rolled oats rather than quick-cook/porridge oats for this maple sea salt granola. They are a little more substantial and tend to create a better crunch.
Bind with oat flour. I don't know about you, but I like my granola to have clusters. The oat flour helps to bind the oats together, creating crunchy clusters aplenty. Make your own flour by blitzing the same quantity of oats in a high-speed food processor, or use a shop brought version – both work the same.
Keep it low and slow, baby. You will notice the oven temperature in this granola recipe is quite low. This allows the granola to dry out and crisp up evenly throughout the whole batch. Mix the granola twice within the cooking time, concentrating on turning the sides into the middle. Be gentle with it though! You don't want to break up the clusters too much.
Know when it's done. Granola can be deceiving… It hardens as it cools so can be difficult to tell when it really is ready. A good way to know if it's done or not is to remove a cluster from the centre of the tray and let it cool down quickly on the side. If it hardens up nicely and has a good crunch, it's time to take the rest out the oven.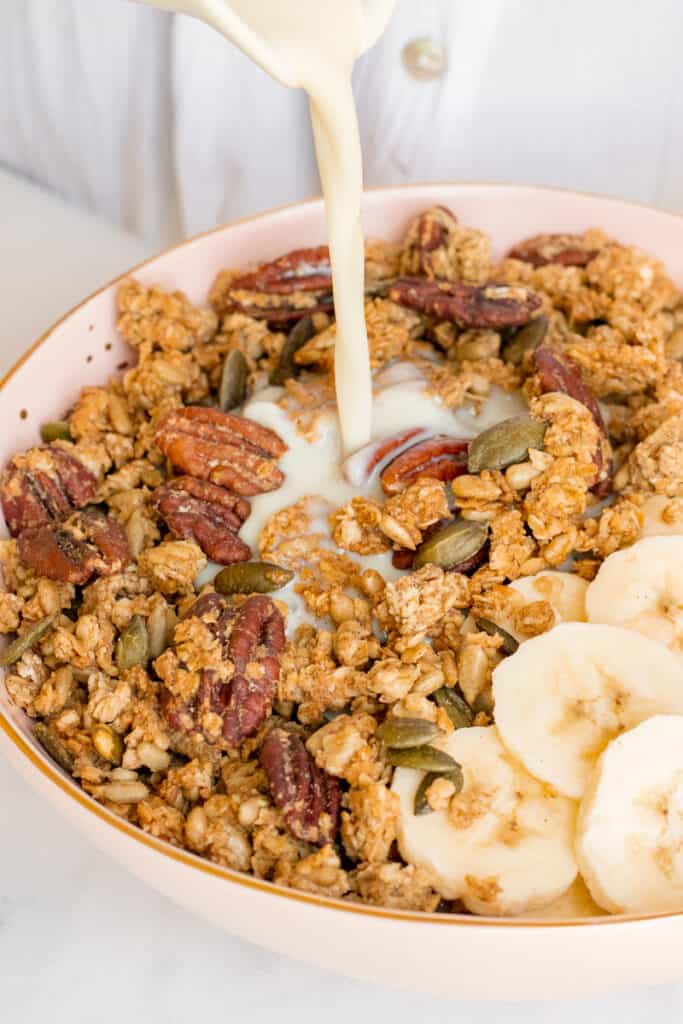 HOW TO ENJOY THIS MAPLE SEA SALT GRANOLA
You know, my favourite way to enjoy this granola is simply just with milk. It's so fabulous, it really doesn't require anything else. I do love to use it to jazz up other dishes though. Here are a few ideas:
With fruit and yoghurt. Elevate your morning breakfast bowl with a handful of this granola. It complements natural yoghurt and banana particularly well.
On toast. Add generous amounts over the top of your peanut butter toast for an added crunch. It's absurdly tasty.
The best easy snack. Dip slices of apple into almond butter (or another nut butter) and then into this granola. It's one of my favourites!
On its own. Let's be real, nine times out of ten, I am eating it straight from the jar.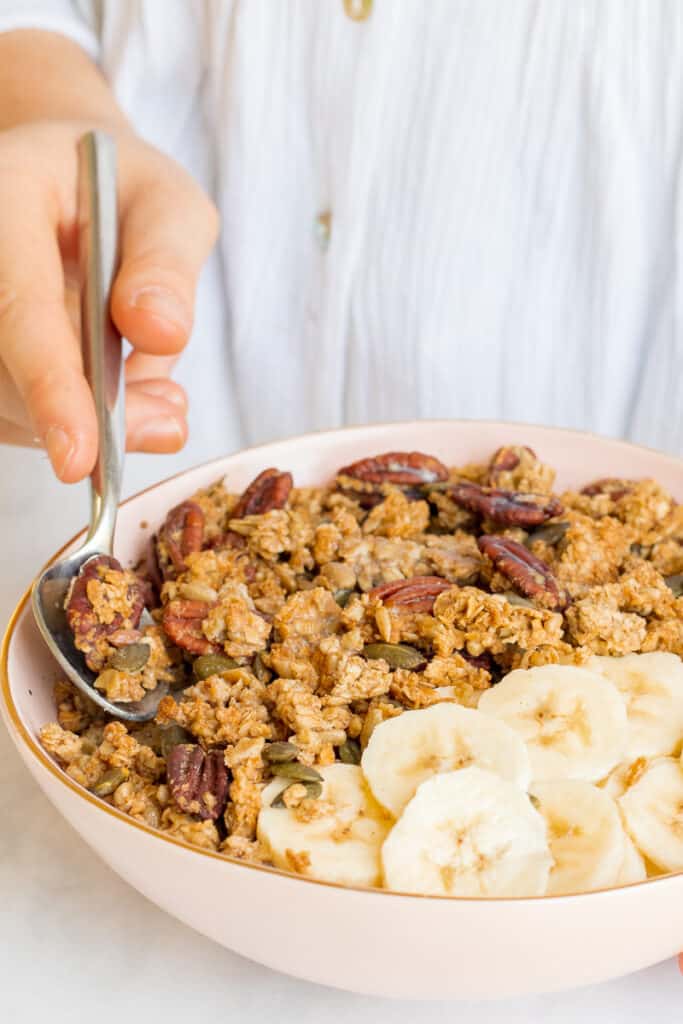 Please try this maple sea salt granola recipe and let me know what you think! You can tag me in photos on IG @georgieeatsuk, use the #georgieeats or leave me a comment down below. Keep smiling!
G x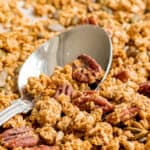 MAPLE SEA SALT GRANOLA WITH PECAN NUTS
Salty-sweet clusters of crunchy oaty goodness – it's the best granola in the world! Vegan, GF & healthy.
Ingredients
50

g (¼ cup)

coconut oil

150

g (½ cup)

maple syrup

40

g (¼ cup)

oat flour

175

g (2 cups)

rolled oats

150

g (1 cup)

mixed seeds

(I used pumpkin & sunflower seeds)

75

g (½ cup)

pecan nuts

1

tbsp

cinnamon

½

tsp

sea salt
Instructions
Preheat the oven to 150°c fan/170°c/340°f.

Add the coconut oil and maple syrup into a small saucepan and melt over a low heat until combined.

Mix together the oat flour, oats, seeds, nuts and cinnamon in a large bowl. Pour the maple mixture over the top and use a wooden spoon to combine. Pour the mixture onto a lined baking tray and spread into one even layer, compacting it down with the back of the spoon. Bake for 40-45 minutes, stirring twice throughout the cooking time (at around 20 minutes & 35 minutes in), until crispy and golden brown.

Remove from the oven and season with the sea salt. Give it a mix and allow it to cool completely before transferring to an airtight container to store.
Recipe Notes
For tips to make the best granola ever, see within the post. 
You can make your own oat flour by blitzing the same quanity of oats in a high-speed food processor. You can also use shop brought oat flour.
Gluten-free: Use gf certified oats & oat flour.
A few ingredient notes:
Love granola? Why not try my peanut butter granola recipe out too? Or for something a little different, give my savoury granola recipe a go!