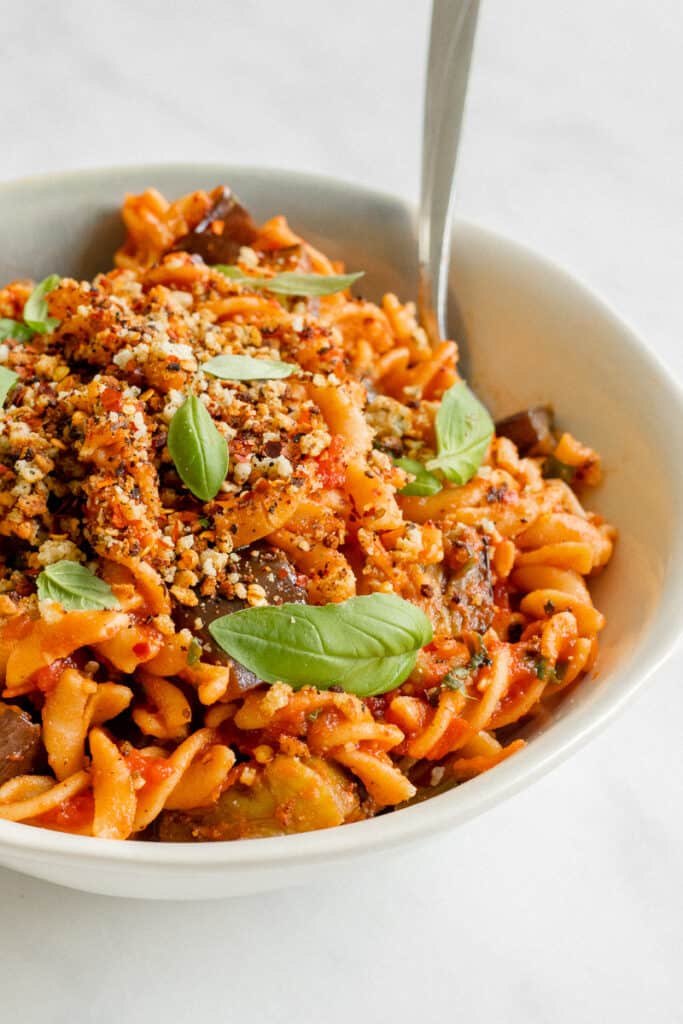 Pasta alla Norma is a Sicilian classic and one of my favourite simple suppers. Spirals of al dente pasta dressed in a rich tomato sauce, golden chunks of fried aubergine and fragrant basil, all adorned with a crunchy garlicky crumb. It's delicious, it's healthy and it's perfect for your dinner tonight.
Traditionally, Pasta alla Norma's served sprinkled with salty hard cheese such as parmesan or ricotta salata. Although I'm sure this is delicious, I wanted to create a vegan gluten-free version to be enjoyed by everyone.
I developed this almond crumb in a moment of genius. It's composed of just three simple ingredients: ground almonds, oregano and garlic powder. Mix them together with a dash of water and fry until golden to form delicate clusters of crunchy goodness. It's an excellent breadcrumb alternative and leftovers can be used to jazz up anything your heart desires. Why not try sprinkling it on salads, soups, or anything that craves a crunch?
WHICH PASTA SHOULD I USE?
Pasta gets a bad rep for being unhealthy, but it really doesn't have to be. I would always recommend using a wholegrain pasta over traditional white pasta for extra fibre and nutrients. My preference is either brown rice pasta or buckwheat pasta. Both are naturally gluten-free, readily available in supermarkets and have a lovely nutty flavour. A regular wholewheat pasta also works well if gluten isn't a problem for you!
Regularly I'm a penne pasta girl, but in this Pasta alla Norma recipe, fusilli works best. Fusilli clings to the aubergine studded sauce assuring plentiful flavour in every bite. For that reason, rotini works well also. Additionally, you can use the sauce to top a bowl of spaghetti; comfort food doesn't get much better than that.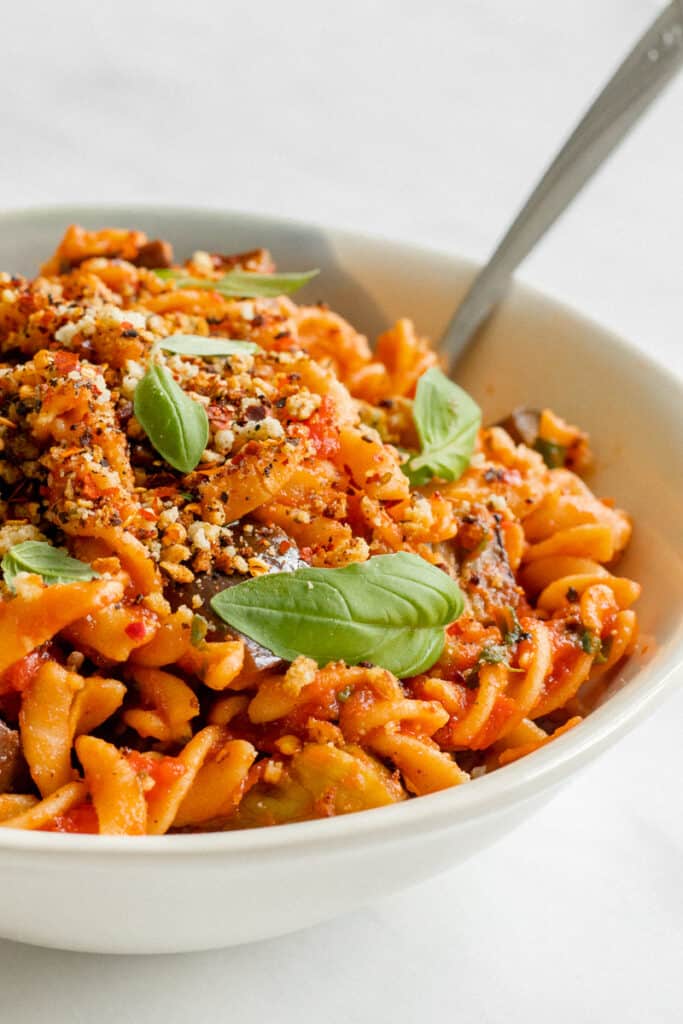 Please give this recipe a go and let me know what you think! You can tag me in photos on IG @georgieeatsuk, use the #georgieeats or leave me a comment down below. Keep smiling!
G x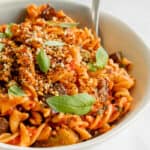 PASTA ALLA NORMA WITH GARLIC ALMOND CRUMB
A Sicilian classic with a modern twist! Rich tomato sauce, golden fried aubergine and fragrant basil dressing spirals of al dente pasta, topped with crunchy almond 'bread' crumbs. The perfect 30-minute dinner. Vegan, GF & healthy.
Ingredients
For The Pasta
3

tbsp

olive oil

1

large aubergine

diced into small chunks

3

cloves

garlic

minced

1

tsp

chilli flakes

1

400g can

chopped tomatoes

1

tbsp

white wine vinegar

150

g (1 + ½ cups)

dried pasta

15

g (1/2 bunch)

fresh basil

roughly chopped

Sea salt & freshly ground black pepper
For The Almond Crumb
50

g (1/2 cup)

ground almonds

1

tsp

oregano

½

tsp

garlic powder

Pinch

sea salt & freshly ground black pepper
Instructions
Heat 2 tbsp of oil in a large frying pan over a medium-high heat. Add the aubergine and fry, stirring frequently, for about 10-12 minutes or until soft and golden.

Add the remaining olive oil along with the garlic and chilli flakes. Fry for a minute to soften, then add the chopped tomatoes, vinegar, 1 tsp of sea salt and plenty of black pepper. Stir well and lower the heat to a gentle simmer. Simmer for 15-20 minutes until the sauce has thickened and is glossy.

Meanwhile, make the almond crumb. Heat a dry frying pan over a high heat. Combine the ground almonds, oregano, garlic and a large pinch of salt & pepper in a small bowl then mix in a tbsp of water. Your mixture should look like wet sand (if it is a little dry add another small dash of water and mix again). Pour the mixture into the frying pan and fry, stirring constantly for 5-8 minutes, or until golden brown and resembling breadcrumbs. Set aside and allow to cool.

Bring a pan of salted water to the boil and add your pasta. Cook to al dente according to the packets instructions, then drain, reserving a little of the pasta water.

Stir the basil and cooked pasta into the sauce along with a dash of pasta water to loosen it up. Divide the pasta between 2 bowls and garnish generously with the almond crumb, extra fresh basil and a pinch of chilli flakes.
Recipe Notes
If your aubergine are on the smaller side, use 2 instead.
Any left overs of this pasta will keep in the fridge for up to 3 days. The almond crumb will keep well in an airtight jar for up to 7. 
For advice on which pasta to use, see within the post. 
Gluten-free: Use a GF pasta.
Although white wine vinegar works best in this recipe, it can be substituted for apple cider vinegar or another cider vinegar. Do not use a malt vinegar – the flavour is too strong.
If you are in the U.S. you may know 'ground almonds' better as almond meal or almond flour
Love pasta recipes? Why not try out my Creamy Mushroom Pasta too! It's divine!