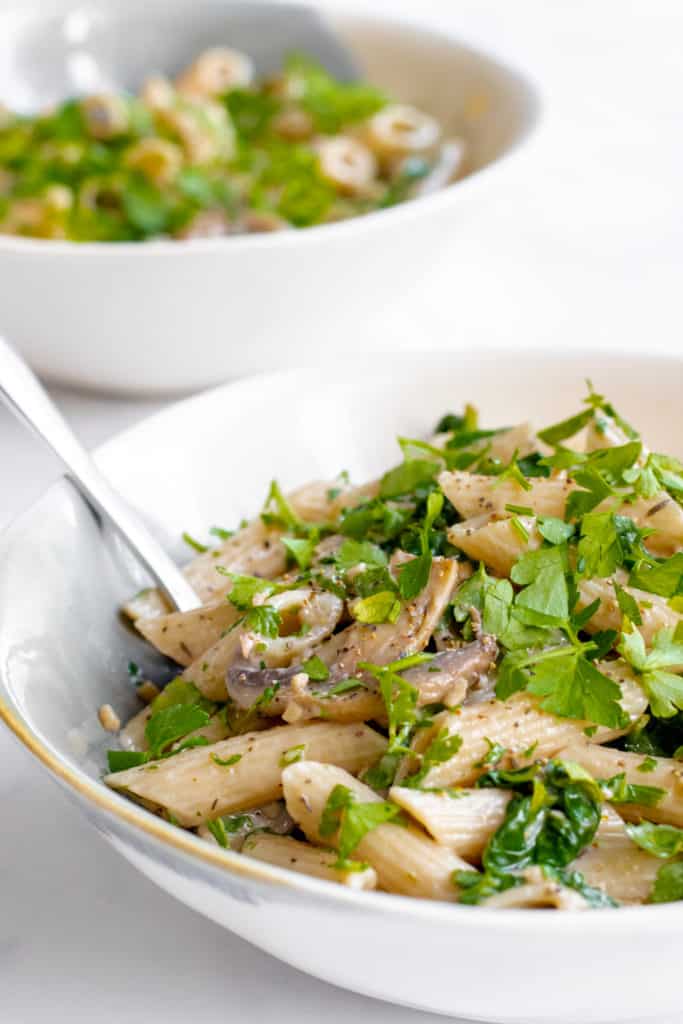 This creamy mushroom pasta will blow your mind. It's healthy, quick and easy yet feels oh so decadent. I mean, what more could you want?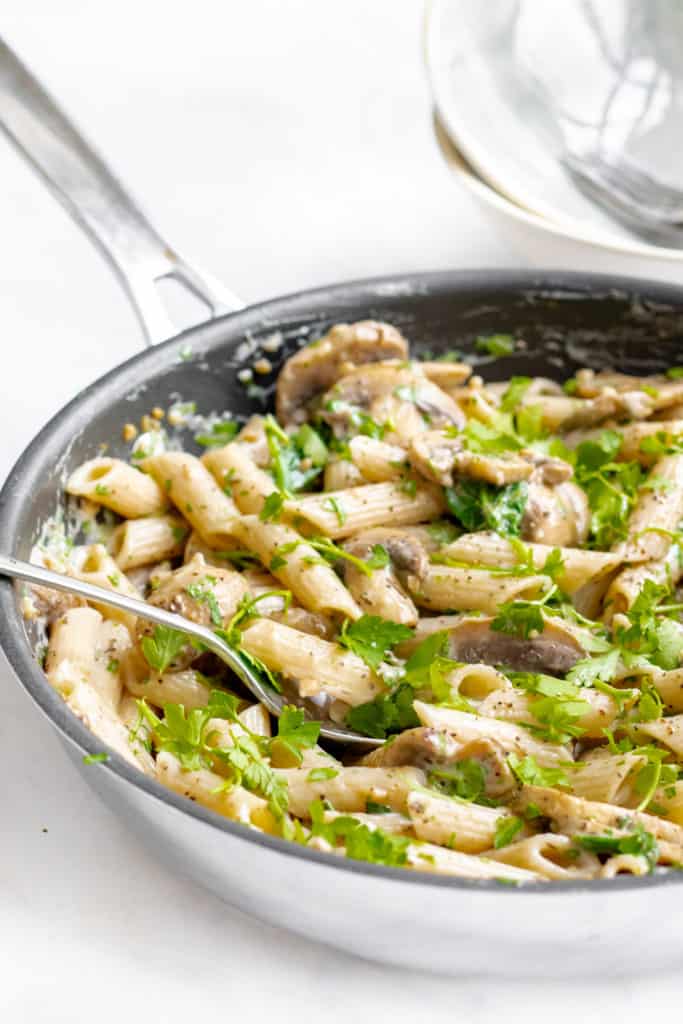 We all have those days where cereal for supper seems just a little too tempting. This creamy mushroom pasta is my go-to 'I CANNOT be bothered to cook' dish. In just 20 minutes you can have yourself something nutritious and delicious, leaving you feeling as domesticated as Nigella.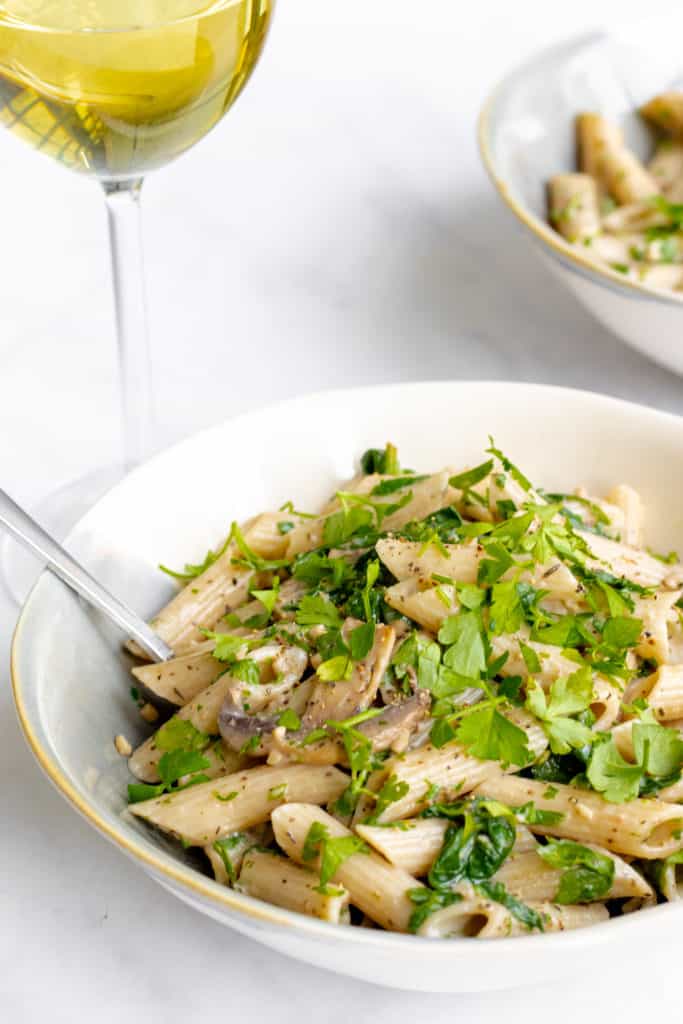 PASTA CAN BE HEALTHY?!
Pasta gets some real bad press in the health world. Obviously, as with everything, it should be enjoyed in moderation, but I believe in eating the food you love and GOD do I love pasta.
WHICH PASTA SHOULD I USE?
I personally love and use brown rice pasta for this creamy mushroom pasta recipe. It's naturally gluten-free, actually tastes like pasta, is full of goodness and easy to find. Buckwheat pasta also works well. If you go for a regular pasta try to use wholewheat over white – it contains 3x the fibre!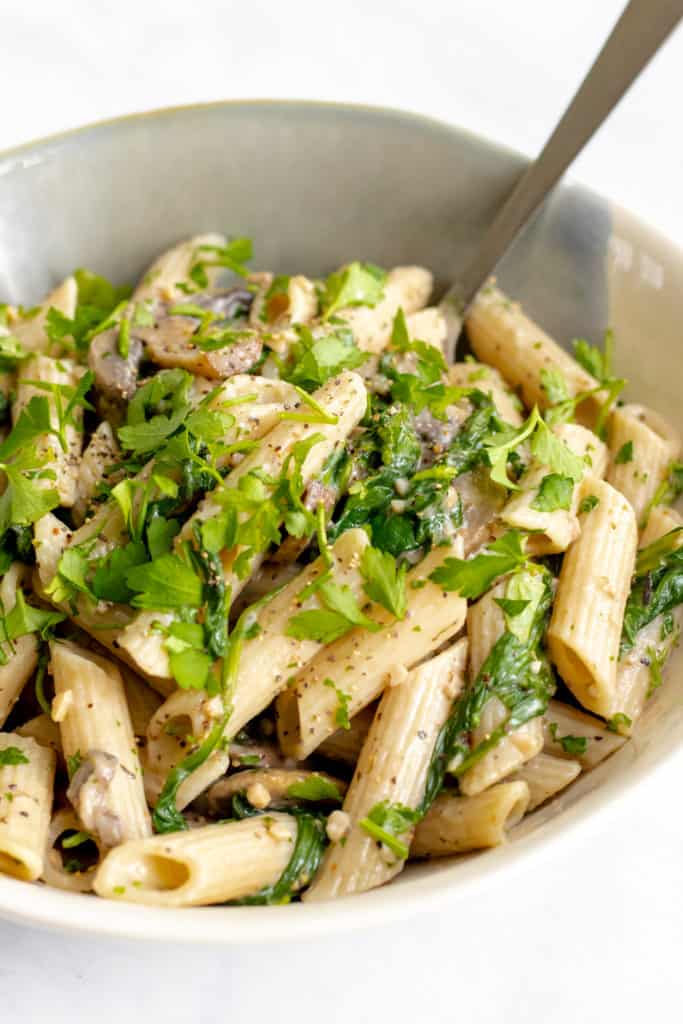 IS THIS SUITABLE FOR #VEGANUARY?
One of my new year's resolutions was to reduce my dairy consumption. Regularly I would have made this creamy mushroom pasta with natural yoghurt but have found that dairy-free alternatives work just as great. There are tons of DF options out there but I would particularly recommend coconut yoghurt for this recipe. It's super creamy and surprisingly doesn't taste of coconut once warmed.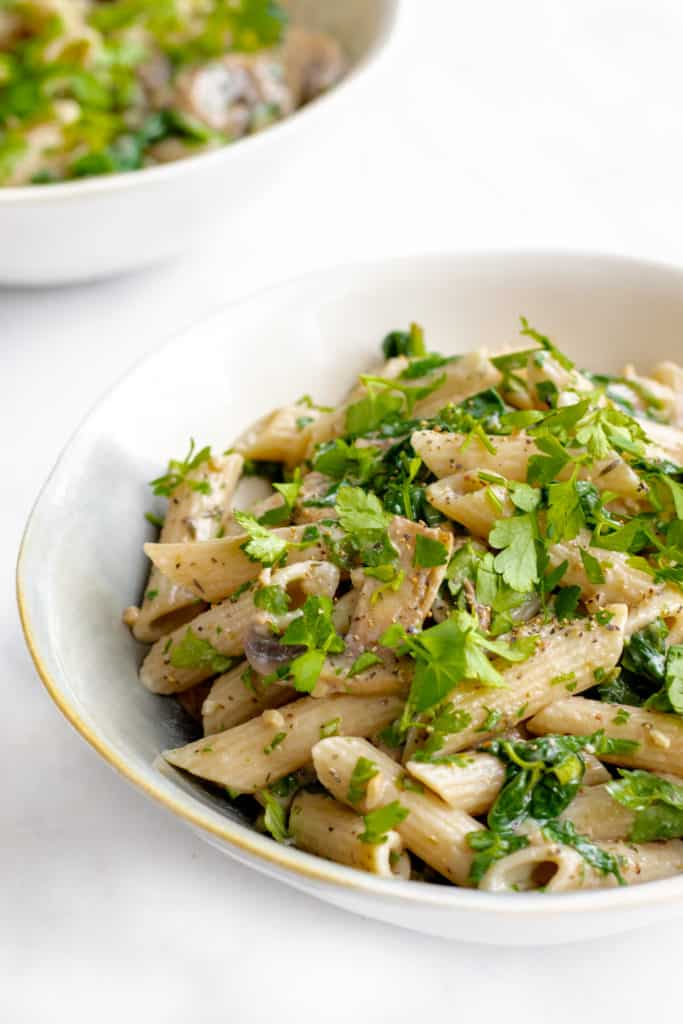 As always, please let me know if you make this recipe by tagging me in a photo on IG @georgieeatsuk or leaving me a comment down below! Have a fab week full of pasta. Keep Smiling!
G x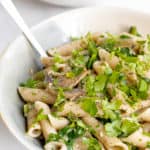 CREAMY MUSHROOM PASTA
This creamy mushroom pasta is the ultimate 'I don't want to cook' dish! It's ready in only 20 minutes, is packed with goodness and is utterly delicious. Vegan, healthy & GF.
Ingredients
200

g

pasta

1

tbsp

olive oil

3

cloves

garlic

crushed

200

g

chestnut mushrooms

sliced

1/2

tsp

dried thyme

2

large handfuls

spinach

100

g

dairy-free yoghurt

15

g (1/2 bunch)

parsley

stems removed & roughly chopped

Sea salt + freshly ground black pepper
Instructions
Bring a large pan of salted water to the boil and add your pasta. Cook according to the package directions then drain, reserving a little of the pasta water.

Meanwhile make your sauce. Heat the olive oil in a frying pan over a low/medium heat and add the garlic, mushrooms, thyme and 1/2 tsp of sea salt. Cook for 10 minutes stirring occasionally until the mushrooms brown and are tender.

Add the spinach into the pan and stir for a minute or so until wilted. Remove the pan from the heat.

Stir the yoghurt and most of the parsley into the mushroom mixture, allowing the residual heat to loosen and warm the yoghurt. Season liberally with black pepper and taste to adjust the salt. Add in the drained pasta and give everything a good mix. If you prefer your sauce a little thinner here, add a few tablespoons of the reserved pasta water and mix again.

To serve, divide the pasta between bowls and top with a sprinkle more of parsley and lots of cracked black pepper. Enjoy whilst still piping hot.
Recipe Notes
Once cooled leftovers can be stored in the fridge for up to 3 days and reheated over the stove with a dash of water.
This recipe doubles or triples perfectly if you are cooking for a crowd!
Gluten-free: Assure that you use a gluten-free pasta.
Vegan: Use a dairy-free yoghurt.
A few ingredient notes: 
I particularly love brown rice pasta for this recipe as it is naturally gluten-free and gives a wonderful nutty flavour. You can use any pasta you prefer.
I use coconut yoghurt for this recipe but you could also use soya, almond or cashew milk yoghurt. If you aren't dairy-free greek/natural yoghurt also works well.
If you love pasta recipes like this, you are sure to love my Avocado Pesto Pasta recipe too!