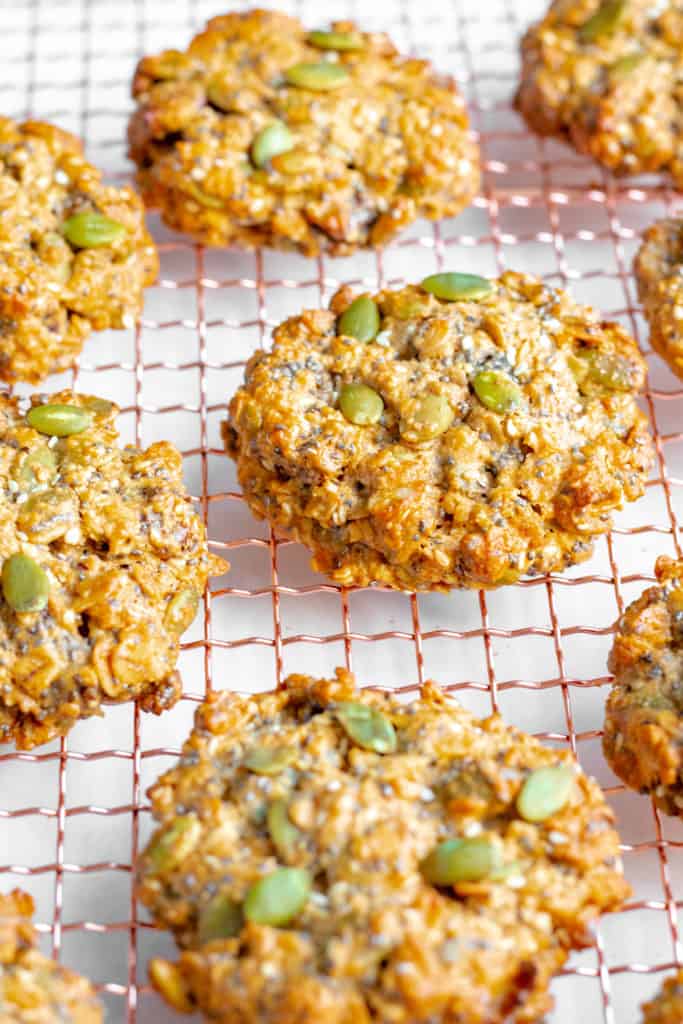 No bad day ever started with cookies for breakfast.
I am a bit of a princess when it comes to mornings. I like to keep them free, allowing myself my 'me time' and a lovely leisurely breakfast before working on later into the evenings. Recently though, I have not been so lucky. Rushing out of the door without breakfast seems to have become an increasing occurrence and I needed a solution…
Introducing: Tahini Breakfast Cookies. The ultimate busy morning breakfast.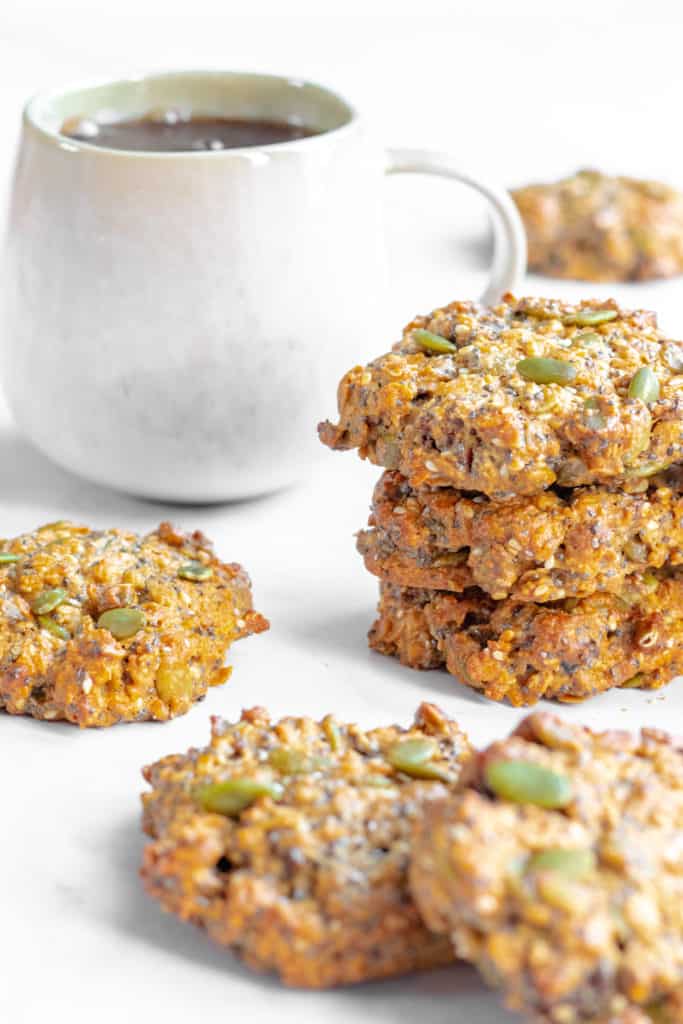 Unlike some branded breakfast biscuits *cough* Belvita *cough*, my tahini breakfast cookies are jam-packed full of goodness. Bursting with protein, slow-releasing carbohydrates, healthy fats, fibre and even natural nootropics. They basically guarantee a happy morning. Make a quick batch on a Sunday night and voila! A super healthy breakfast to go.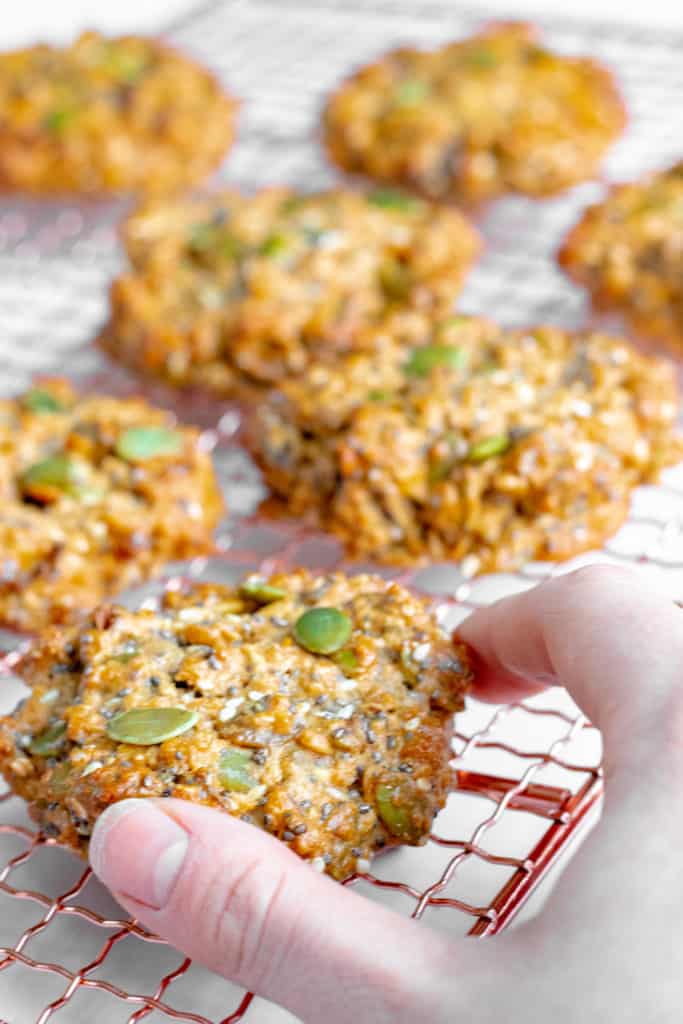 What is tahini?
Tahini is a paste made from toasted ground sesame seeds. It can be used for all sorts of things but is most commonly known to be an ingredients in hummus. It's a staple condiment in Middle Eastern cooking, as well as in my own kitchen! It's cheaper than other nut/seed butters, which makes it's gorgeous delicate flavour perfect to bind bakes like these.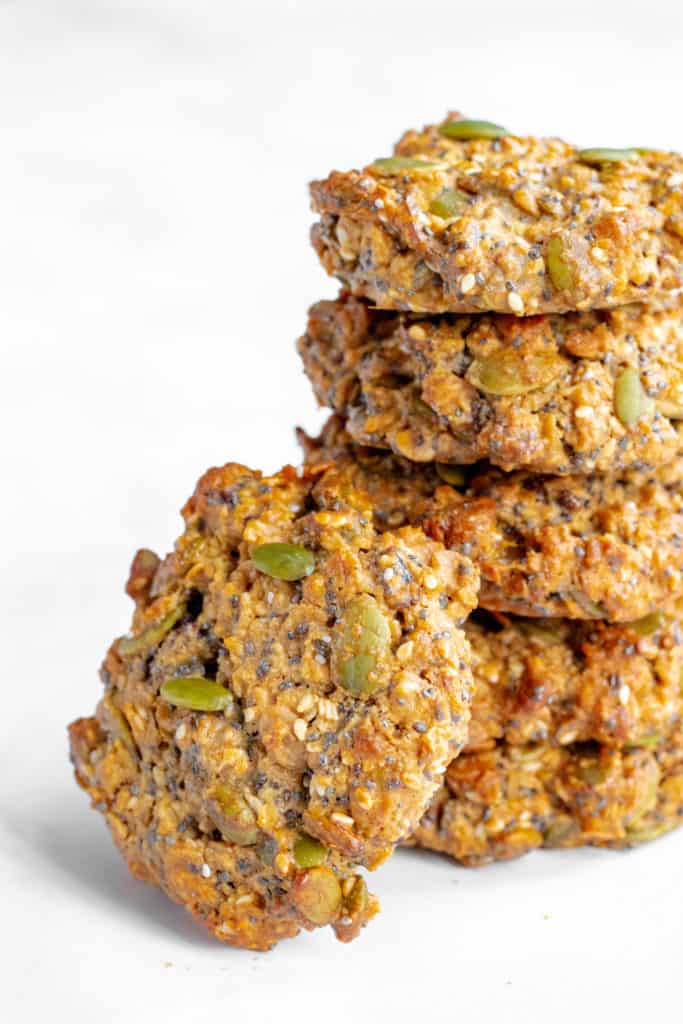 Can I customise these cookies?
Absolutely! I urge you to make these tahini breakfast cookies your own. The tahini can be swapped for any nut butter you like and feel free to play with the seed and dried fruit mixture. Use your favourites or just whatever you can find in the cupboards! Another fab combination would be peanut butter and raisin or almond butter and cranberries. YUM.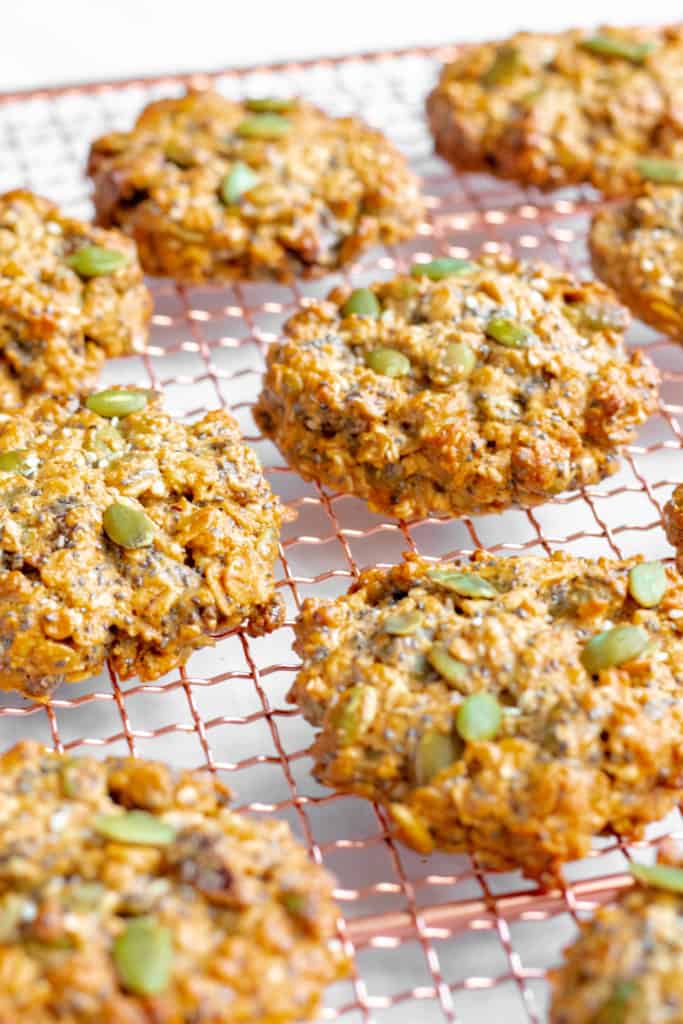 These tahini breakfast cookies have saved my mornings. I've made my way through a few too many batches by now and have decided they are best enjoyed dipped into a steaming hot cuppa. You can thank me later… If you make these, please let me know by tagging me in a photo on IG @georgieeatsuk or leave me a comment down below. Keep smiling!
G x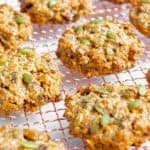 TAHINI BREAKFAST COOKIES
These cookies are packed full of goodness and are perfect to make ahead for busy weeks. They are completely customisable and can be thrown together in only 30 minutes! Healthy, GF & vegan option.
Ingredients
150

g (1+1/2 cup)

cups rolled oats

125

g (1 cup)

mixed seeds

I like a mixture of pumpkin, sunflower, poppy & sesame seeds

3

tbsp

chia seeds

100

g (1/2 cup)

chopped dates

1

tsp

cinnamon

½

tsp

baking powder

Pinch

salt

125

g (3/8 cup)

honey / maple syrup

75

g (1/3 cup)

tahini

3

tbsp

coconut oil

melted

1

tsp

vanilla extract

1

egg / flax egg
Instructions
Preheat the oven to 160°c fan/180°c/350°f and line a baking tray with parchment paper.

Blitz 50g (½ cup) of the oats in a high speed food processor to a flour.

Mix the oat flour, rolled oats, seeds, chia seeds, dates, cinnamon, baking powder and salt together in a large bowl.

In a smaller bowl mix together the honey/maple syrup, tahini, coconut oil, vanilla and egg until combined. Pour the wet ingredients into the dry ingredients and mix everything together well.

Use an ice cream scoop or spoon to scoop 12 balls of the mixture onto the lined baking tray. Using your fingertips, lightly flatten each one into a 1/2 inch thickness.

Bake the cookies in the oven for 15-18 minutes or until golden brown. Transfer the cookies to a cooling rack and allow them to cool completely before storing in an airtight container.
Recipe Notes
Why not make a double batch of these cookies and freeze half for weeks to come?
Make these cookies your own with your favourite ingredients. You can swap the tahini for any nut butter you like, use any mix of your favourite seeds (do not change the chia seeds – they help to bind the mix!) or swap the dates for any dried fruit you fancy.
Gluten-Free: Make sure you are using GF certified oats and baking powder.
Vegan: Use maple syrup rather than honey and a flax egg.
A few ingredient notes:
If you do not have a food processor to make the oat flour you can use either 50g of shop brought oat flour or regular flour instead.
If you can find it, try to use raw honey as it is less processed. If using maple syrup make sure it is 100% maple syrup and not maple 'flavoured' syrup. You could also use agave nectar if you prefer.
When buying tahini have a look at the label to make sure it is 100% sesame with no added oils or preservatives. I personally buy this one.
If you love cookies. You will LOVE my chewy coconut cookies too!