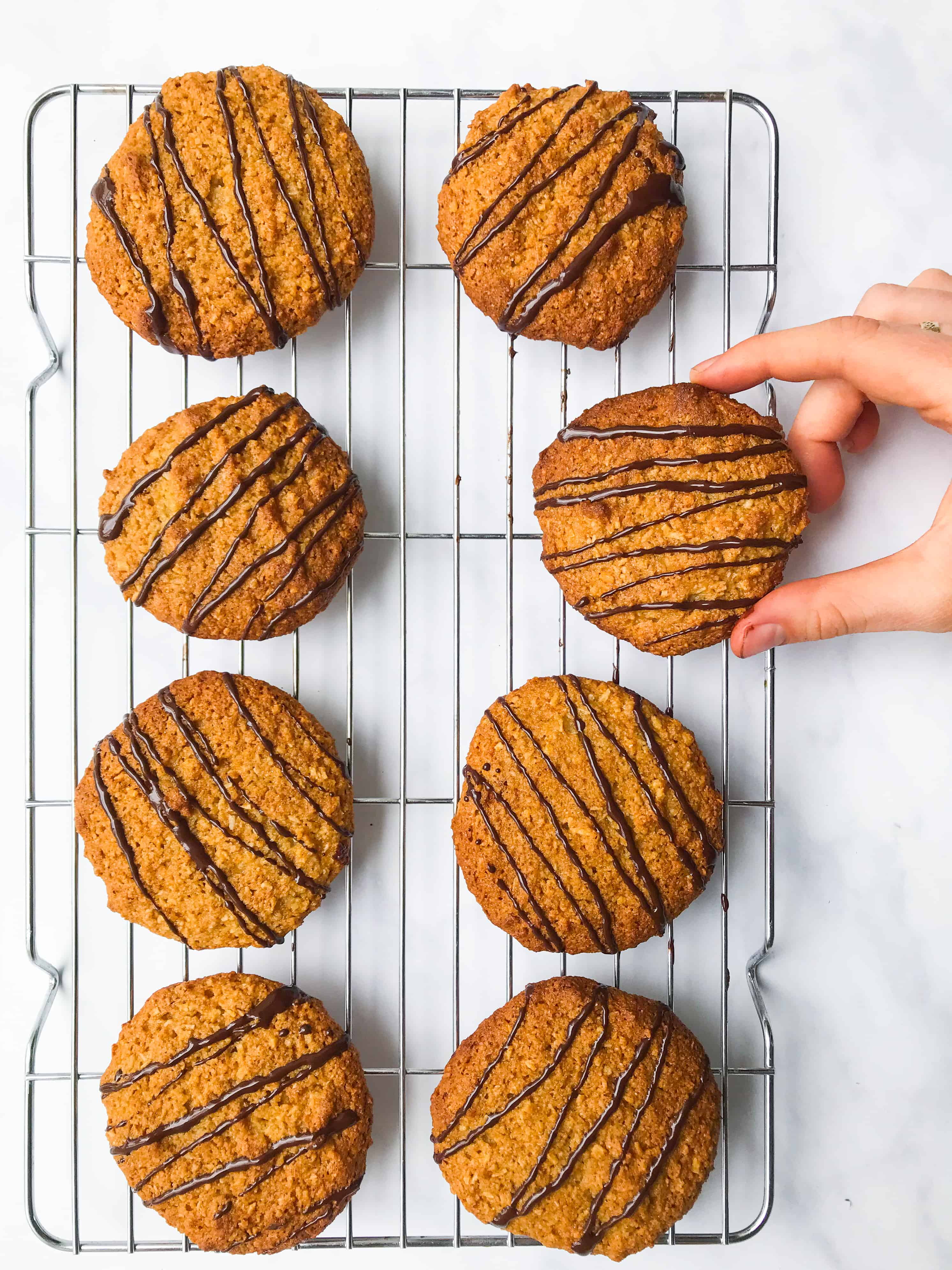 You will definitely get caught with your hand in this cookie jar. It's not often that a recipe works out first time round but I guess that's the way these coconut cookies crumble. They are just as I wanted them to be: chewy, sweet and downright delectable. You would never know they're good for you… isn't life just great.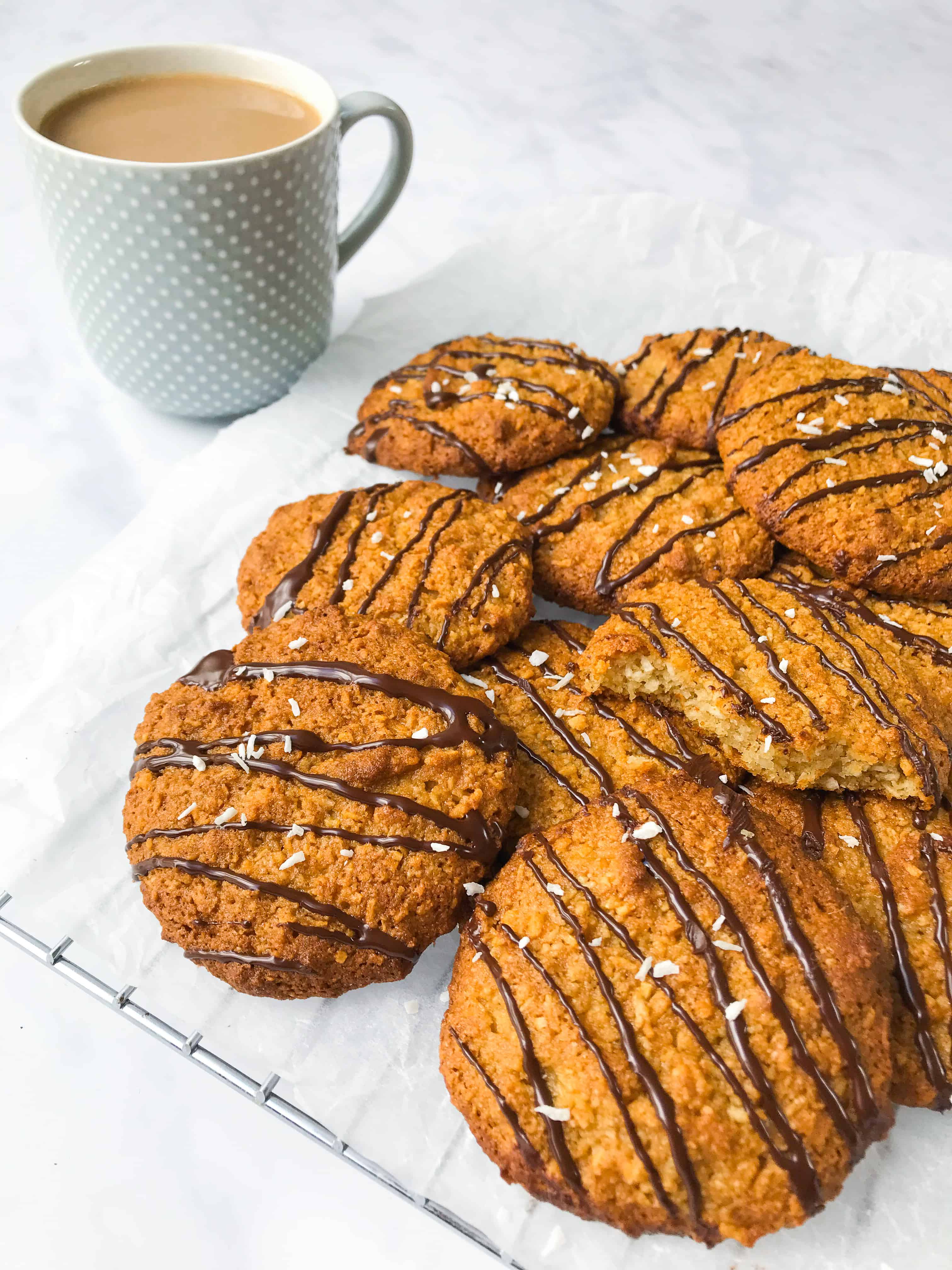 As a gluten free gal, baked goods are never quite the same. I find gluten free flour to be dry, tasteless and hard to work with, so I am always on the hunt for good flourless alternatives. Recently I have been loving using ground almonds as a base for all sort of delicious treats as seen in my Peanut Butter & Jam Cookie Recipe. Using ground nuts as a base packs these coconut cookies full of protein and healthy fats making them perfect as a post workout treat.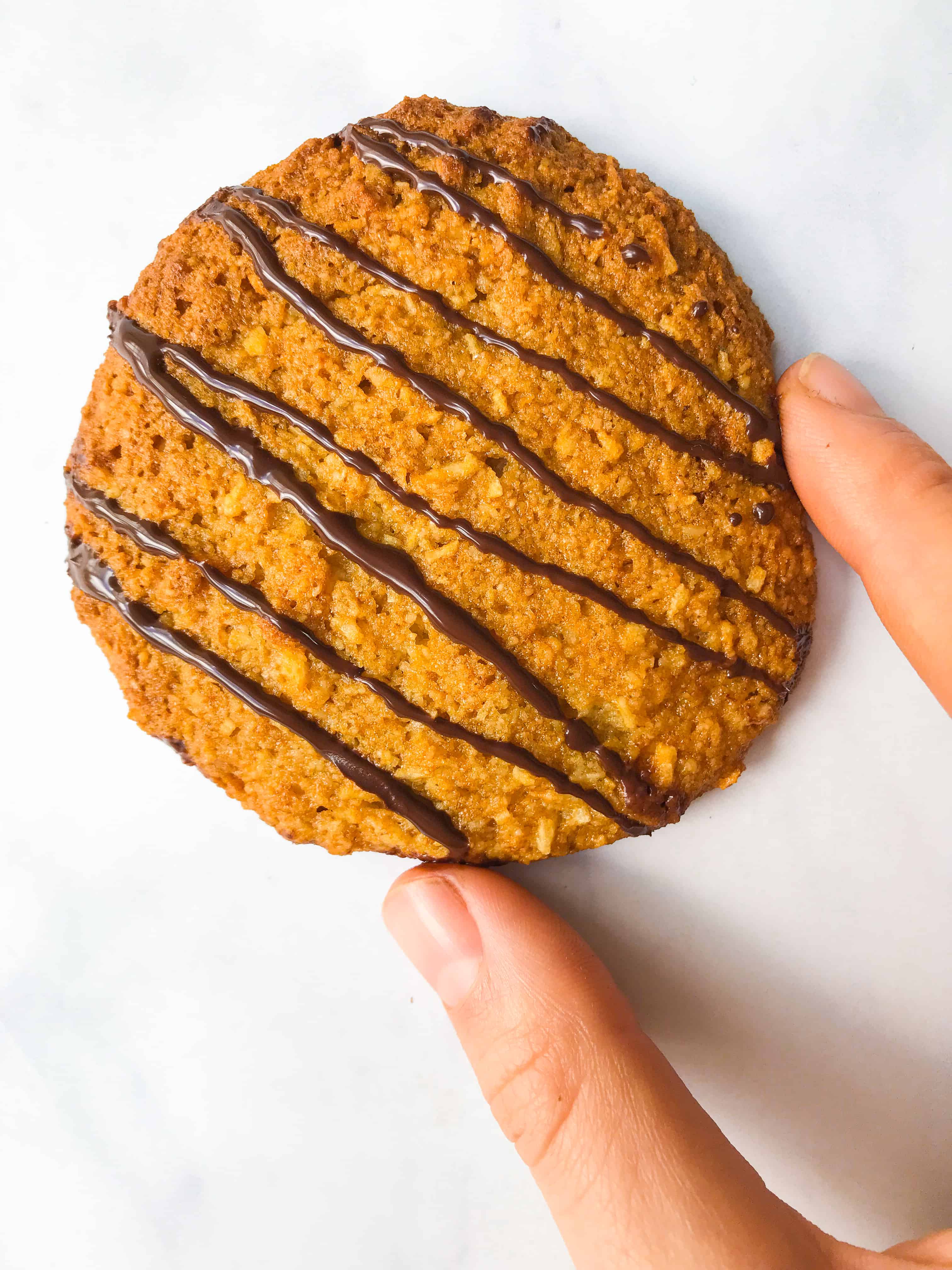 Almonds are packed full of nutrients – making them a fab alternative to flour. They contain large amounts of monounsaturated fats which help protect the heart by maintaining levels of good cholesterol as well as being high in vitamin E, selenium, zinc, calcium & magnesium.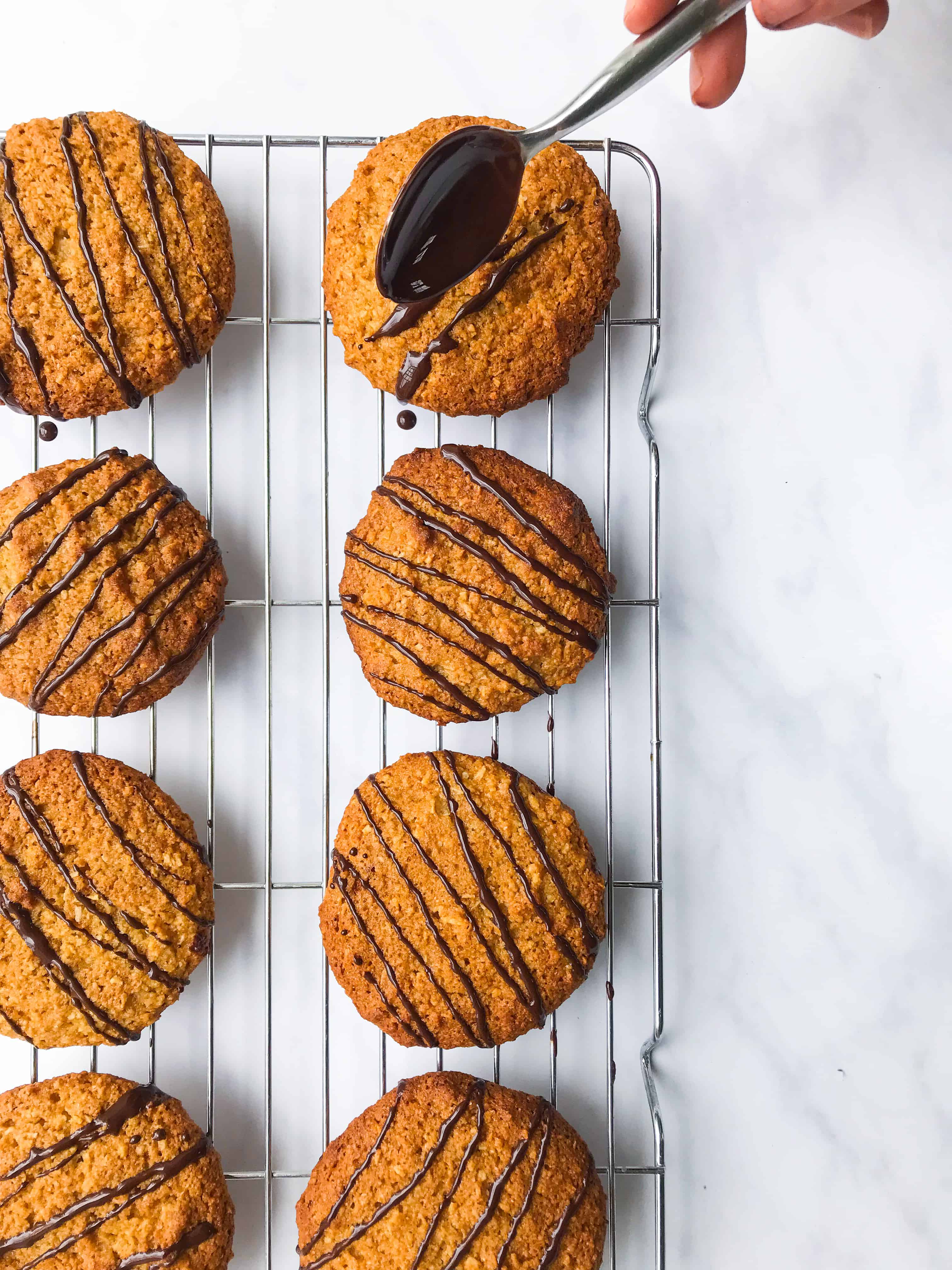 I am sure you have all heard the sudden health hype over coconut, especially coconut oil, and personally I am completely on board. These coconut cookies use desiccated coconut which is just as nutrient dense yet surprisingly cheap compared to other forms. Coconut is a nutritional superstar as it's packed full of fibre, vitamin C, E, B1, B3, B5 and B6 as well as minerals, iron, selenium, calcium, magnesium and phosphorous.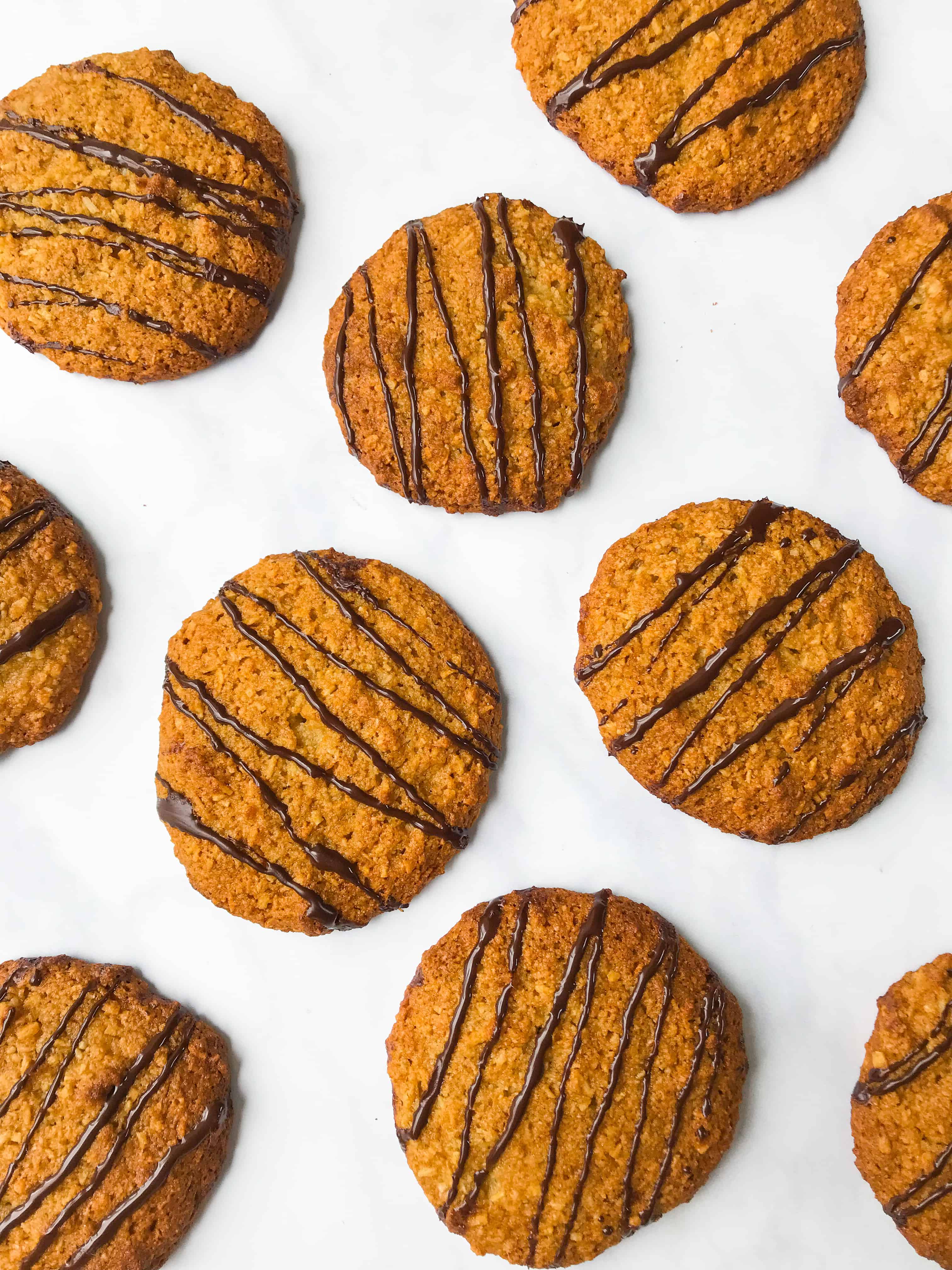 I understand coconut is an acquired taste but these cookies definitely are not. My coconut hating boyfriend proceeded to eat more than half a batch of these coconut cookies before having to restrain himself. To fancify these bad boys I like to drizzle them with a little dark chocolate in order to achieve perfection but they are still scrumptious without.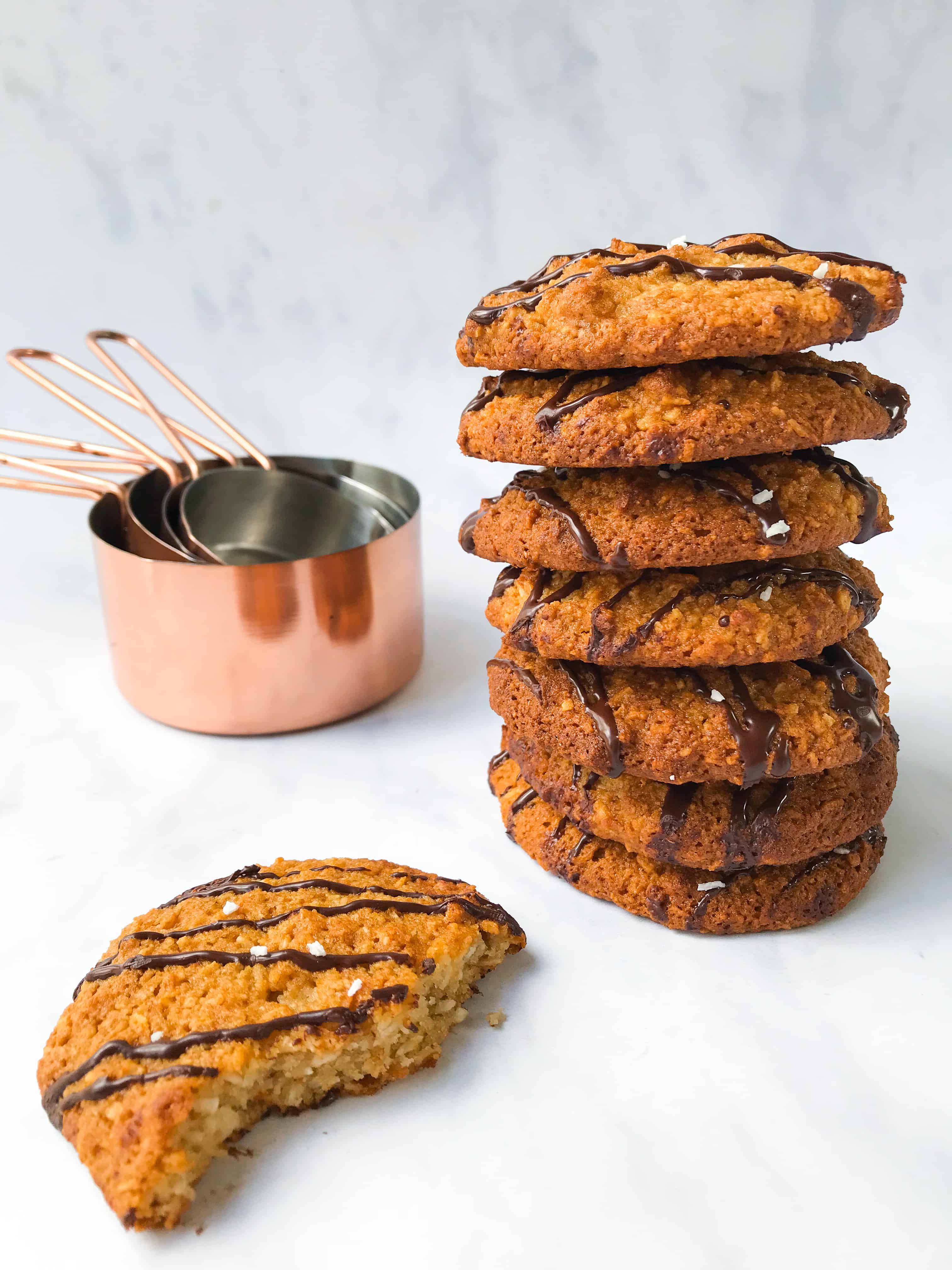 I have already made more than three batches of these due to popular demand, and the final result has always left me with no cookies but very happy faces. I know you guys will love these – they are so incredibly easy and from scratch they can be made in less than 30 minutes. If you do try them, please let me know by tagging me in a picture on IG @georgieeatsuk, using the #georgieeats or leaving me a comment down below. Make cookies, not regrets!
G x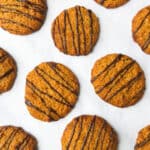 CHEWY COCONUT COOKIES WITH A DARK CHOCOLATE DRIZZLE
A coconut cookie that will take you one crumble away from heaven. Whether you are baking for a crowd or after a quick and easy healthy sweet treat fix: these cookies will tick all the boxes. GF, paleo, refined sugar free & healthy.
Ingredients
100

g (1 cup)

ground almonds

50

g (1/2 cup)

desiccated coconut

1/2

tsp

baking powder

1/2

tsp

baking soda

Pinch

sea salt

1

large

egg

lightly beaten

85

g (1/4 cup)

honey

1

tsp

vanilla extract

15

g

dark chocolate

(optional)
Instructions
Preheat the oven to 160°c fan/180°c/360°f and line a large baking tray with parchment paper.

In a large bowl combine the ground almonds, coconut, baking powder, baking soda and salt.

Add the egg, honey and vanilla into the dry ingredients and mix everything together until just combined. The mixture should be able to hold itself but should still be a little wet and drop off of a spoon. If your mix is too dry add 1-2 tsp's of water and mix again.

Use a dessert spoon to spoon 8 uniform circles of the mixture onto the baking tray, being careful to evenly space each one as the mixture will spread.

Bake in the preheated oven for 15-17 minutes until the cookies turn dark golden brown round the edges but are still soft to touch. Transfer the cookies to a cooling rack and allow them to cool completely.

Once the cookies are cool, gently melt the dark chocolate over a bain-marie or in 10 second bursts in the microwave. Use a tea spoon to drizzle a thin line of dark chocolate over each cookie in a zig zag pattern before letting the chocolate set and serving.
Recipe Notes
As hard as it may be to resist the temptation to eat these coconut cookies straight from the oven please do wait until they are cool! They are so much chewier and tastier at room temperature. 
These cookies are best served the same day but any leftovers will keep in the fridge for an extra day or two.
These cookies are perfect on their own, but why not try them with a dollop of ice cream as a dessert or crumbled over yoghurt for a granola-esque snack. 
This recipe can easily be doubled or tripled if you so wish.
A few ingredient notes: