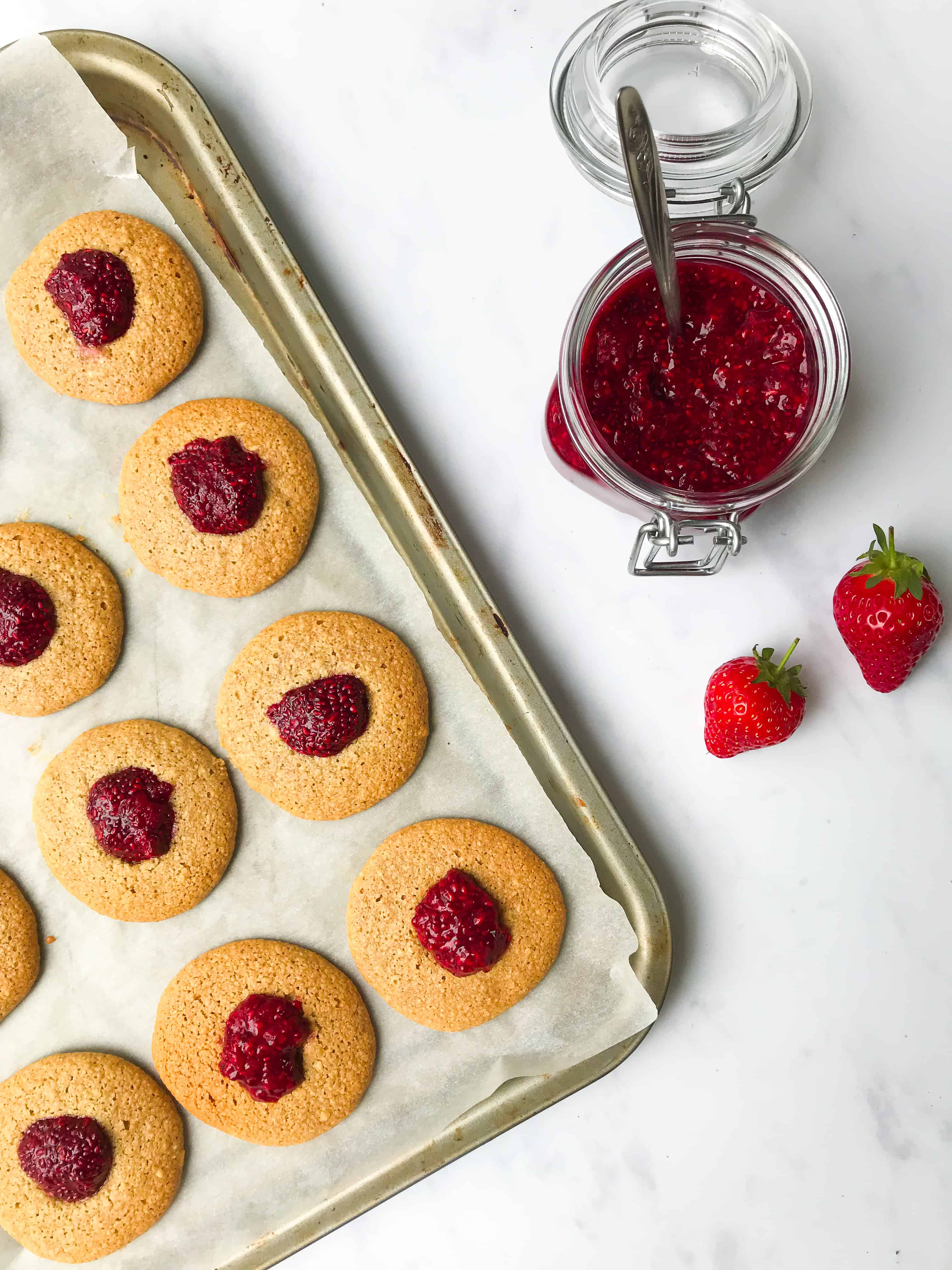 Warning: This post may contain content of graphic deliciousness that will induce appetite and cravings.
PB & J, or in other words your first taste of heaven. I ADORE IT. It's a unique flavour that is impossible to beat. Ludicrous you may scream. You're right, but just wait till you send it on a third date with a cookie and taste their love child – *commence drooling*. Don't threat, these peanut butter and jam cookies are completely free from refined sugar, gluten and they're vegan. Healthy snacking has never been so uncompromised and that's just the way the cookie crumbles…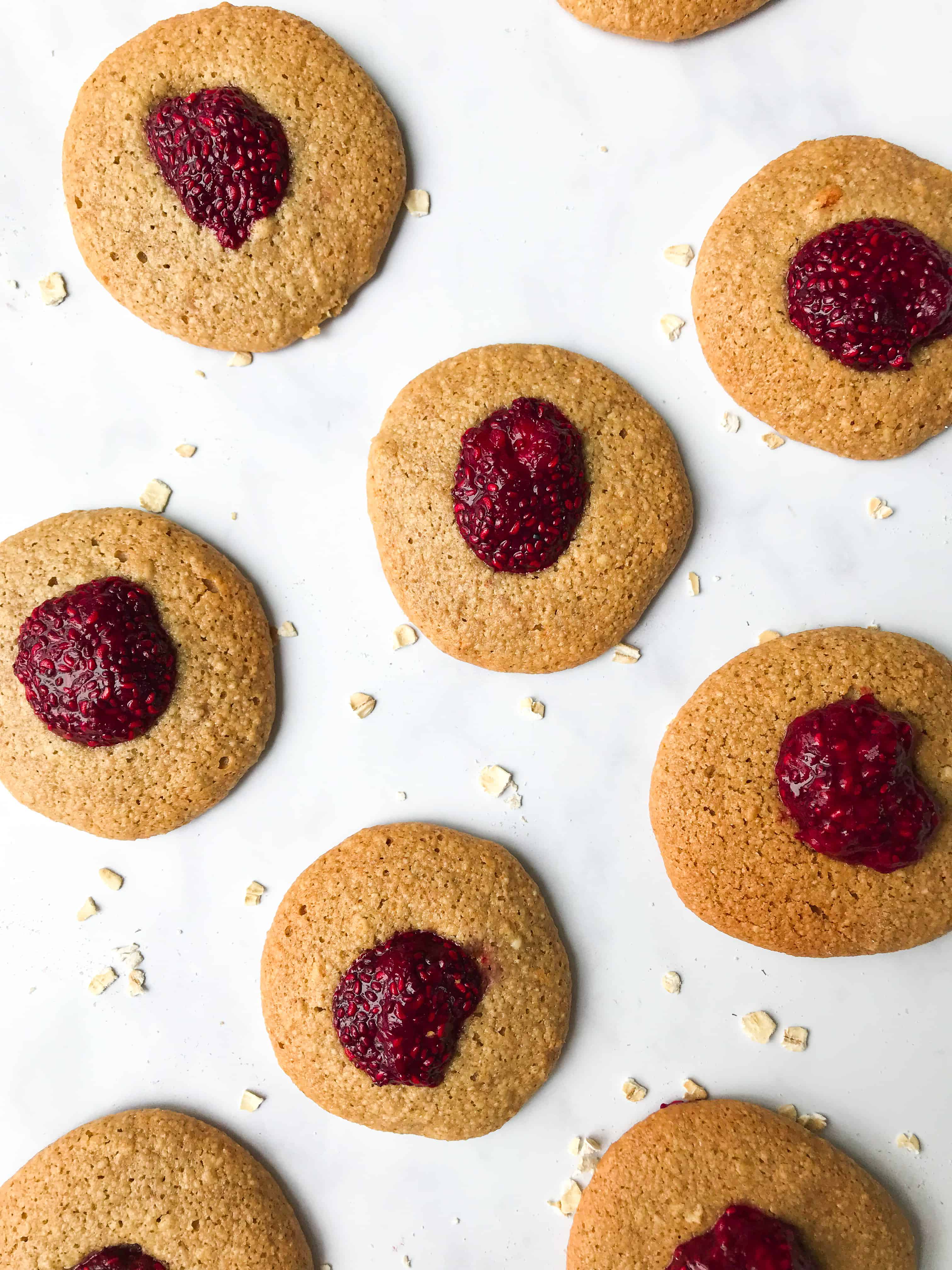 I honestly couldn't tell you how many peanut butter and jam cookies I ate whilst developing this recipe. But this batch will bake your day! They are easy and quick to make as well as being a fun way to impress.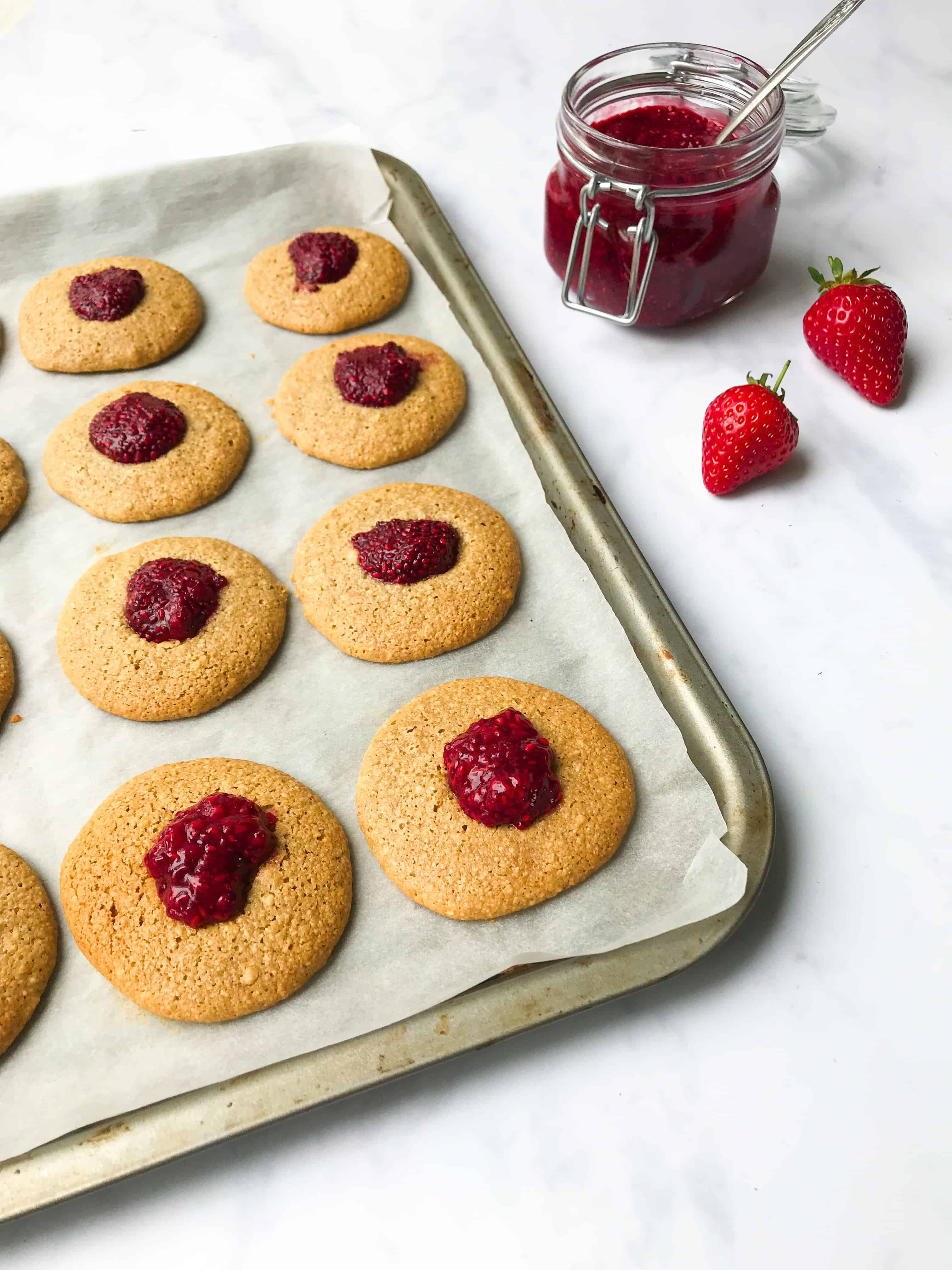 Don't judge these from the outside, believe it or not, these scrumptious peanut butter and jam cookies are the perfect post-gym fuelling. Packed full of protein courtesy of the peanut butter, these are the gift that keep giving, and help recover energy from the natural sugar in the honey/maple syrup whilst the oats slowly release carbohydrates. I haven't even mentioned the mighty Chia seeds yet, which Aztec warriors believed one tablespoon would sustain them for 24 hours. Although I can't substantiate this claim, I can honestly say they are a 'super food' brimming with omega 3, antioxidants, calcium and magnesium.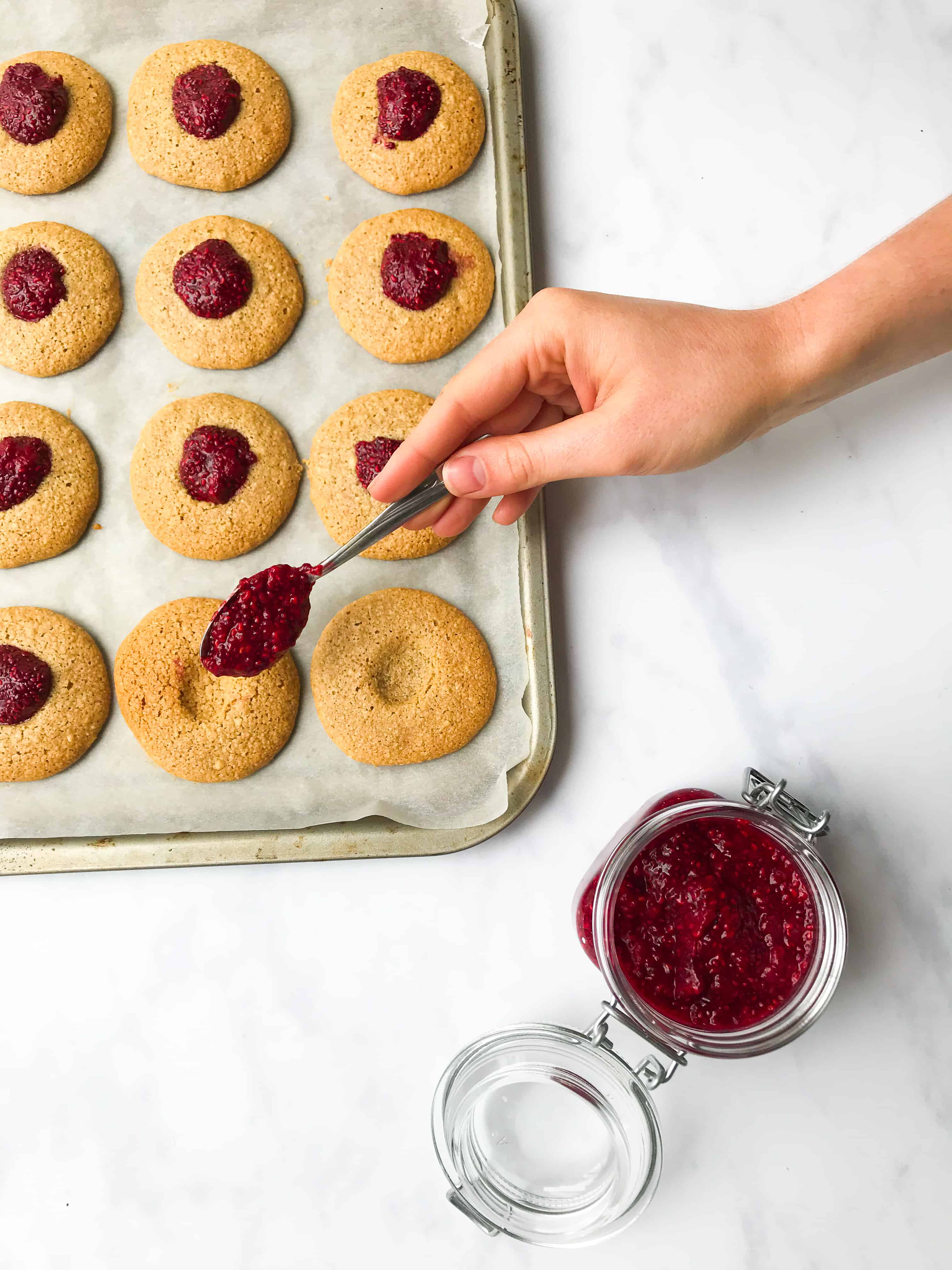 Chia jam will keep your sugar intake low and your happiness high. This peanut butter and jam cookie recipe makes more chia jam than you need – which is never a bad thing! The leftovers can be kept in the fridge for up to two weeks, so let your imagination run wild and spread to your heart's content.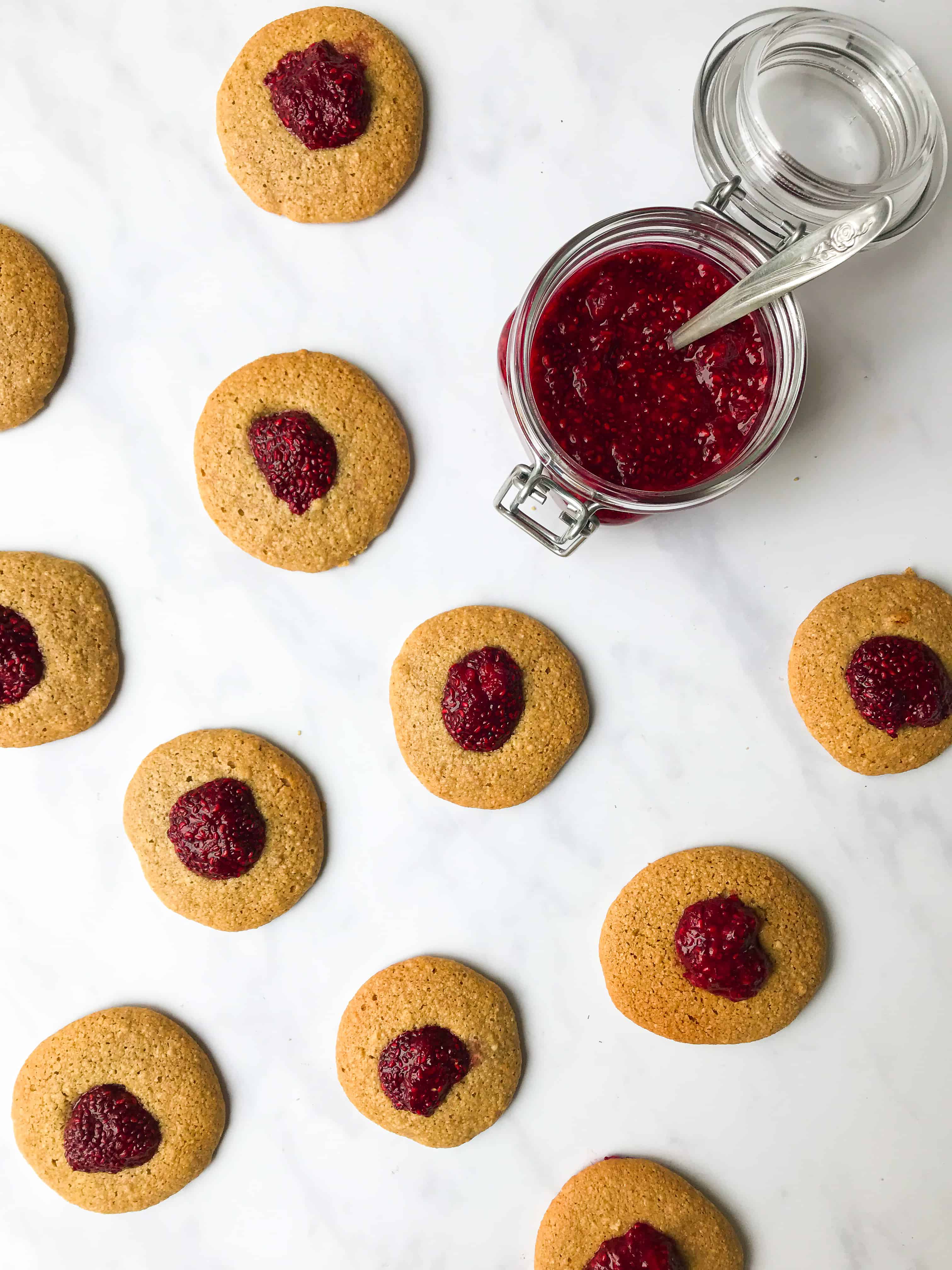 I can officially say these PB & J Cookies are my new favourite treat and I know they will be yours too! As per, I can't wait to see your own batches so be sure to send a picture to my IG @georgieeatsuk, or leave me a comment down below.
G x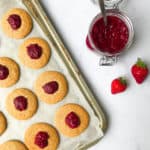 PEANUT BUTTER AND JAM COOKIES
These peanut butter cookies with a chia jam centre will have you drooling! Free from refined sugar, vegan, paleo and gluten free - these cookies are the ultimate healthy snack!
Ingredients
Peanut Cookies
80

g (1 cup)

rolled oats

50

g (1/4 cup)

smooth peanut butter

100% peanuts

1/2

tsp

bicarbonate of soda

110

g (1/3 cup)

honey / maple syrup

1/2

tsp

vanilla extract

1

tbsp

milk of choice
Chia Jam
250

g (1 cup)

frozen raspberries / strawberries

1

tbsp

chia seeds

1

tbsp

honey / maple syrup
Instructions
To make the Chia Jam
Heat the frozen fruit in a small saucepan over a medium heat until it begins to break down and bubble slightly. Use a fork to further mash the fruit into a puree (around 5-10 minutes).

Stir the chia seeds and honey / maple syrup into the pan and cook for another minute before removing from the heat and setting aside.
To make the Cookies
Preheat the oven to 180°c/160°c fan/350°f.

Add the oats into a high speed food processor and blitz into a smooth flour.

Add the oat flour into a large bowl along with the peanut butter, bicarbonate of soda, honey / maple syrup, vanilla and milk, mixing well with a wooden spoon to combine.

Take a heaped teaspoon of the mixture and use another spoon to scrape 12 walnut sized balls onto a lined baking tray. Then flatten the top of each one with a damp finger.

Bake the cookies in the oven for 8 minutes before removing. Working quickly, create an ident into the middle of each cookie with your thumb before filling this with a teaspoon of the chia jam. Return to the oven to bake for another 3-4 minutes until golden brown.
Recipe Notes
Allow cookies to cool before serving - optimum yumminess is at room temperature!
You could use regular jam for this recipe if you don't fancy making your own but try to find one that is made without any added sugar. I really like St Dalfour as a quicker option.
Left over chia jam can be stored in the fridge for up to 2 weeks. 
Make sure that your peanut butter is made from 100% peanuts, it should be smooth, runny and separate naturally. Pip and Nut is my favourite! 
These cookies can be stored in an airtight container for up to 3 days... but they won't last that long!