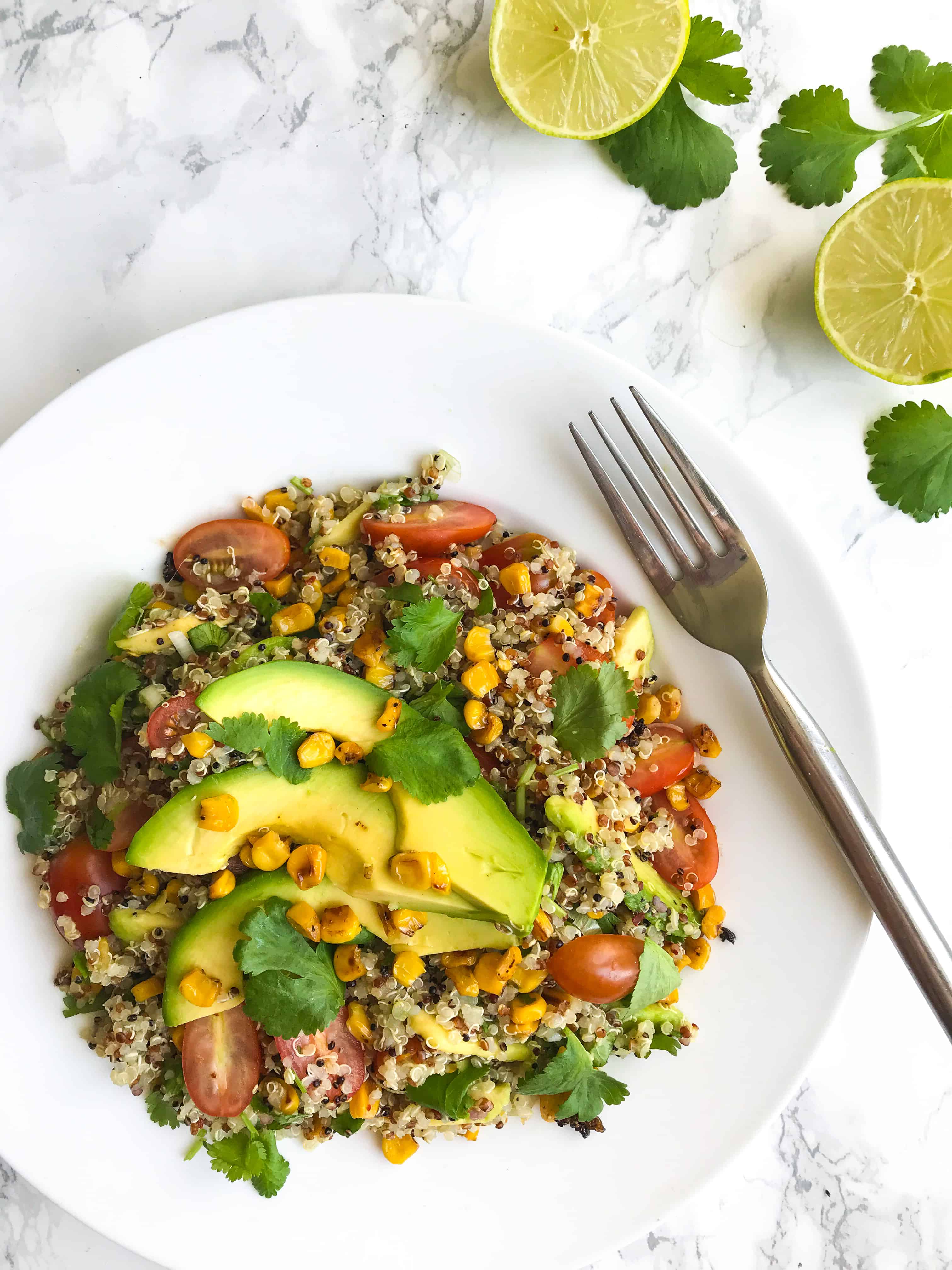 Hola Summer! Who needs tequila when you have quinoa? This Mexican toasted corn quinoa salad is a simple and fresh light lunch or dinner to please all your amigos. Whether eaten as a sensational side or a magnificent main, this healthy meal is packed like a piñata bursting with protein and flavour.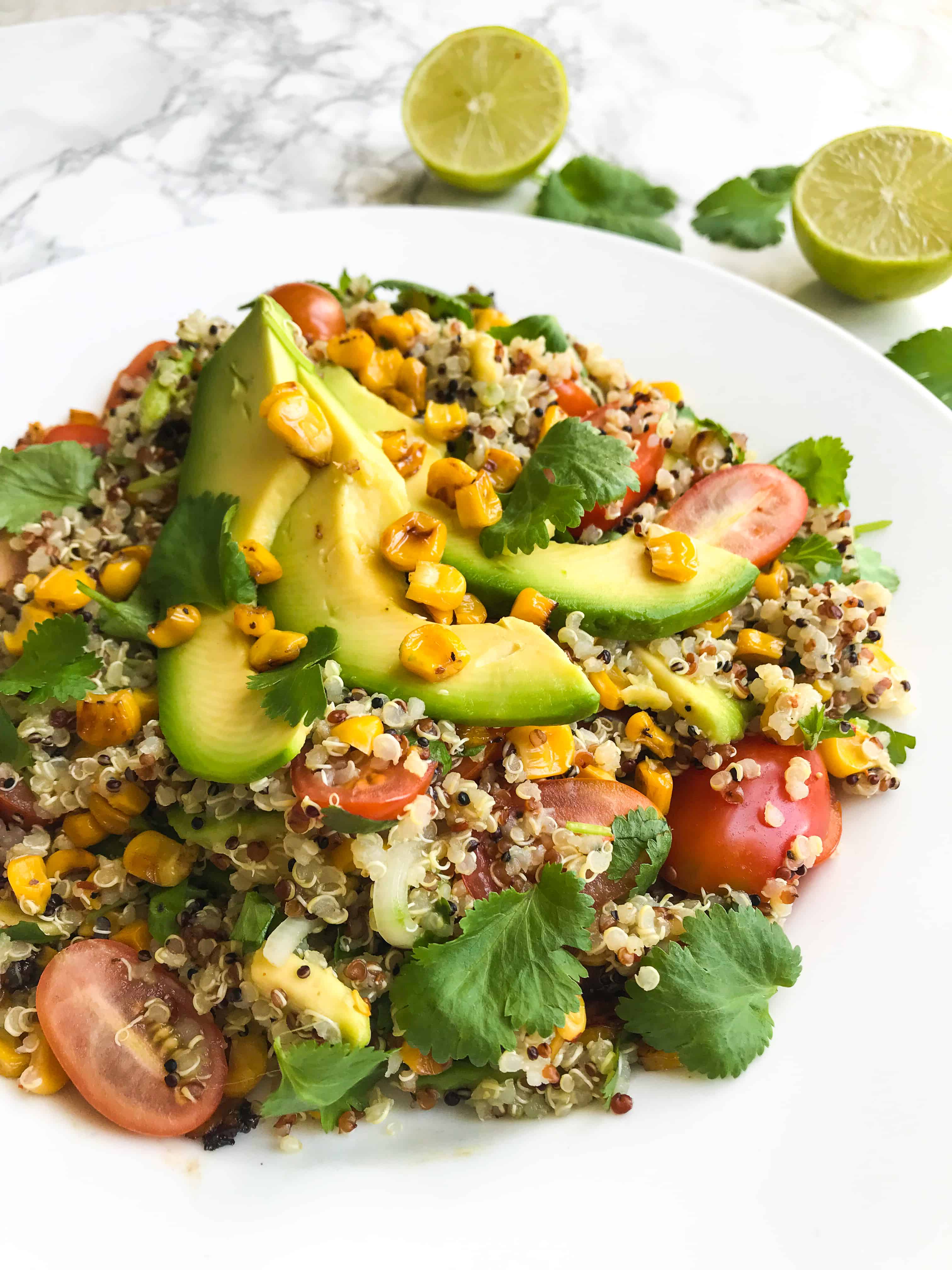 Globally Mexican cuisine is celebrated for its colourful, spicy and delicious nature. It is a culmination of cultures creating rich and unique food. Originating from the Ancient Mayan's, the influx of Spanish colonists developed traditional Mexican food through the availability of new livestock and dairy products. However, popular adaptations such as Tex-Mex have modernised Mexican food, bringing it into the lives of millions of people around the world as it is fun to eat and create.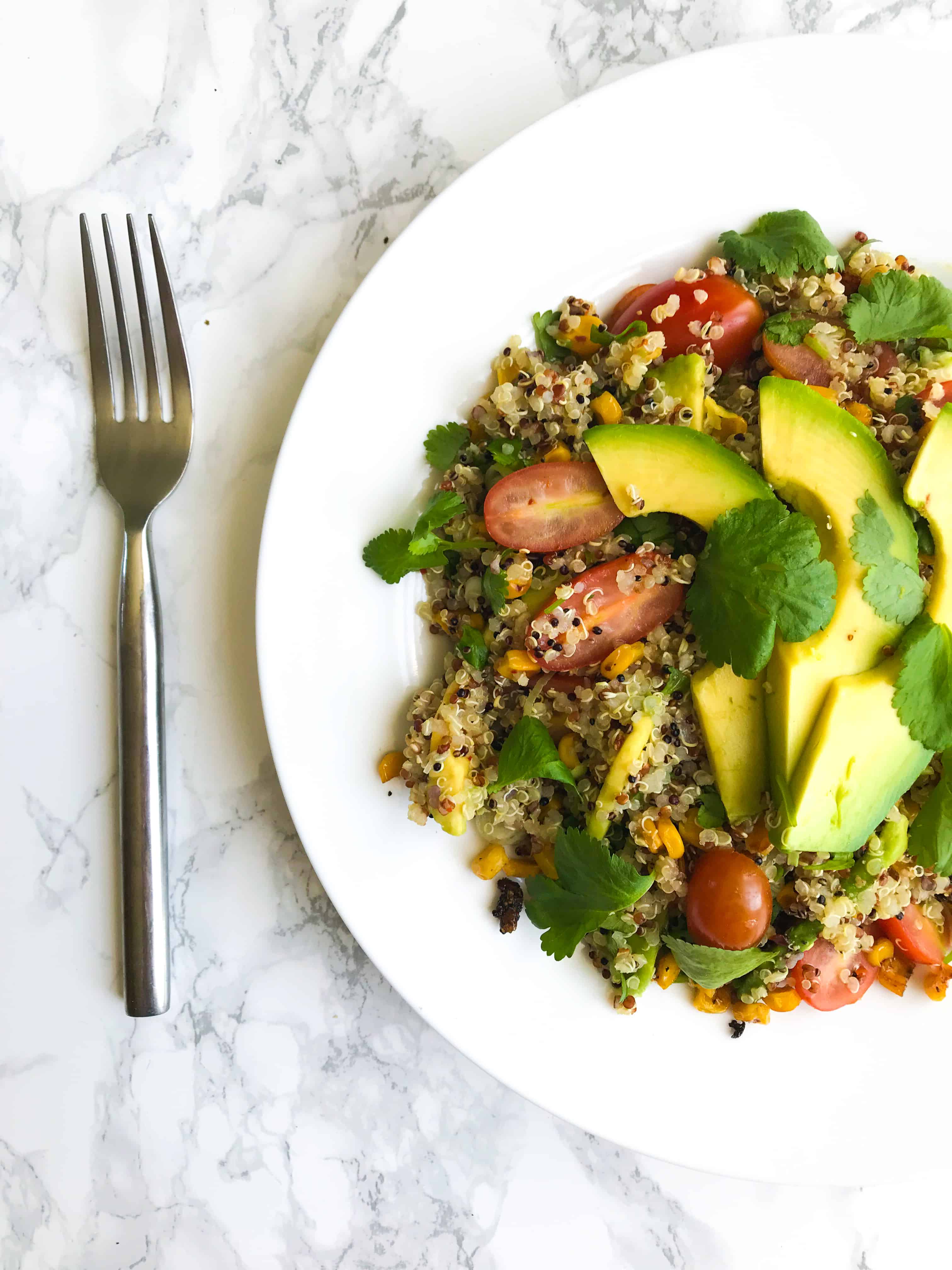 Gone are the days of heart-burning burritos and enlarging enchiladas. Mexican fast-food is renowned for its greasy nature and high calorie count. Queso, what do we do next, you may ask? My Mexican toasted corn quinoa salad is a feisty fiesta teeming with taste and offers a Mexican marvel without the ten hour flight. Made up of ingredients you'll most likely have in your cupboard. This quick and easy weeknight dinner can be doubled up to create the pinnacle of packed lunch experiences.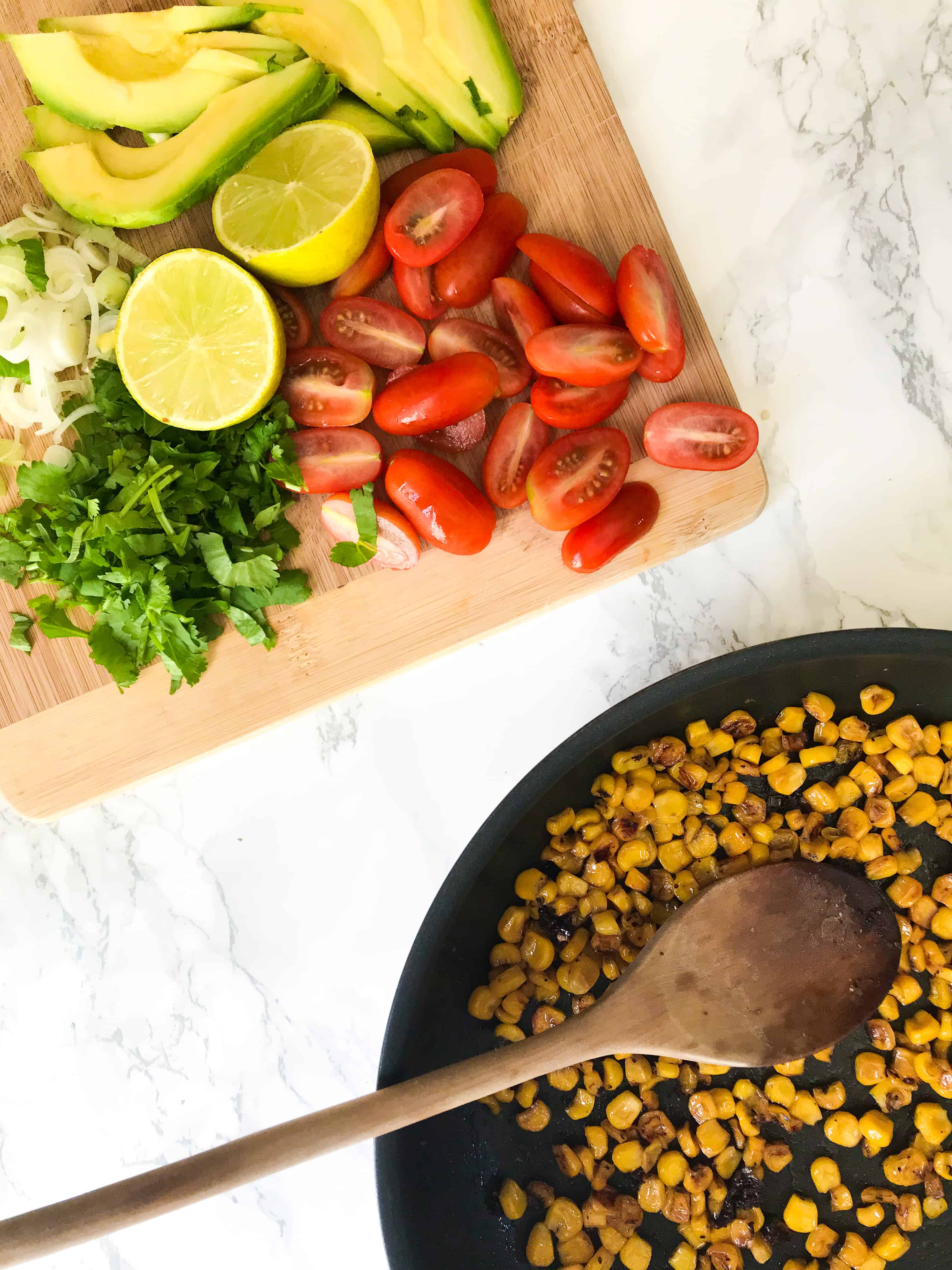 I know you guys will love this Mexican toasted corn quinoa salad – it's SO simple yet bursting with flavour. I mean, how can a dish with avocado not be delicious?! So if I have inspired you to make this, hit me up with a tag on IG @georgieeatsblog or leave me a comment down below. Can't wait to see your wonderful creations!
G x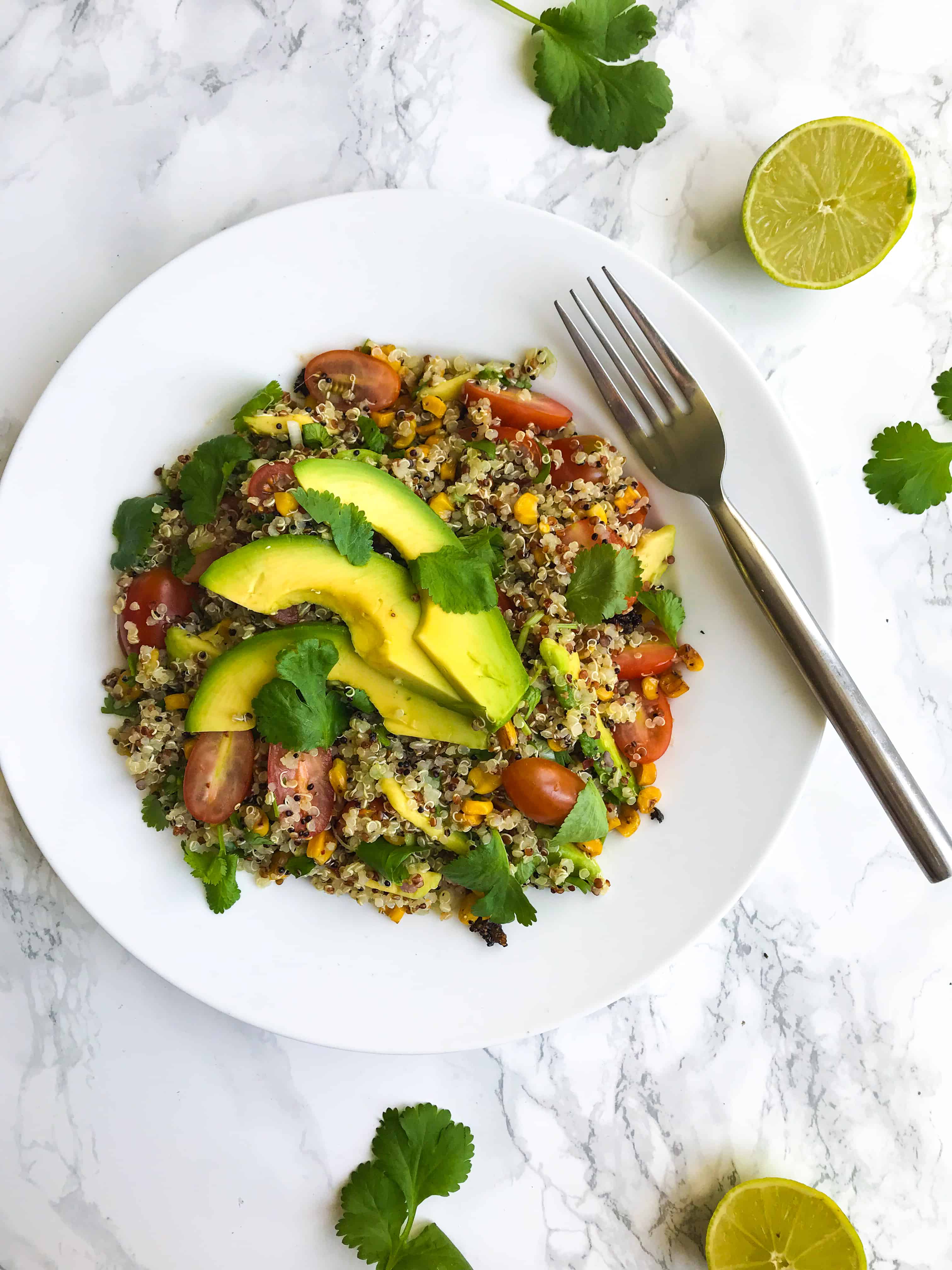 MEXICAN TOASTED CORN QUINOA SALAD
This Mexican toasted corn quinoa salad is an easy healthy weeknight dinner perfect for those in a rush. Made in under 25 minutes, bursting with flavour and packed with protein this scrumptious salad won't leave you hungry. Perfect as a main or side dish. Vegan, Gluten-Free & Paleo.
Ingredients
100

g (2/3 cup)

quinoa

rinsed

1/4

vegetable stock cube

1

tsp

rapeseed / olive oil

200

g

tin of sweetcorn

drained

100

g (large handful)

cherry / plum tomatoes

quatered

1

large handful

corriander

roughly chopped

4

spring onions

finely sliced

Juice and zest

of 1

lime

1/2

tsp

chilli flakes

1

ripe avocado

peeled and sliced

Generous

pinch

sea salt and freshly ground black pepper
Instructions
Fill a medium saucepan with water and add the stock cube and quinoa, stir and bring to the boil. Reduce the heat and simmer for 15-18 minutes until the quinoa is tender. Drain and set aside.

Meanwhile, heat the oil in a frying pan over a medium heat. Add the corn and pinch of salt and pepper and fry for 5 minutes or so until the sweetcorn is golden brown and slightly crisp. Remove from the heat.

In a large bowl add the cooked quinoa, 3/4 of the sweetcorn, 3/4 of the avocado and all the remaining ingredients. Stir well to combine.

To serve, divide the salad between two plates before garnishing with the remaining sweetcorn and avocado.
Recipe Notes
This salad is great hot or cold! To serve cold allow both the quinoa and sweetcorn to completely cool. Then combine with the remaining ingredients and refrigerate. 
If you intend to pre-make this Mexican toasted corn quinoa salad, omit the avocado (so it doesn't brown), keep the pre-made salad in an airtight container in the fridge for up to 3 days and add the avocado just before serving. 
Make sure that your tinned sweetcorn hasn't got any added sugar or salt. The ingredients should read 'sweetcorn, water' only. It is better to add the salt yourself!
In my recipe I have used a tri-colour quinoa (white, red and black). But white quinoa will work perfectly well!
Watch out for unwanted ingredients on your stock cubes. I use the Kallo very low salt stock cubes - they are great!