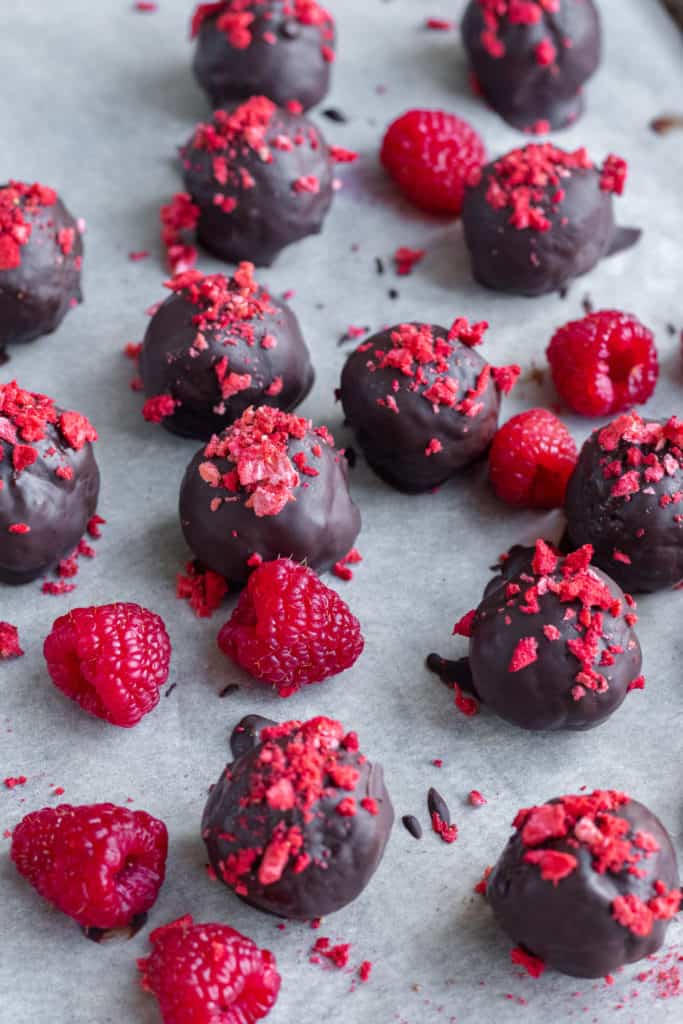 Whether you love it or hate it, Valentine's Day is just around the corner. For this weeks recipe I thought I would pay homage to the special day with my one true love… Chocolate. My chocolate date truffles are the perfect present for that special someone or just for yourself. You know you deserve it.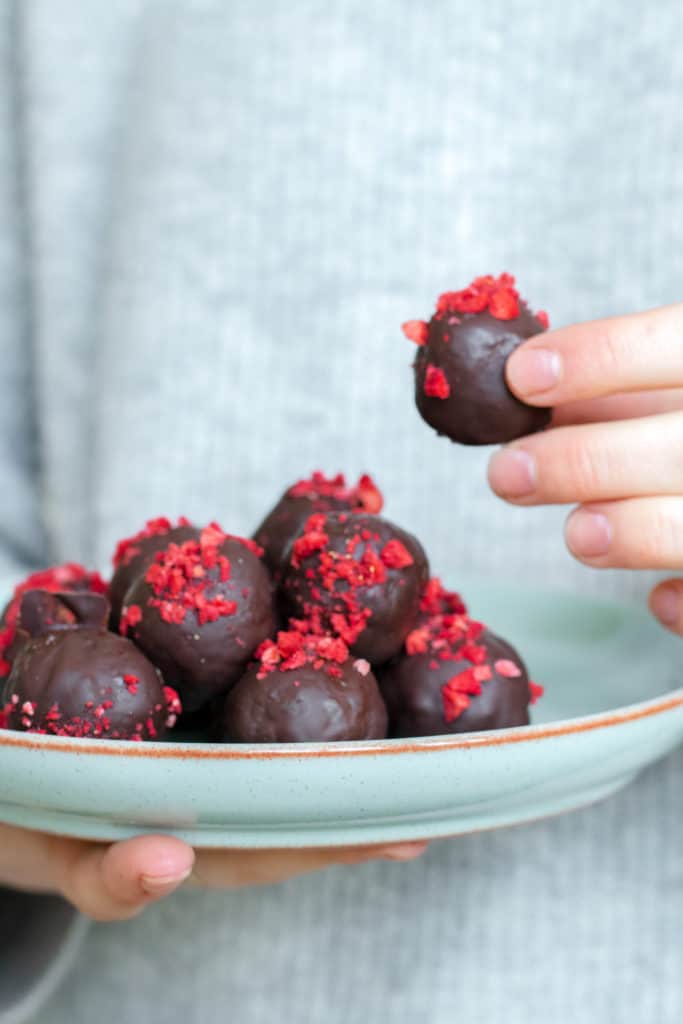 Nothing says 'I love you' more than a homemade gift. These chocolate date truffles will win you some serious brownie points without any serious effort. They are super healthy, full of goodness, protein rich, yet still uber decadent. Although, this recipe needn't be limited to February 14th. I make these year round as a pre/post gym snack or afternoon pick me up.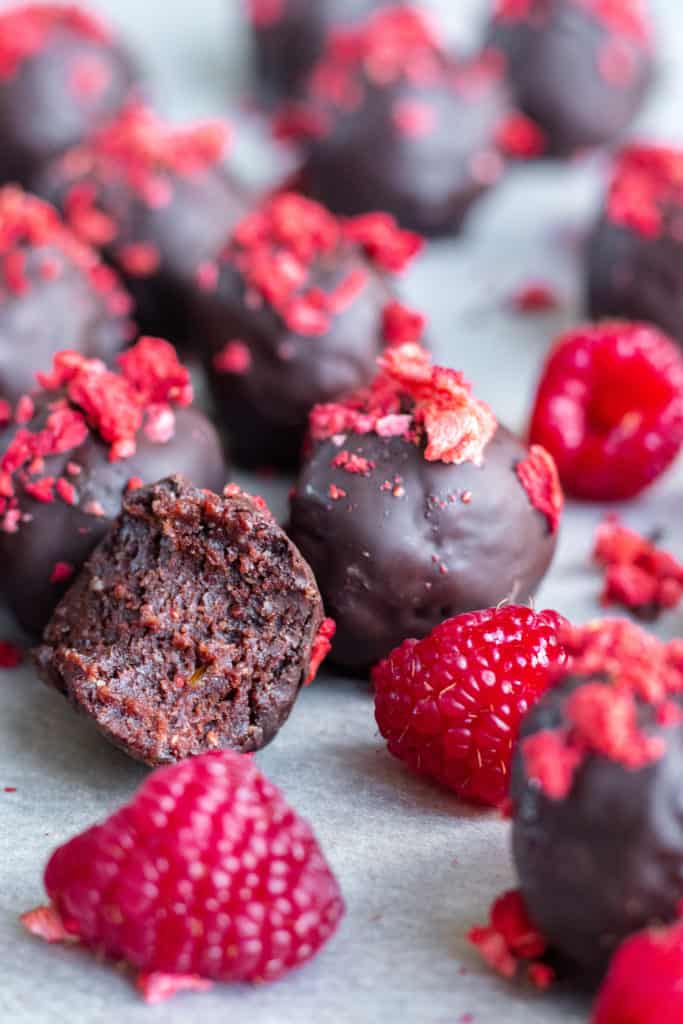 CAN I CUSTOMISE THIS RECIPE?
These chocolate date truffles can totally be customised to suit yours or your lovers tastes. As long as you keep my basic recipe and ratios the same you can play with the rest of the ingredients. Here are a few of my favourites variations:
For peanut butter fans: Use peanuts as your choice of nuts and top with crushed nuts and a sprinkle of sea salt for a 'Reeces-esque' truffle.
For chocolate orange lovers: Swap the vanilla extract for the zest of one orange and finish with strips of finely cut orange peel.
For the fruity ones (as shown in pictures): Add 2 tbsp of freeze-dried raspberry/strawberry powder into the mix and sprinkle with extra freeze-dried berries.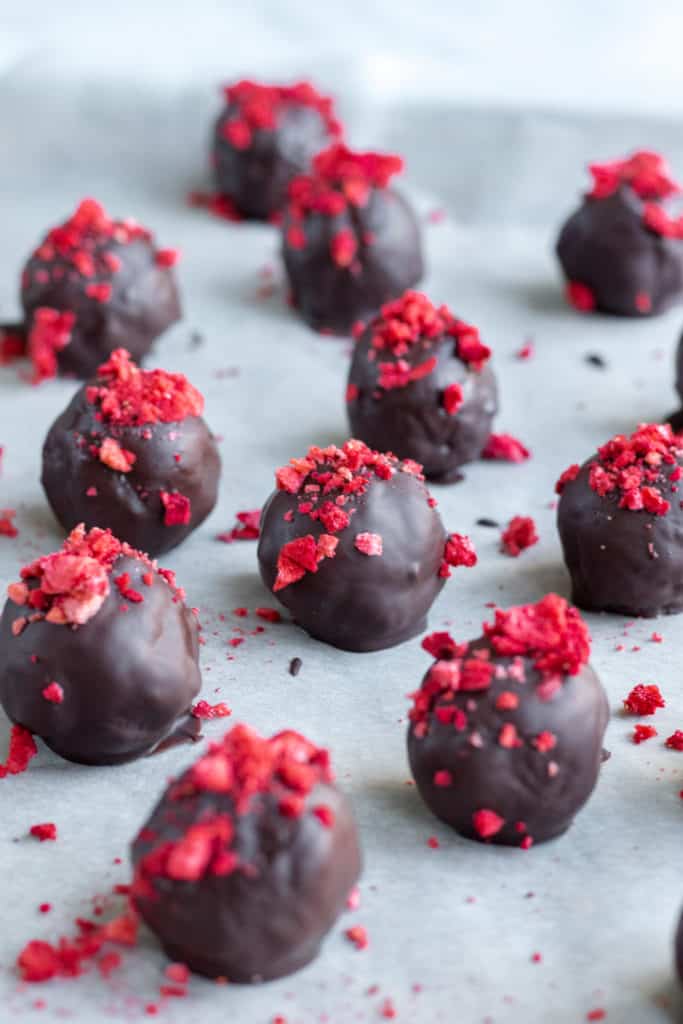 BUT DATES ARE SO EXPENSIVE?!
This is something I hear/get asked about a lot. Most truffle/bliss ball recipes call for Medjool dates. Unless you are willing to remortgage the house for these chocolate date truffles, I would recommend using less expensive varieties. For eating on their own Medjool dates win every time, but in this recipe you won't tell the difference. I always buy my dates online in bulk to save extra ££.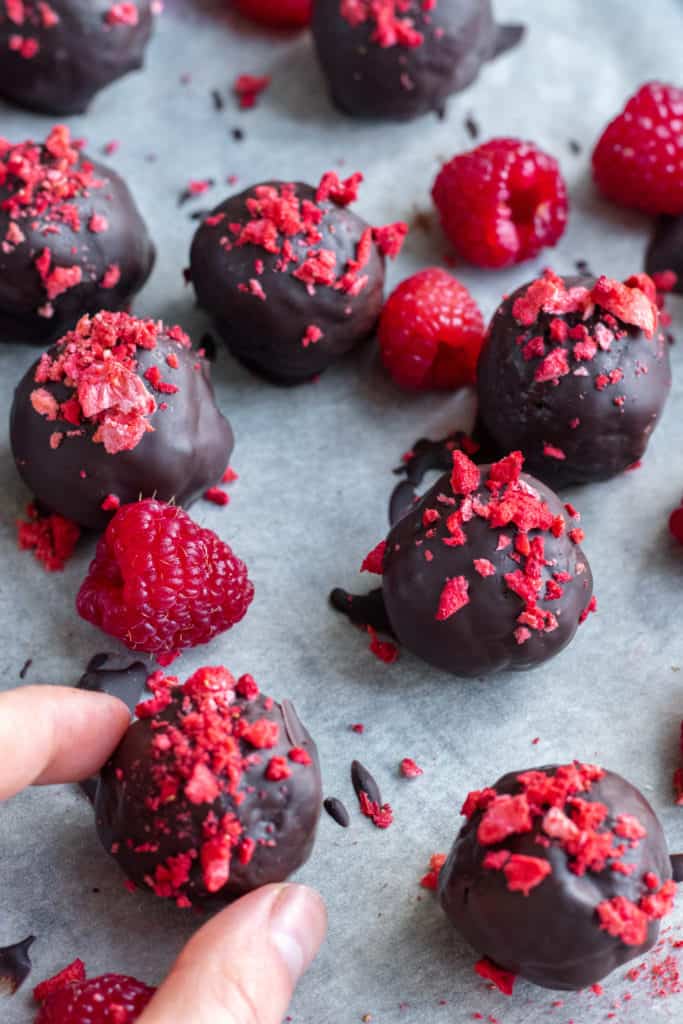 Whether you have a Valentine this year or not, I know you will love this recipe. I personally will be enjoying (a few to many of) these chocolate date truffles snuggled on the sofa with a (rather large) glass of red. No shame in that.
Please send me pictures of your creations on IG @georgieeatsuk, use the #georgieeats, or leave me a comment down below to make my day. Keep Smiling!
G x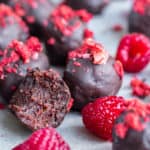 CHOCOLATE DATE TRUFFLES
These crowd-pleasing truffles can be made in only 10 minutes and are perfect as a gift or to treat yourself! Healthy, GF & vegan.
Ingredients
125

g

pitted dates

85

g

nuts

any kind

75

g

ground almonds

35

g

cacao powder

1

tsp

vanilla extract

Generous pinch

sea salt

50

g

dark chocolate
Instructions
Soak the dates in just boiled water for 5 minutes until soft. Drain, then use your hands to squeeze out any excess water.

In a high speed food processor pulse the nuts, ground almonds and cacao into a fine crumb. Add the dates, vanilla and salt and keep pulsing until the mixture forms a sticky dough.

Remove the dough from the processor and use your hands to roll it into 16 smooth balls (I recommend using a little coconut oil on your hands here to make rolling the sticky dough easier). Transfer the balls to the freezer for a few minutes to let them harden up.

Melt your chocolate gently over a bain-marie or in the microwave. Use two forks to coat the balls in the chocolate, lift them up to allow any excess to drip off, then transfer to a lined baking tray. Sprinkle with topping (if using) whilst the chocolate is still wet.

Once the chocolate has set, transfer all the date truffles to an airtight container and store in the fridge.
Recipe Notes
These truffles will keep in an airtight container in the fridge for up to two weeks and are best served cold.
For variations on this recipe (including the one shown in the pictures) see within the post.
A few ingredient notes: 
If you have them, Medjool dates work great in this recipe. Although, cheaper varieties of dates such as Deglet Nour work just as well.  
You can use any type of nuts you may have or prefer. I personally like to use a mixture of cashews, brazil nuts and almonds in this recipe.
If you can, try to use cacao powder as it is richer in nutrients than cocoa.
If you are a chocoholic like me then you are sure to love my Healthy Hot Chocolate recipe too!