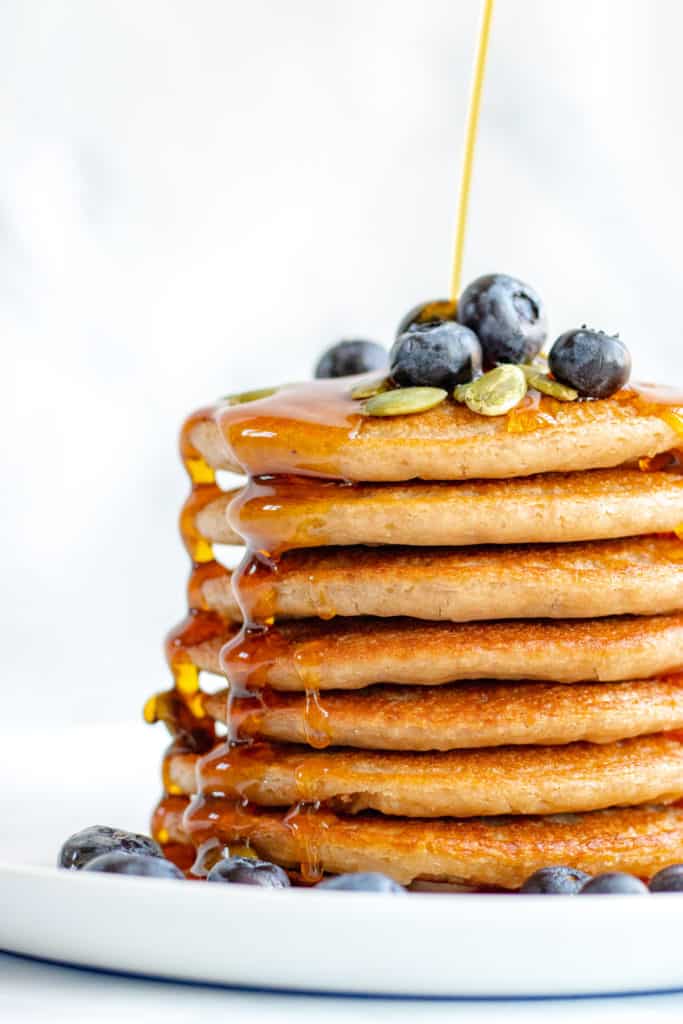 Wowee, this post has been a long time coming. I have been teasing you with pictures of these oaty banana pancakes for far too long now, promising for months that they would be coming soon… FINALLY the perfectionist in me is satisfied. So here it is: the ultimate healthy pancake recipe – just in time for pancake day! How very convenient.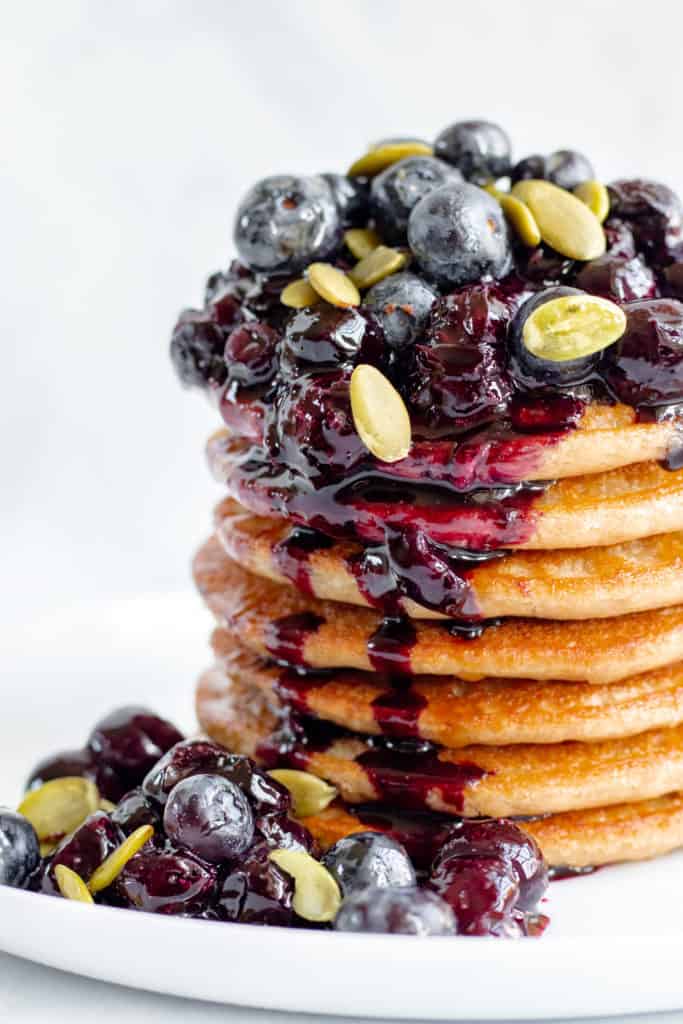 If one were to ask me my favourite food, my immediate answer would be pancakes. These oaty banana pancakes are fab as they are healthy enough to enjoy everyday if you wish. No judgement here.
PANCAKES CAN BE HEALTHY?!
Unlike regular American style pancakes, these oaty banana pancakes are full of goodness and will set you up for the day in the best possible way. The base of this recipe is a mixture of oats, the perfect slow-releasing carbohydrate, and mineral rich buckwheat flour. This winning combination, along with the natural sweetness of banana, will leave you feeling fuller for longer, food baby free and without that dreaded sugar crash.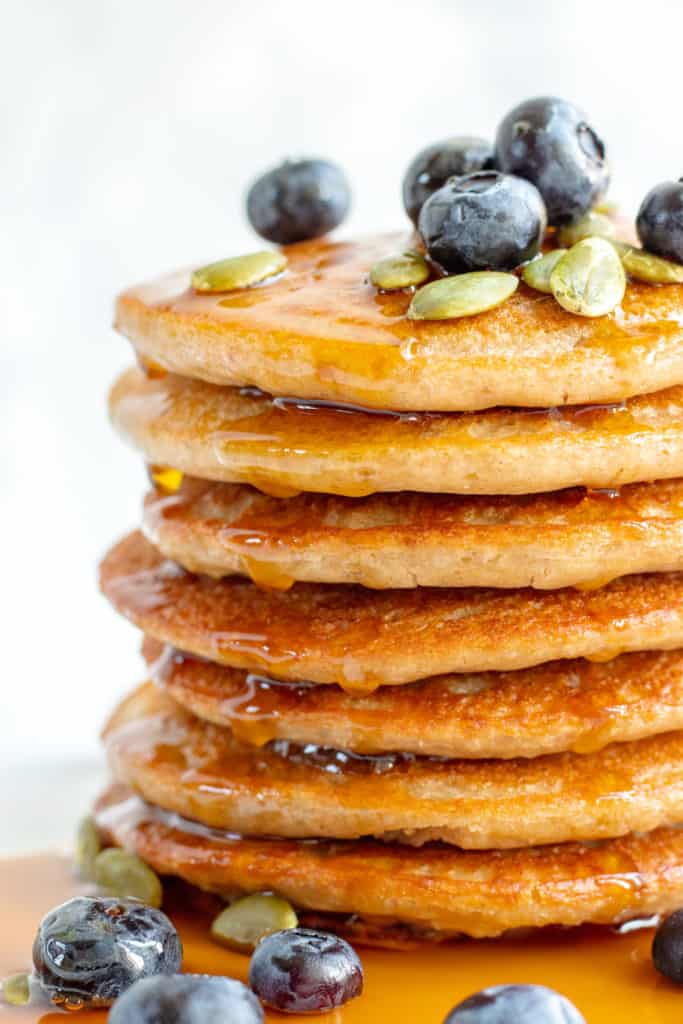 WHAT FLOUR CAN I USE?
I personally love buckwheat flour in this oaty banana pancake recipe as it is naturally gluten-free. It's also readily available in most supermarkets now, so isn't too much hassle to get hold of. If gluten isn't a problem for you, you can substitute this for a regular white, wholemeal or other wholegrain flour.
VINEGAR IN A PANCAKE?
Ok, now you need to trust me with this. I like my pancakes to be super light and fluffy – I mean, no one wants a flat pancake. But, due to the dense nature of this recipe's ingredients, these oaty banana pancakes need a little extra help to get that all-important rise. The apple cider vinegar, baking powder combo creates bubbles galore without affecting the taste.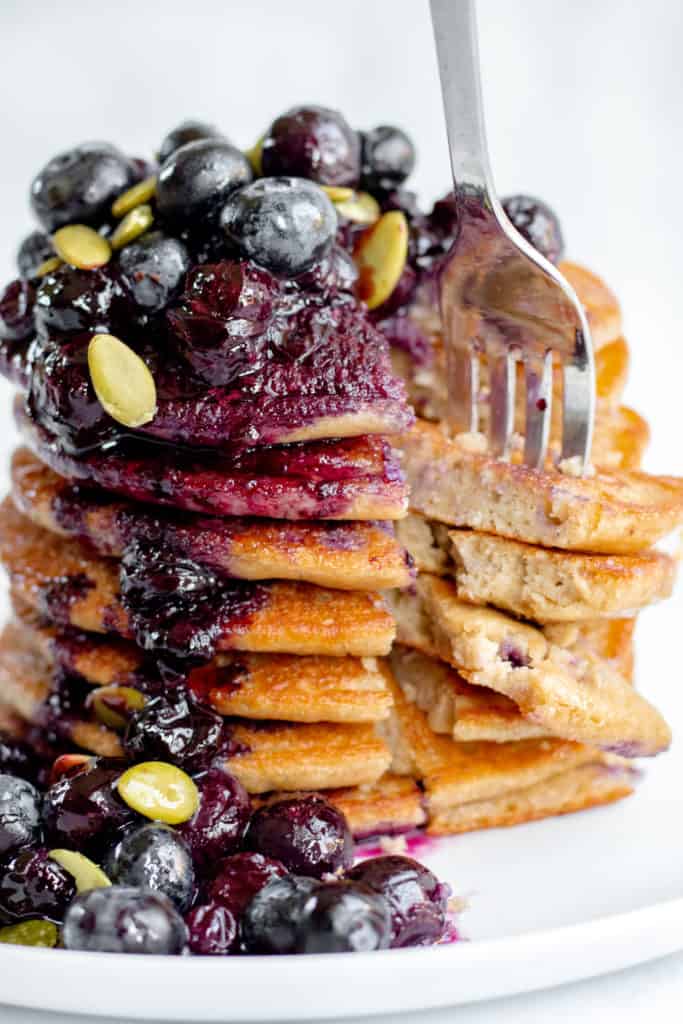 I have eaten these oaty banana pancakes far too many times now and have concluded they are best enjoyed with blueberry compote. The compote recipe below couldn't be easier and cooks in the same time as the pancakes. Although, these are great topped with anything you please – extra banana and plenty of peanut butter is another of my favourites.
I cannot wait for you guys to try this recipe and let me know what you think! If you do, please send me any pictures on IG @georgieeatsuk, use the #georgieeats, or leave me a comment down below. Keep smiling!
G x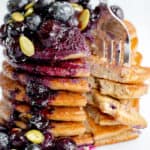 OATY BANANA PANCAKES WITH BLUEBERRY COMPOTE
The ultimate healthy pancake recipe! Easy, delicious and full of goodness. Top with my quick blueberry compote for an extra special weekend breakfast. Vegan & GF.
Ingredients
1

medium overripe banana

85

g (1 cup)

porridge oats

125

g (1 cup)

buckwheat flour

250

ml (1 cup)

milk

(I use oat)

2

tbsp

maple syrup

2

tbsp

coconut oil

melted

1

tbsp

baking powder

1

tbsp

apple cider vinegar

Coconut oil

for frying
Blueberry compote
200

g (1 + 1/2 cups)

frozen blueberries

1

tsp

vanilla extract

optional

1

tbsp

maple syrup
To serve
Sprinkle

of

pumpkin seeds

Maple syrup
Instructions
Add the banana, oats, flour, milk, maple syrup and coconut oil into a food processor and blitz until smooth. Pour the mixture into a bowl and stir in the baking powder and apple cider vinegar until just combined. Set aside for 10 minutes to thicken.

Meanwhile add blueberries, vanilla and maple syrup into a saucepan over a medium heat. Give everything a good mix and continue to stir occasionally for 5-10 minutes until the blueberries are soft and have reduced.

Preheat a large frying pan over a medium heat and add enough coconut oil to coat the base.

When the pan has preheated completely, pour ¼ cup portions of the pancake batter onto the base. You should notice bubbles forming on the surface. Cook until the majority of these bubbles have popped, then use a fish slice to flip the pancake over. Cook for another 2 minutes or until golden brown.

Repeat step 4 until all the pancakes are cooked, remembering to grease the pan each time. Depending on how large your pan is you may be able to cook several in one go. If not, you can keep the cooked pancakes warm at the lowest temperature in the oven whilst you fry the rest.

Stack the pancakes onto plates and dress liberally with the blueberry compote, a sprinkle of pumpkin seeds and a drizzle more of maple syrup.
Recipe Notes
This recipe doubles perfectly if you are cooking for a crowd.
Any uncooked pancake batter will keep in an airtight container in the fridge for up to 2 days.
A few ingredient notes:
I like to use buckwheat flour in this recipe as it is naturally gluten-free. You can substitute this with another GF flour blend, plain white, wholemeal or any other wholegrain flour.
Make sure your maple syrup is 100% maple syrup and not maple 'flavoured' syrup. You could also use raw honey if you prefer.
Although apple cider vinegar works best in this recipe, it can be substituted for another cider vinegar or white wine vinegar. Do not use a malt vinegar – the flavour is too strong.
If you love pudding for breakfast… why not try my carrot cake overnight oats too!