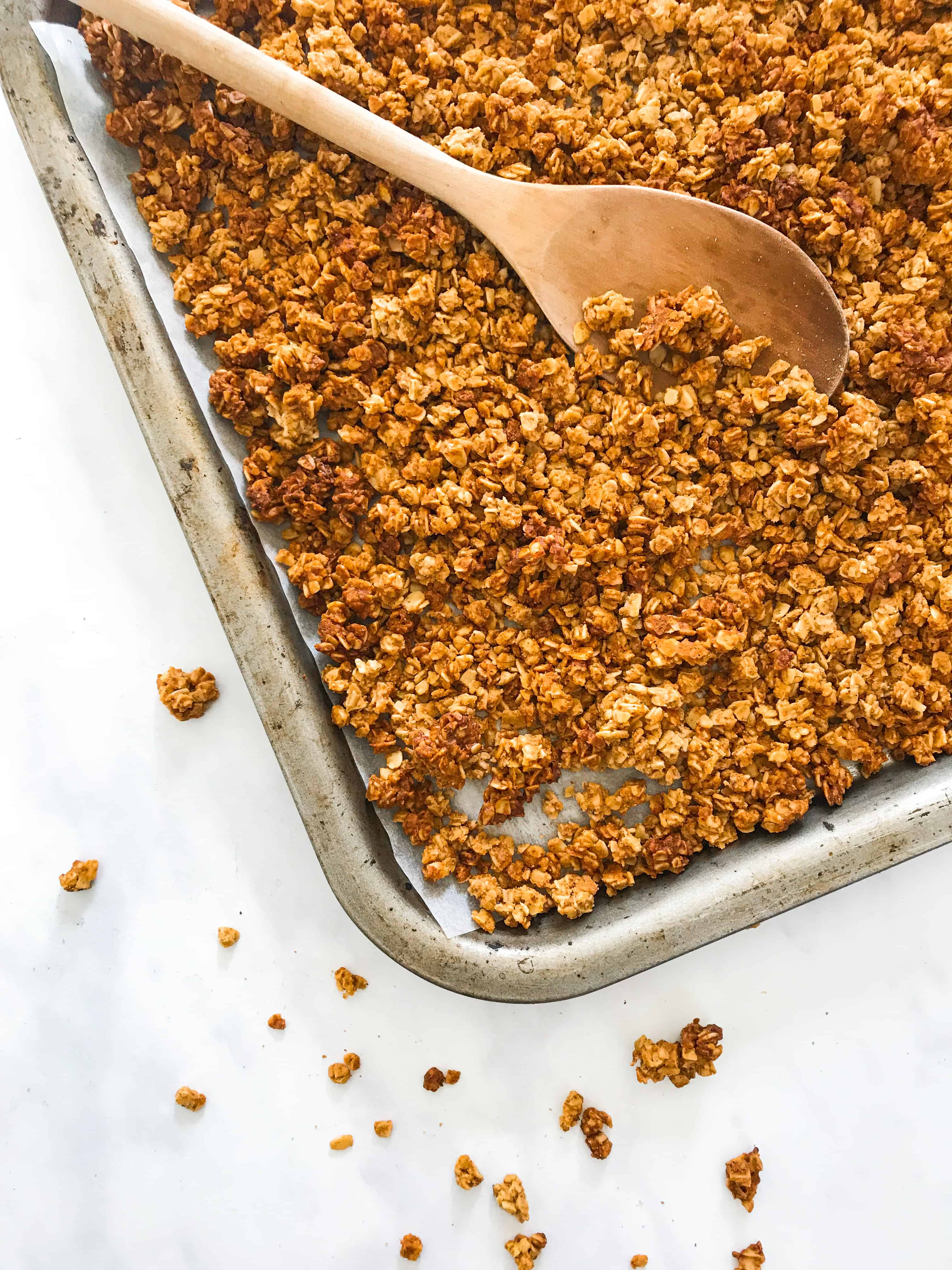 Have you ever brought a box of £4 granola and felt like you've been cheated? I HAVE. It seems to me that with granola you either compromise on taste and remortgage the house, or buy a cheaper brand with a higher sugar content than a bar of Cadburys. Enough is enough – no longer should we have to endure the lesser of two evils. So, I came up with this peanut butter granola recipe to offer the best of both worlds: sweetly packed with nutrients and obvs, incredibly scrummy. I am the rightful honourable self-titled granola connoisseur… and it's a 10/10, would eat again from me.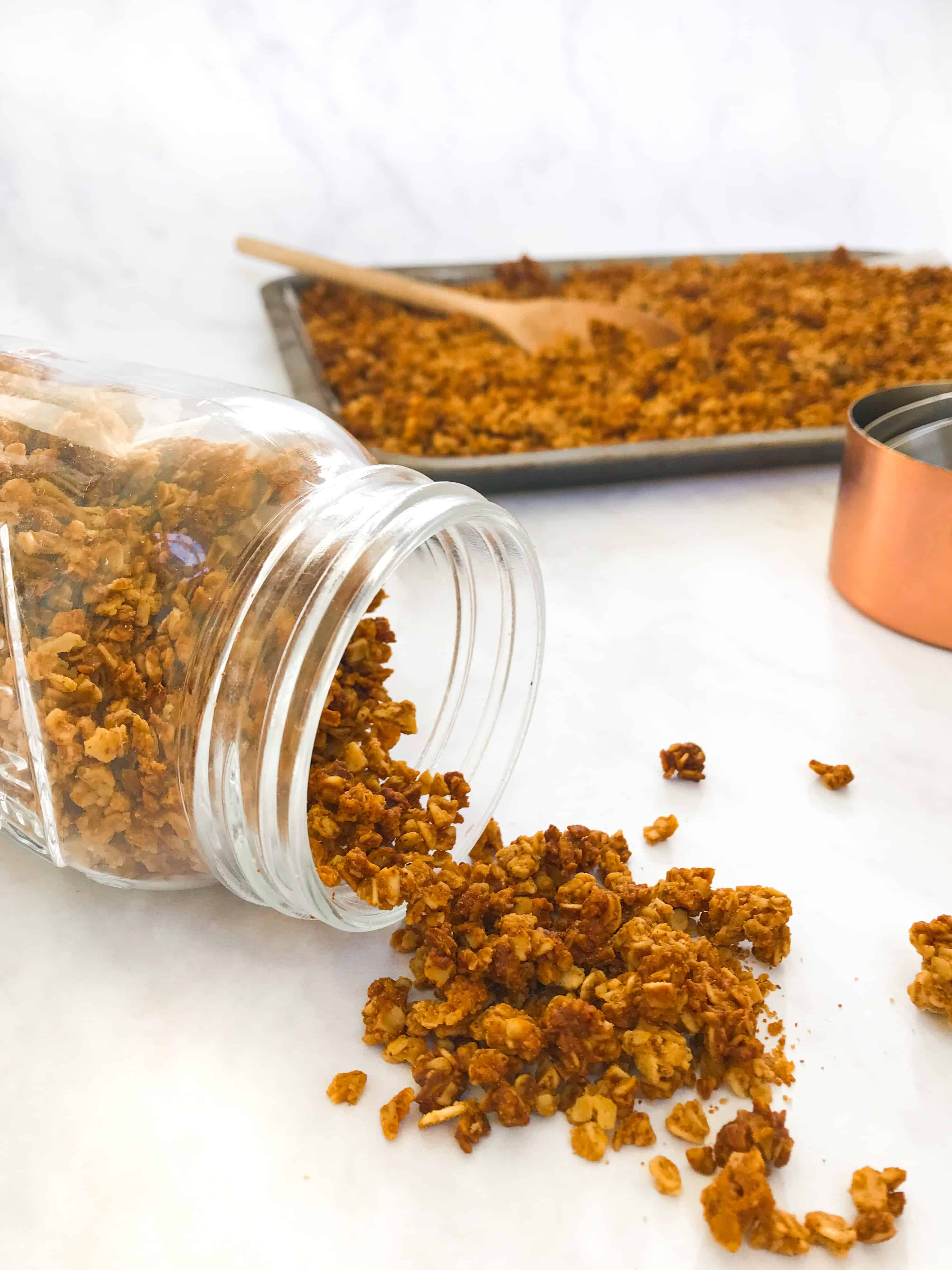 I eat so much peanut butter that if a doctor was to conduct a blood test I would comeback PB positive. Whether it's crunchy or smooth I just love it and try to put it in everything, sweet or savoury. Granola is also my life. So I had no doubt this peanut butter granola would be a match made in heaven. I was right, it's magic. It's also incredibly easy to make. Just bake a batch on a Sunday night to fill your house with a delicious scent and your belly for the rest of the week.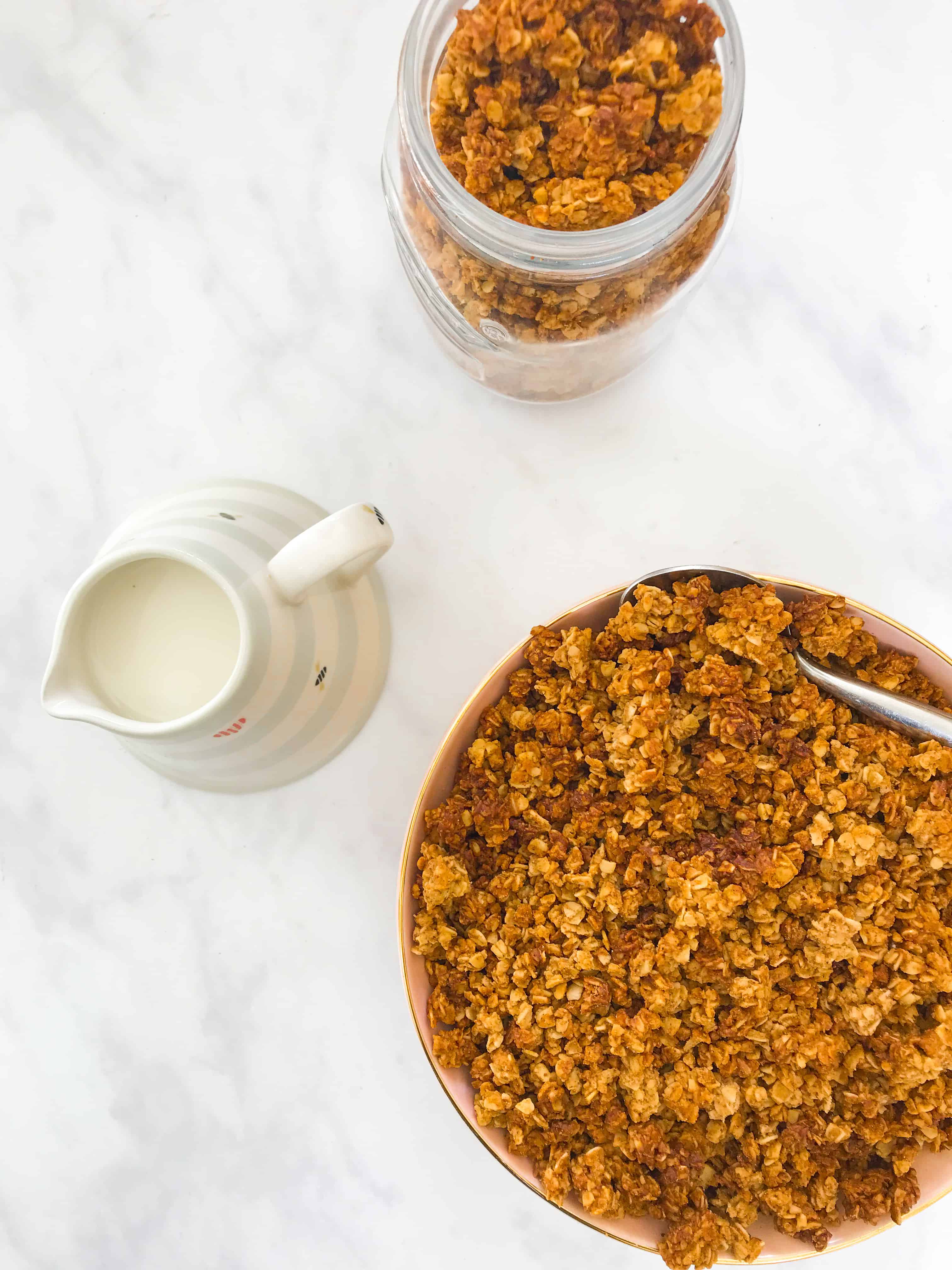 Oats are an extremely common breakfast food and for good reason! They are a great source of fibre (in particular beta glucan), as well as being a source of manganese, iron, magnesium, zinc and selenium. Porridge may well be nutritious but I often find myself feeling hungry too soon after eating a bowl. By coupling the oats with peanut butter, this granola recipe has upped it's levels of protein making you feel fuller and satisfied for longer.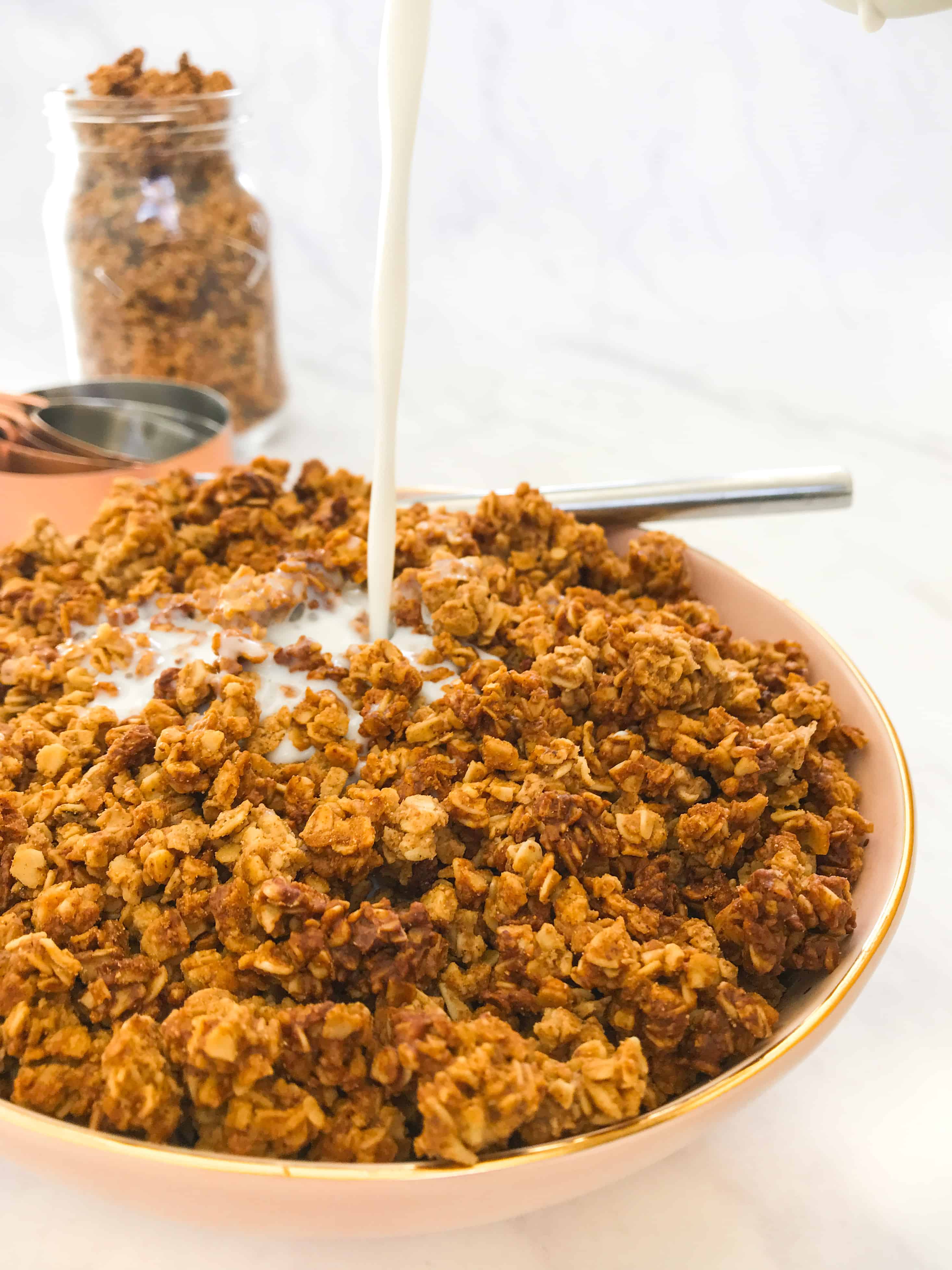 Breakie, lunch, dinner, snack? Who knows! Bloody delicious though. It is as magic as a handful out the jar as it is with milk, ice-cream, smoothies or porridge. I love to pop it on top of yoghurt with banana and berries for a super quick insta worthy breakfast.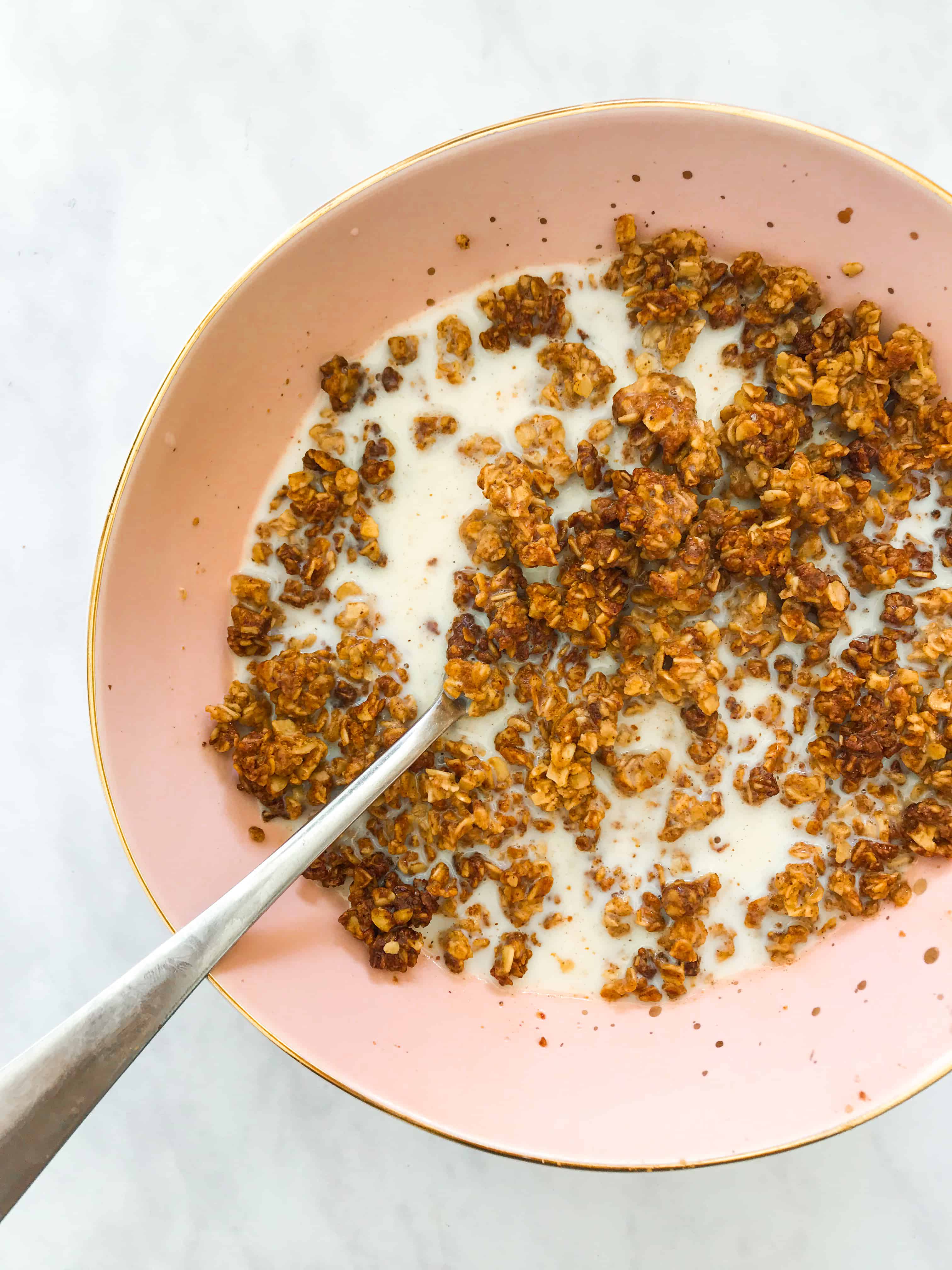 To reach maximum crunchiness I have used ground almonds as a cluster forming glue. Of course you could leave this out if you want a classic peanut butter granola. Regardless of how you eat it please don't be mad at me when it's all gone! If you make this be sure to send me a picture (before you eat it all) to my IG @georgieeatsuk or leave me a comment down below. Would love to hear your thoughts. Keep smiling everyone.
G x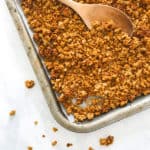 CRUNCHY PEANUT BUTTER GRANOLA
Crunchy clusters of peanut butter granola goodness. Make a batch at the beginning of the week to jazz up anything your heart desires! Made from ingredients you might already have in your cupboards, ready in half an hour and super nutritious this peanut butter granola will beat anything you can buy. Vegan, GF, healthy & refined sugar free.
Ingredients
65

g (1/4 cup)

smooth peanut butter

1

tbsp

coconut oil / butter

2

tbsp

honey / maple syrup

1/2

tsp

vanilla extract

(optional)

180

g (2 cups)

rolled / old fashioned oats

1

tsp

ground cinnamon

Large

pinch

sea salt

30

g (1/4 cup)

ground almonds

(optional)
Instructions
Preheat the oven to 160ºc fan/180ºc/350ºf.

In a large saucepan over a low heat melt together the peanut butter, coconut oil, honey / maple syrup and vanilla extract, stirring until combined.

Remove the pan from the heat and add the oats, cinnamon, salt and ground almonds. Mix throughly until everything is evenly coated.

Pour the oat mixture onto a lined baking tray and gently spread it out into one even layer, being careful not to break up the clusters that have formed. Bake in the preheated oven for 20-25 minutes or until golden brown, stirring the granola once half way through cooking.

Remove from the oven and allow the granola to harden and cool completely before serving.
Recipe Notes
This peanut butter granola is perfect to make in advance and will keep for up to 2 weeks. Once cool store in an airtight container to avoid any softening.
I use ground almonds in this recipe as a sort of binder to create extra crunchy clusters! You can leave it out for a more delicate granola. Just substitute for an extra 30g of oats.
You can make this peanut butter granola your own by adding in anything you like. Why not try adding a handful of nuts or seeds into the mixture before baking or stirring in a few chocolate chips, banana chips or raisins once the granola has come out of the oven.
A few ingredient notes: 
Try to use peanut butter that is made with 100% peanuts. It should be runny and will need to be stirred before using! Alternatively you could use almond butter or even cashew nut butter for a more neutral tasting granola. 
If you can find it, try to use raw honey as it is less processed. If using maple syrup make sure it is 100% maple syrup and not maple 'flavoured' syrup. You could also use agave nectar if you prefer.
If you are in the U.S. you may better know 'ground almonds' as almond meal or almond flour.
If oats aren't your thing, why not try my Shakshuka Baked Eggs Recipe instead?!