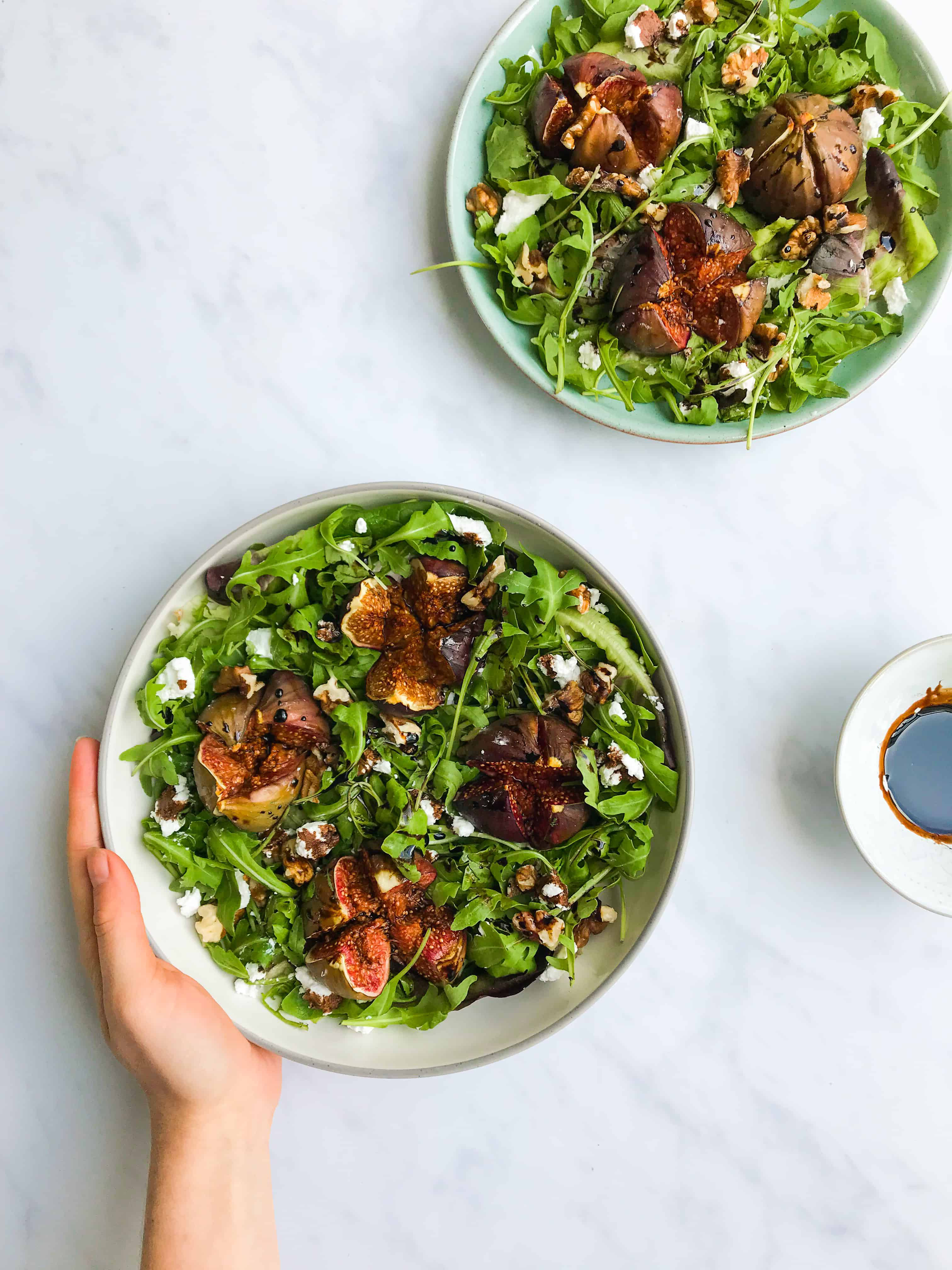 My name is Georgie, and I am a self confessed fig addict. Every weekly shop seems to somehow bring home more figs and I love using their magical marbled middle to challenge myself to innovative creation. One tasty marvel is this honey roasted fig salad with salty goats cheese, peppery rocket and a scrumptiously deep balsamic reduction. This super simple sophisticated dish is rather la-de-da and will impress anyone you feed it too. It's down to you whether you tell them how easy it really was…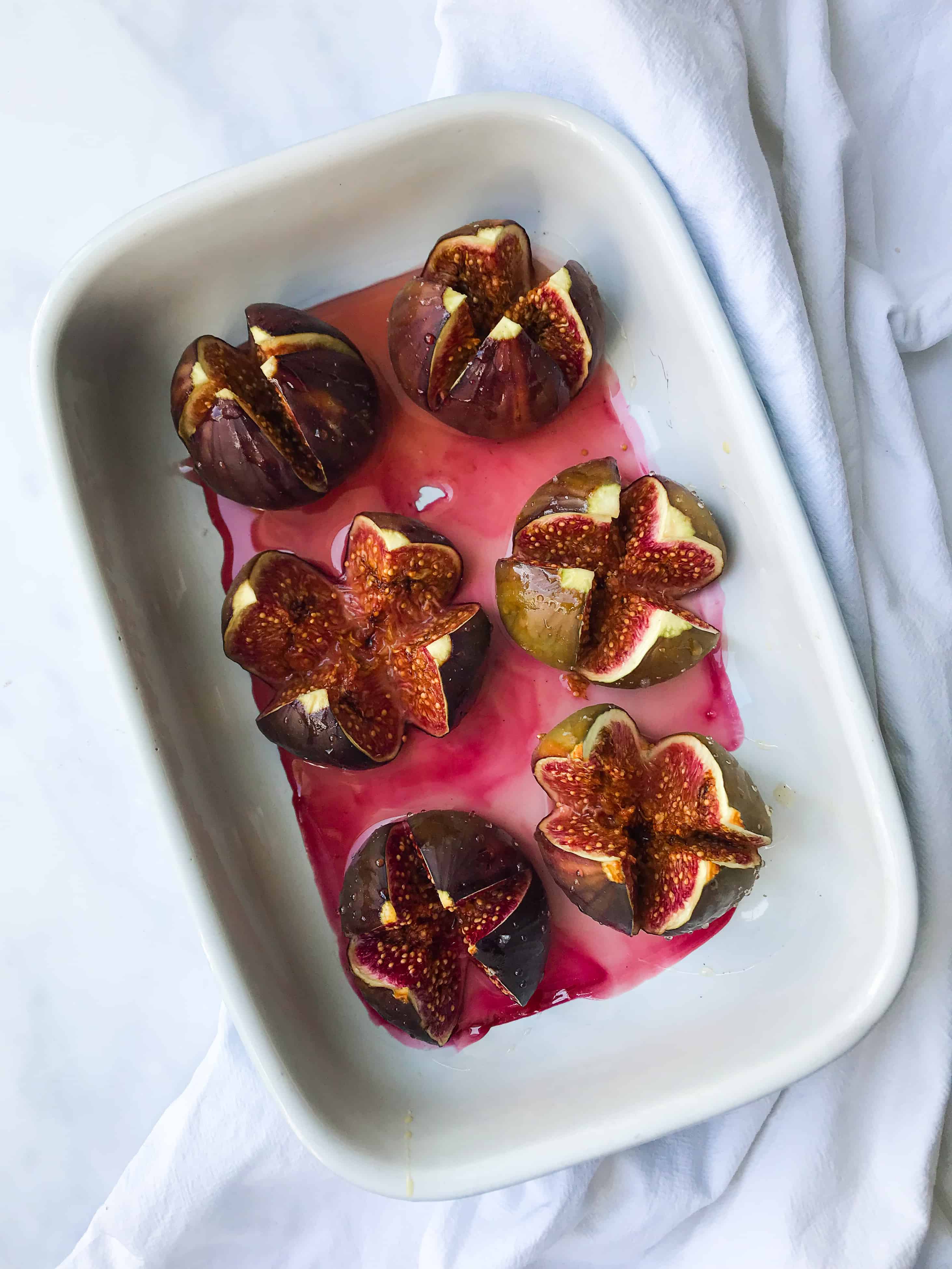 Here on Georgie Eats we all know I love a bit of seasonal produce. Partly because it's when ingredients taste their best but also because its when they are at their cheapest. I picked up 4 figs for 29p the other day at Aldi (I promise not sponsored, just a GREAT deal). So my honest honey roasted fig salad will be best friends with your bank balance as well as your belly.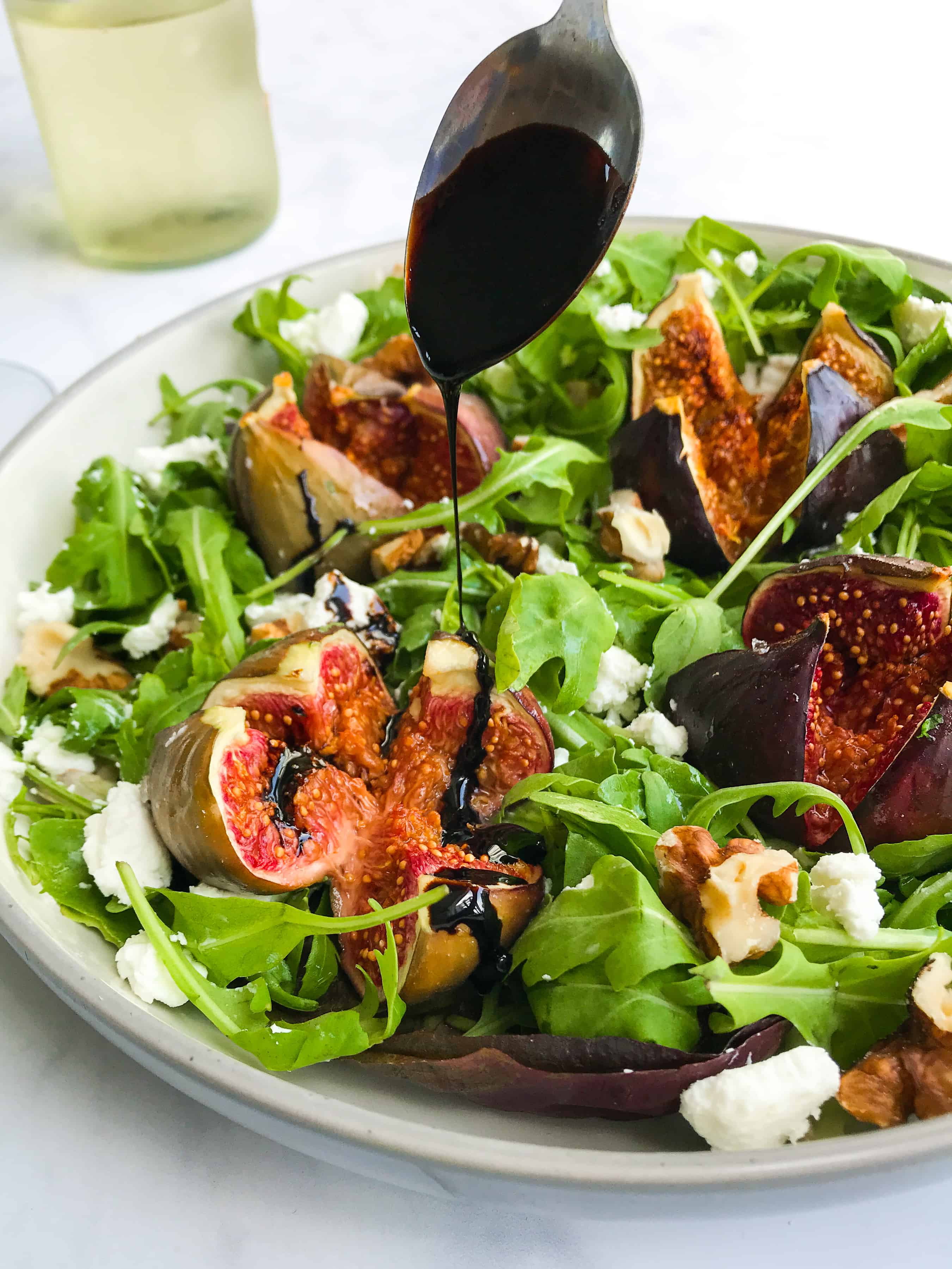 Apart from their uniquely delicious flavour and instagram worthy appearance, figs are really good for you!! I remember my mum eating them when she was struggling to go to the loo (tmi sorry mum, haha) due to their high soluble fibre content. Figs also contain prebiotics which help support pre-existing good gut bacteria, therefore improving the health of your digestive system. They are also a great source of minerals potassium, calcium, magnesium, iron and copper as well as vitamins A, E and K.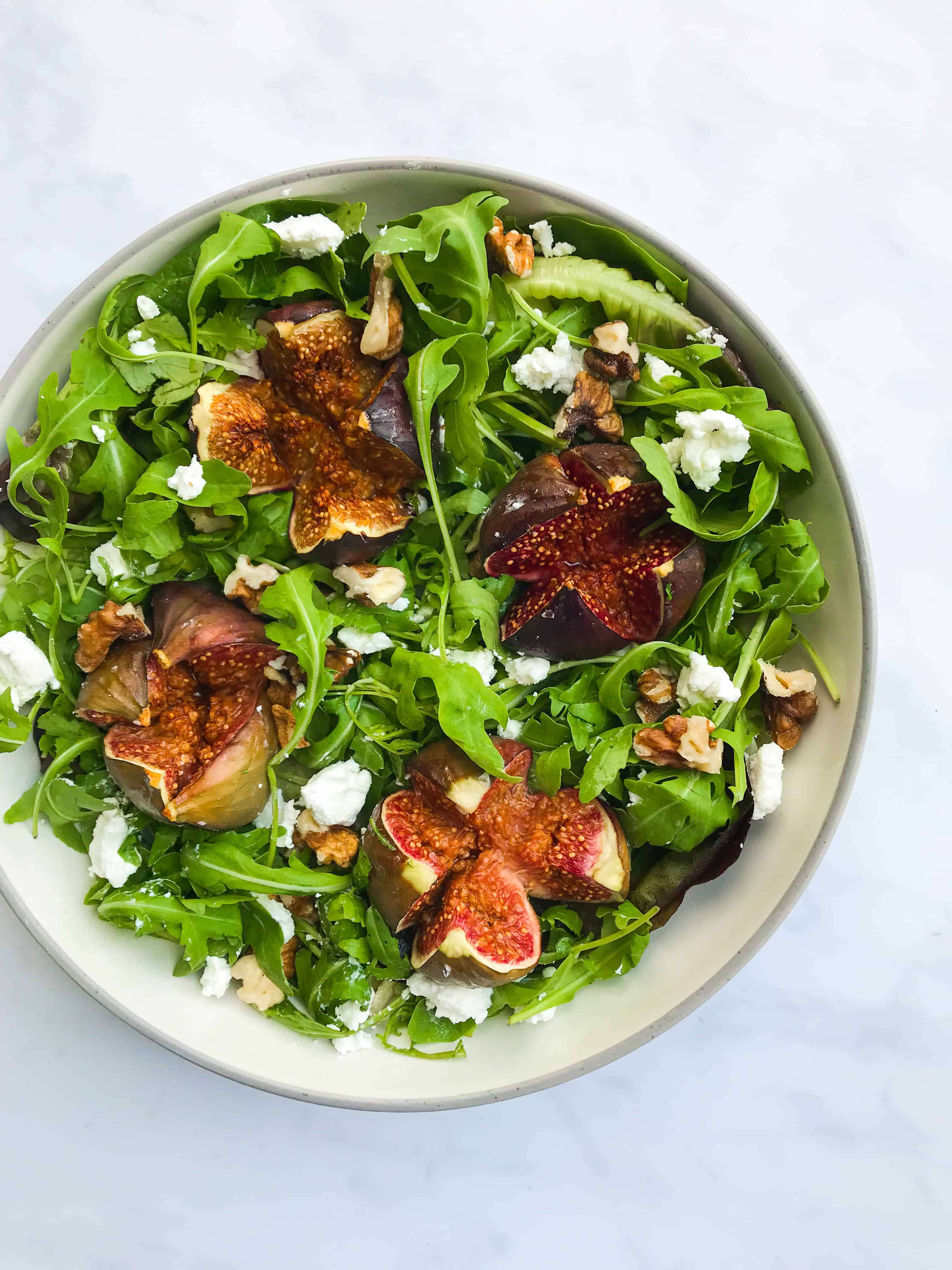 This honey roasted fig salad is one of best I have ever made. The perfectly balanced flavours all unite together to create what I would call a masterpiece on a plate. I couldn't wait to feed this to anyone who would eat it. My dad quote unquote 'bloody loved it' and whaffed it down in a matter of seconds. This all-rounder can be made 30 minutes so is great for a weekday lunch as well as being perfectly in place at a dinner party.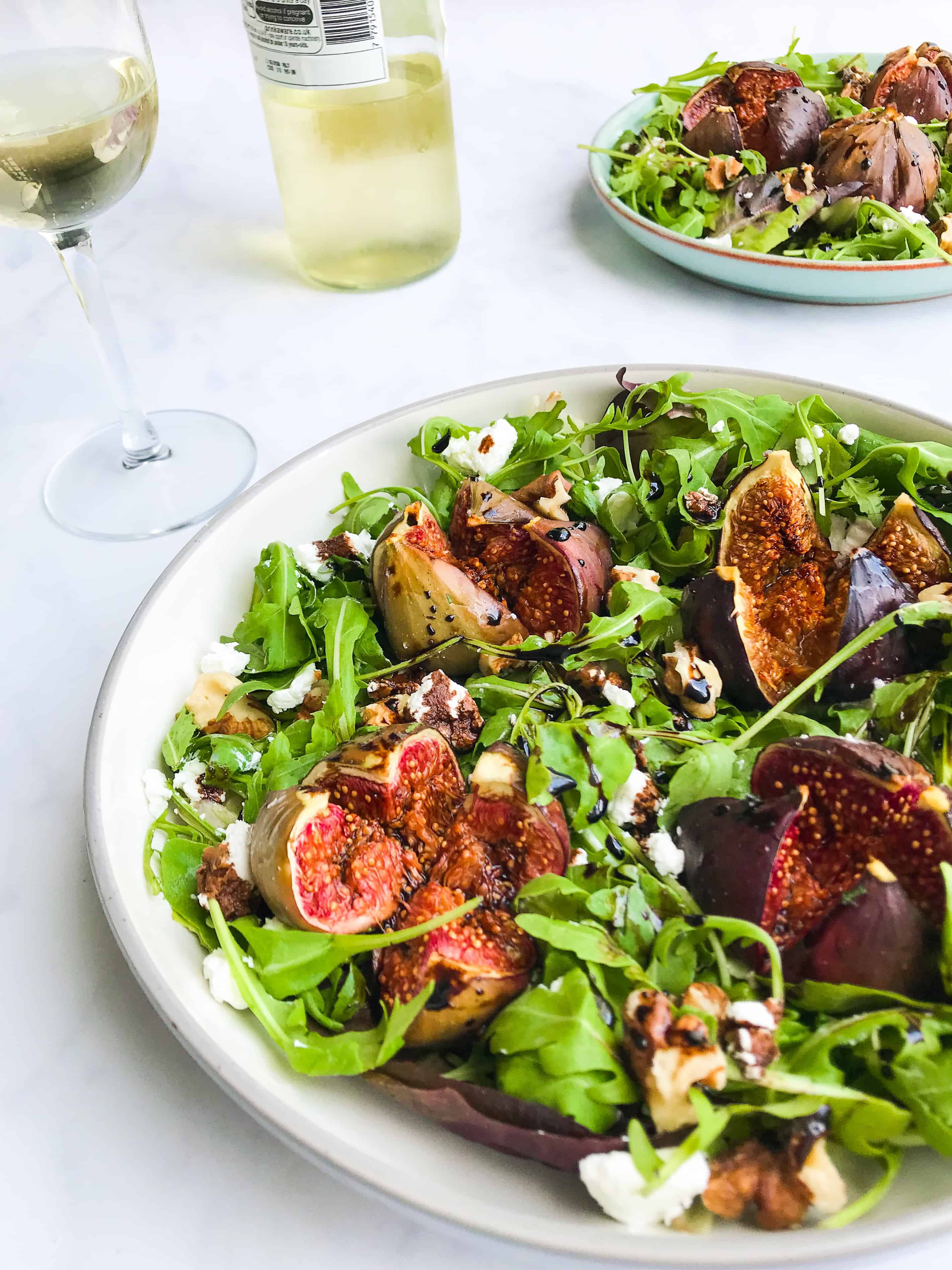 Do me a favour and give this honey roasted fig salad a go. ITS 'FIG'-ING AWESOME. Be sure not to skimp on the balsamic reduction though – it really makes the dish. This one looks great on the gram so be sure to send me a picture @georgieeatsuk or leave me a comment down below.
Have a fab week guys,
G x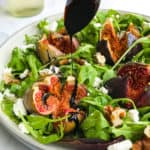 HONEY ROASTED FIG, GOATS CHEESE & WALNUT SALAD WITH A BALSAMIC REDUCTION
Beautifully sweet honey roasted figs with salty goats cheese, a crunch of walnut and crisp peppery wild rocket all liberally drizzled in a sticky balsamic reduction. It is seriously to die for... Perfect for a deliciously simple weekday lunch or to impress guests at a dinner party - it's an all round winner! GF, healthy & vegan option.
Ingredients
8

figs

1

tbsp

honey / maple syrup

Pinch of sea salt

100

ml

balsamic vinegar

60

g (1 bag)

rocket

80

g

goats cheese

crumbled

10

walnut halves

roughly chopped
Instructions
Preheat the oven to 160°c fan/180°c/360°f.

To prepare the figs, slice off the hard stems before cutting a cross shape from the top to 2/3rds of the way down each fig (as in the pictures). Place the figs onto a lined baking tray and drizzle a little honey into the centre of each one. Any remaining honey can be drizzled over the top. Sprinkle with a pinch of salt and roast in the preheated oven for 25-30 minutes until soft and caramelised.

Meanwhile bring the balsamic vinegar to the boil in a small saucepan. Reduce the heat and simmer for 10-15 minutes until it has thickened and will coat the back of a spoon. Remove from the heat and transfer to a jar or small jug to cool.

To serve, arrange the rocket, goats cheese and walnuts between two plates or a large serving platter. Place the honey roasted fig halves over the top before liberally drizzling with the balsamic reduction.
Recipe Notes
This salad is best served straight away. To make ahead, prep the figs, make the balsamic reduction and prepare all other components. 30 minutes before eating pop the figs in the oven and serve as in step 4.
You are welcome to use a balsamic glaze here instead of making your own balsamic reduction. I personally prefer to make my own as shop brought tend to have added sugars so watch out for those!
To make this salad vegan use maple syrup rather than honey and substitute the goats cheese with a dairy free alternative. 
A few ingredient notes:
If using honey, try to use raw honey as it is less processed. If you prefer maple syrup try to use 100% pure maple syrup and not maple 'flavoured' syrup. If you aren't sure just check the ingredients. They should read 'maple syrup' only.
Watch out for any added colourings or E numbers in your balsamic vinegar.
You can substitute the goats cheese for feta or another salty cheese if you would prefer.