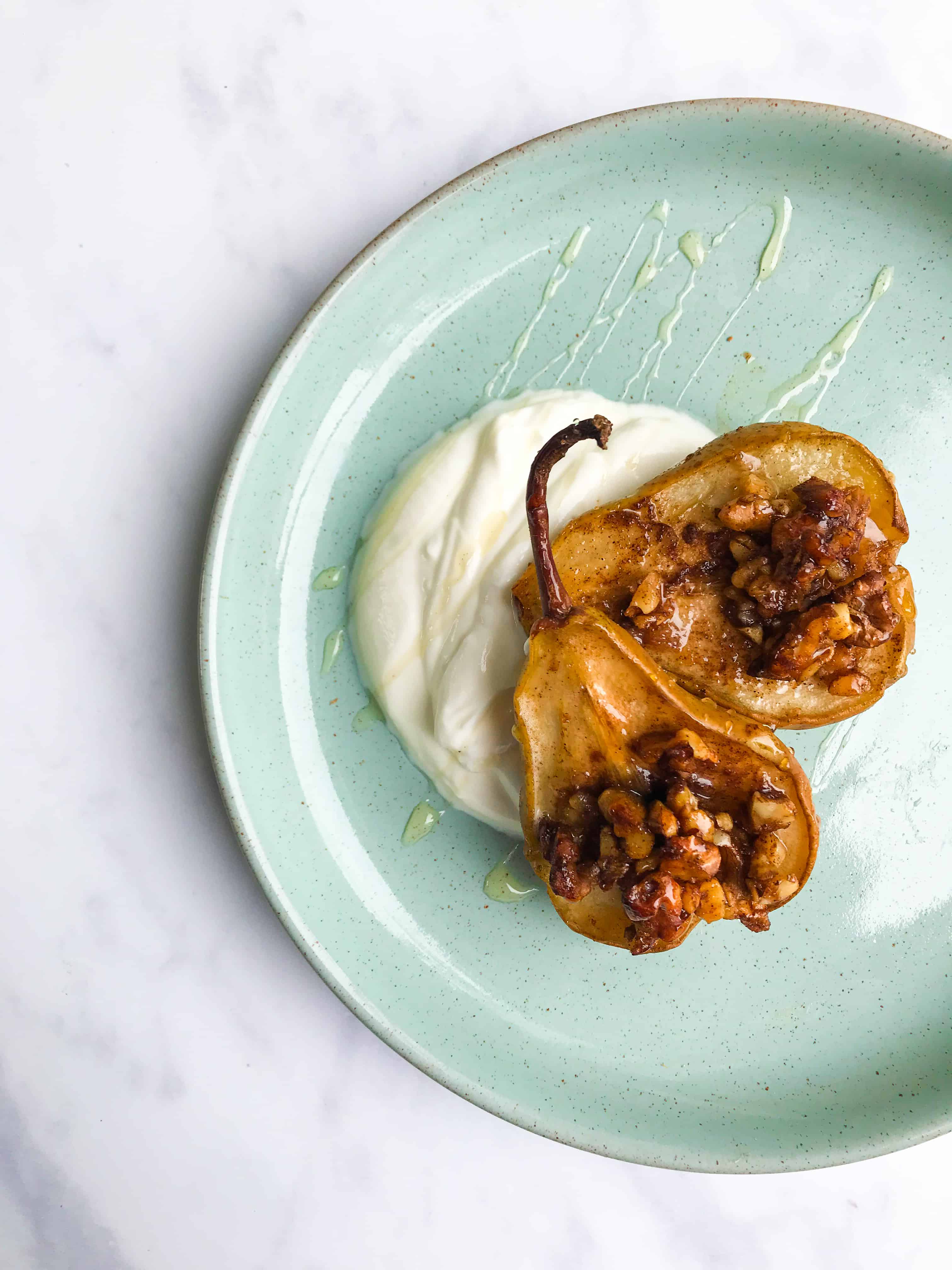 These walnut baked pears will make the world marvel at your ability to impress on a whim. Don't you envy that person who seems to have life so effortlessly sussed? Ever wonder why you can't concoct deliciousness for a crowd of unexpected guests? Well, these walnut baked pears are a spectacular solution and are still super easy. They are the perfect weekend breakfast or simplistic weeknight dessert which polishes your culinary halo.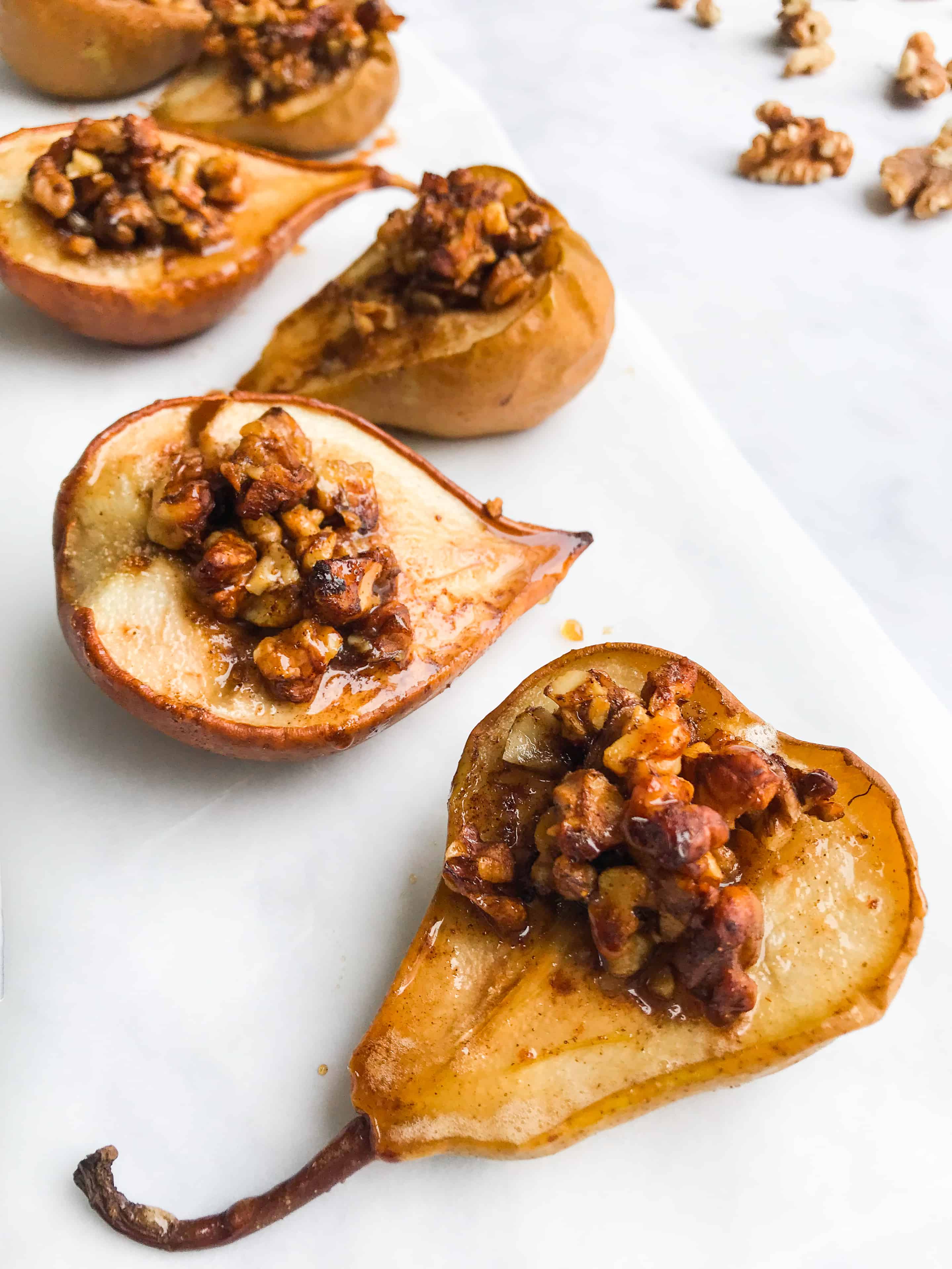 The inspiration for these walnut baked pears came to me whilst watching celebrity Masterchef last week. One of the contestants decided to make amaretto baked peaches, and although she was unsuccessful I thought that the simplicity of the baked fruit was ingenious. I have taken influence from the seasons in this recipe and used gorgeous ripe pears with an autumnal cinnamon flavour seeping through. In my opinion, cinnamon is an absolute winner and when it's blustery outside nothing can beat its comforting warmth.
Although these walnut baked pears might feel indulgent they are in fact super good for you. I have kept the skin on the pears in this recipe as it is much more nutritionally dense than the flesh. Pears are a fantastic source of dietary fibre as well as being rich in vitamin C, vitamin K and copper. Once paired with the protein and omega-3 filled walnuts it all comes together to make the ultimate guilt-free treat.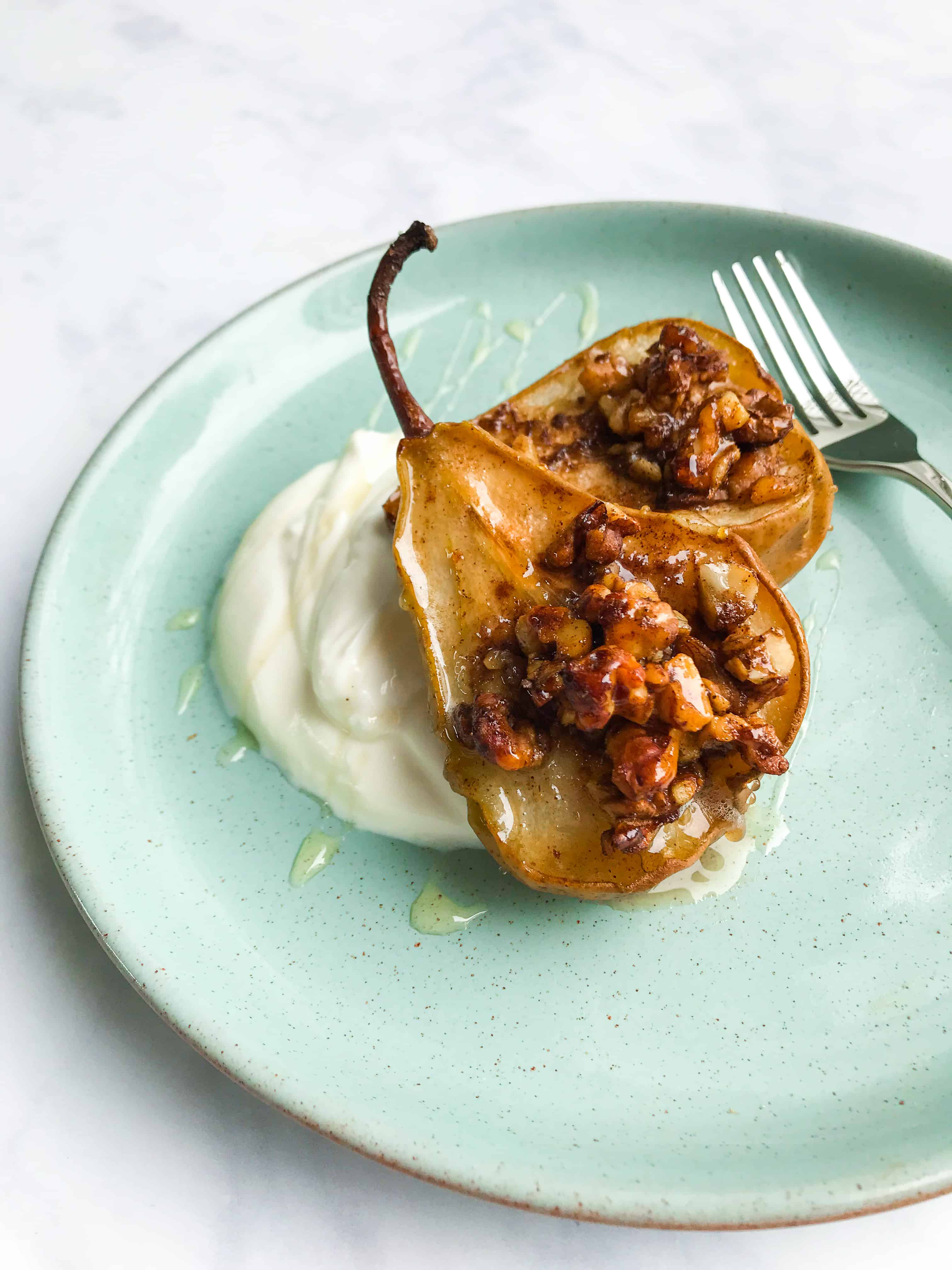 Fun fact: There are over 3000 varieties of pear in the world! For this recipe, I recommend using William or Bosc pears – both of which have been tried and tested. Feel free to experiment with other varieties also though. Just remember that the softer the pear the quicker the cooking time.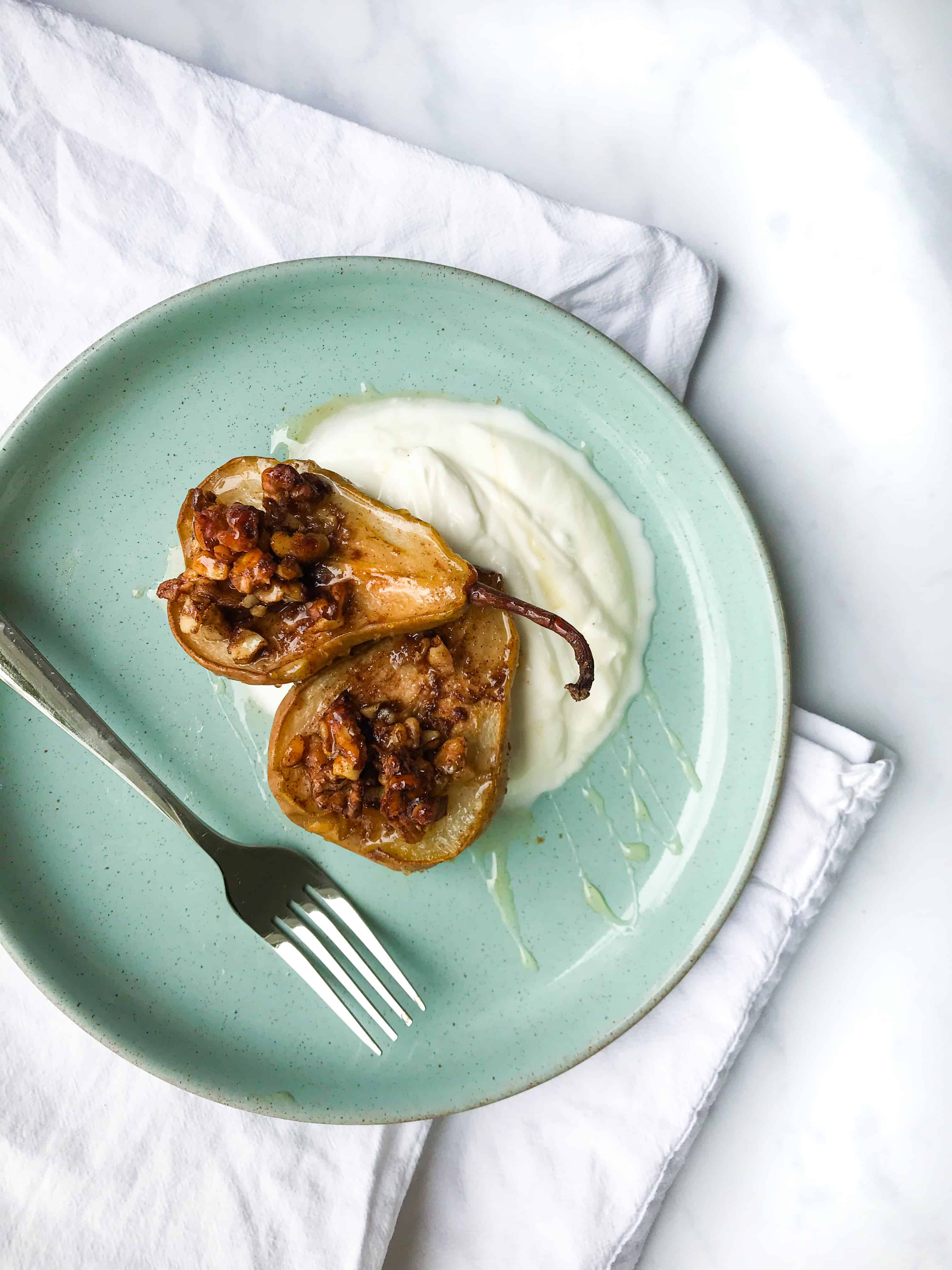 This is without a doubt the simplest sweet recipe to date on Georgie Eats. However, this fact does not subtract from the dishes worth as it is quick, easy and downright delicious. I would highly recommend giving my walnut baked pears a go – they are literally ZERO-STRESS.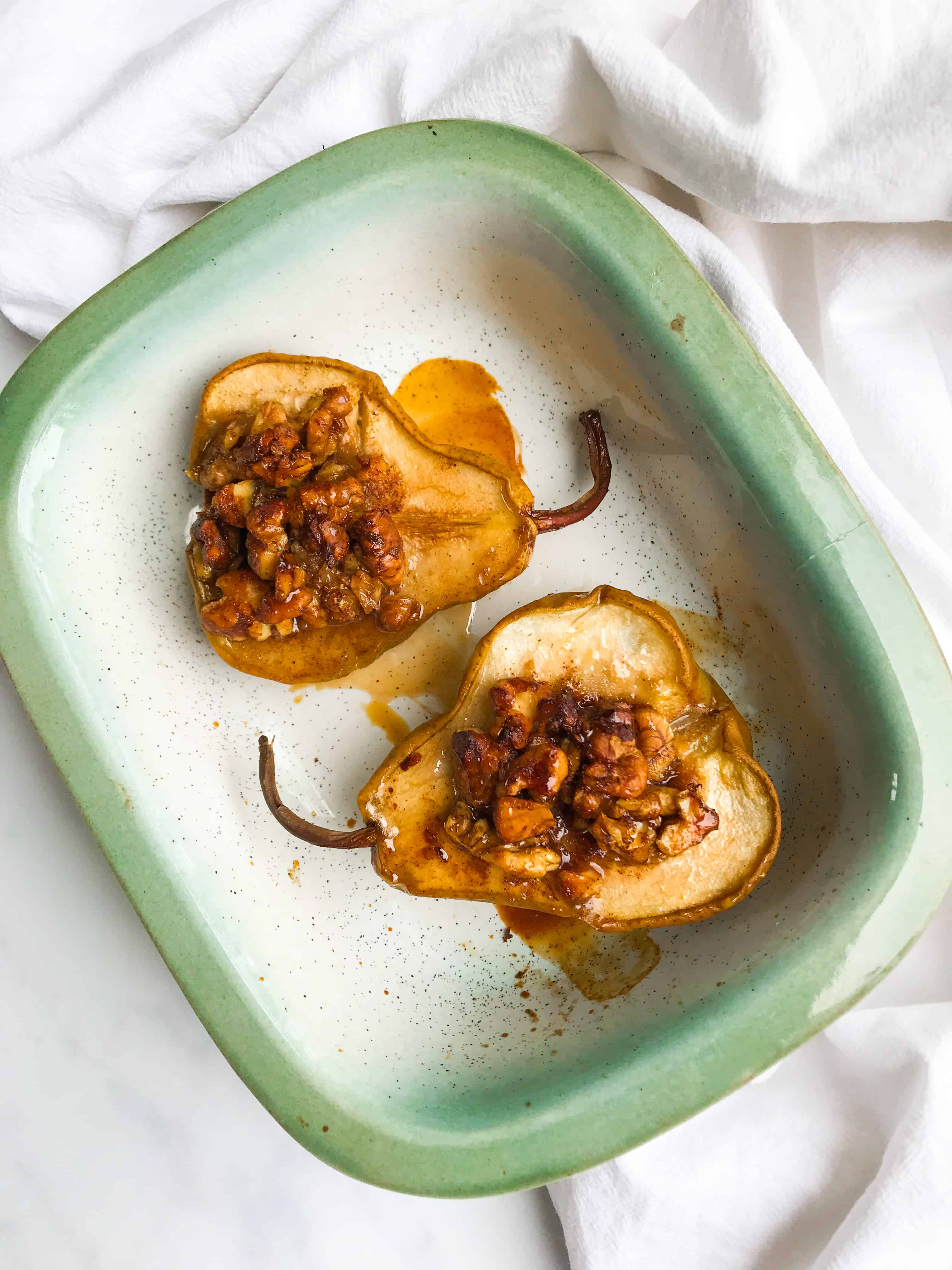 I hope you enjoy this autumnal warmer as much as myself and the hungry people I have fed them too. Make sure if you make my walnut baked pears you leave a comment down below, tag me in IG @georgieeatsuk, or use the #georgieeats.
Keep smiling everyone!
G x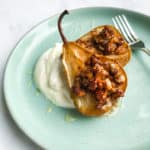 BAKED PEARS WITH MAPLE, CINNAMON & WALNUTS
These baked pears are so simple they will blow your mind! Deliciously soft, sweet and with a gentle spice they soon will become a comforting favourite. Impressive enough to entertain yet quick enough for a weeknight dessert. Vegan, GF + healthy.
Ingredients
2

large

ripe pears

35

g (1/4 cup)

chopped walnuts

1

tsp

ground cinnamon

2

tbsp + 1 tsp

maple syrup / honey
Instructions
Preheat the oven to 170°c fan/190°c/375°f.

Cut each pears length ways into two halves. Using a teaspoon, scoop out the seeds to create a little cavity in the middle of each pear half before placing them in a baking dish cut side up.

In a small bowl mix the walnuts, cinnamon and 2 tbsp of maple syrup / honey until combined. Spoon the mixture into the cavities, dividing it evenly between the 4 halves.

Drizzle the pears with the remaining 1 tsp of maple syrup / honey before baking in the preheated oven for 25-30 minutes or until the pears are soft and golden on the edges.

Serve the pears with a dollop of yoghurt or ice cream and a drizzle of any juices remaining in the baking dish.
Recipe Notes
This recipe also works perfectly with apples!
These walnut baked pears are perfect for an indulgent weekend breakfast, as a weeknight dessert or even when entertaining a crowd. 
To make ahead, fully prepare the pear halves before drizzling with lemon juice to prevent browning and store covered in the fridge for up to 3 days until you are ready to bake.
This recipe works perfectly well doubled, tripled or even quadrupled if you are cooking for a crowd.
A few ingredient notes: 
I have tested this recipe with both William pears and Bosc pears. I am sure other varieties of pear will work just as well - just remember that very soft pears will need slightly less time in the oven.
Make sure you are using 100% pure maple syrup and not maple 'flavoured' syrup. If you aren't sure just check the ingredients. They should read 'maple syrup' only.
If using honey, try to use raw honey as it is less processed. Agave nectar or date syrup would also work in this recipe if you have them to hand.