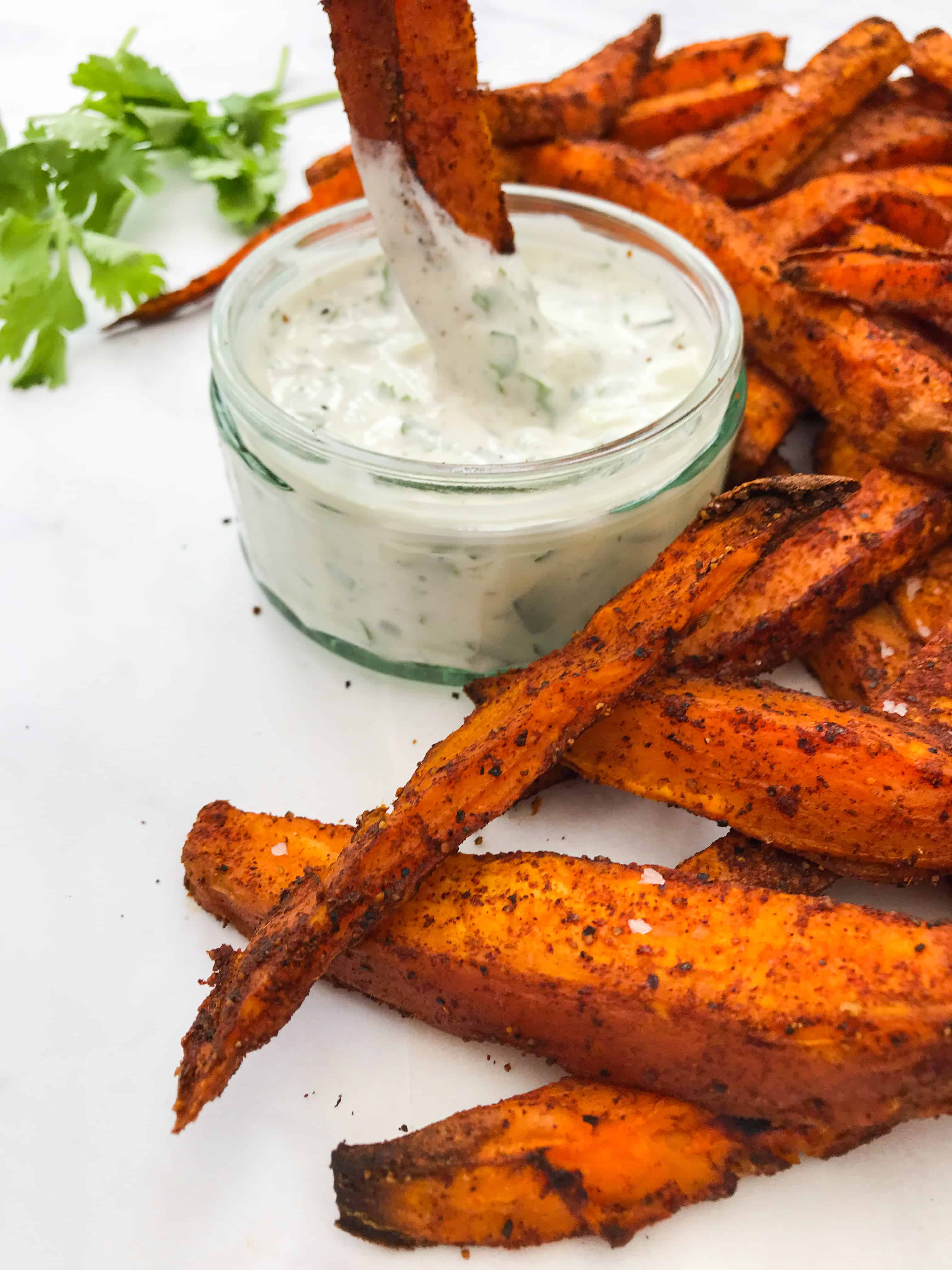 I'd be lying if I was to say the outcome of yesterday's recipe vote on insta came as much of a surprise. People just LOVE fries – especially sweet potato fries. Now I know there are a million recipes for these on the internet, but still I felt compelled to share mine. Many moons have waxed and waned, tides have come and gone, and seasons have changed but finally I am proud to announce these sweet potato fries win my official Georgie Eats award for being DA BOMB. Soft yet crunchy and smoky but sweet. Pair them with my tzatziki and dip you may need to seek medical attention for fear of overconsumption.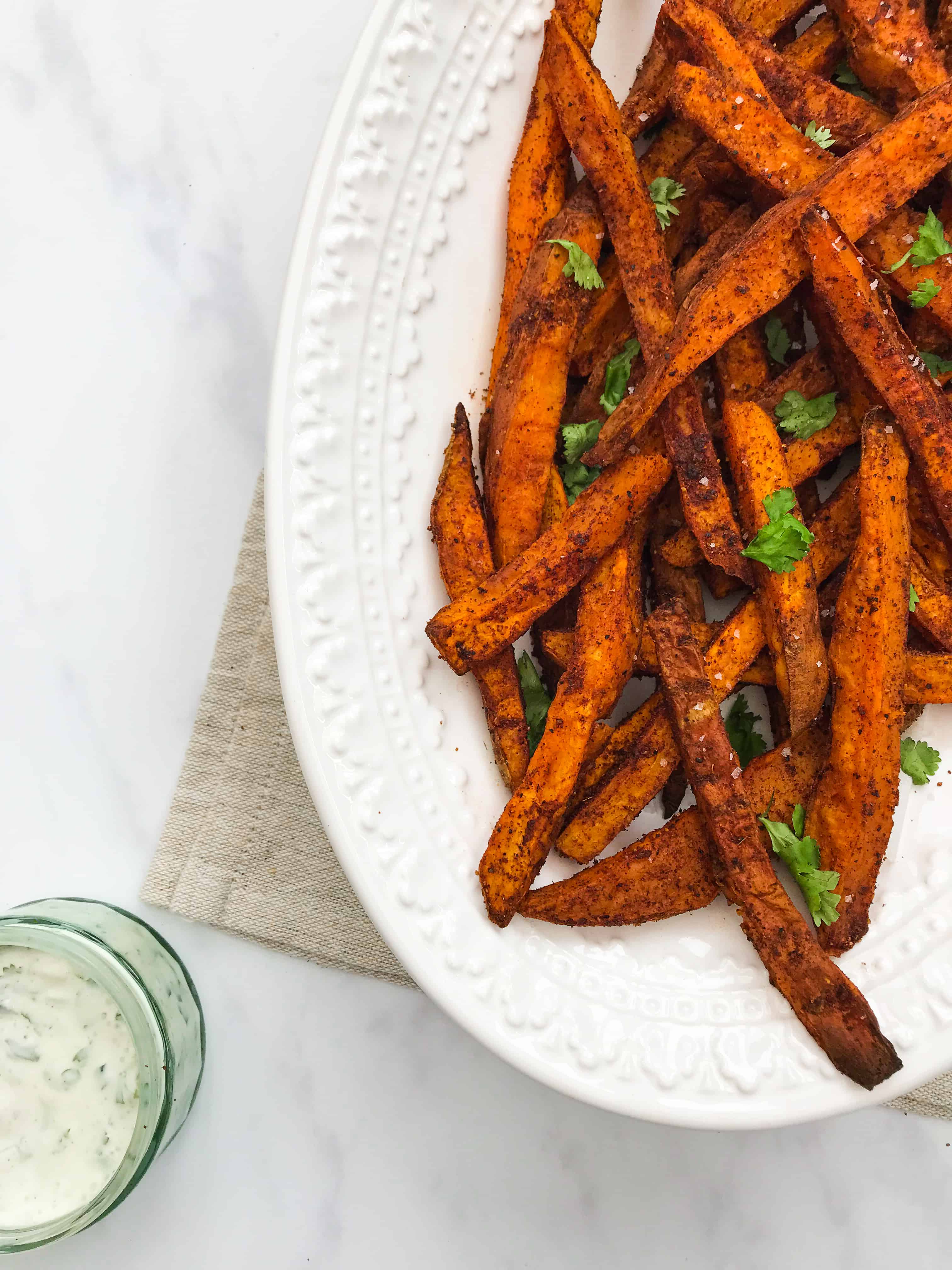 Sweet potatoes hit our shores in 1492, almost 100 years before the regular white potato. They were an instant hit with royals and aristocrats – most likely because of their reputation as an aphrodisiac. Whilst I can't make you any promises on that front, I can promise you that these sweet potato fries will soon become your go-to. They are a fine (and exceptionally morish) accompaniment to pretty much anything.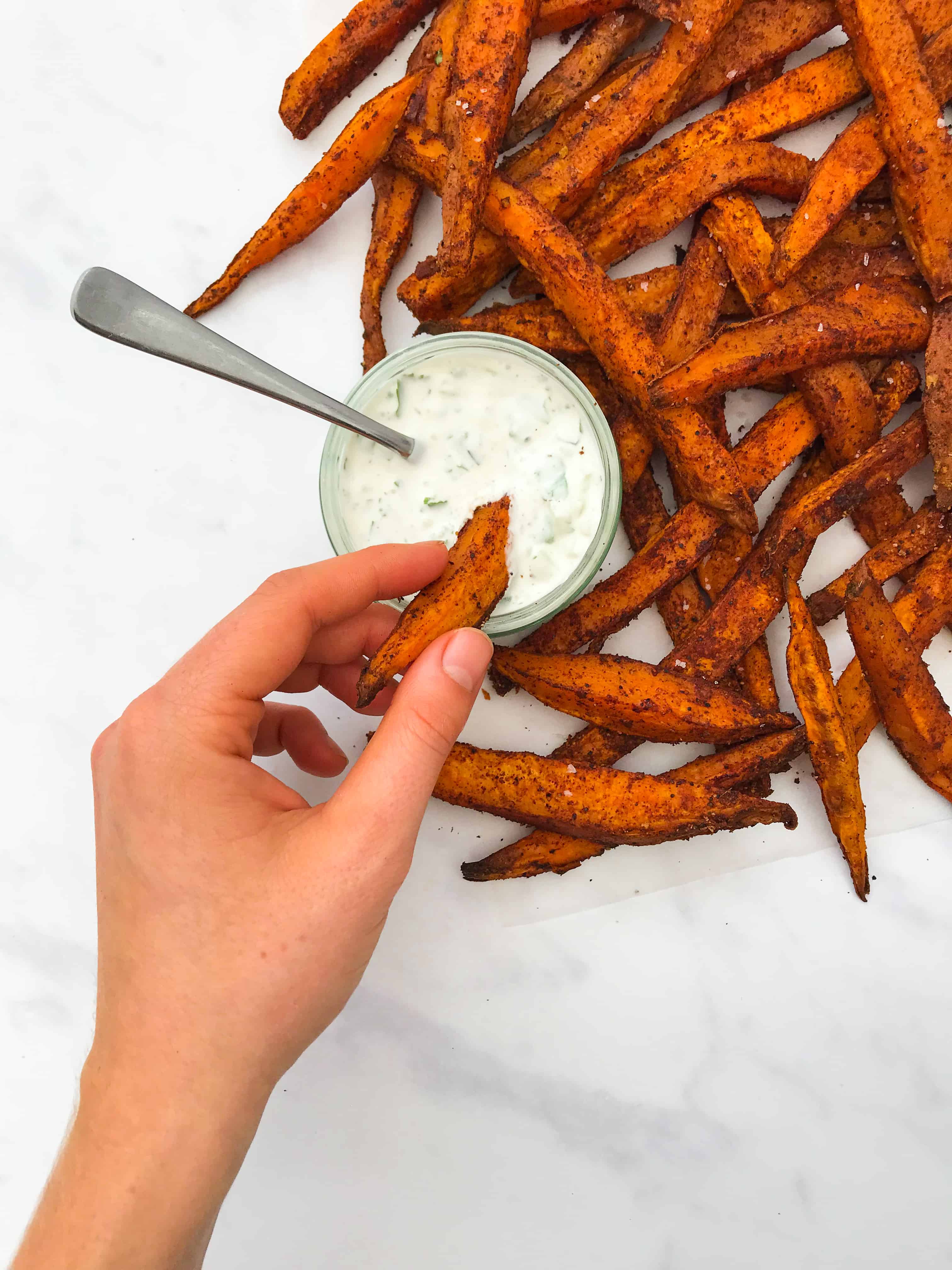 Many people mistakenly think of sweet potatoes as more nutritionally beneficial than the humble white potato. I love and eat both for their different qualities but when it comes to fries I am sweet potato gal all the way. Sweet potatoes are rich in beta-carotene, vitamin C and potassium as well as being a great source of fibre. Don't threat, these sweet potato fries may well be baked and not fried but they're still crispy af. I am a great believer in eating food that you love and I am proud to have made FRIES HEALTHY.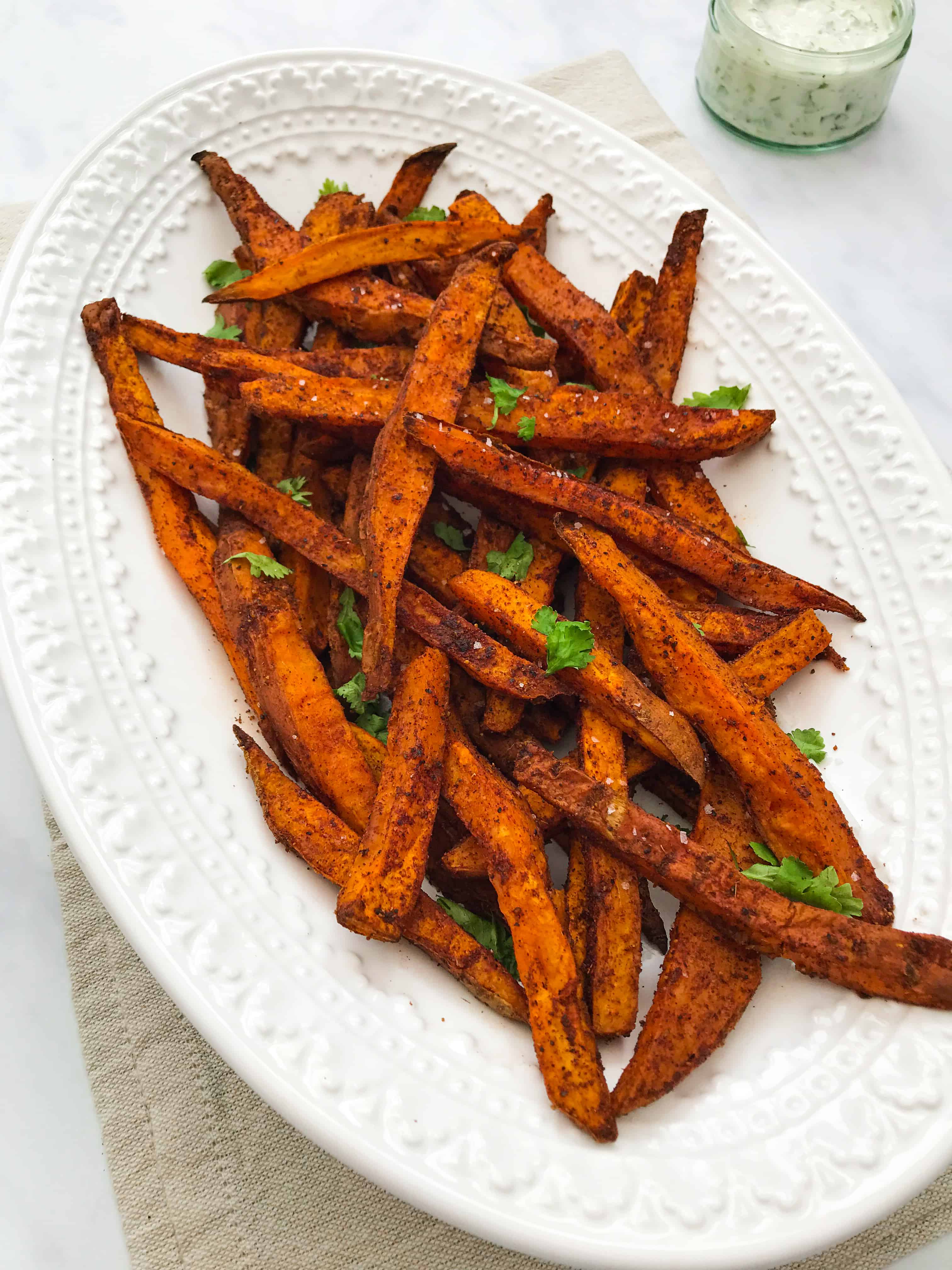 Whenever I am around these sweet potato fries I go weak at the knees, losing all sense of self control. They are a great side dish to a burger, as part of a buffet, or just on their own with my wonderfully luscious tzatziki dip. I have no shame in admitting that I (maybe too) regularly will just eat a plate of these for my dinner. Don't say I didn't warn you – they are bloody good.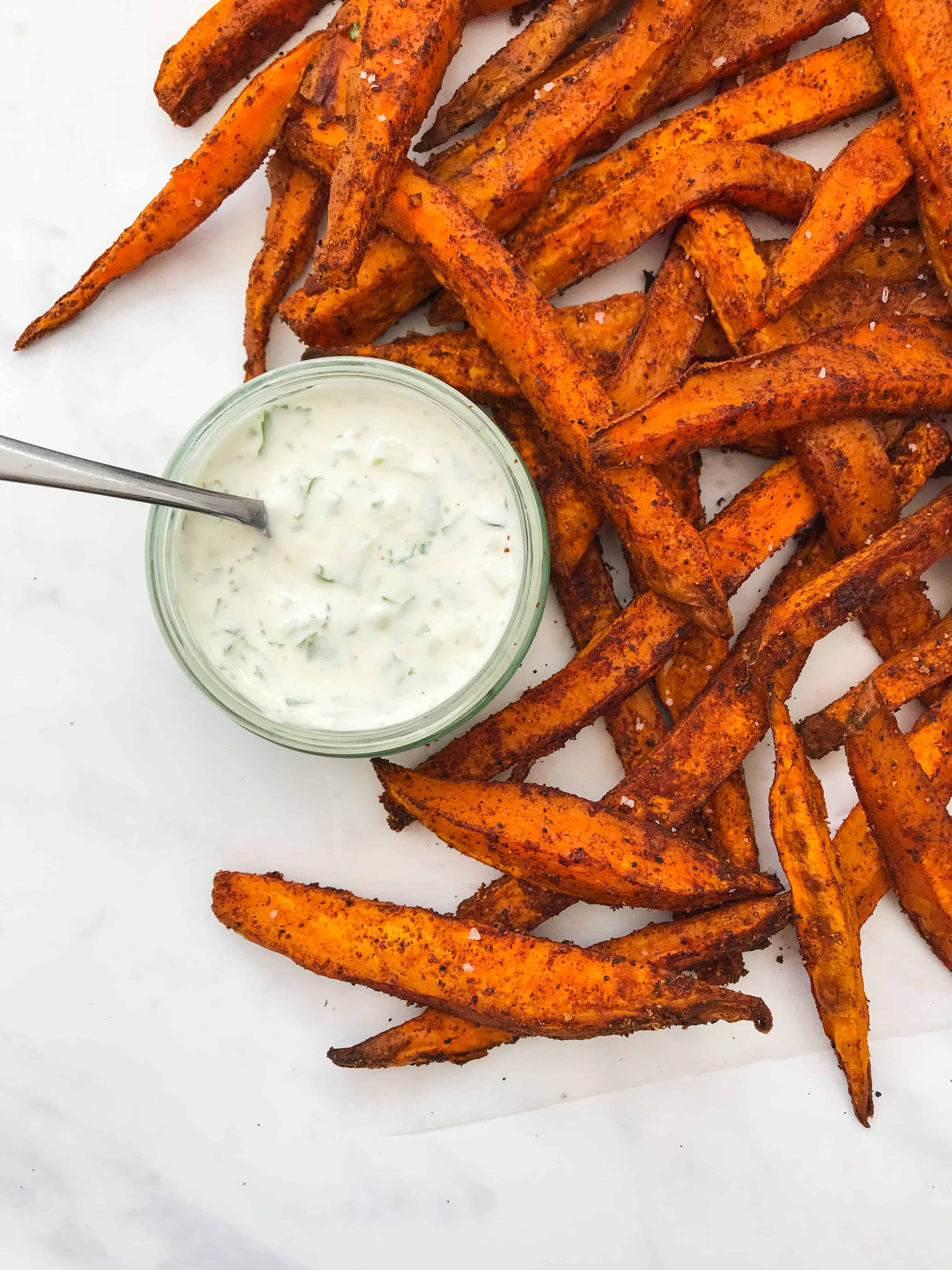 I really do recommend trying the tzatziki dip with these sweet potato fries, as with ease you can balance out the smoky sweetness perfectly. I frequently make tzatziki to accompany salads or for a 'picky' style dinner, so its a good one to remember! Please let me know if you make these fries, I am sure they will be a winner no matter who you feed them too! You can send me pictures on instagram @georgieeatsuk, or leave me a comment below. Keep smiling everyone!
G x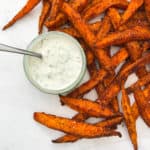 SWEET POTATO FRIES WITH TZATZIKI DIP
Crispy baked sweet and smoky potato fries, accompanied by a refreshingly light tzatziki dip. Whether you are making these for a fantastic feast or as a sensational side they are a real winner! Vegan, GF & healthy.
Ingredients
1

large

sweet potato

washed

1/2

tbsp

olive oil

1

tsp

garlic powder

1

tsp

ground cinnamon

1/2

tsp

smoked paprika

1/2

tsp

ground cumin

1

tsp

sea salt

+ more to serve

1/2

tsp

freshly ground black pepper
For the Tzatziki Dip
1/4

cucumber

125g

(1/2 cup)

greek yoghurt

15g

(half bunch)

fresh mint

finely sliced

1

clove

garlic

peeled and finely chopped

Juice of 1/2

lemon

Pinch

sea salt
Instructions
Preheat the oven 180°c fan/200°c/400°f.

Top and tail the sweet potato before cutting it into long thin fries about 2cm thick.

Place the fries into a large bowl and add the olive oil and all the seasonings. Use your hands to mix the everything together so that all the fries are evenly coated with spice mix.

Transfer the sweet potato fries onto a lined baking tray and evenly space them so that they are not touching one another. Bake in the preheated oven for 50-55 minutes turning once half way through until crispy on the outside and soft in the middle.

Allow the fries to cool on the baking tray for a few minutes before sprinkling with a little more sea salt and serving with the tzakziki dip.
To Make The Tzakziki Dip
Cut the cucumber in half lengthways and scoop out the seeds. Finely chop the remaining flesh and add it into a bowl along with the yoghurt, mint, garlic, lemon juice and a pinch of sea salt. Give everything a good mix and taste to adjust the seasoning accordingly. Store in the fridge until ready to serve.
Recipe Notes
This recipe serves 2 people generously as a side dish. It can be easily doubled / tripled etc. depending on how many you need to feed. Remember for ultimate crispiness that the fries need to not touch one another whilst baking, so 2-3 trays may be necessary if making more than one batch.
These sweet potato fries are best consumed when first baked. Left over tzatziki dip will keep perfectly refrigerated in an airtight container for up to 5 days.
I prefer to keep the skin on my fries because it is rich in nutrients and I like the chewiness it brings. These fries work just as well without the skin though so feel free to peel them before cutting in step 1.
If you aren't a fan of tzatziki and don't want to just settle for ketchup on mayo why not have them with hummus? Don't knock it till you try it - they go together surprisingly well! I have a good recipe here.
A few ingredient notes: 
A recommend using a good quality olive oil for these sweet potato fries. They also work really well with avocado oil if you have it. 
I like using sea salt as it has better flavour and is less processed than table salt. If using table salt only use 1/2  tsp.