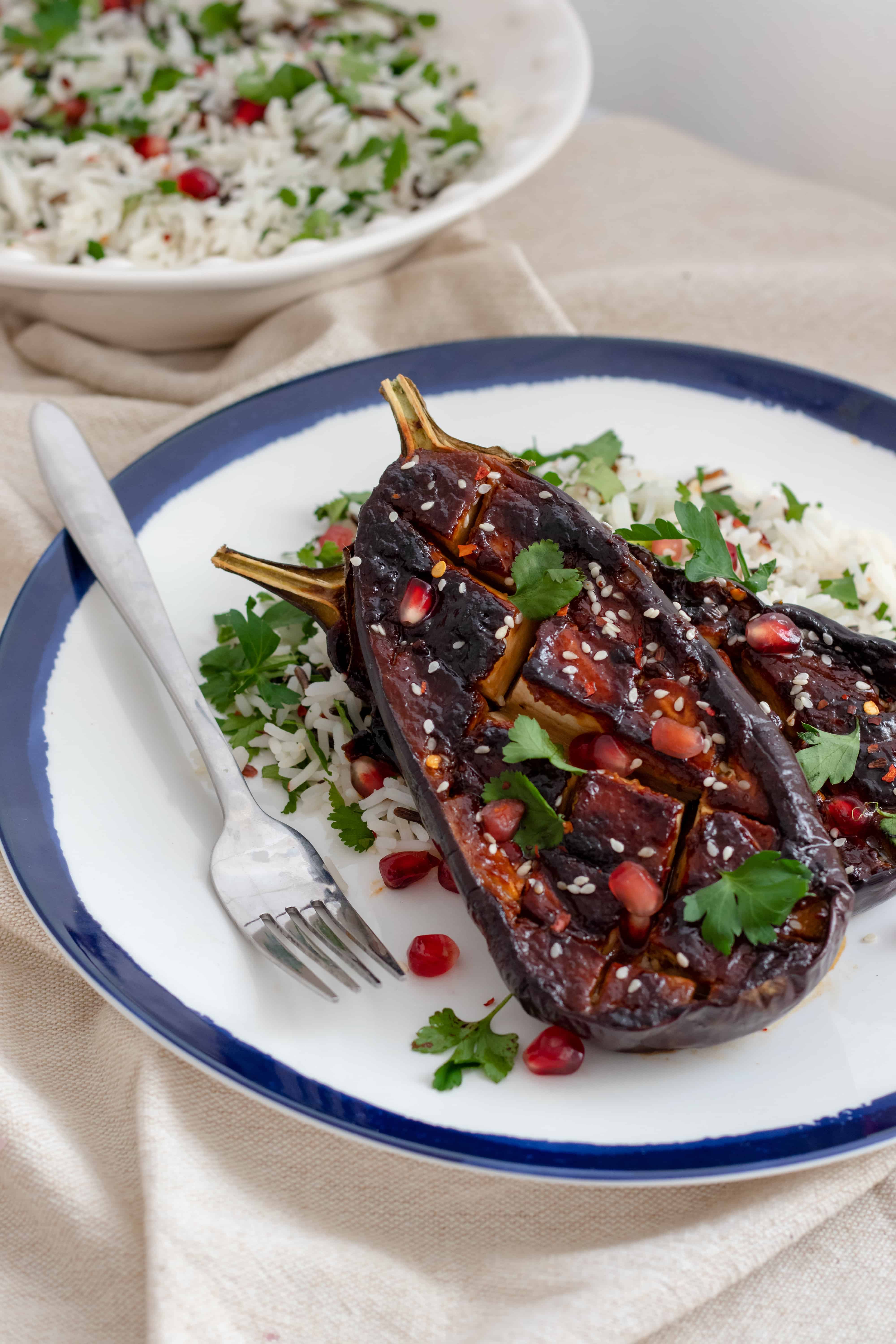 Although miso has been a primary ingredient in Japanese cooking for centuries, it is only recently that the western world has embraced this versatile paste. Let me tell you, I am embracing it with full force, smothering it with love. My miso aubergine with herby wild rice will get you hooked on that 'unami' flavour and leave you asking 'can I get mi-some more!!' (sorry).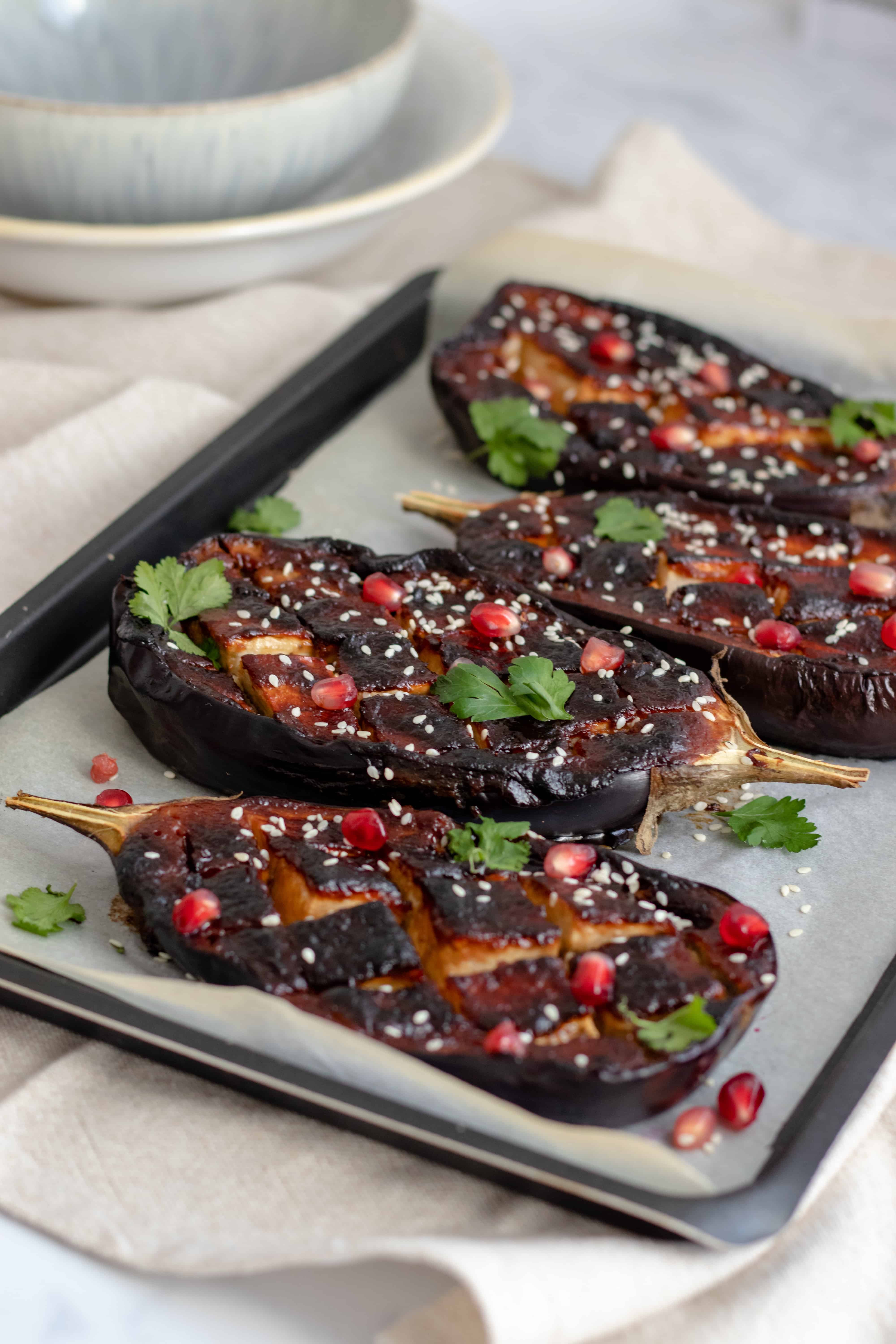 The flavour of miso is described as 'umami' (a category of taste in food besides sweet, sour, salt, and bitter). I would describe it as savoury and moreish. Whether you are a miso connoisseur or a first time buyer, this miso aubergine recipe is perfect for you. Salty soft aubergine, fragrant herbed rice with a pop of tart sweetness from the pomegranate seeds. It's heaven on a plate.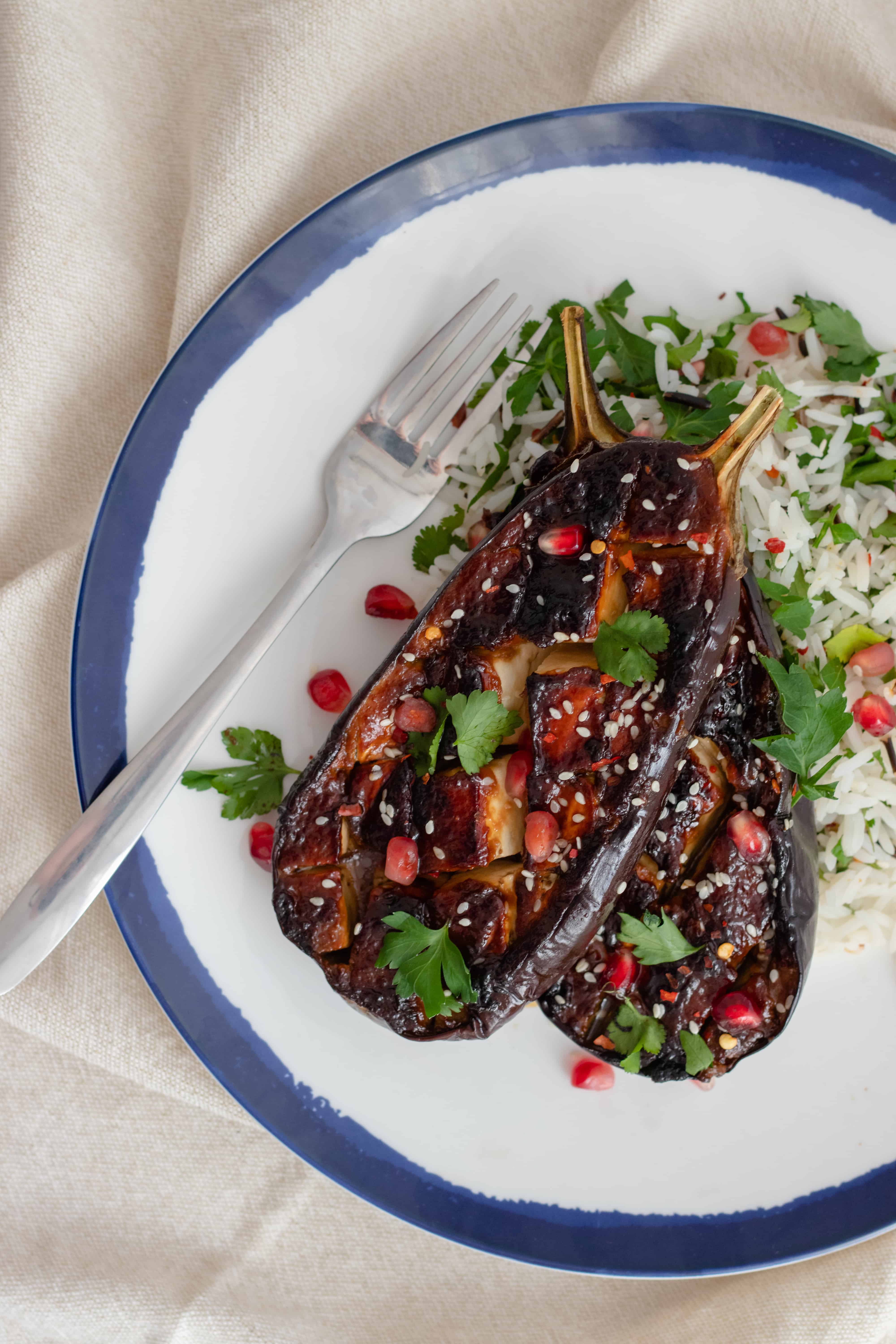 Miso is a paste made from fermented soybeans and/or grains (mmm sounds yummy…). Recently there has been a lot of health hype around fermented foods and I am on board. When foods are fermented they go through a process called lactofermentation. The foods natural good bacteria feed on it's sugar and starch to make lactic acid. This creates various strains of probiotics (essential for a healthy digestive system), as well as b-vitamins and omega-3 fatty acids.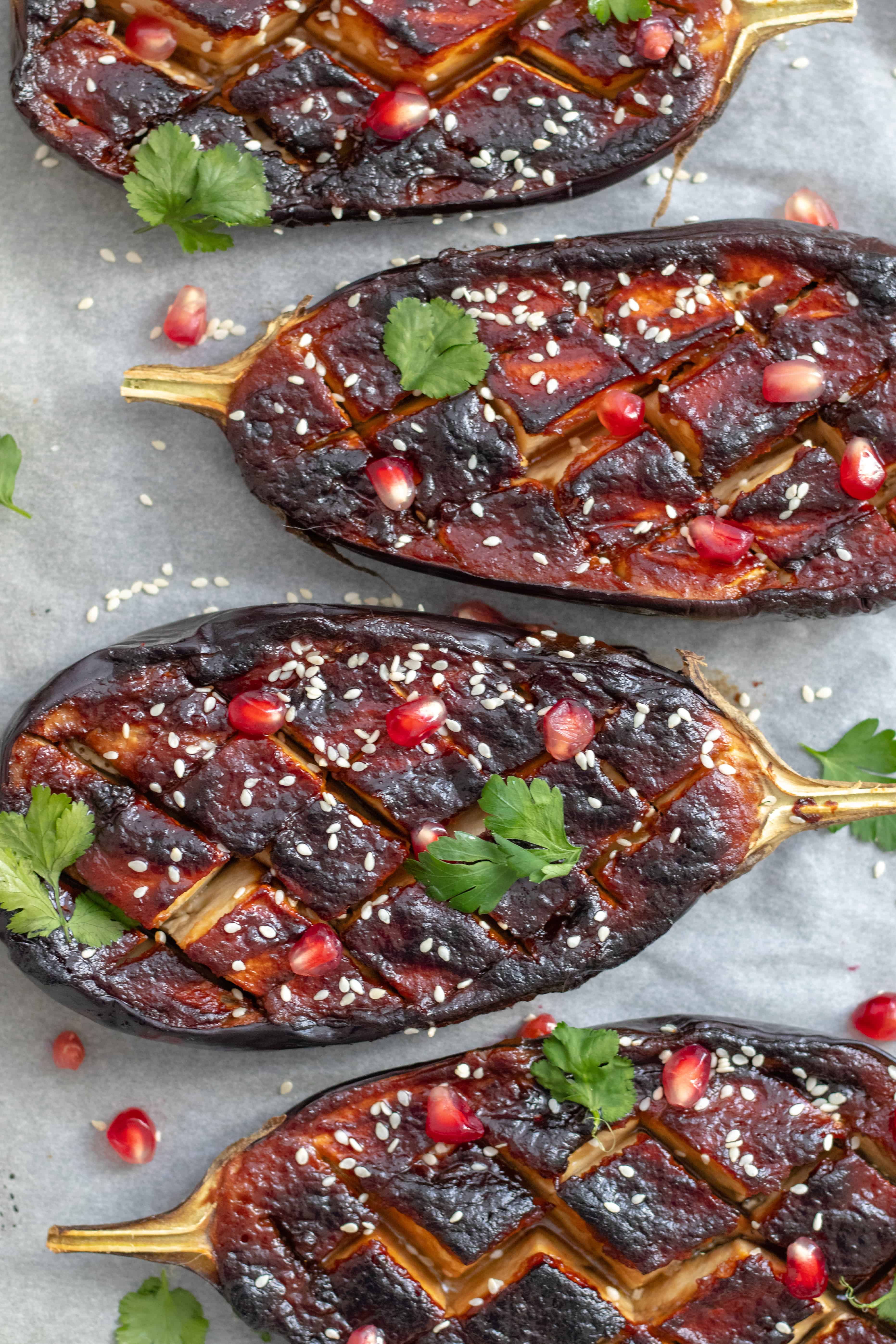 My miso aubergine is a fab healthy midweek meal that you can whip up with little to no prep. Although not critical, if you do have the time, let the aubergine marinade in the miso mixture for an hour or two before cooking for extra deliciousness.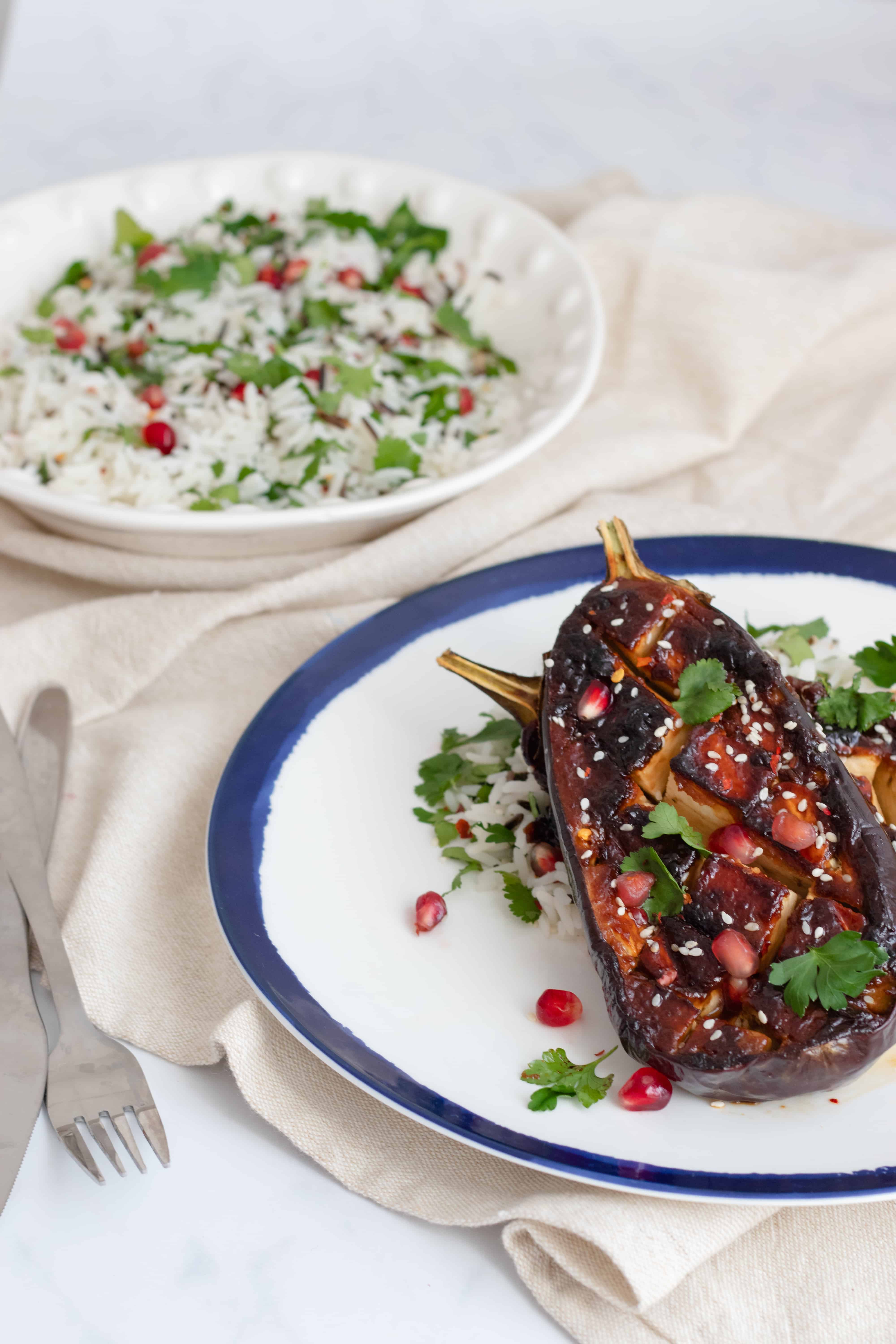 Everyone loves this miso aubergine recipe – its a firm new favourite in my household. Whether you are a carnivore, vegan or just want to eat more veg, it is utterly satisfying and definitely one to try. Please let me know if you make this by tagging me in a picture @georgieeatsuk, or leaving me a message below. Keep smiling everyone.
G x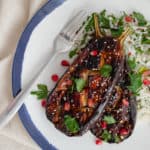 MISO AUBERGINE, HERBY WILD RICE & POMEGRANATE SEEDS
Your new favourite weeknight dinner. Salty unami marinated aubergines, fragrant nutty wild rice & pomegranate seeds for a pop of tart sweetness. Vegan, GF & healthy.
Ingredients
For the Miso Aubergine
2

large

aubergine

2

tbsp

miso paste

1

tbsp

honey / maple syrup

1

tbsp

olive oil

1

tbsp

tamari / soysauce
For the Herby Wild Rice
150

g (2/3 cup)

basmati & wild rice

Handful

fresh parsley

stems removed & roughly chopped

Handful

fresh corriander

stems removed & roughly chopped

Pinch

freshly ground black pepper
To Serve
40

g (1/3 cup)

pomegranate seeds

Sprinkling

sesame seeds
Instructions
Cut the aubergines lengthways into two halves. Cut a crisscross pattern into the flesh of each half, being careful to not pierce the skin. Lie the aubergine onto a baking tray cut side up.

In a small bowl, mix together the miso paste, honey/maple syrup, olive oil and tamari/soy sauce until smooth. Evenly spoon the marinade over the aubergine halves using the spoon to push the mixture down into the cuts. Place the tray into the fridge for 1-2 hours to allow the aubergine to absorb the flavour*.

Preheat the oven to 180°c fan/200°c/360°f.

Remove the tray from the fridge and place into the oven for for 45-50 minutes or until the aubergines are soft in the centre and the marinade has caramelised on the top.

25 minutes before your aubergines are due to come out of the oven add your rice to a pan of boiling salted water and simmer for 18-25 minutes until just tender. Drain and return to the pan. Add the herbs and pepper to the cooked rice and stir to combine.

To serve, divide the herbed rice between two plates. Add the aubergine halves to the top and sprinkle with the sesame seeds, pomegranate seeds and a few extra herbs. Serve whilst still piping hot.
Recipe Notes
*I have found that 1-2 hours is the best marinading time for these miso aubergines. You can also leave the aubergines marinating overnight, or if you have no marinading time at all you can just cook them straight away - they will still be delicious. 
The miso marinated aubergines are best eaten straight away but any left over herby rice can be kept in an airtight container in the fridge for up to 3 days. It is perfect with salads.
This recipe can be easily doubled or tripled if you are feeding a crowd!
Gluten Free: Assure that your miso paste is certified gluten free and use tamari rather than soy sauce. 
Vegan: Use maple syrup rather than honey.
A few ingredient notes: 
If you love aubergines, you are sure to love my Moroccan Chickpea Stew too!