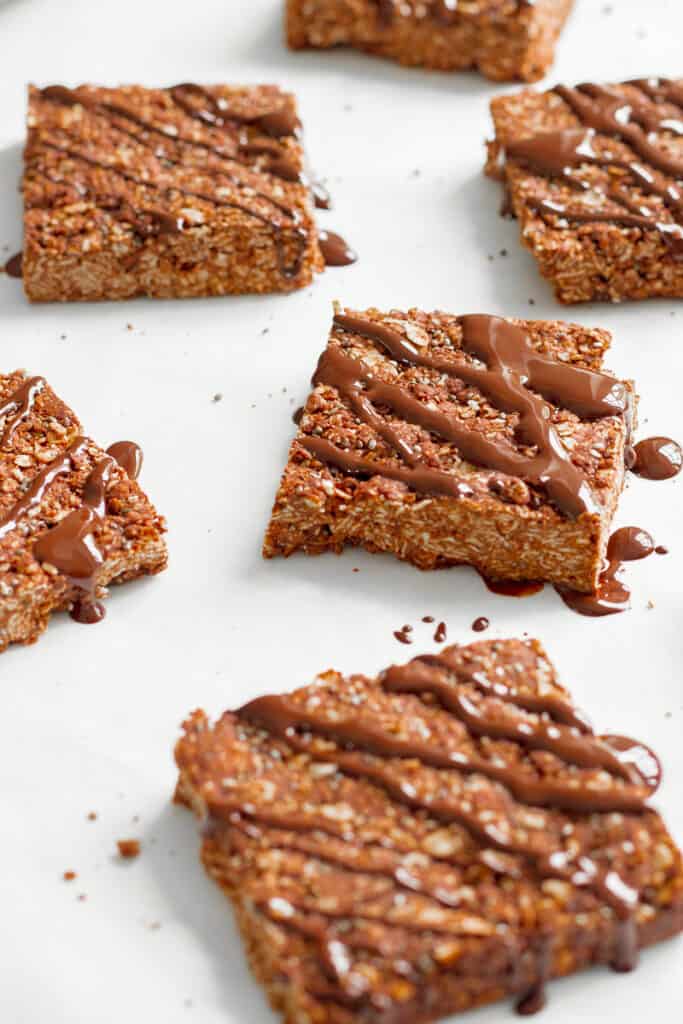 These 6 ingredient chocolate flapjacks need no introduction…
Just.
Look.
At.
Them.
?
Flapjacks were my most favourite treat as a child. They probably were the first thing I learnt to bake and still to this day remain my number one. I realise that the word flapjack is a very British term. If you are reading this thinking what the flipperty f*ck is a flapjack, here's the definition:
'a sweet dense cake made from oats, golden syrup and melted butter, served in rectangles'
It's basically all the delicious things wrapped up and baked into one sweet scrumptious square. Now, we like to keep things a little healthier here on Georgie Eats. My chocolate flapjack recipe is packed full of goodness, protein and is sweetened only by unrefined-sugars. So you can enjoy these flapjacks knowing that they are as good for your body as they are for your tastebuds.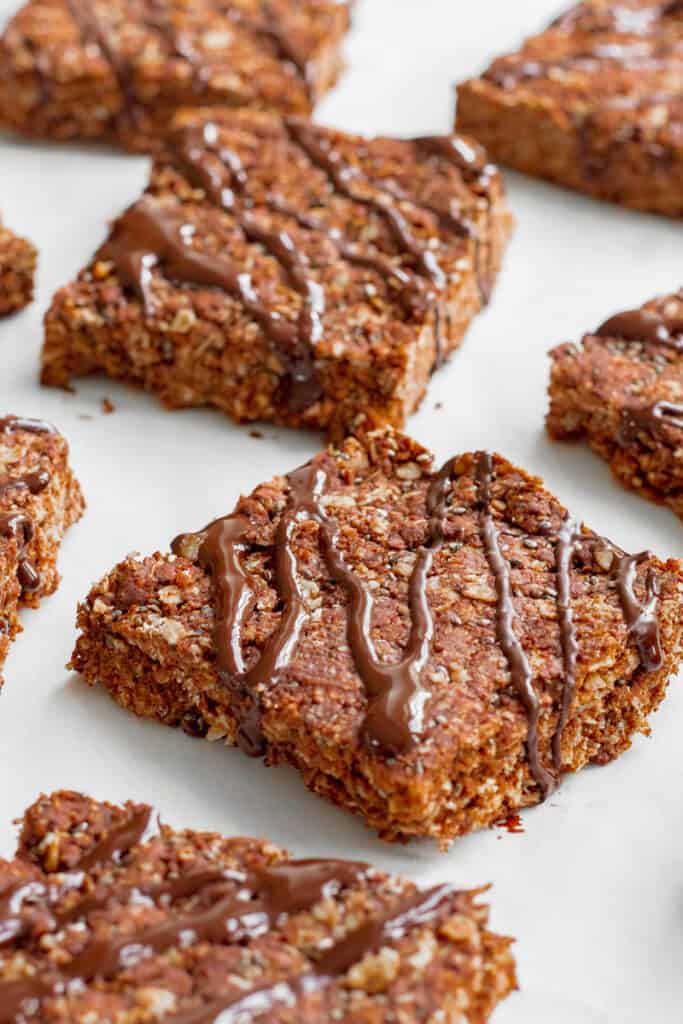 HOW TO ENJOY THESE CHOCOLATE FLAPJACKS
I have made these chocolate flapjacks enough times now to have tried pretty much every single possible way of serving them. Obviously, these flapjacks are utterly delicious on their own, so please grab a square whenever you feel a little peckish; but if you are looking for something a little fancier, here are some ideas:
Warm from the oven: Slice the chocolate flapjacks into squares straight from the oven and serve with a scoop of ice cream and a drizzle of melted chocolate.
With a cup of tea: These flapjacks are perfect for dunking! The chocolate melts and the oats go gorgeously gooey.
As granola: Due to the oat base, these chocolate flapjacks also make perfect granola. Crumble one over a bowl of banana and yoghurt for a simple but nutritious breakfast.
VARIATIONS
These choccy flapjacks are so easy to customise any which way you prefer. Here are a few ideas:
For chocoholics: If these chocolate flapjacks aren't quite chocolaty enough for you, try stirring a handful of roughly chopped chocolate into the mixture before baking.
Fruity flapjacks: Add a handful of any dried fruit you like into the flapjack mixture. I love dates, dried apricots and cranberries in these!
Extra nutty: Swap the almond butter for the same quantity of peanut butter. Add a handful of chopped mixed nuts and seeds into the mix and bake as instructed.
Golden: For those who aren't chocolate fans (yes, these people exist), simply leave the cacao powder out.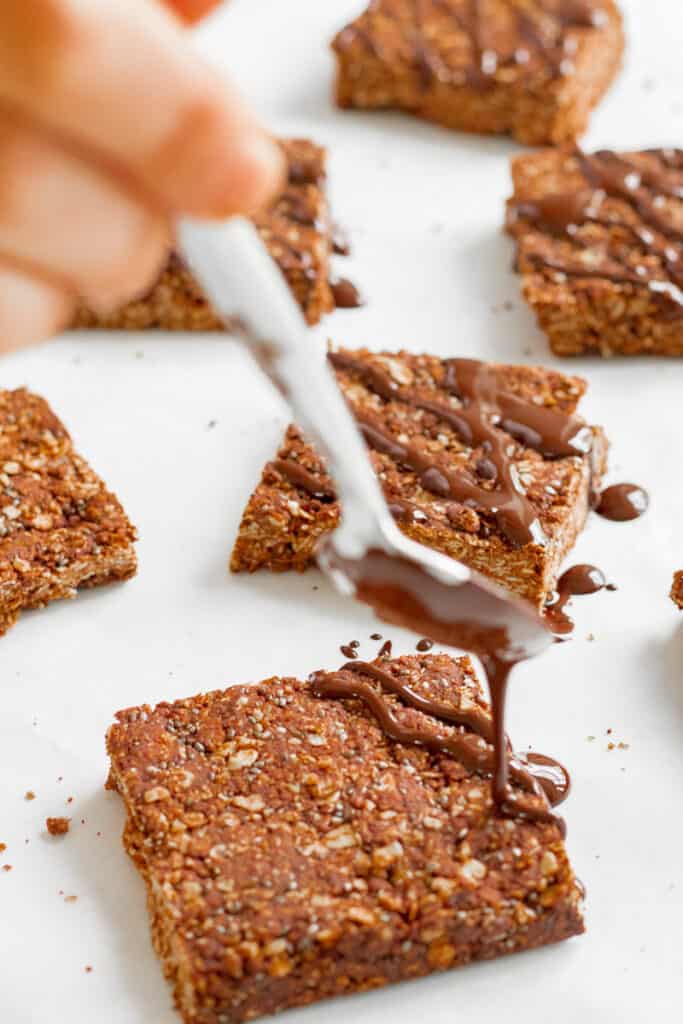 I hope you love this recipe as much as I do! These chocolate flapjacks use only 6 ingredients, take less than 30 minutes start to finish and if you aren't tempted to make them just from looking at the pictures, you are mad.
If you make them, let me know by tagging me in pictures of your creations on IG @georgieeatsuk, using the #georgieeats, or leaving me a comment down below. Keep Smiling!
G x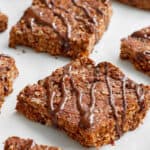 6 INGREDIENT CHOCOLATE FLAPJACKS
The easiest flapjacks you will ever make! Packed with nourishing ingredients, protein and slow-releasing carbohydrates, these chocolate oaty squares are not only delicious, but good for you! Vegan & GF.
Ingredients
75

g (⅓ cup)

almond butter

200

g (5/8 cup)

honey/maple syrup

75

g (⅓ cup)

coconut oil

250

g (3 cups)

porridge oats

35

g (4 tbsp)

cacao powder

3

tbsp

chia seeds
For The Topping (optional)
50

g

dark chocolate

melted
Instructions
Preheat the oven to 180°c fan assisted/200°c/390°f.

Melt the almond butter, honey/maple syrup and coconut oil together in a saucepan until runny and combined.

Mix together the oats, cacao and chia seeds in a large bowl. Add the wet ingredients into the dry and mix well until everything is evenly coated. The mixture should be firm but sticky. If you find your mix is too dry and won't clump together, add a little water and mix again.

Pour the mix into a lined 8×8 baking tin and use the bottom of a glass to push it down into one firm even layer.

Bake in the oven for 13-15 minutes, or until starting to brown around the edges but still soft in the middle.

Wait for the flapjack to cool completely before removing it from the tin and cutting into 9 squares. Finish by drizzling with melted chocolate.
Recipe Notes
These chocolate flapjacks will keep in an airtight container for up to 5 days.
For variations on this recipe, see within the post.
Vegan: Use maple syrup rather than honey.
Gluten-free: Assure your oats are certified gluten-free.
A few ingredient notes: 
Use a smooth almond butter made with 100% almonds. It should be runny and not contain any added oils and/or sugars.
If you can find it, try to use raw honey as it is less processed. If using maple syrup make sure it is 100% maple syrup and not maple 'flavoured' syrup.
I have used porridge oats here, but any type of oats will work.
I have used cacao powder here instead cocoa as it is richer in nutrients, but you could also use the latter if you prefer.
If you are looking for more oaty goodness, try my simple roasted nut granola bars!