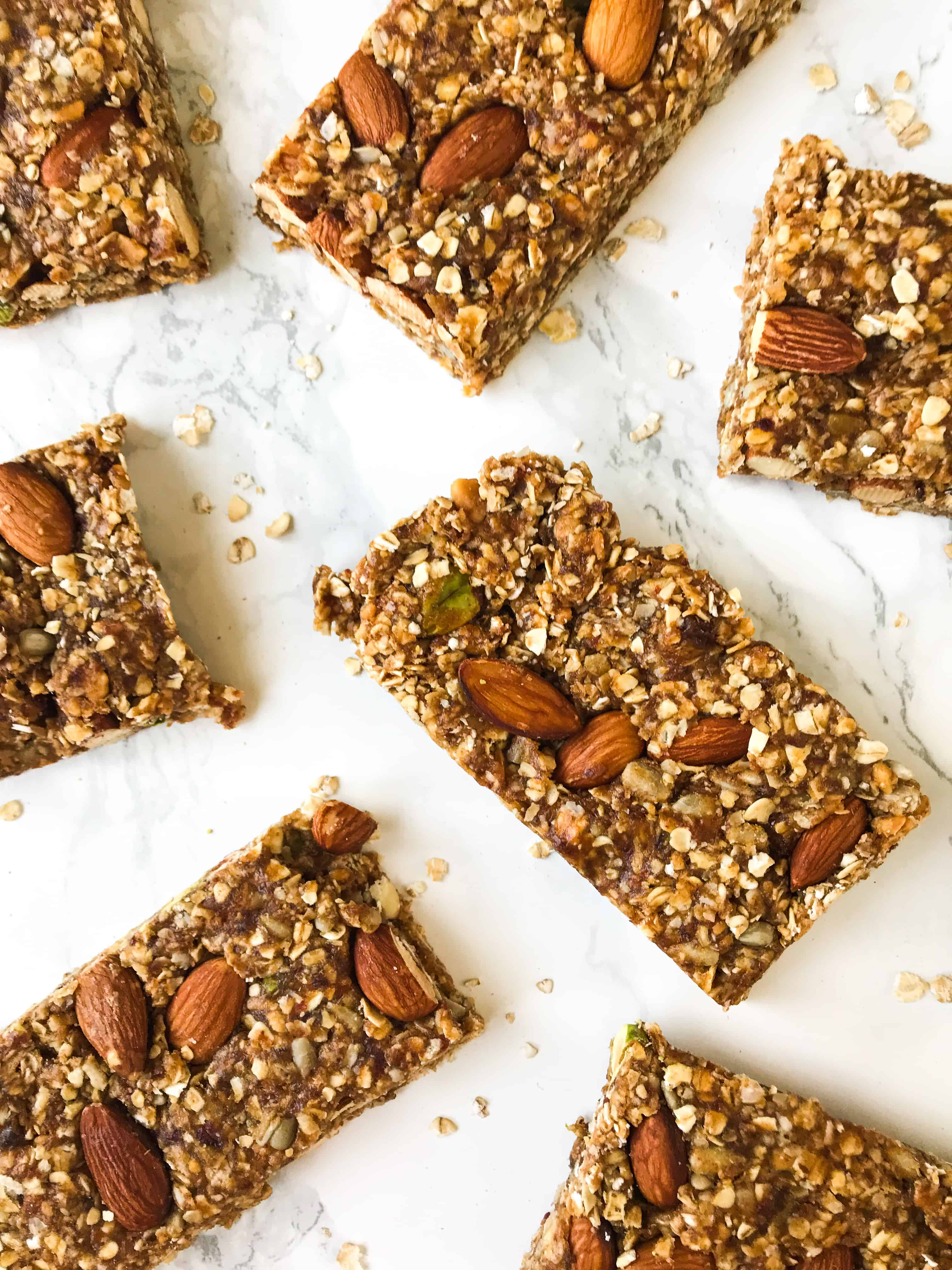 The whole world seems to have gone granola mad! Suddenly you can't scroll through 5 instagrams without seeing a bowl of the infamous oaty clusters, and you know what? That is fine with me because I LOVE IT. But, although it is delicious, it isn't the most practical of breakfasts if you eat on the go most mornings like me. So, I came up with these roasted nut granola bars. Prepare to have your life changed…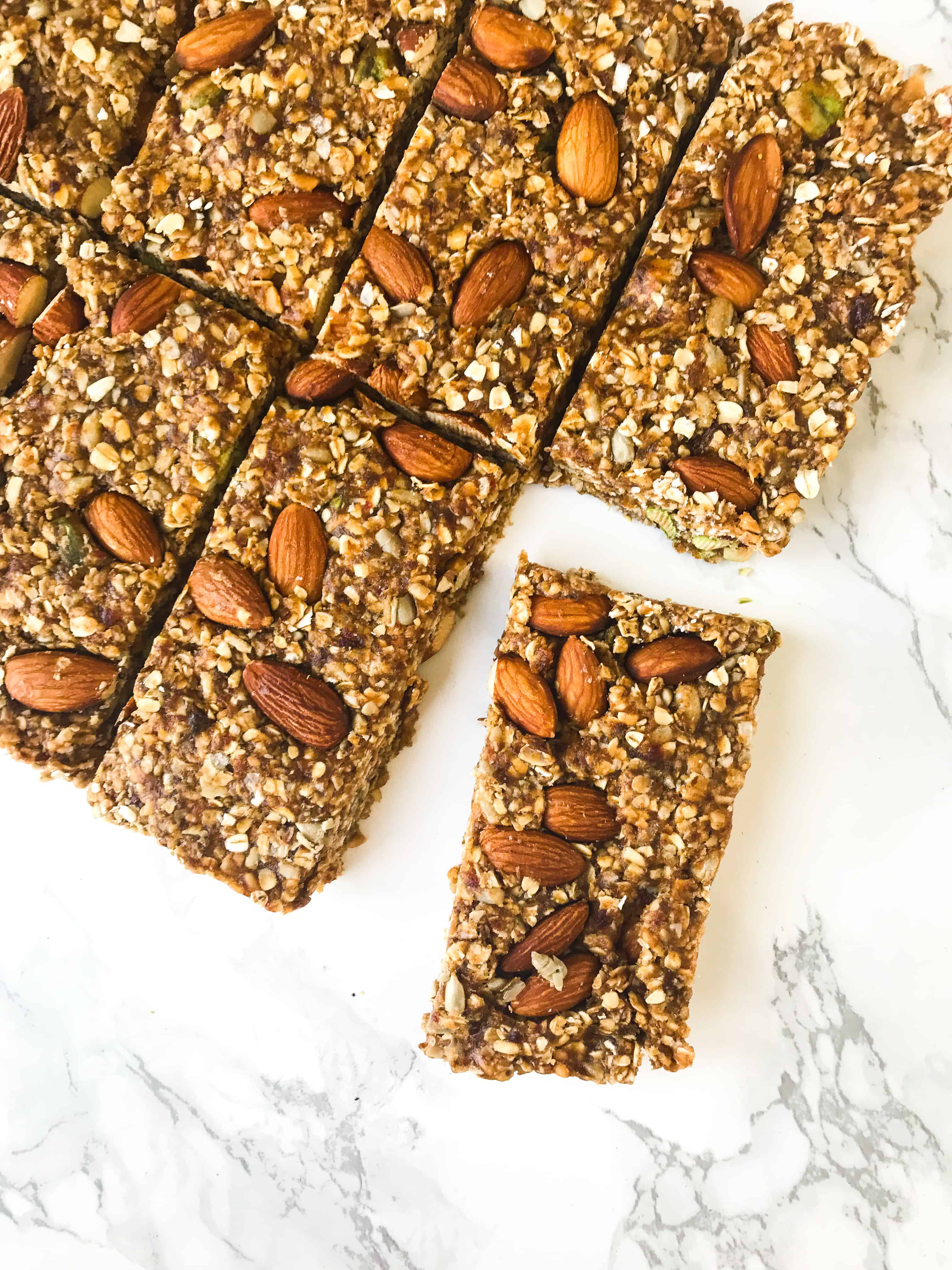 Unlike the traditional shop brought granola bars, my roasted nut granola bars are actually good for you! They are SO tasty, contain no refined sugar and are packed full of nutrients, energy and slow releasing carbohydrates. The toasted flavour really just changes the whole granola bar game… Pair one of these with a banana and you have super quick healthy breakfast that will take you all the way through to lunch.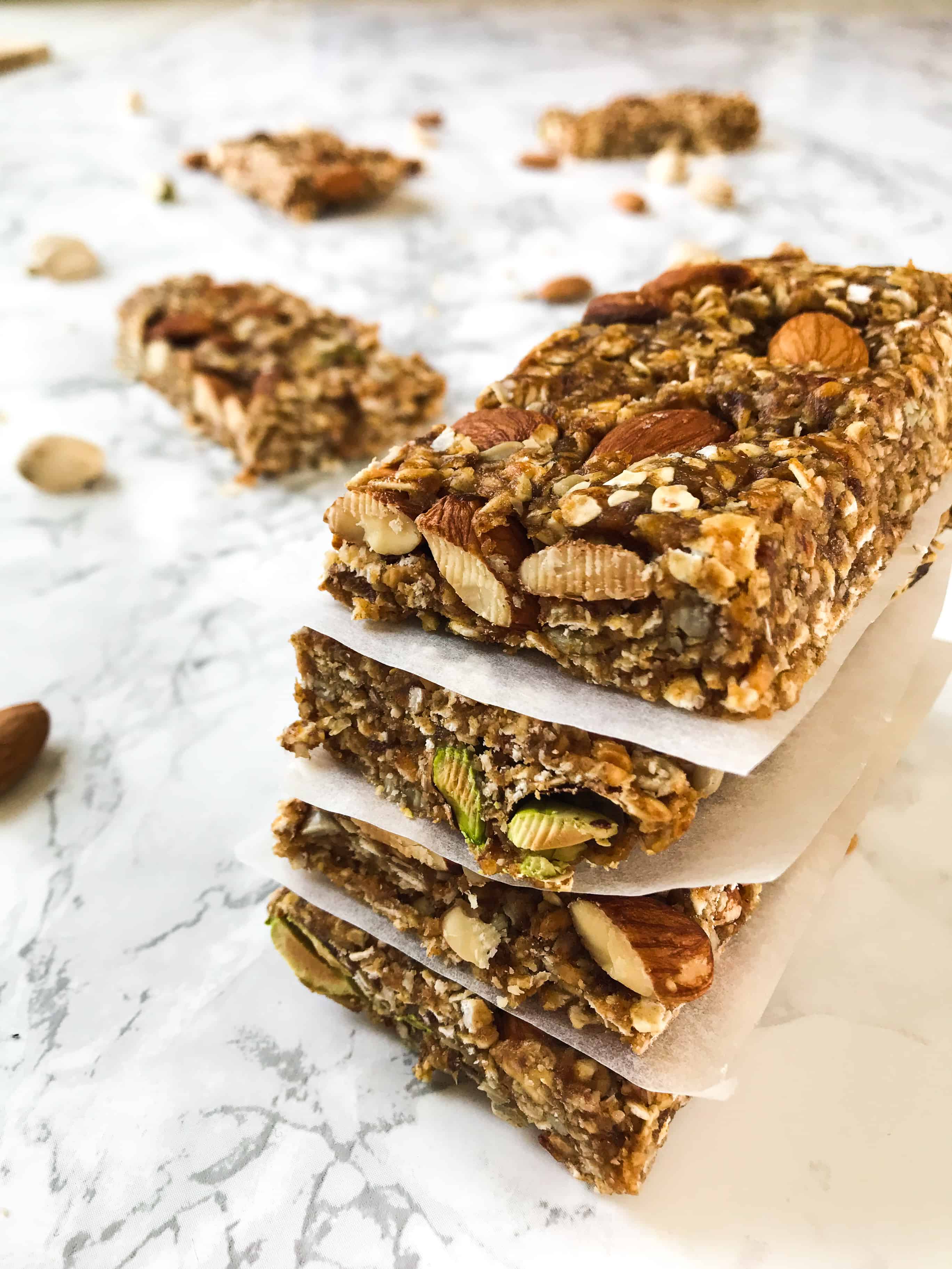 These toasted nut granola bars are incredibly easy to make and are super customisable to whatever you have in your house. For example you could swap the peanut butter for almond butter or the almonds for cashews etc etc. You can even add in your favourite dried fruit or chocolate chips if you like. Oh how naughty!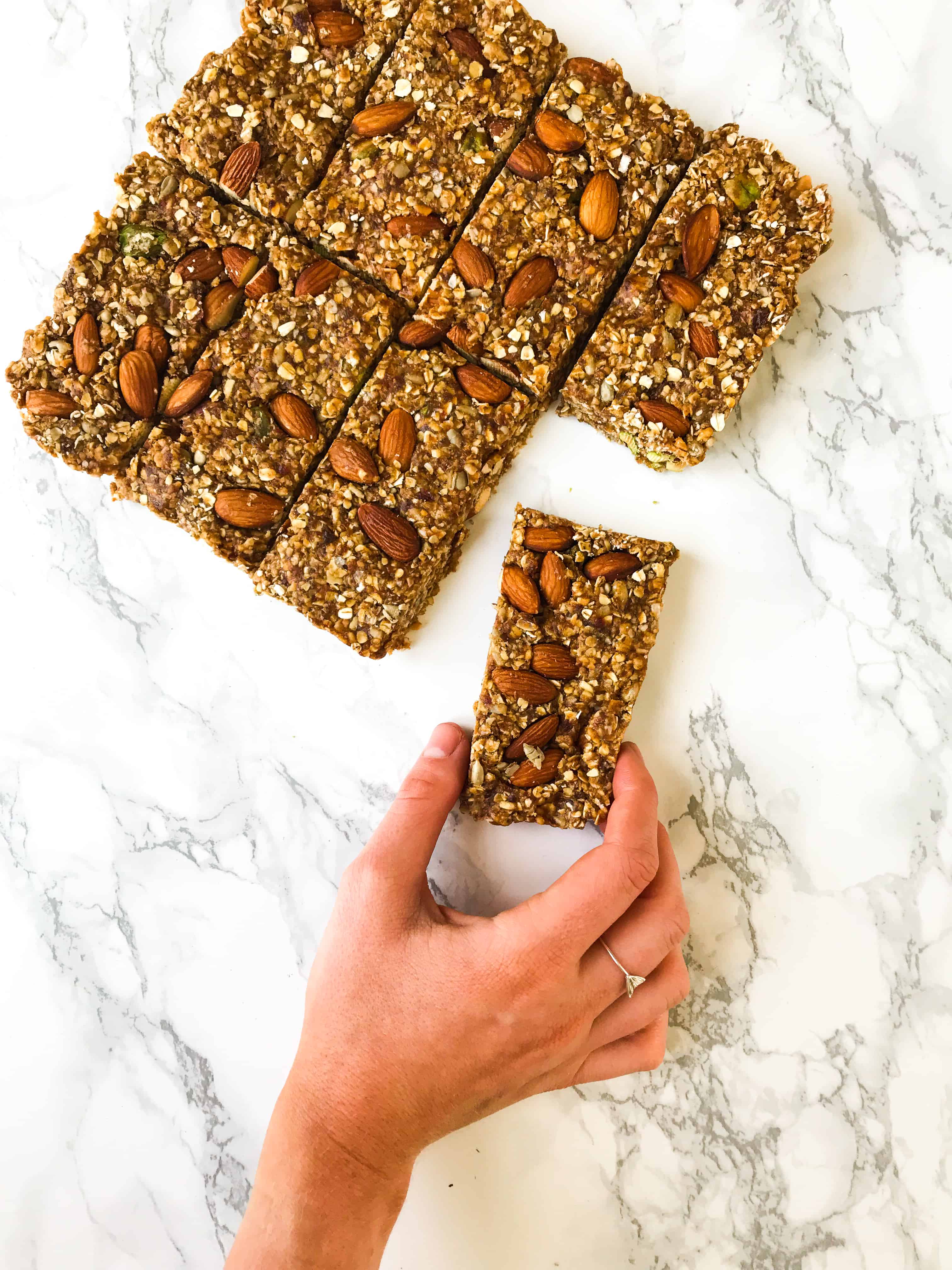 Granola is a food that I rarely keep in the house because I'm not going to lie…. I just can't resist it, it is like my kryptonite. These roasted nut granola bars were no different. I ate them for breakfast, for snacks and as dessert – they were just TOO good. I finally had to control the situation by giving the last batch away to friends who said (and I quote) 'wow, what do these have in them?!'. So, if you become addicted to these, don't say I didn't warn you!
I KNOW you will love my roasted nut granola bars –  you just HAVE to make them! If you do please tag me in photos on IG @georgieeatsuk, use the #georgieeats, or leave me a comment down below, I would love to hear from you. Now onto the recipe!
G x
ROASTED NUT GRANOLA BARS
These roasted nut granola bars are completely delicious AND nutritious. Perfect as on the go breakfast or a quick snack. Vegan, gluten free, no refined sugar and healthy!
Ingredients
135

g (1 + ½ cups)

rolled oats

120

g (1 + ½ cups)

nuts of choice

roughly chopped

35

g (1/4 cup)

mixed seeds

160

g (1 cup)

pitted dates

2

tbsp

honey/maple syrup

90

g (1/3 cup)

peanut butter / almond butter

smooth or crunchy

1

tbsp

coconut oil
Instructions
Preheat the oven to 180°c fan/200°c/400°f.

Place the oats, nuts and seeds onto a baking tray and bake for 10-15 minutes until they begin to turn slightly golden. Remove from the oven and transfer the toasted oats, nuts and seeds into a large bowl.

Meanwhile, place the dates into a food processor and blend until they create a sticky dough-like ball.

Add the blended dates, honey/maple syrup, nut butter and coconut oil into a pan over a low heat and mix well with a wooden spoon until all the ingredients are combined.

Pour the date mixture into the bowl with the toasted oats and use your hands (recommended) or a wooden spoon to thoroughly combine everything together.

Transfer the mixture into a lined 9 x 9 dish before using the bottom of a glass to push down and compact the mixture into one even layer. Cover and refrigerate for 30 minutes.

Once the granola bars are set, remove them from the fridge and cut into 8-10 bars before serving.
Recipe Notes
These granola bars can be stored in the fridge or in an airtight container for up to a week.
You can make these bars without the first step and just use raw nuts and oats, but I think that the roasted flavour really adds something special.
Personally, I like to use almonds, pistachios, sunflower seeds and pumpkin seeds in these roasted nut granola bars, but feel free to use your own favourites!
Optional add-ins: just omit some of the nuts/seeds and add in 1 or more of these instead (eg. instead of 1 cup nuts/seeds make it 3/4 cup nuts + 1/4 cup raisins etc.)