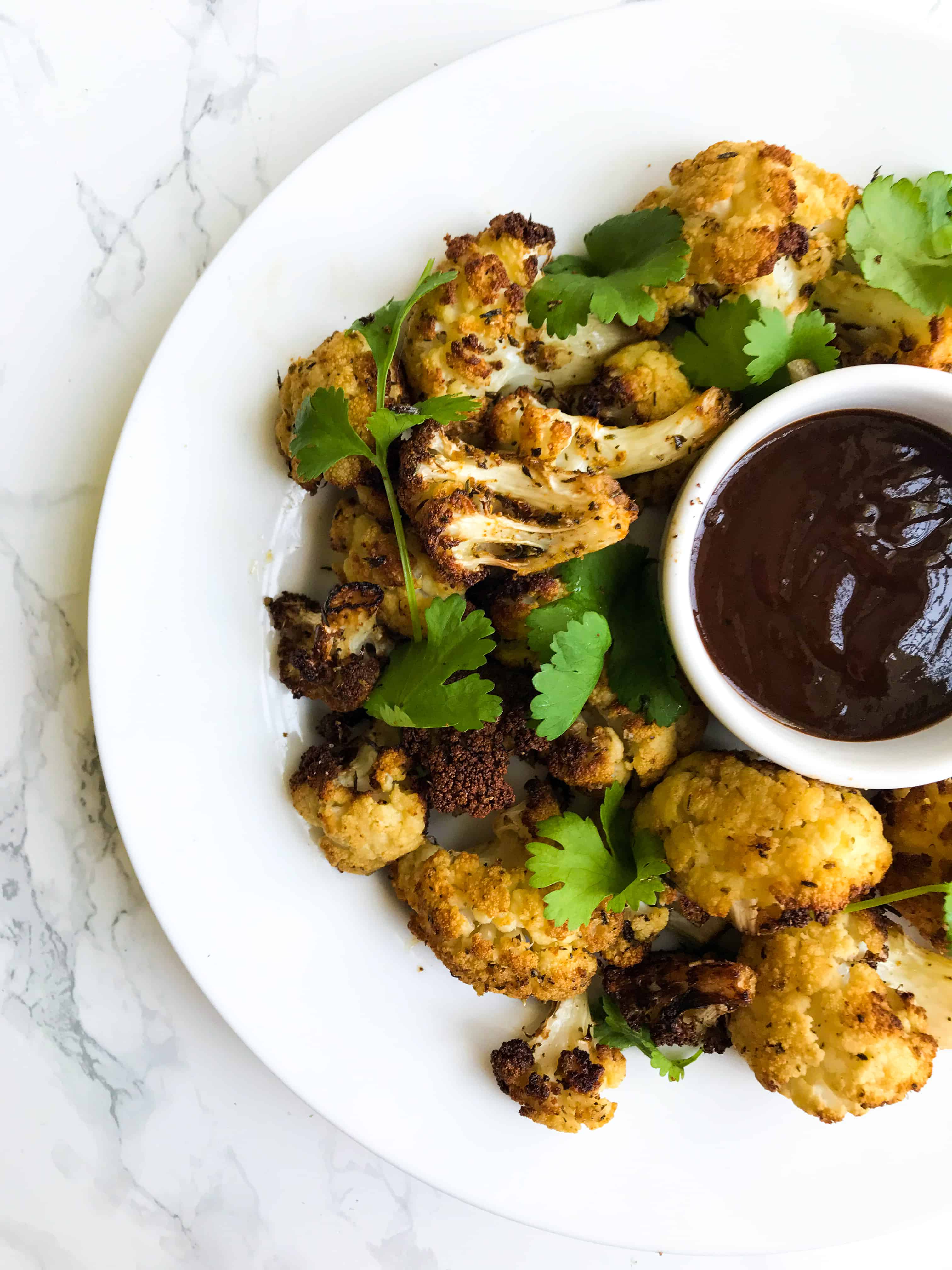 Cauliflower in my opinion is completely underrated as a vegetable. Asides from cauliflower cheese, it is hardly seen on British dinner tables and I think thats partly due to just not knowing what to do with it! Im sorry to say this cauliflower, but on your own can be pretty boring…. But, this recipe is FAR from that, my cajun roasted cauliflower is incredibly flavoursome, exciting and gives the humble cauliflower the credit it deserves.
This cajun roasted cauliflower is SO easy. It only takes 5 minutes to prep before you can whack it in the oven and let the heat do all the work. It's a great dish for the nights you just CANNOT be bothered (we all have them) but still want something super nutritious and tasty to eat.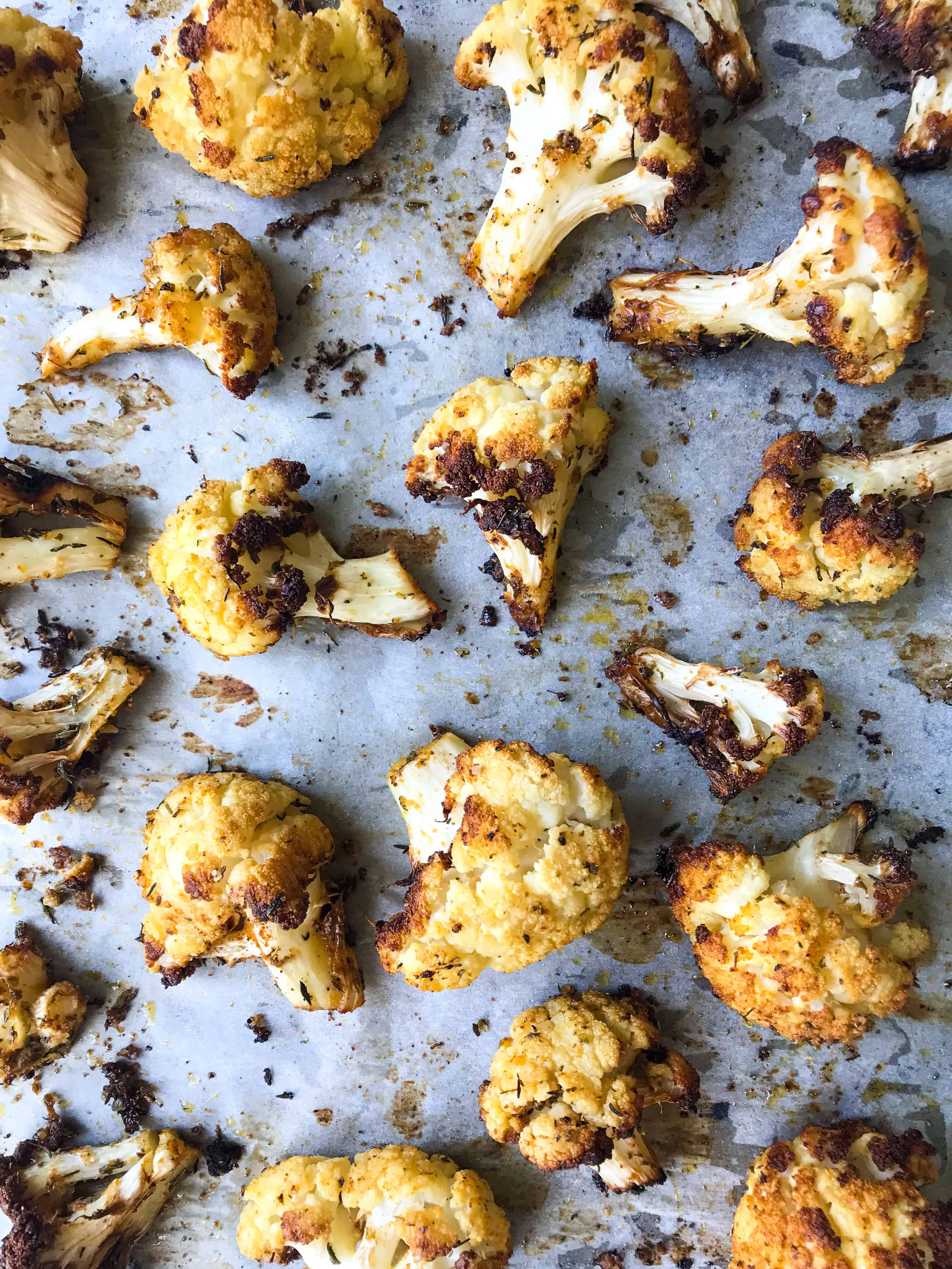 Mainly I make this cajun roasted cauliflower to throw on top of simple salads – it jazzes them up and make them 1000x more enjoyable and satisfying. It is also amazing to use as a foundation to smother in your favourite sauce. I love dipping my cajun roasted cauliflower into something creamy like my garlic dressing from my kale and butternut squash salad recipe, but you can also try hummus, salsa or guacamole – it basically goes with anything and is a great recipe for anyone who struggles to eat their 5 a day.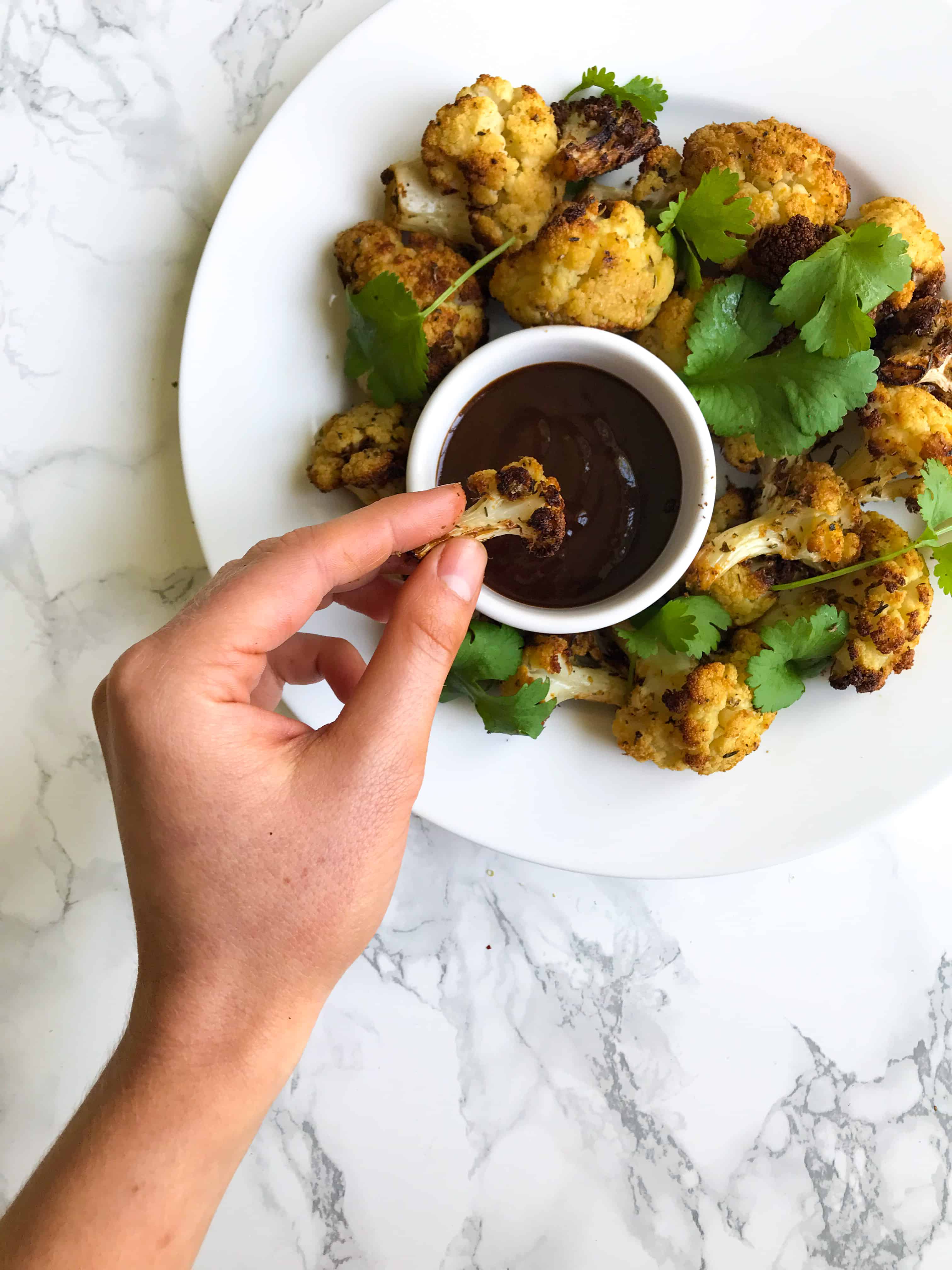 As well as being delicious this cajun roasted cauliflower is also incredibly good for you. If you didn't know, cauliflower is part of the cruciferous family (other members include kale, cabbage, broccoli, and brussel sprouts) which are all vegetables PACKED with vitamin C and potassium. Cauliflower also offers a healthy dose of dietary fibre, folic acid and contains a sulfur compound called isothiocyanate that protects health and prevents disease. Apparently it's the new kale!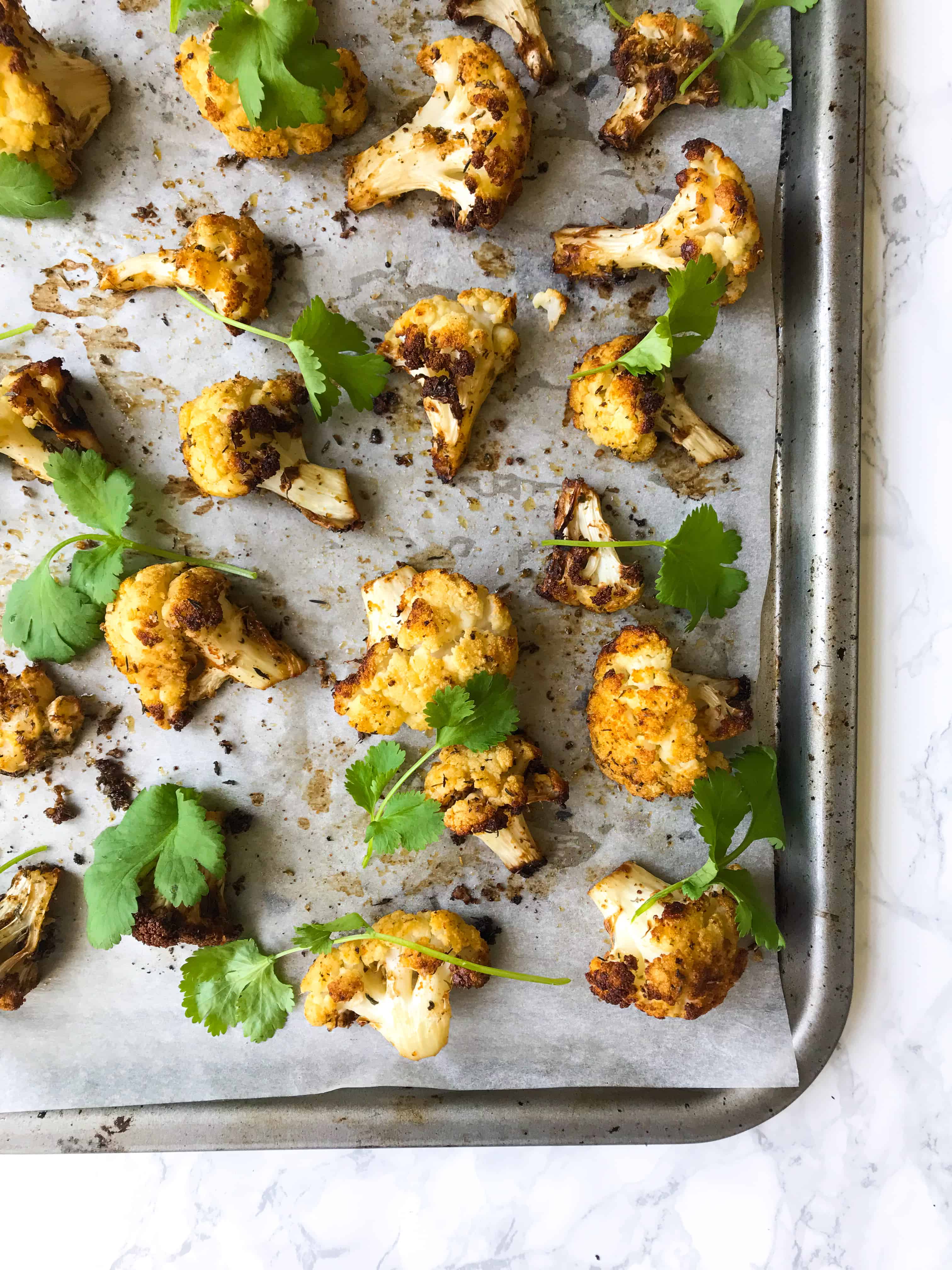 If you have always thought of cauliflower in a nonchalant manner then you HAVE to try this. During the roasting process the cauliflower completely transforms itself into a beautiful, beautiful thing. My cajun roasted cauliflower is soft with a slight charred crunch, sweet but also salty and savoury in the best possible way, and beautifully seasoned with warming spices. Honestly – you will never dream of eating a cauliflower in any other way again!
If I have convinced you to try this recipe, I really do hope you love it as much as I do! Please tag me in any photos on IG @georgieeatsblog, or leave me a message down below. Have a fab week guys! Here is the recipe:
G x
CAJUN SPICED ROASTED CALIFLOWER
Crunchy but tender and salty but sweet, this cajun roasted cauliflower really packs a flavour punch! Perfect served as an appetiser with a delicious dip, as a unusual side dish to jazz up any main course, or used to top salads! Vegan, paleo, gluten free & healthy.
Ingredients
1

large

cauliflower

leaves removed and cut into florets

1

tbsp

rapeseed / olive oil
Spice Mix
1

tsp

paprika

1/2

tsp

dried thyme

1/2

tsp

dried oregano

Pinch

cayenne pepper

1

tsp

garlic powder

1

tsp

sea salt
Instructions
Preheat the oven to 180°c fan/200°c/400°f.

Place the cauliflower florets into a large bowl and add the the oil and spice mix. Using your hands or a wooden spoon, thoroughly coat all the cauliflower before tipping onto a lined baking tray in one even layer.

Bake the florets in the a preheated oven for 40-45 minutes flipping half way through until golden and crispy but still tender. Serve whilst still hot.
Recipe Notes
These cajun roasted cauliflower florets are perfect served dipped into guacamole, salsa, alioli or even on their own as a quick snack! This recipe is also great as a side to accompany your favourite dish or to spice up any salad! 
Store any left overs in an airtight container in the fridge for up to 5 days. These cauliflower florets can eaten cold or heated back up (just pop them back in the oven for 10 minutes to crisp them back up!).