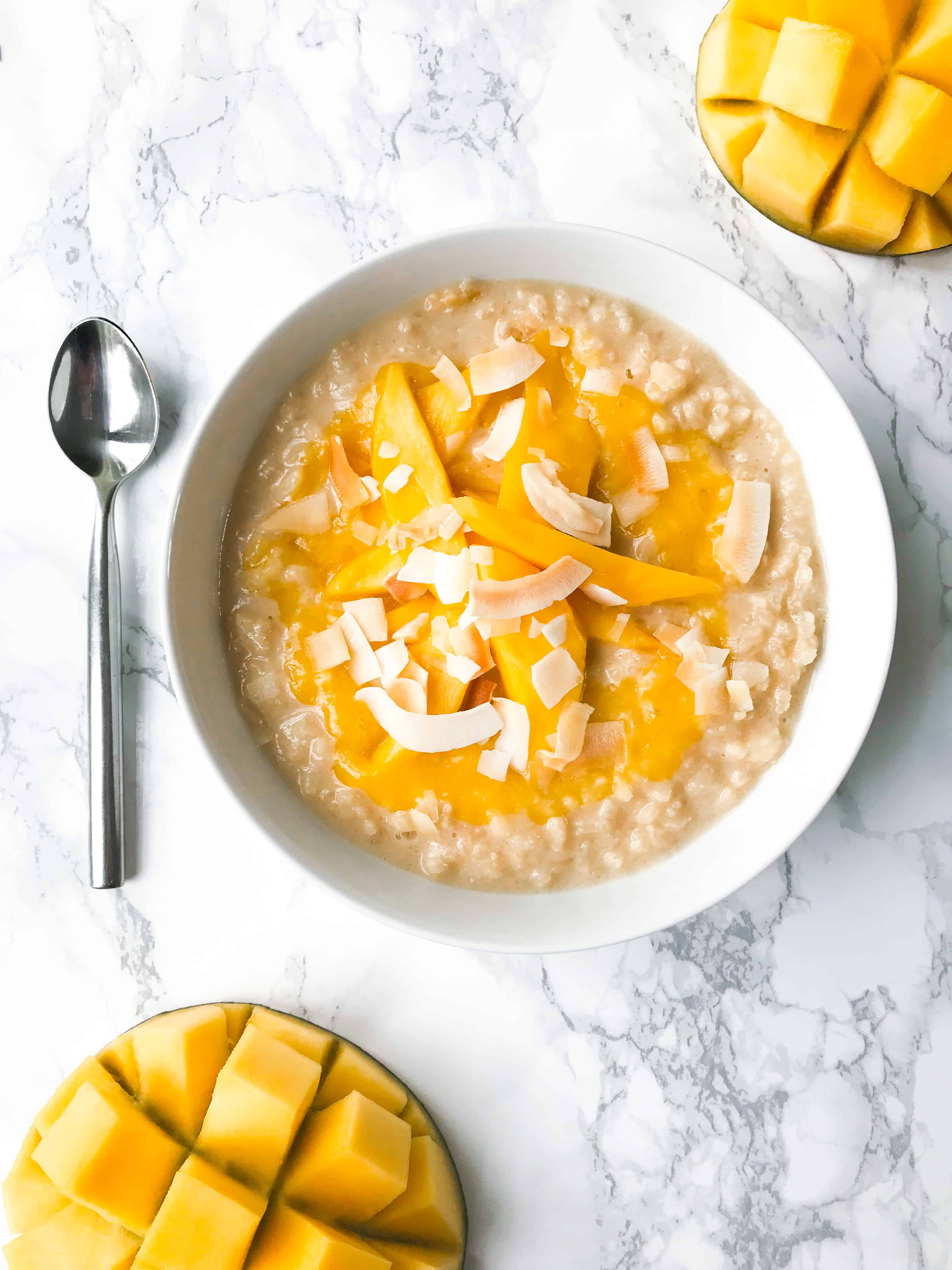 For me, rice pudding is the ultimate comfort food. It is a dish my mum use to make for me when I was younger and I can still remember that beautiful sugary nutmeg smell oozing through the house. But, although it may be nostalgic, it is also pretty bad for you…. and after craving it for the last month I decided something needed to be done! I NEEDED to be reunited with my ultimate pud once again! So, I came up with this: My clean eating coconut rice pudding.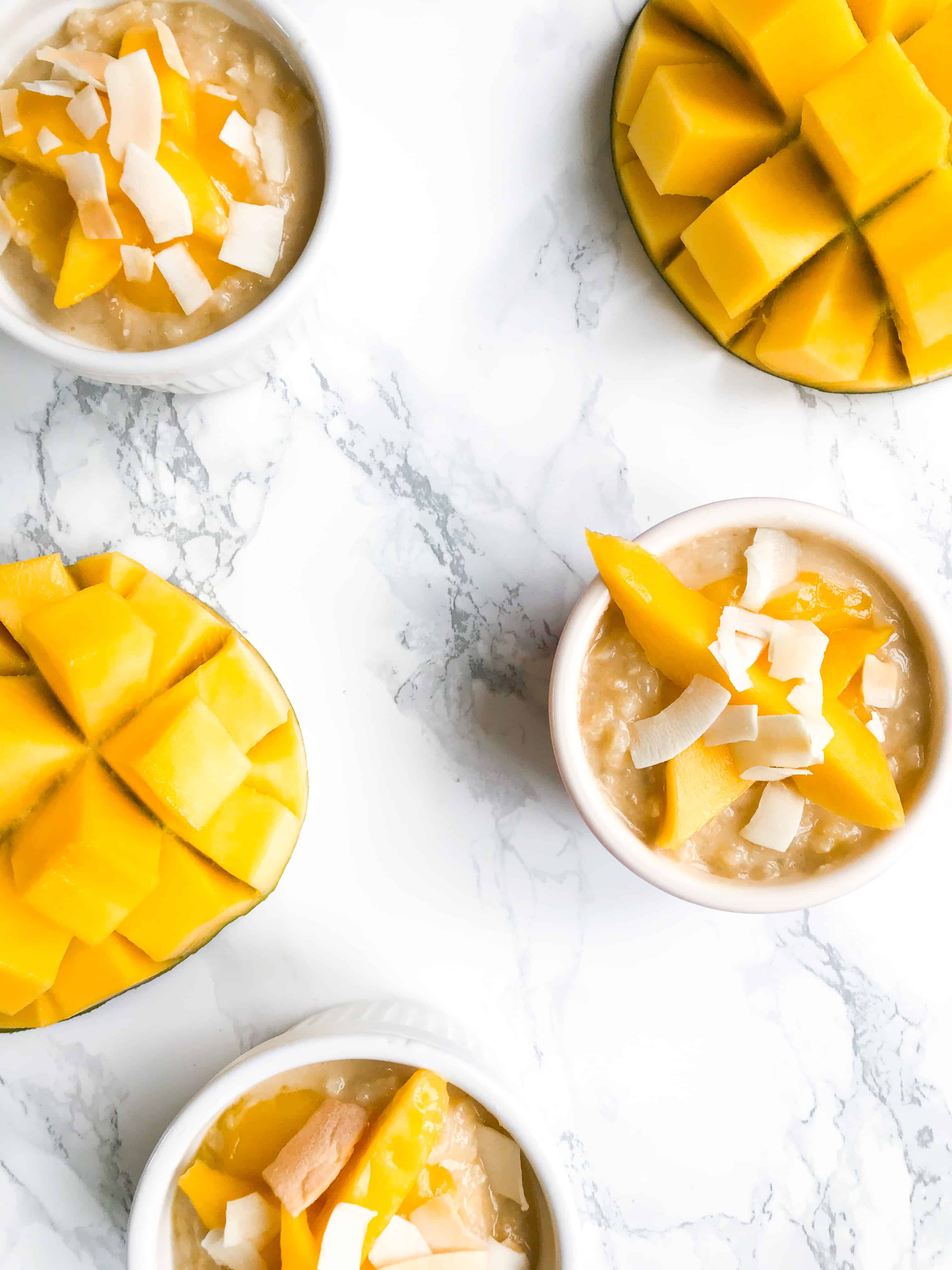 This coconut rice pudding is just great. Its healthy, nourishing, comforting and superbly tasty. Thanks to the coconut milk it just as creamy as the traditional kind but doesn't leave you feeling bloated and heavy. If you end up with leftovers (I doubt it….) it is even healthy enough to eat for breakfast the next day – warm or cold, which ever way you prefer!
This coconut rice pudding is perfect on its own, but when served with the mango puree magical things happen… Its cuts through the creaminess creating a lighter, prettier, more sophisticated dessert which could happily be served at any dinner party. Imagine that!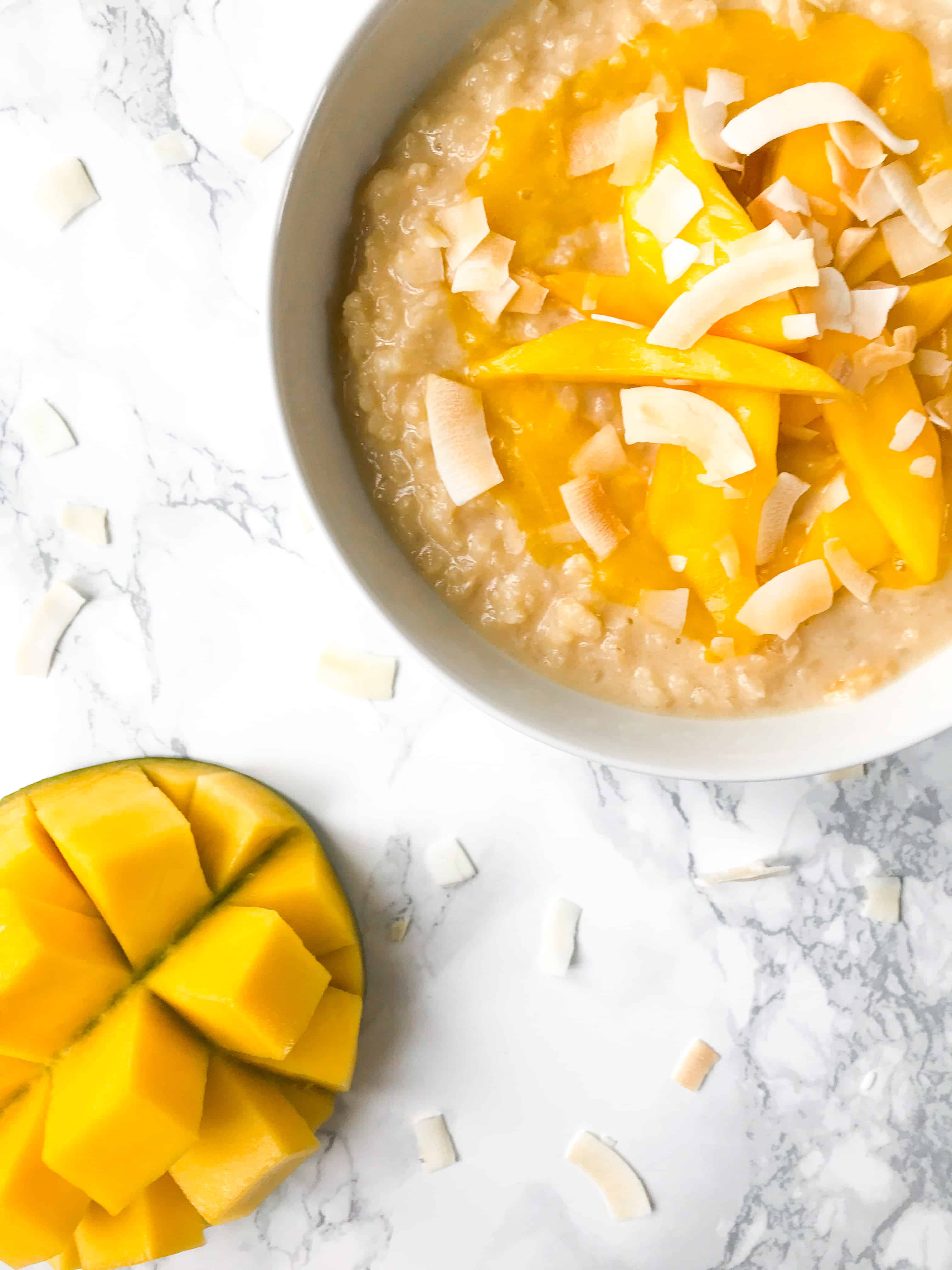 If you have never made rice pudding before, you just have to try this! Its SO simple, cheap and you may even be able to find all of the ingredients in you cupboards already. I promise it is NOTHING like those slimy ones you get in the pots… *cough* muller rice *cough*. Please send me pictures to my IG @georgieeatsblog, or leave me a message down below! Now here is the recipe for you:
G x
COCONUT AND MANGO RICE PUDDING
This rice pudding is so delicious... Just like your grandmas but healthier, lighter and more sophisticated! Vegan, gluten free & no refined sugar!
Ingredients
110

g (1/2 cup)

pudding / risotto rice

400

ml tin

coconut milk OR 100g creamed coconut

see recipe notes

200

ml

non-dairy nut milk

3

tbsp

maple syrup / honey

1

tsp

vanilla extract

Pinch

salt
To Serve
1

large

ripe mango

Handful

coconut chips
Instructions
In a medium sauce pan over a medium heat add the rice, coconut milk / creamed coconut, nut milk, sweetener, vanilla and salt. Stir well.

Bring the mixture to a boil before reducing to a very low heat. Simmer gently for 40-45 minutes stirring regularly until the rice is tender and creamy (but not mushy).

While the rice is simmering cut the mango in half. Remove the skin from both halves before slicing one half into long strips and placing the other in a food processor and blending into a smooth puree.
To Serve
Divide coconut rice pudding between bowls or ramekins, swirl through a generous spoonful of the mango puree and garnish with the sliced mango and coconut chips.
Recipe Notes
If you prefer to use creamed coconut instead of coconut milk like I do, dissolve the 100g of creamed coconut in 400ml of boiling water, whizz until smooth in a blender and add into the saucepan as per the recipe. (I blend it to make sure the finished rice pudding is super smooth!)
This rice pudding is great served hot or cold. Allow the rice pudding to cool completely before storing in an airtight container in the fridge for up to 3 days. If you want to reheat it, make sure it is piping hot before serving!
This coconut rice pudding is perfect served with any kind of tropical fruit (its amazing with passionfruit!) or just eat it the traditional way with some strawberry jam.