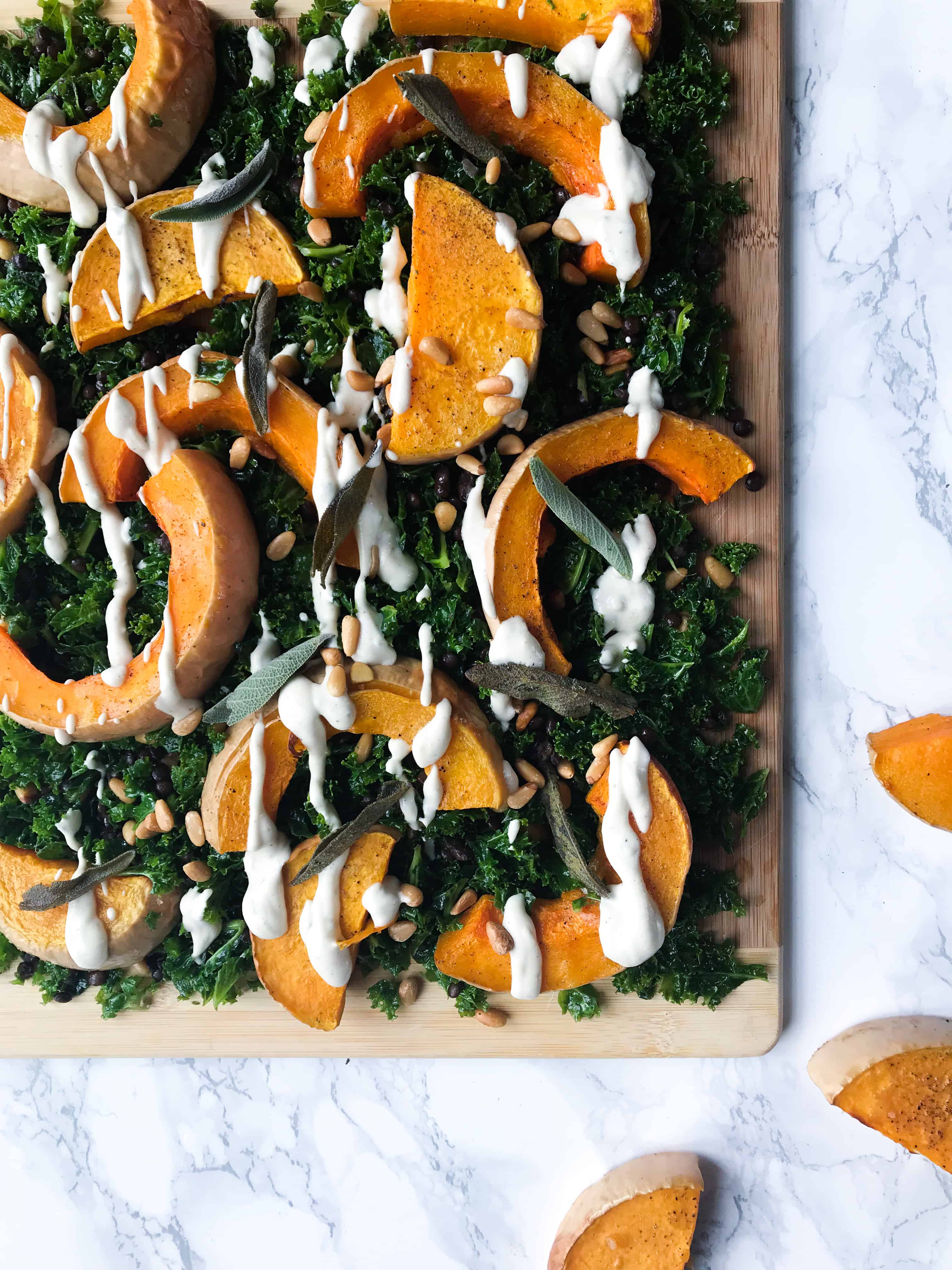 This is a salad for a anti-salader. Yep you heard right, an anti-salader. One for the people who still use the term 'rabbit food' and think a meal isn't a meal without some form of meat – you know the ones! This butternut squash and kale salad is hearty, filling, vegan and when topped off with my creamy garlic dressing JUST SO DELICIOUS. I promise its good enough to please even the hardest of salad critics. 
After missing my train home from London Victoria I can't say I was in the best of moods. All I wanted to do was get home and craft a lovely supper from all the goodies in my fridge but it seemed luck was not on my side. So with 50 minutes to spare and an empty belly I went on a search for something healthy that I could eat and ended up at LEON, where I tasted the joy of a butternut squash and kale salad for the first time.
Upon the first mouthful my mood was instantly uplifted and I thought, you know what, missing the train wasn't so bad after all. Hey, thinking back on it I am actually GLAD I missed the train, because I wouldn't be sharing this recipe with you otherwise. Its fait!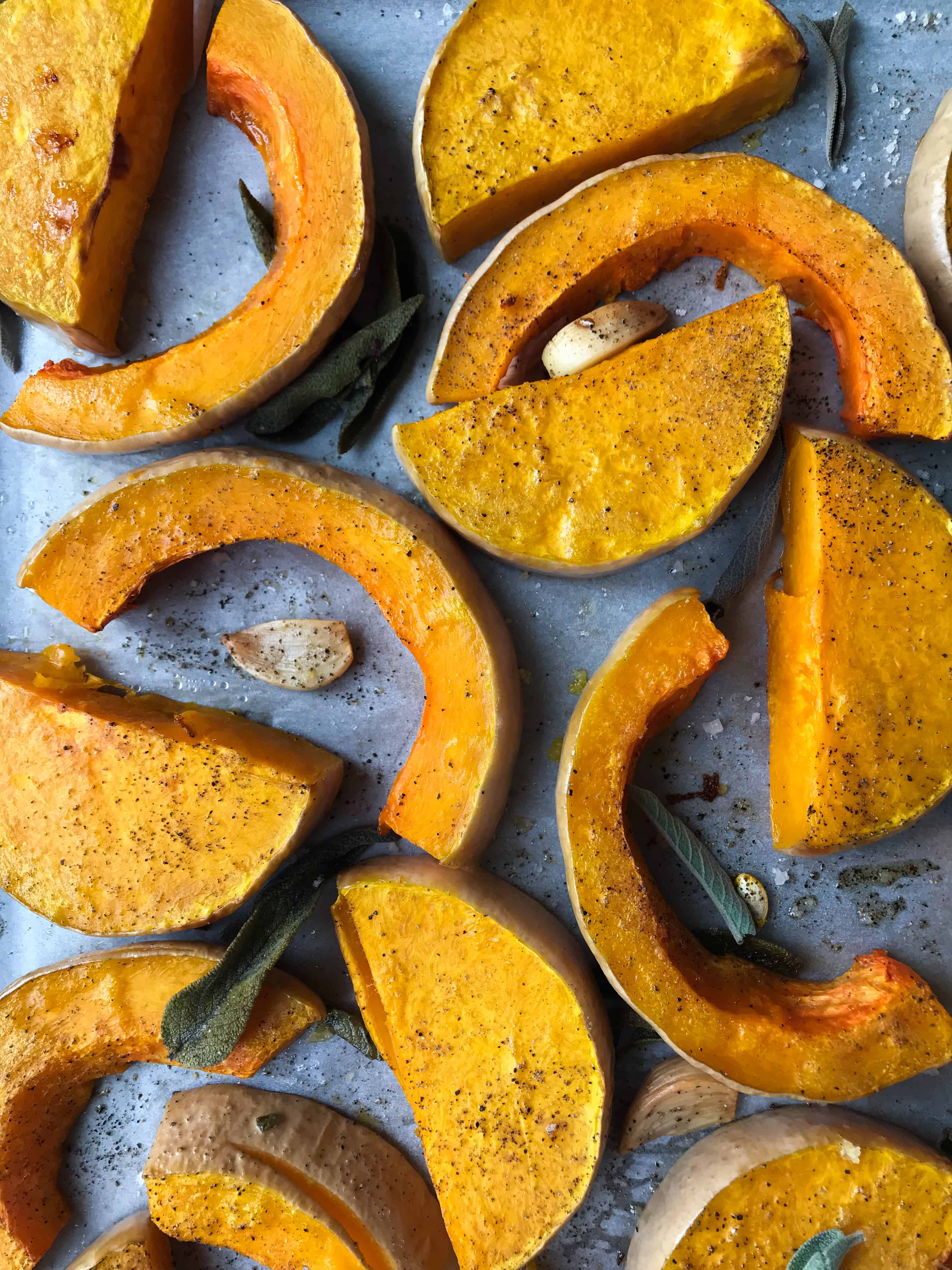 A few days later, and still dreaming of the butternut squash and kale salad I had at LEON, I decided the only thing to do was recreate it for everyone I had raved about it to. I started with the dressing as I thought that would be the hardest bit to get right and after a little trial and error came up with the most marvellous creamy dressing I have ever had. Vegans and non-vegans will be drooling over it, trust me. The salad was easy to recreate once I had remembered what was in it… luckily I had taken a picture of it before I started eating – so millennial.
The result….. A butternut squash and kale salad BETTER than the one I had at LEON, and I didn't even know that could be possible. My boyfriend loved it, my sister loved it and my brother-in-law LOVED it – he even posted on my facebook wall about it it was that good (not so millennial…).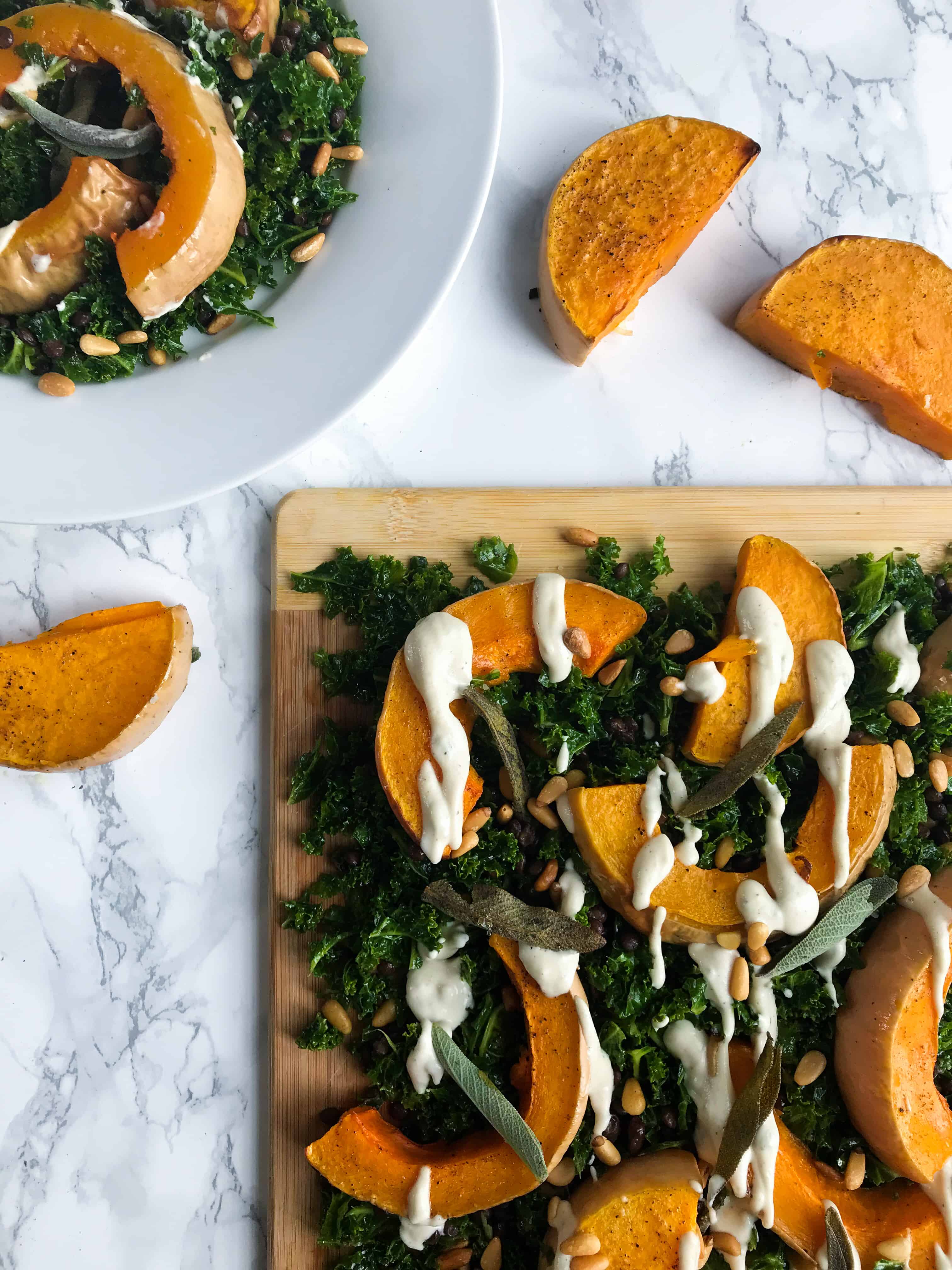 So as you can see, this salad is pretty damn tasty. Its also pretty damn good for you. Everyone has heard the hype surrounding kale, and rightly so! Kale is a good source of fibre, protein, thiamin, riboflavin, folate, iron, magnesium and phosphorus as well as being a very good source of vitamin A, vitamin C, vitamin K, vitamin B6, calcium, potassium, and copper. WOW, thats a big list. But lets not forget about the star of the show! Butternut squash is a brilliant source of vitamin A, C and B6, folate, magnesium, fibre, riboflavin, phosphorus, and potassium. Due to the beautiful orange yellow colour butternut squash is also packed full of manganese which boosts bone strength and helps the body to process fats and carbohydrates.
I don't think I have given the dressing enough love yet. It is like a garlic mayo but healthy and better. PLEASE do not make this butternut squash and kale salad without it, it will not be the same! Something wonderful that I can't describe happens when you drizzle the salad with this dressing – everything just tastes sweeter and extra beautiful. Magic maybe. Yeah, that must be it. This creamy garlic dressing would also be great as a dip for veggies or chips, or actually just with anything. Put it on everything!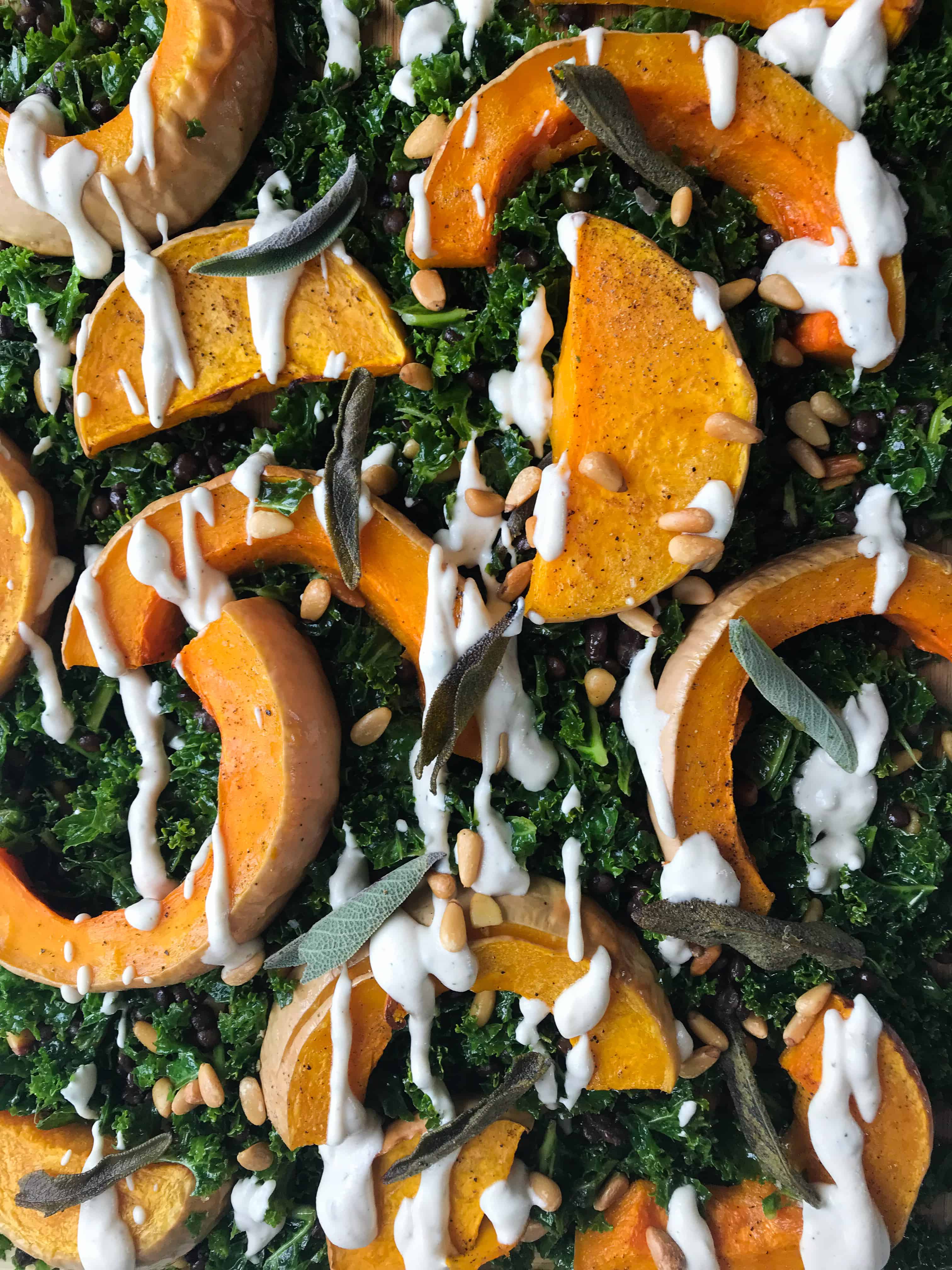 Have I convinced you to try this yet? I really do hope so. Feed it to your anti-salad friends and see what happens, I can almost guarantee conversion! You can tag me in any photos @georgieeatsblog or leave me a comment here and we can have a chat. Lots of love to anyone reading this! Recipe below:
G x
BUTTERNUT SQUASH AND KALE SALAD WITH CREAMY GARLIC DRESSING
A beautiful colourful salad with a life changing dressing. Vegan, hearty and filling this salad will convert even the harshest of plant-based critics.
Ingredients
Roasted Butternut Squash
1

medium

butternut squash

10-12

leaves

sage

2

tsp

coconut oil

melted

Salt and Pepper

to taste
Kale Salad
200

g (1 pack)

kale

Juice of 1

lemon

1

scant tbsp

extra virgin olive oil

Pinch

sea salt

150

g (1 cup)

puy lentils

cooked

50

g (handful)

pine nuts

lightly toasted
Creamy Garlic Dressing
60

g (1/2 cup)

cashew nuts

Juice of 1/2

lemon

50

ml (1/4 cup)

water

1

large clove

garlic

Pinch

salt

to taste
Instructions
Preheat the oven to 160°c fan/180°c/350°f.

Add the cashew nuts for the dressing into a bowl and cover with just boiled water. Allow to soak for 20-25 minutes while you prepare everything else.

Cut the butternut squash in half lengthways, remove the seeds with a spoon and cut into 2cm strips. Place on a baking tray before coating with the coconut oil and seasoning with the sage, salt and pepper. Roast for 40-45 minutes in the preheated oven until golden and soft.

Remove all the hard stalks from the kale and finely shred the remaining leaves with your fingers into a large bowl. Add the lemon, oil and salt and massage the kale with your hands for 2-3 minutes until it has turned a bright green and halved in size. Add the puy lentils and 3/4 of the toasted pine nuts into the bowl and mix to combine.

To make the dressing, add the soaked cashews, lemon, water, garlic and salt into a food processor and blend until completely smooth. Taste, and adjust the seasoning accordingly.

To serve, spread the kale salad onto a large serving platter and top with the roasted butternut squash before drizzling with the creamy garlic dressing and sprinkling on the remaining toasted pine nuts.
Recipe Notes
To make ahead, keep the butternut squash, kale salad and the dressing in separate airtight containers in the fridge for up to 5 days until ready to serve. 
For this recipe I used the merchant gourmet ready to eat puy lentils. If you want to use dried lentils measure 75g (1/2 cup) and cook according to the packets instructions. 
Puy lentils can also be known as lentils vertes or french lentils but are not the same as green lentils.