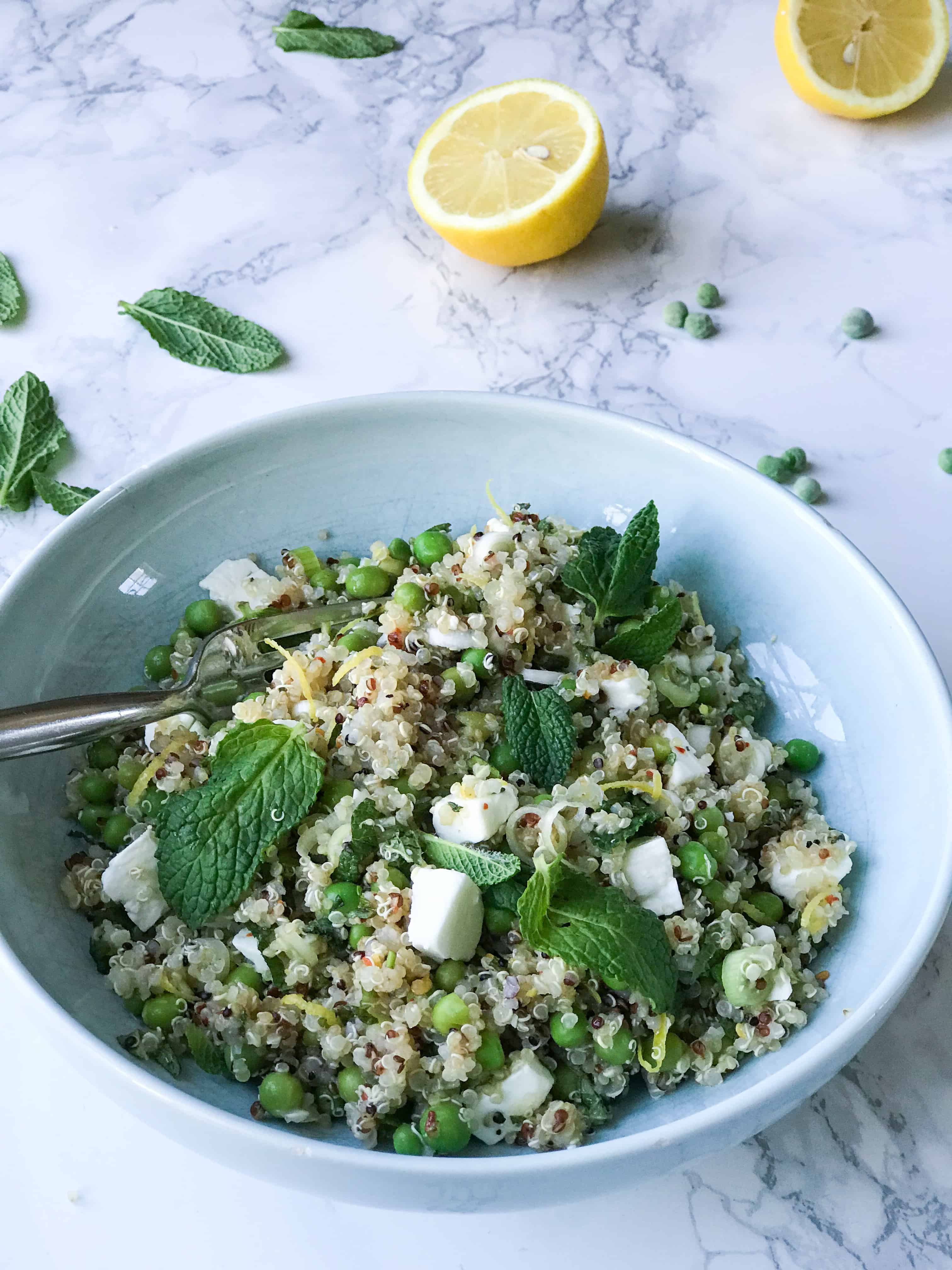 I became a little hopeful at the few rays of sunshine pushing their way though the clouds the other day and was inspired to make this light summery quinoa salad. But, unfortunately I cooked to soon, the rain has graced us once again and you most likely are shivering whilst reading this – but its ok everybody! Do not fret. Sooner or later the UK may have our yearly few hours of sun, and this quinoa salad will be the perfect accompaniment. If you are lucky you may even be able to eat it outside, can you imagine that!?
I love leftovers. My favourite kind of lunches are ones where you take all the leftovers from previous days and just throw them together on one plate – kind of like a weird meze. Zero effort but all the gain. This quinoa salad is perfect for my makeshift meals as it keeps really well in the fridge. Last week I made a double quantity of it on Monday and made it last right though to Friday, pairing it with different things each day such as chicken, veggies, hummus and even falafel. SO GOOD but SO EASY.
Having delicious but nutritious food prepared in the fridge is SO important if you don't want to fall off the healthy eating bandwagon. It stops you reaching for 'easy and quick' junk foods, and helps you out if you aren't in the mood to cook. Batch cook a few dishes like this at the beginning of the week to mix and match and thats it – you are sorted! Trust me, your life just got a whole lot easier…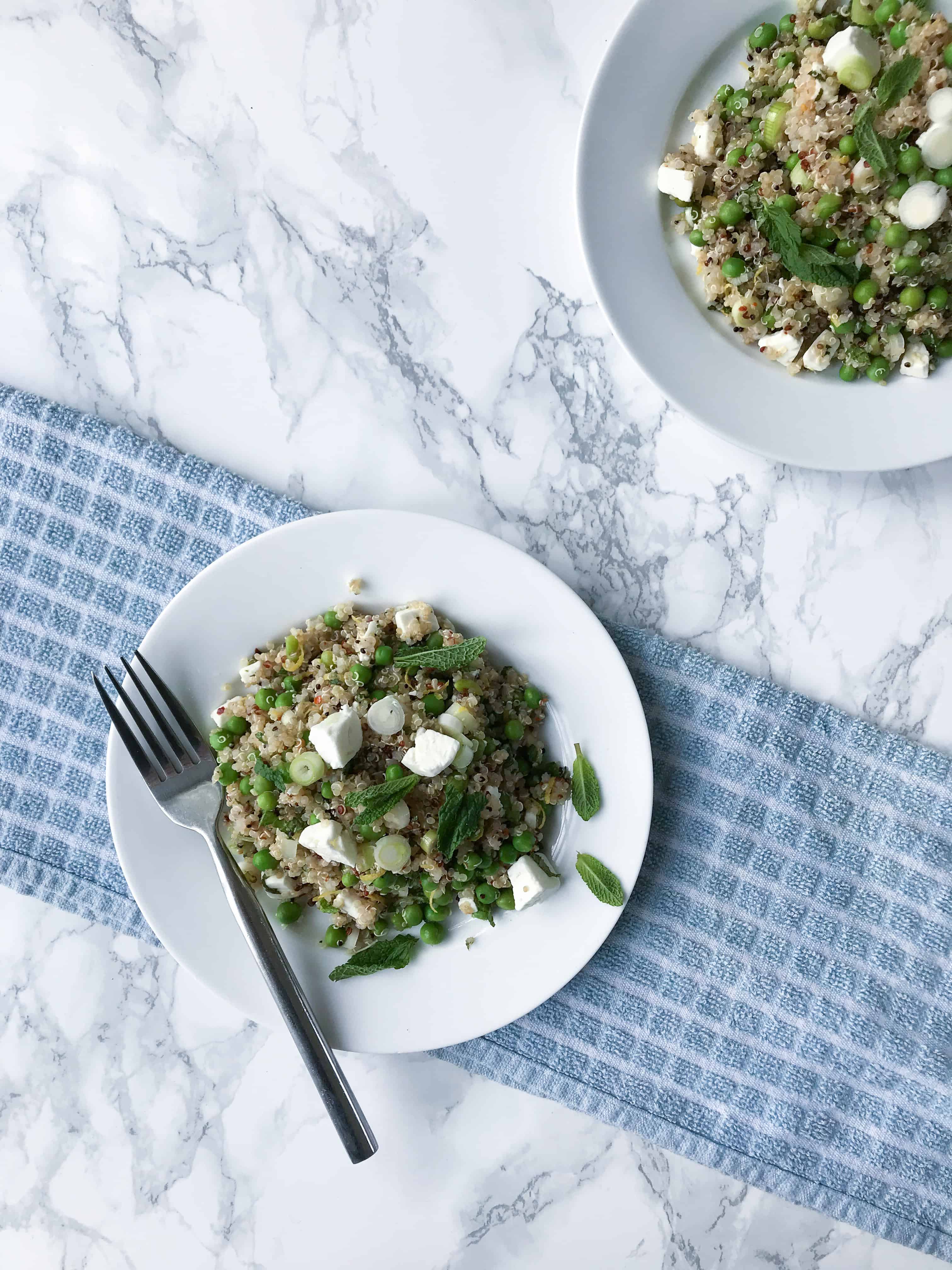 Ooo, I just thought about how great this would be at a BBQ. Oh, the brits can only dream…
This quinoa salad is really quite customisable. If you aren't a fan of quinoa you could use brown rice or any other preferred grain. If you are vegan or dairy free just leave out the feta or use an alternative, etc, etc. I have added a little bit of chilli here as I like to spice things up (cheeky!), but again, if that isn't your thing just leave it out!
If you haven't heard or perhaps have been living under a rock, quinoa is really good for you! Fun fact: Quinoa isn't a grain – it is actually a seed. It contains more nutrients than most grains, packed full of minerals and vitamins and is one of the rare plant based foods that is a complete protein source (contains all 20 amino acids INCLUDING all 10 essential acids our bodies cannot create on their own). Quinoa is also gluten free so is a great source of carbohydrate for anyone who struggles with bloating.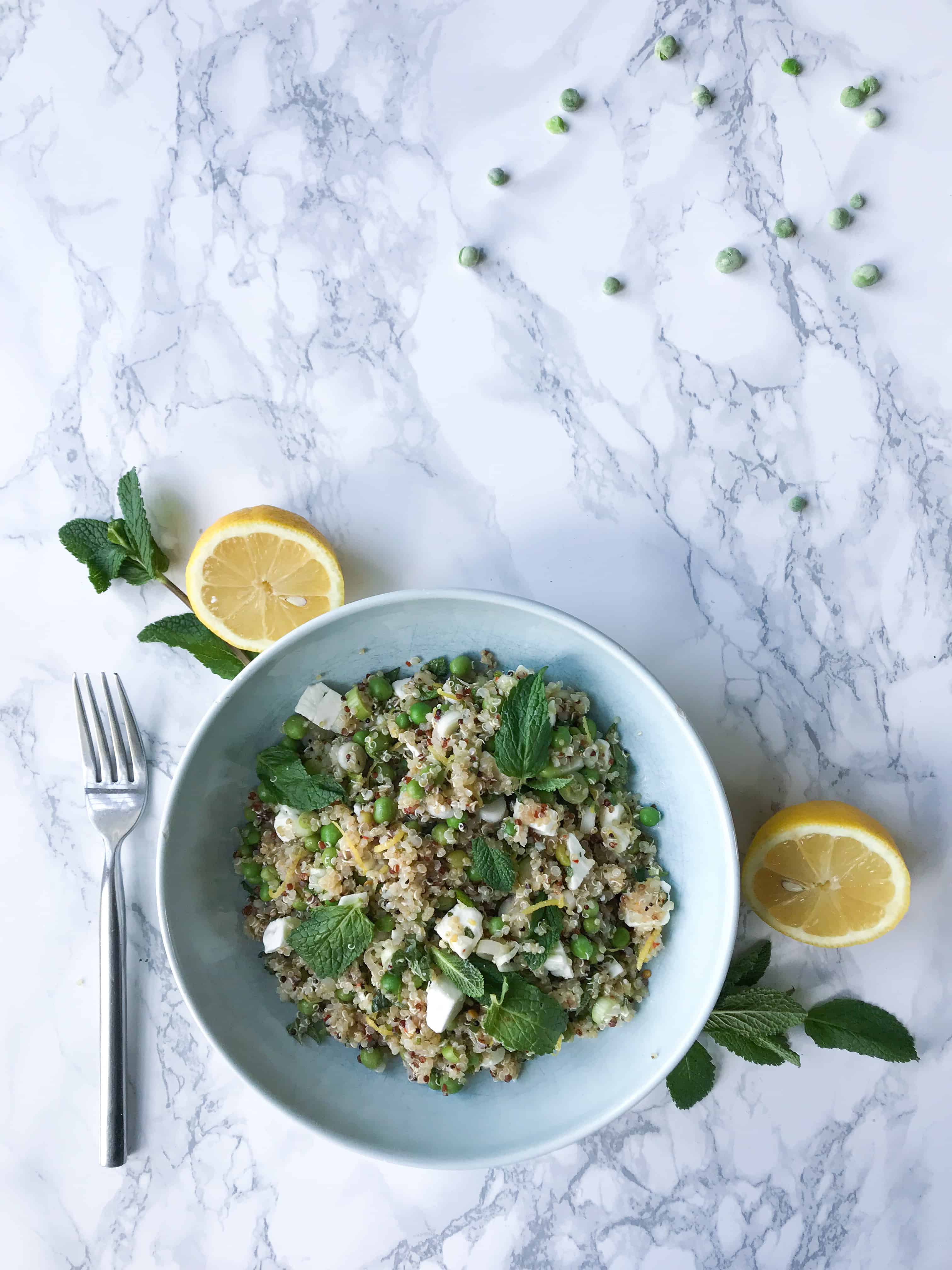 Currently I'm recovering from easter Sunday and the amount of roast dinner which was consumed (oopsies). I am craving something light, something fresh, something like… THIS. Maybe I will make this for dinner tonight… mmmm yeah, that sounds good. Maybe you should too!?
See what I did there? Think I might be getting better at this whole blogging business. Please give this a go and let me know how you get on. You can tag me in pictures on IG @georgieeatsblog, or just leave me a comment down below.
If you got this far, thanks for reading! Recipe to follow:
G x
FETA, PEA, MINT AND LEMON QUINOA SALAD
A delicious light salad perfect for a quick lunch or to batch cook to keep you going throughout the week. GF.
Ingredients
100

g (1/2 cup)

quinoa

rinsed

1/4

vegetable stock cube

100

g (2/3 cup)

frozen peas

3-4

spring onions

washed

4

stems

fresh mint

leaves removed

50

g (1/4 block)

feta cheese

1

lemon

washed

1/4

tsp

chilli flakes

1

tsp

extra virgin olive oil

Pinch

salt

Pinch

freshly ground black pepper
Instructions
Bring the quinoa to a boil over a medium heat with 200ml of fresh water and the stock cube. Reduce to a simmer and allow to cook for 10-15 minutes until the liquid is absorbed and the quinoa is tender. Drain and allow to cool.

Whilst the quinoa is cooking bring a pan of water to a boil over a medium heat. Reduce to a simmer, add the peas and blanch for 3 minutes before draining and running under cold water to stop the cooking process and keep the peas as green as possible.

Thinly slice the spring onion and most of the mint leaves (leaving some whole for the garnish) and roughly cube the feta. Zest and juice the lemon.

To assemble the salad, transfer the quinoa into a large mixing bowl along with the cooled peas, spring onion, chopped mint, 3/4 of the feta, chilli, olive oil and a pinch of salt and pepper. Mix well to combine and taste - adding more seasoning if desired.

To serve, divide the quinoa salad between two plates and garnish with the remaining feta and mint leaves.
Recipe Notes
I prefer this from the fridge rather than at room temperature, so if you have the time I would recommend chilling this quinoa salad before serving.
Any leftovers will happily keep in the fridge in an airtight container for up to 4 days.
Remember to check the ingredients on your vegetable stock cubes for any preservatives/added sugar. I use the Kallo Very Low Salt Organic Vegetable Stock Cubes if you are wondering. 
Try to buy the best quality feta cheese that you can afford - I promise you, the taste difference is huge!