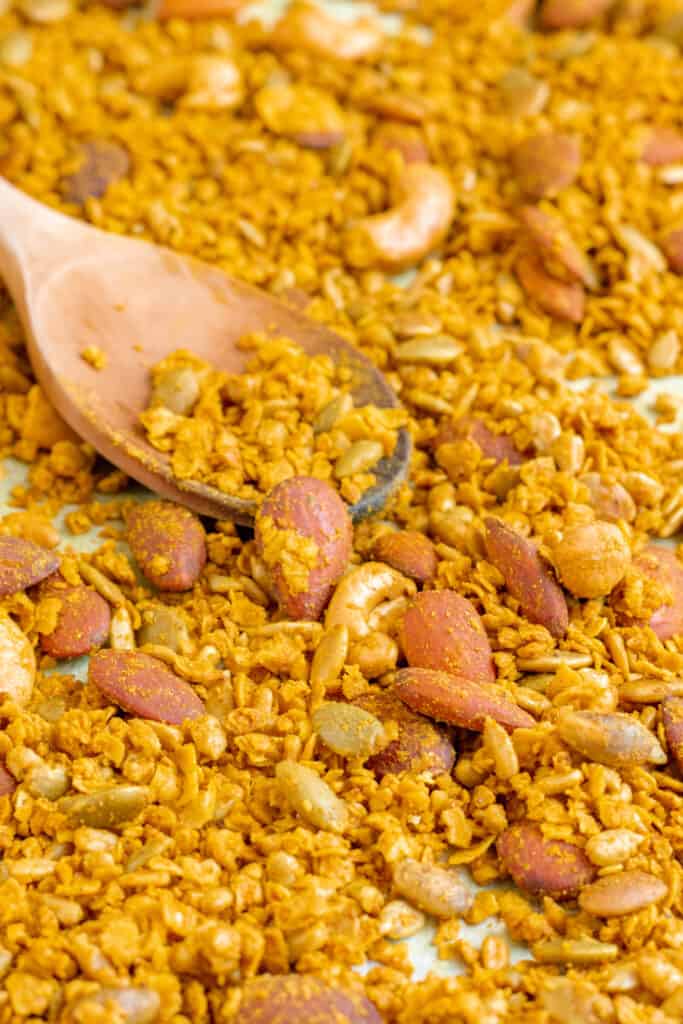 This savoury granola will change your snacking game. A crunchy mix of oats, nuts and seeds, bursting with the flavours of India. Think, 'Bombay mix' but minus the grease. It's salty, it's healthy and it's addictive. I think I need to sign myself up to Granola Anonymous right away – I just can't seem to get enough.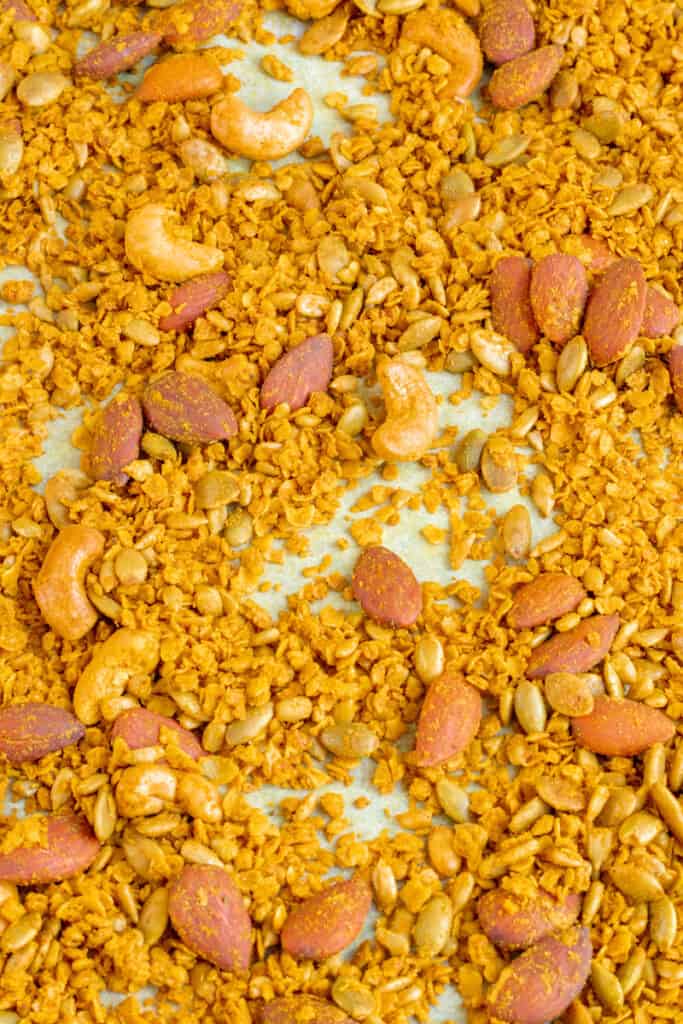 Now I am not suggesting you eat this savoury granola with milk. I think that's a little too strange even for myself… A handful of this straight from the jar is ideal for when you are feeling a little peckish. It's a great snack alternative to crisps/chips as it still delivers on that oh so satisfying crunch. I also love to use this savoury granola to jazz up a simple salad, top avo toast or use instead of croutons on soup. I promise you won't want to be without it.
As with everything on GE, this savoury granola is super good for you. If you struggle to get variety into your diet, something like this is your best friend. Use a good mix of nuts and seeds and in just one handful you could have 8+ plant-based foods all crammed with different nutrients and goodness.
GOT ANY VARIATIONS?
I like my savoury granola with a lovely curry flavour, but there are plenty of ways to mix it up. Why not try these variations:
Chilli Soy Granola: Swap the spices for 1 tsp five spice and 1/2 tsp chilli flakes. Omit the honey/maple syrup and add 3 tbsp of soy sauce (or tamari if GF) to the mix instead.
Marmite Granola: It may not be to everyones taste, but it's damn fine in my opinion. Swap the coconut oil for olive oil and omit the honey/maple syrup, spices and salt. Add two tbsp of marmite and mix throughly before baking.
Garlic Rosemary: Use olive oil instead of coconut oil. Swap the spices for 1 tbsp of dried rosemary and 2 tsp of garlic powder. Season liberally with black pepper.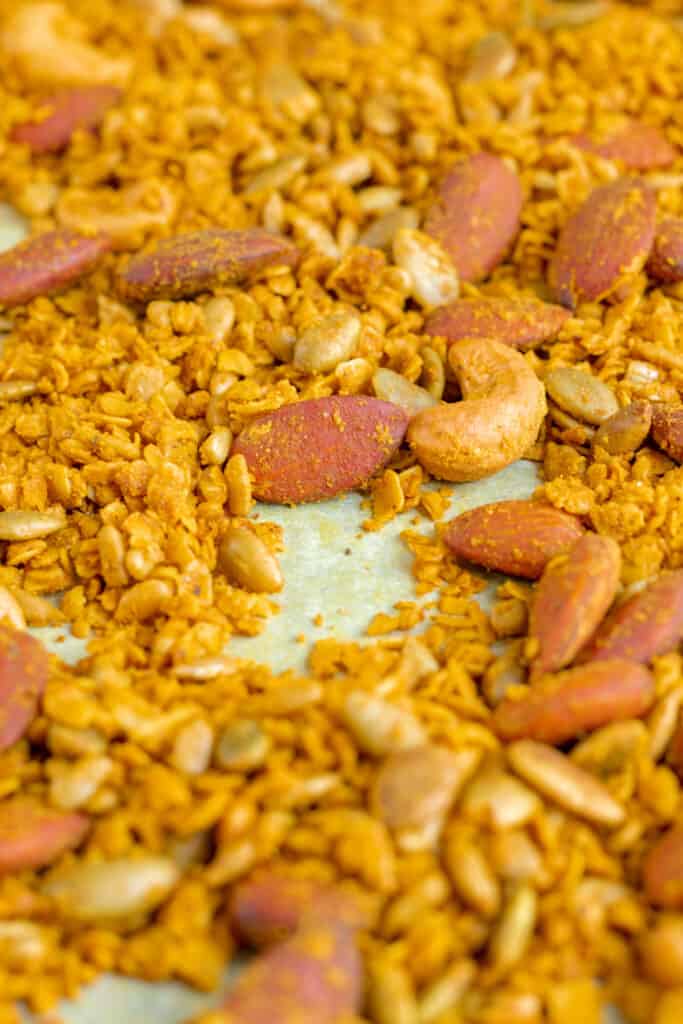 I hope you guys love this recipe as much as I do. Currently I have completely lost control of my hands; I keep finding them in the granola jar, with no idea how they got there. It must just be that delicious.
Anywaaaays, if you make this please tag me in a picture on IG @georgieeatsuk, use the #georgieeats, or leave me a comment down below. I love seeing your creations, it makes my day. Keep smiling!
G x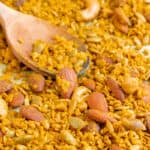 SAVOURY GRANOLA
A crunchy mix of oats, nuts and seeds bursting with the flavours of India. The perfect grab and go snack or topping for soups and salads. Vegan, GF & healthy.
Ingredients
4

tbsp

coconut oil

2

tbsp

tahini

1

tbsp

honey/maple syrup

90

g (1 cup)

rolled oats

75

g (1/2 cup)

mixed seeds

125

g (1 cup)

mixed nuts

I used cashews & almonds

2

tbsp

curry powder

1

tsp

turmeric

Sea salt & freshly ground black pepper
Instructions
Preheat the oven to 160ºc fan/180ºc/350ºf.

Heat the coconut oil, tahini and honey/maple syrup in a large saucepan over a low heat, stirring regularly until melted.

Remove the pan from the heat and add the oats, seeds, nuts, spices, 1.5 tsp of sea salt and several generous grinds of black pepper. Give everything a thorough mix, then pour the mixture out in one even layer on a lined baking tray, being careful not to break the clusters up too much. Bake in the oven for 25-30 minutes stirring halfway through until golden brown.

Allow the granola to cool completely and harden before transferring to an airtight container to store.
Recipe Notes
For Variations on this recipe, see within the post. 
This savoury granola will keep in an airtight container for up to 3 weeks.
Gluten-free: Assure your oats are certified GF.
Vegan: Use maple syrup rather than honey.
A few ingredient notes: 
If you aren't a fan of the flavour of coconut oil, you could use the same quantity of olive oil instead.
If you can find it, try to use raw honey as it is less processed. If using maple syrup make sure it is 100% maple syrup and not maple 'flavoured' syrup. You could also use agave nectar if you prefer.
If you are in need of more healthy snacking ideas, you will love my fruity frozen yoghurt bark. It's delicious!