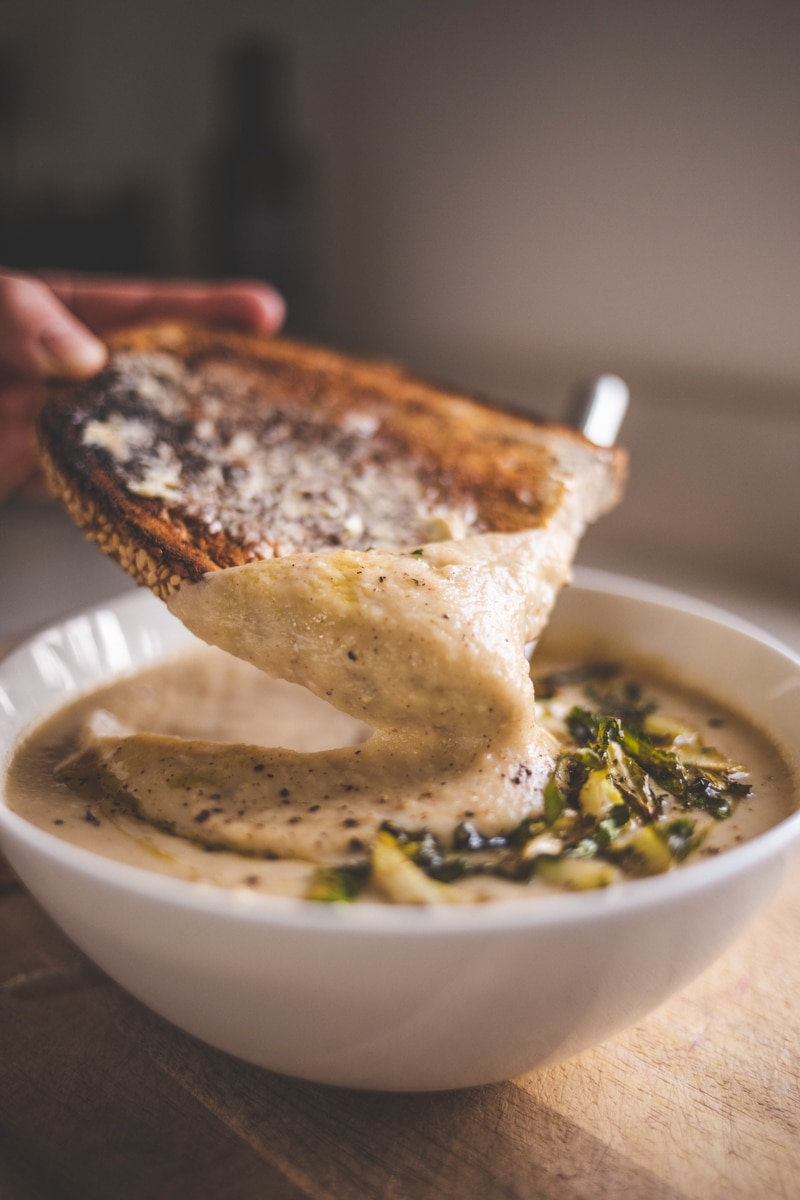 It's not often that I indulge in such decadent ingredients as truffle. Especially when I am writing for my own website. I prefer my food to celebrate simple ingredients – to make plant-based eating easy and obtainable. Which is why, when I found a bottle of Truffle Olive Oil (a fraction of the price of the fresh stuff) on the supermarket shelf a few months back, I got very excited indeed. Fortunately, it lived up to my expectations. Trust me when I tell you that this truffled cauliflower soup will be your new favourite lunch. It's absolutely divine.
Jump to Recipe
WHY SHOULD I COOK IT?
Ultra creamy cauliflower soup, spiked with the rich flavour of truffle and finished with crispy cauliflower leaves. This ingenious way to use the cauliflower leaves means that there is zero waste, whilst also making your soup look rather lovely. It's a win win.
WHAT'S THE OCCASION?
An impressive yet simple lunch with friends, an easy-peasy meal prep for quick mid-week lunches, the perfect way to start a dinner party, or a comforting, yet light, supper paired with toasted sourdough.
HOW LONG WILL IT TAKE ME?
My truffled cauliflower soup will take you about 40 minutes from start to finish, with only about 20 minutes of hands on time needed.
IS IT DIFFICULT?
Not at all! This truffled cauliflower soup recipe is super easy. There is a little bit of chopping to do, but nothing too precise. The most difficult part of the recipe is balancing all the powerful flavours. For this, I would recommend tasting and making small adjustments as you go, until it's absolutely perfect. For difficulty, it's a 5/10.
WHAT EQUIPMENT DO I NEED?
A sharp knife and chopping board, two baking trays, one large saucepan, a hand blender and something to stir everything together.
TIPS FOR THE BEST TRUFFLED CAULIFLOWER SOUP EVER
It's all about the balance. Truffle is a uber strong flavour. And although it's one of life's most delicious gifts, it can become overpowering within a dish if not balanced properly. Start with the lower recommended amount of each seasoning ingredient, then taste and add a little more of whatever's necessary. Trust your taste buds.
Season properly! Fat = flavour, so in meat-free dishes seasoning is key! Season lightly as you go and then a little harder to finish. I always use Maldon sea salt, not the finer table salt, so keep that in mind when you see me measuring in 'pinches'.
Smooooth as silk. This isn't one of those soups you want to have a little texture. Blend until as smooth as possible – adding more stock if necessary. It will help the flavours mingle and give it the luxurious feel it oh so deserves. I find a hand blender more convenient to use here, but a traditional blender is just as adequate – just wait for the mix to cool slightly before transferring to the blender jug.
If you make this please let me know! You can tag me in photos on IG @georgieeatsuk, use the #georgieeats or leave me a comment down below. If you want to check out my AMAZING photographer, you can do so here: @kirstyjaynerussell and here: kirstyjaynerussell.com. Keep smiling!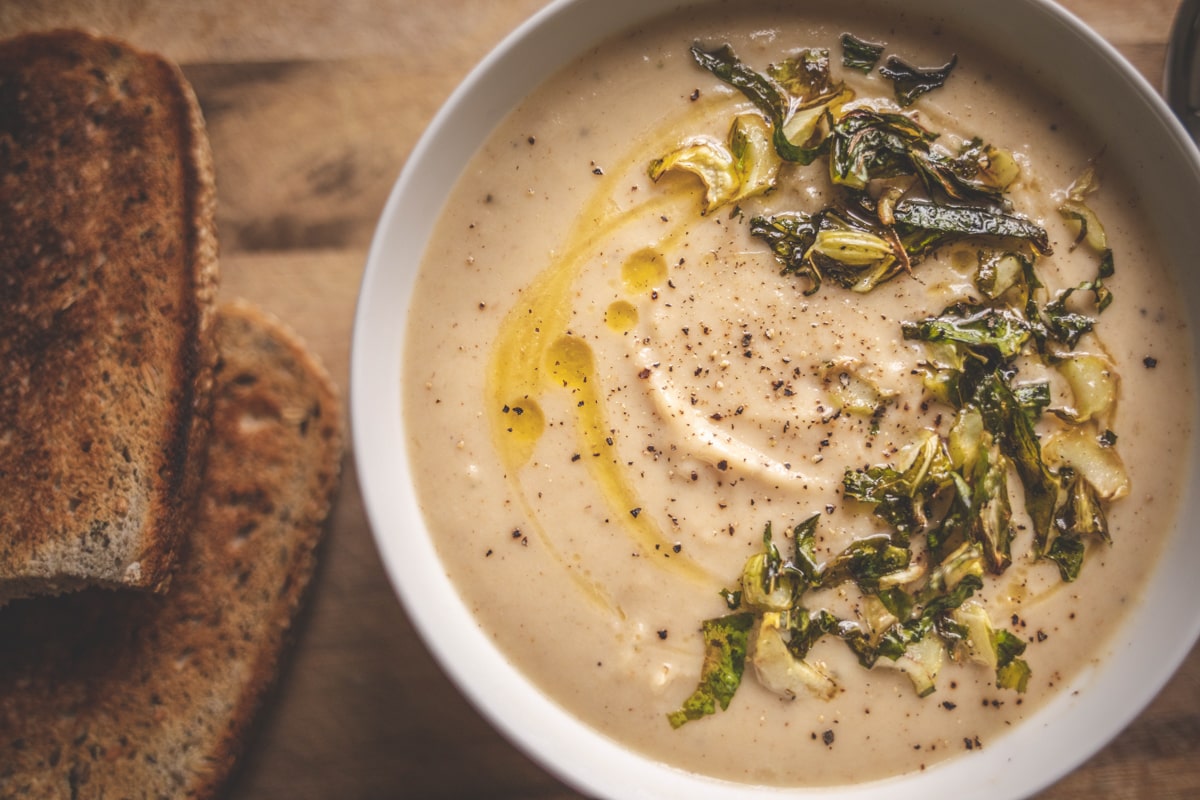 ZERO-WASTE TRUFFLED CAULIFLOWER SOUP
Ultra creamy cauliflower soup, spiked with the rich flavour of truffle and finished with crispy cauliflower leaves. The perfect lunch for a chilly spring day! Vegan & gluten-free.
Ingredients
1

large cauliflower

5-6

tbsp

truffle olive oil

1

white onion

finely chopped

1

400g can

cannellini beans

drained & rinsed

600-700

ml

vegetable stock

juice of

half a

lemon

sea salt & black pepper

to serve: drizzle of truffle oil, fresh parsley
Instructions
Preheat the oven to 180°c (fan assisted)/200°c/gas 6.

Remove the leaves from the cauliflower, finely chop them into 1cm slices, then set aside for later. Cut the cauliflower into florets, place onto a baking tray and drizzle with 2 tbsp of the truffle olive oil. Give everything a mix, then roast for 25 minutes, or until tender all the way through.

Heat another tbsp of the truffle olive oil in a large saucepan over a medium heat. Once hot, add the onion and a pinch of salt and black pepper, then fry, stirring frequently, for 8-10 minutes, or until very soft.

Add the roasted cauliflower into the pan along with the cannellini beans, 600ml of vegetable stock and a good amount of seasoning. Bring to a simmer, then cook for 5 minutes.

Meanwhile, place the chopped cauliflower leaves onto a small baking tray. Drizzle with a little of the truffle olive oil and season with salt and pepper. Mix, then roast in the oven for 5-8 minutes, or until crispy.

Blend the cauliflower soup until completely smooth, then add a generous amount of seasoning, the lemon juice and remaining truffle oil (starting with 2 tbsp and adding more if needed). If your soup is a little on the thick side, add the extra stock and blend again. Taste and adjust the seasoning, adding more salt, pepper, truffle oil and/or lemon juice if needed.

Warm the soup back up over the stove, then serve up in bowls topped with truffle oil, crispy cauliflower leaves, fresh parsley and a crack of black pepper.
Recipe Notes
This cauliflower soup will keep refrigerated in an airtight container for up to 4 days.
For variations and tips on this recipe, see within the post.
Gluten-Free: Check that your vegetable stock is certified gluten-free.