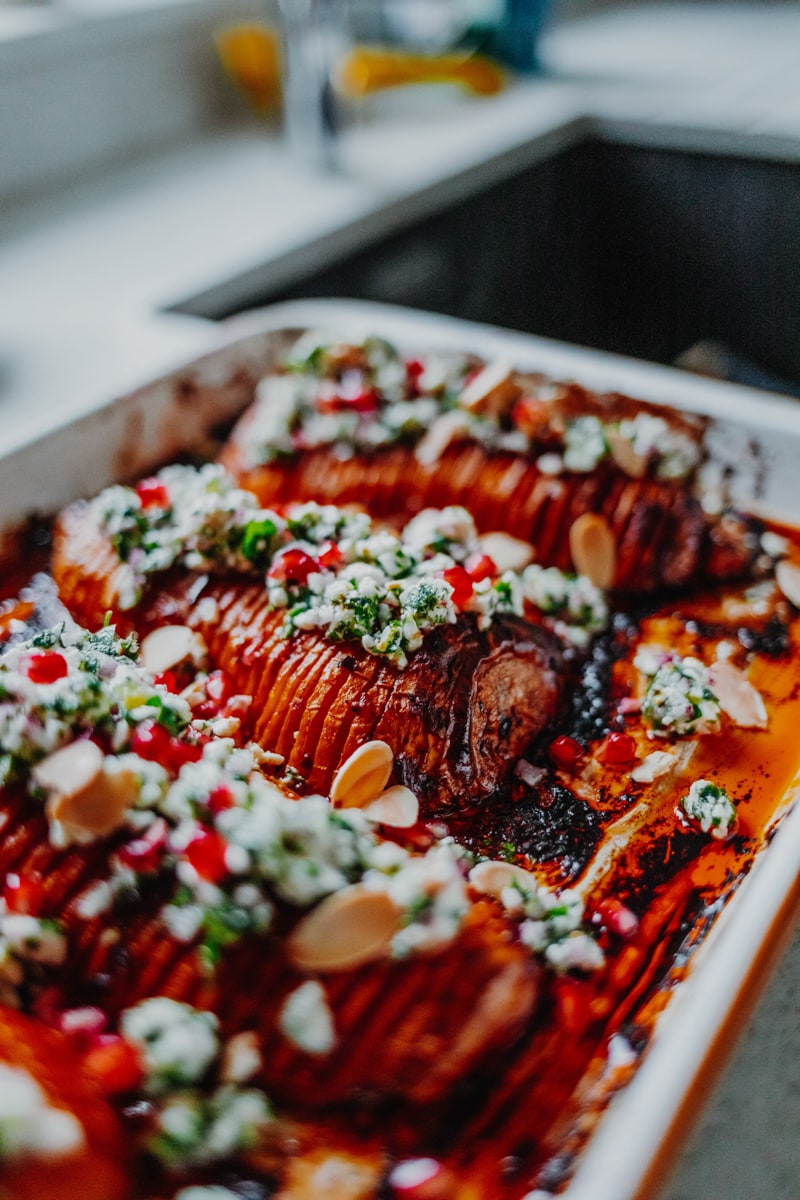 Dinner doesn't really get much more gorgeous than this, does it? Hasselback butternut squash is the ultimate veggie showstopper. Sweet, sticky, salty and slightly spicy – it's absolutely sensational. Eat it on its own, or as a side dish. Either way, you are going to love it.
Jump to Recipe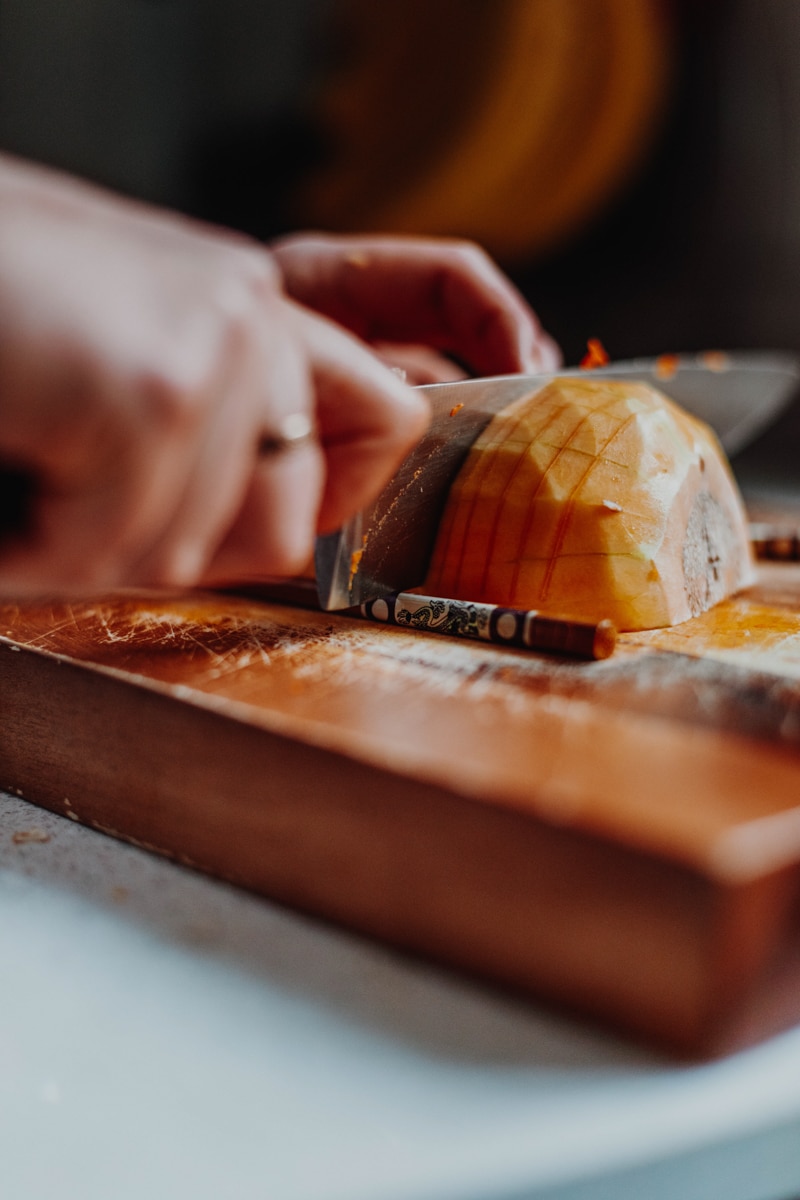 WHY SHOULD I COOK IT?
Hasselback butternut squash roasted until caramelised and sticky in a harissa and honey glaze, then topped with a herby feta salsa, nutty toasted almonds and ruby red jewels of pomegranate. It really does taste just as good as it looks.
WHAT'S THE OCCASION?
An impressive and unique side dish, a light spring supper eaten al fresco, the main event on a veggie Sunday lunch, or as part of a showstopping dinner spread.
HOW LONG WILL IT TAKE ME?
From start to finish, roughly just over an hour and a half, however, the actual hands-on time is only about 25 minutes. If you are in a time crunch, you can hasselback the butternut squash and marinate it in the glaze a few hours in advance. Keep it chilled until you are ready to cook.
IS IT DIFFICULT?
Creating the hasselback cuts in these butternut squash is not necessarily difficult, just a little tricky to get the hang of. The technique I have shown you here, using the chopsticks, is the simplest way I have found to do it. Just make sure you use the sharpest knife you have! Other than that, everything is reasonably straight forward. For difficulty, it's a 7/10.
WHAT EQUIPMENT DO I NEED?
A sharp knife and chopping board, a baking tray, one small saucepan, a speed peeler, a fine grater and one set of chopsticks or two wooden spoons.
TIPS FOR THE BEST HASSELBACK BUTTERNUT SQUASH EVER:
Carefully does it. If this is your first time hasselbacking anything, take it super slow! You can use chopsticks to help you as I have done here, or two wooden spoons. Take the cut from the top of the squash just until you hit the chopstick, being really careful not to chop the whole way through. Practice makes perfect, so by the 4th half, you'll be an expert!
It's all about that glaze. You want to pack as much flavour into the butternut squash as possible, so try to get the glaze into every possible crevice. If you have one, a pastry brush is very useful here. If not, your fingers are equally as adequate – just be prepared to get your hands dirty…
Roast roast, baby. You want the hasselback butternut squash to roast until it is slightly charred on the edges and beginning to caramelise in the centre. This gives it a gorgeously rich flavour. It's up to you whether or not you want to leave the skin on – I prefer not to here as I believe the flesh soaks up flavour better. However, the skin does offer a deliciously chewy texture.
If you make this hassleback butternut squash with herby feta salsa please let me know! You can tag me in photos on IG @georgieeatsuk, use the #georgieeats or leave me a comment down below. If you want to check out my AMAZING photographer, you can do so here: @kirstyjaynerussell and here: kirstyjaynerussell.com. Keep smiling!
G x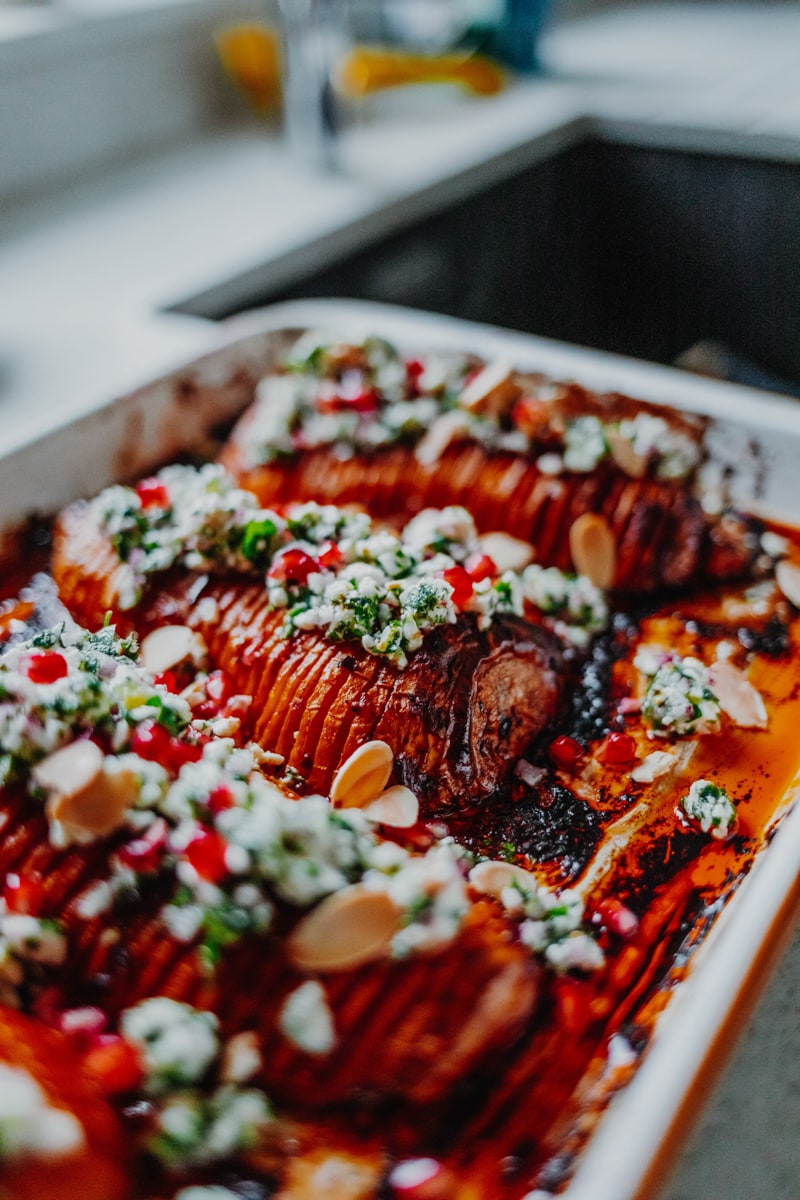 HARISSA HASSELBACK BUTTERNUT SQUASH WITH HERBY FETA SALSA
Hasselback butternut squash roasted until caramelised and sticky in a harissa and honey glaze, then topped with a herby feta salsa, nutty toasted almonds and ruby red jewels of pomegranate. Gluten-free.
Cook Time
1
hour
15
minutes
Total Time
1
hour
35
minutes
Ingredients
90

g

harissa paste

3

tbsp

honey

2

tbsp

extra virgin olive oil

2

butternut squash

sea salt and freshly ground black pepper
FOR THE FETA SALSA
½

red onion

15

g

fresh parsley

15

g

fresh mint

100

g

feta cheese

1

tsp

extra virgin olive oil

juice & zest

of 1

lemon
TO SERVE
sprinkle of

pomegranate seeds

sprinkle of

flaked almonds

toasted
Instructions
Preheat the oven to 180°c fan/200°c/gas 6.

Combine the harissa paste, honey, extra virgin olive oil and a generous amount of salt and pepper in a small saucepan. Bring to a gentle simmer, then let the mix bubble away and reduce for 5 minutes.

Meanwhile, peel the skin from both the butternut squash, then use a sharp knife to cut them in half lengthways and remove the seeds. Place the squash on a chopping board, cut side down, and place a chopstick on either side. Carefully make a cut every half a centimetre, so that the knife hits the wood and doesn't cut through the squash completely.

Place the hasselbacked squash onto a baking tray and pour over the harissa mixture. Use your hands or a pastry brush to coat all sides of each squash (including underneath), trying to get the glaze in between the cuts. Finish each squash with a sprinkling of salt and pepper, then roast in the oven for 1 hour-1 hour 15 minutes, basting the squash with any liquid in the bottom of the tray halfway through, until soft and slightly charred.

Meanwhile, you can make the feta salsa. Finely chop the red onion and parsley. Discard the hard stalks from the mint, then finely chop that too. Crumble the feta cheese onto the chopping board with the herbs, then drizzle with the olive oil and lemon juice and zest. Roughly mix everything together and chill until ready to serve.

Once the squash is ready, serve topped with the feta salsa, toasted flaked almonds and pomegranate seeds. Serve warm.
Recipe Notes
VEGAN: Use maple syrup rather than honey, and switch out the feta for a vegan alternative.