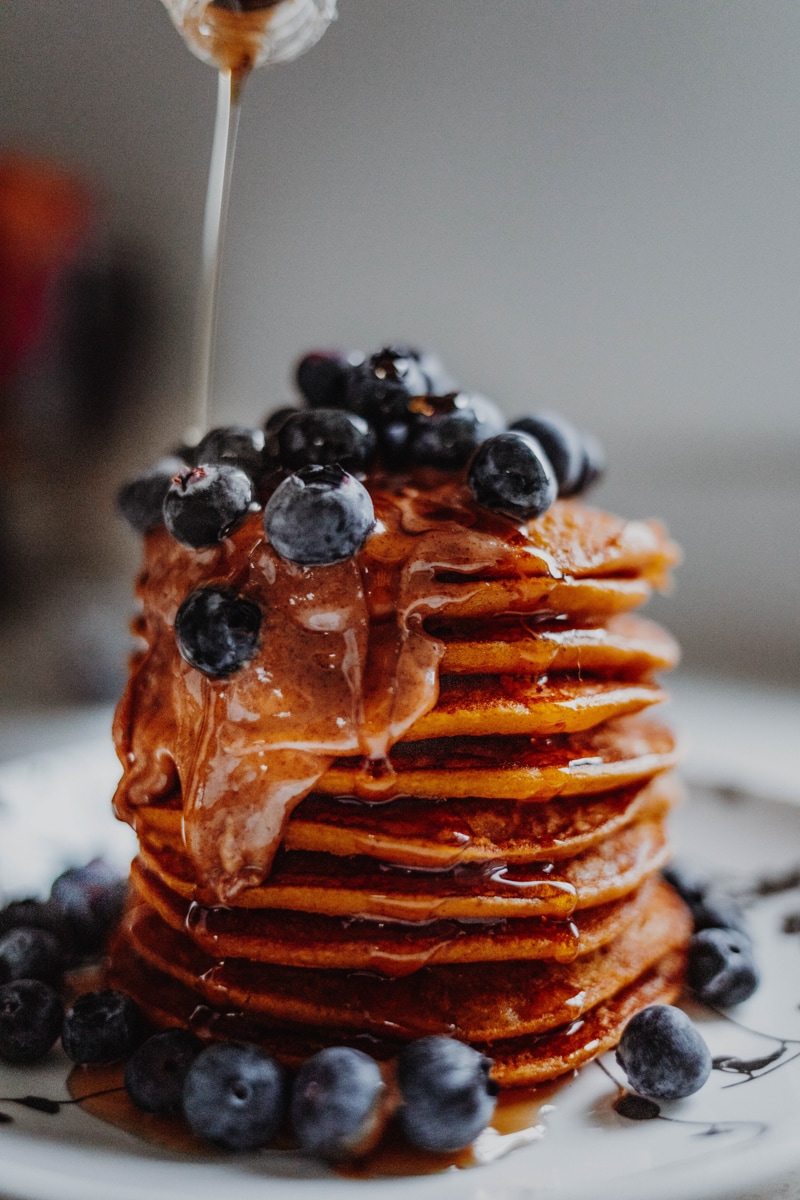 Just when I thought breakfast couldn't get any better, I discovered the joys of pumpkin pancakes. They are slightly sweet, gently spiced and feel oh so wholesome. There truly is nothing that I would rather eat on a autumn/winter weekend morning.
Jump to Recipe
WHY SHOULD I MAKE THEM?
An uber fluffy stack of cinnamon-spiked pumpkin pancakes adorned with lashings of almond butter and a generous drizzle of maple syrup. They are utter pancake perfection.
WHAT'S THE OCCASION?
A truly unbeatable weekend brunch, an exciting make-ahead breakfast for busy days, or a fun pudding that will go down a treat with children and adults alike.
HOW LONG WILL THEY TAKE ME?
These pumpkin pancakes will take you about 25 minutes from start to finish.
IS IT DIFFICULT?
Not at all! In fact, I would say this recipe is super easy! The most technical part is frying the pancakes until perfectly golden brown. My top tip for this is to make sure the pan isn't too hot – it should be at no more than a medium heat. For difficulty, it's a 5/10.
WHAT EQUIPMENT DO I NEED?
Scales, measuring spoons, a large mixing bowl and wooden spoon, a fine-mesh sieve and a non-stick frying pan.
TIPS FOR THE BEST PUMPKIN PANCAKES EVER:
Don't skip the sieve! I know it may be tempting to just measure the flour into the batter without sieving it first – I've most certainly been guilty of that in the past. But, sieving the flour not only helps to form a smooth batter, it's also critical for getting air into the mixture, creating the most fluffy pancakes imaginable.
Size matters. To get the pancakes to stack prettily, you need them to be roughly all the same size. Instead of freehanding it, I like to use a 1/4 cup measure to measure my pancake mixture. If you don't have one of those, something else of a similar size will work just as well – an icecream scoop or a small ladle for example.
It's all about the bubbles. This is a great trick for knowing when to flip your pancakes. Fry the pancakes gently in the pan, watching the top for bubbles to form. Once the bubbles start to pop, flip the pancake over. It should be perfectly golden.
HOW ABOUT SOME VARIATIONS?
As always, I like to help you make my recipes your own use whatever you may have in the fridge. Although I love these pancakes made with convenient canned pumpkin puree, they are also delicious with other root vegetables, such as:
Spring: Sweet potato, swede.
Summer: Carrots, beetroot.
Autumn: Sweet potato, beetroot, carrots, butternut squash, swede.
Winter: Beetroot, butternut squash, swede, sweet potato.
Unlike pumpkin, finding these veg pureed and canned is going to be quite a task. So to make your own root veg puree, just steam the veg until soft, let it steam dry, then blend until smooth. Easy!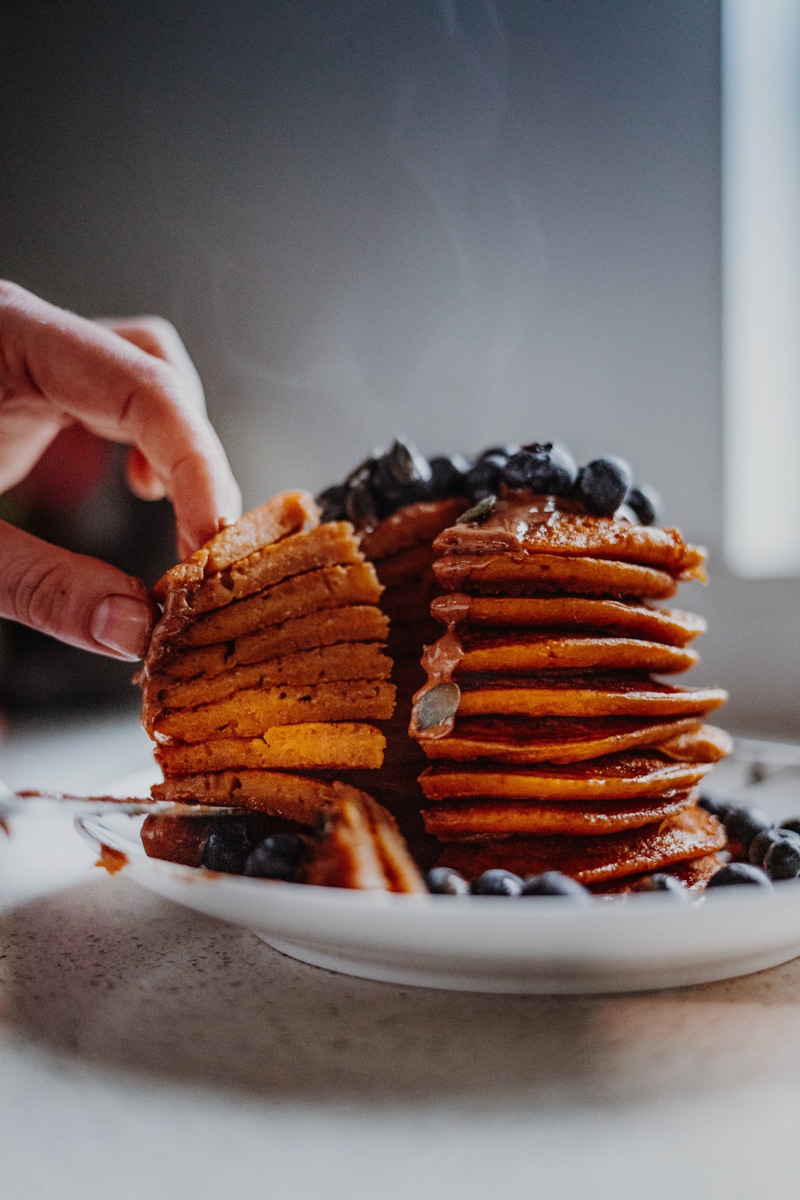 If you make these pumpkin pancakes please let me know! You can tag me in photos on IG @georgieeatsuk, use the #georgieeats or leave me a comment down below. If you want to check out my amazing photographer, you can do so here: @kirstyjaynerussell and here: kirstyjaynerussell.com. Keep smiling!
G x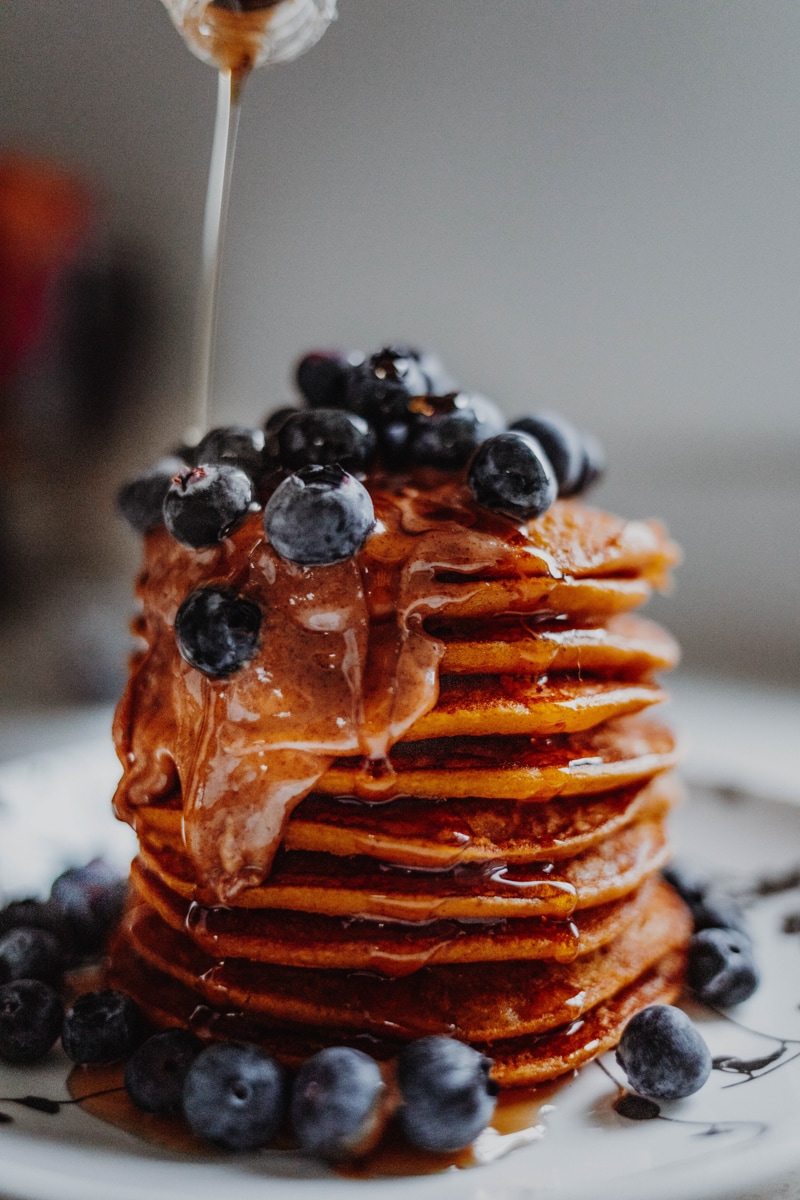 PUMPKIN PANCAKES
A stack of cinnamon-spiked fluffy pumpkin pancakes adorned with lashings of almond butter and a generous drizzle of maple syrup. The most perfect weekend brunch! Gluten-free.
Ingredients
225

g

canned pumpkin puree

2

tbsp

coconut oil

melted + extra for frying

125

g

milk

(I like oat milk in this recipe)

2

tbsp

maple syrup

2

large eggs

pinch of

salt

200

g

gluten-free flour

½

tsp

bicarbonate of soda

1

tsp

cinnamon

1/2

tsp

ginger

pinch of

nutmeg

to serve:

almond butter, blueberries, maple syrup
Instructions
Combine the pumpkin puree, melted coconut oil, milk, maple syrup, eggs and salt in a large bowl.

Sift the gluten-free flour, bicarbonate of soda and spices into the wet ingredients, then stir until just combined, being careful not to over mix.

Heat a large frying pan over a low-medium heat and a little coconut oil to grease the bottom. Fry 1/4 cups of the batter until you see a few bubbles appear and burst on the surface. Check that the bottom of the pancakes is golden, then flip them over to cook for another 2 minutes on the other side. Transfer the cooked pancakes to a plate and keep them warm in the oven whilst you repeat with the remaining batter.

Stack the pancakes between plates, then top with almond butter, blueberries and maple syrup.
Recipe Notes
Once cooked, these pancakes can be stored in the fridge for up to 3 days, or in the freezer for 3 months and reheated in the microwave.