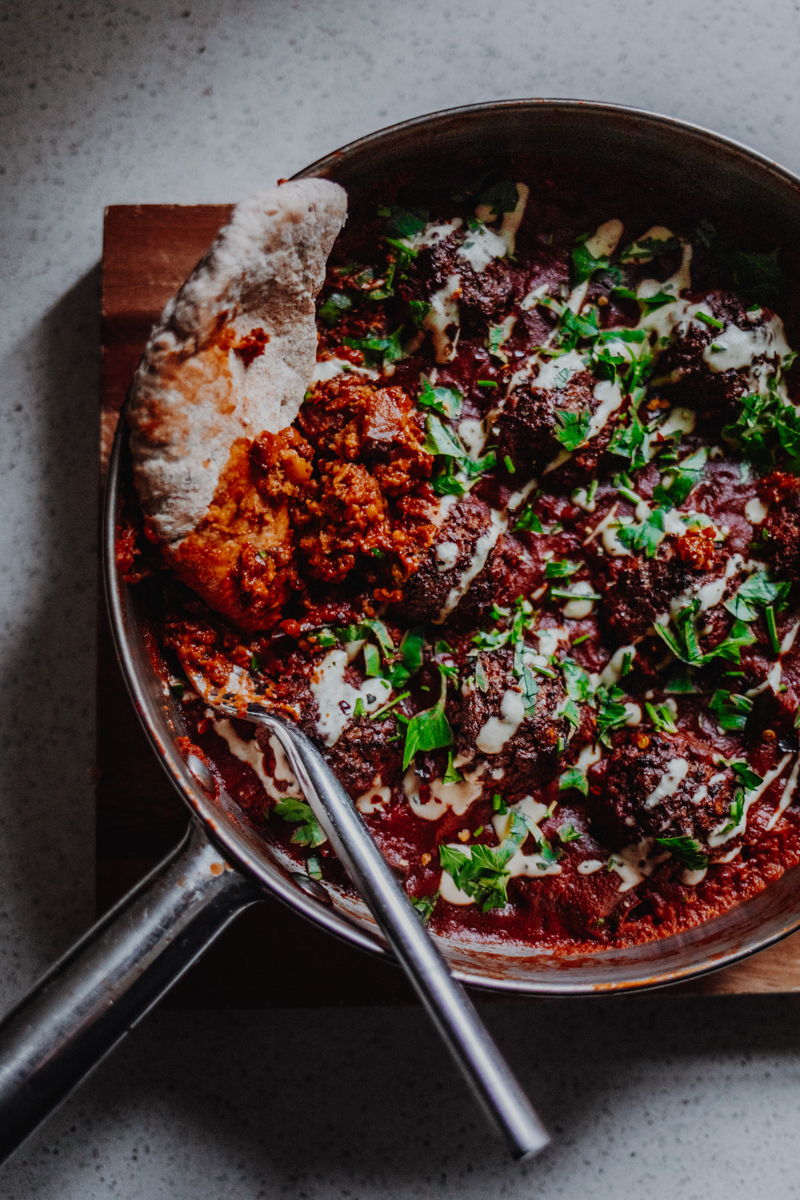 Does a dish as beautiful as this Falafel Shakshuka really need an introduction?
In recent years, shakshuka has popping up on fancy brunch menus at increasing regularity. In a delicious twist, I have given this Middle-Easten breakfast classic a fresh plant-based makeover. It sounds good, looks good and tastes even better. Make it and prepare for the best brunch ever.
WHY SHOULD I COOK IT?
Pieces of silky aubergine encased in a rich, smoky tomato sauce studded with subtly spiced falafel and drizzled with a lemony tahini dressing. When served with crispy toasted flatbreads, this falafel shakshuka makes a truely unbeatable brunch.
WHAT'S THE OCCASION?
A showstopping weekend brunch, a saturday lunch shared with friends, or a comforting, yet light, supper eaten with toasted flatbreads.
HOW LONG WILL IT TAKE ME?
Once you have your falafel cooked, you'll need about 10 minutes to prep, 20 minutes of hands-on stove-top time and then an extra 30 minutes to let it bubble away and do its thing.
IS IT DIFFICULT?
Falafel shakshuka is actually surprisingly easy to knock up. Unlike the more traditional baked-egg equivalent, its forgiving when it comes to timings and doesn't require much – if any – cooks intuition. There is a little chopping involved but it's really nothing too precise. For difficulty, it's a 5/10.
WHY IS IT HEALTHY?
Packed with colour, plant-based protein and fibre, my falafel shakshuka delivers on all levels. Served with toasted wholemeal flatbreads, it forms a beautifully balanced meal which will leave you feeling satisfied, nourished and ready for the day ahead.
WHAT EQUIPMENT DO I NEED?
A sharp knife and chopping board, a large lidded frying pan, a small bowl or glass for mixing the dressing in and something to stir everything together.
TIPS FOR THE BEST FALAFEL SHAKSHUKA EVER:
Sweat, sweat, sweat. Don't rush the sweating of the onion and aubergine. Fry them until they are completely soft before adding in the rest of the ingredients. Otherwise, you may end up with crunchy bits of veg in your final finished dish and no one wants that.
Which falafel? I, of course, would always recommended opting for homemade falafel when you can. But to minimise time, good quality shop-bought falafel work just as well. Make sure you cook the falafel before adding them to the bubbling pan so that they have a nice crispy outside. This will help them to keep their shape when submerged by the sauce.
Season properly! Fat = flavour, so in meat-free dishes seasoning is key! Season lightly in each step, then a little harder when finishing the sauce. I always use Maldon sea salt, not the finer table salt, as I find it gives a less acrid flavour. Tomatoes can be very acidic, so it's important to balance them with the sweetness of the dried apricots. If you are for some reason leaving these out, add a tbsp of maple syrup or honey in their place.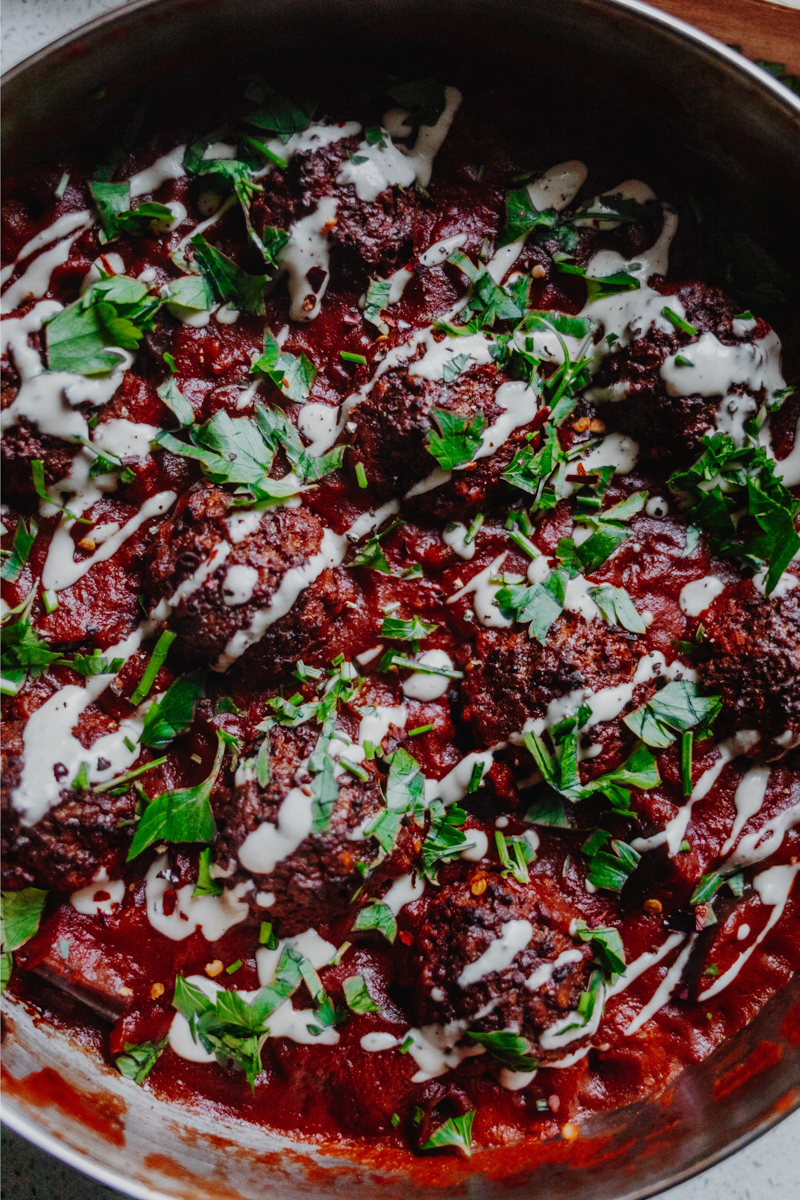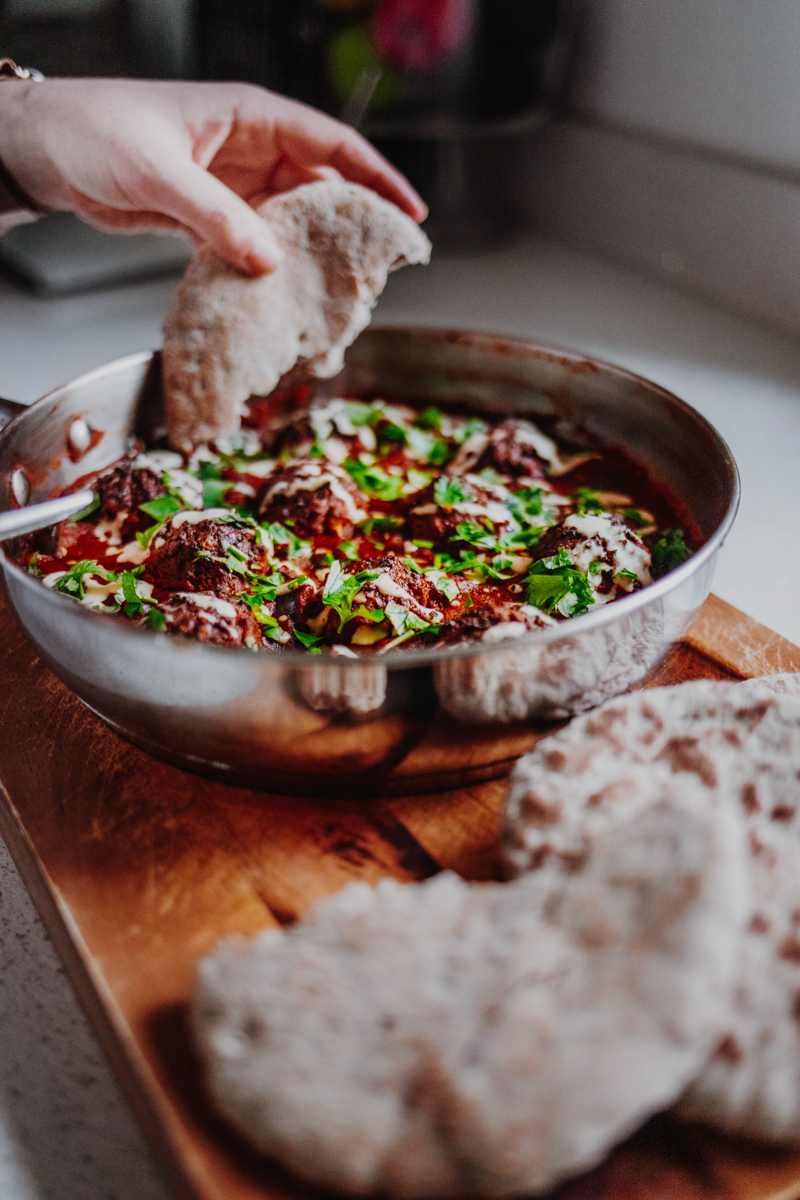 If you make this falafel shakshuka please let me know! You can tag me in photos on IG @georgieeatsuk, use the #georgieeats or leave me a comment down below. If you want to check out my AMAZING photographer, you can do so here: @kirstyjaynerussell and here: kirstyjaynerussell.com. Keep smiling!
G x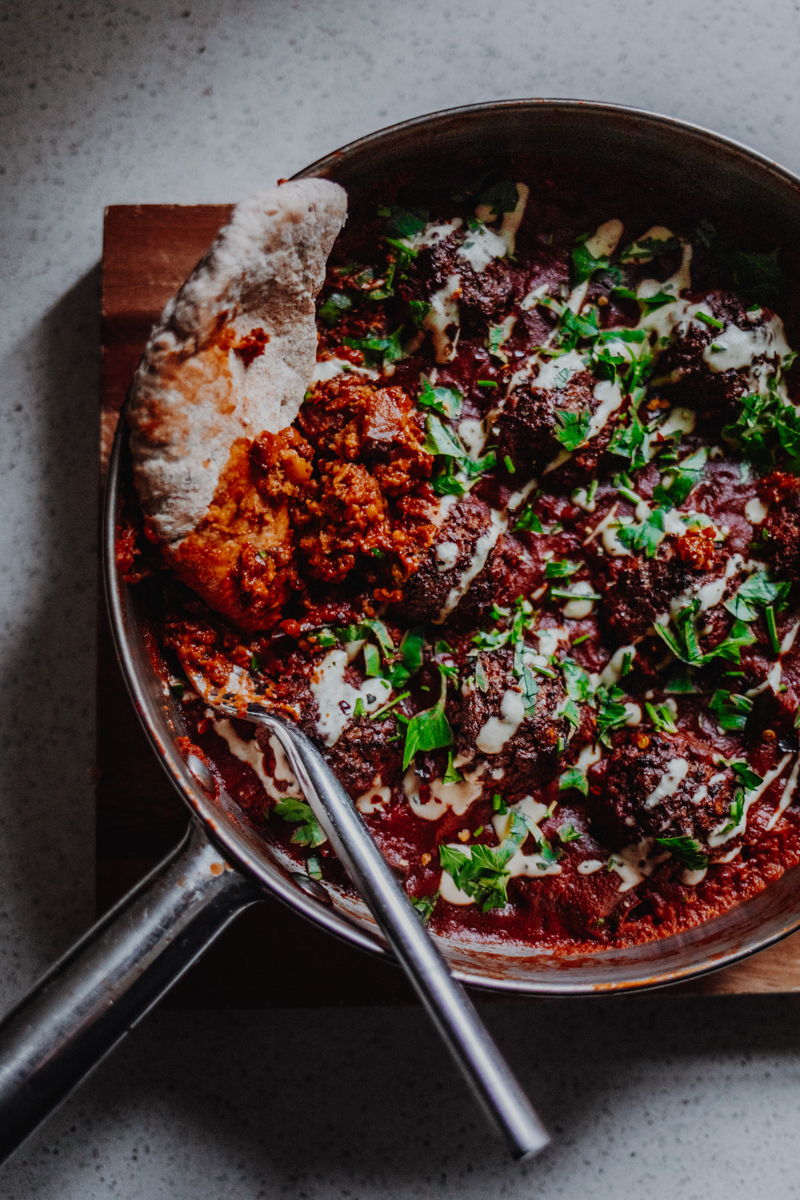 FALAFEL SHAKSHUKA WITH TAHINI DRESSING
Pieces of tender aubergine encased in a rich, smoky tomato sauce studded with subtly spiced falafel and drizzled with a lemony tahini dressing. Serve with toasted flatbread for the most wonderful brunch. Vegan & gluten-free.
Ingredients
10

falafel

(either homemade or shop-bought)

2

tbsp

extra virgin olive oil

1

red onion

finely diced

1

aubergine

chopped into small cubes

2

cloves

garlic

minced

1

tsp

smoked paprika

1

tbsp

harissa paste

500

ml

passata

25

g

dried apricots

finely diced

1/2

a bunch

fresh parsley

roughly chopped

sea salt & freshly ground black pepper
FOR THE TAHINI DRESSING
2

tbsp

tahini

juice

of 1/2

lemon
Instructions
Prepare your falafel as per the packets or recipes instructions.

Meanwhile, heat the oil over a medium heat, uncovered, in a large lidded frying pan. Once hot, add the red onion and sweat for 3-4 minutes, until slightly softened. Add the aubergine and continue to cook for a further 6-8 minutes, or until the aubergine is tender and the onion translucent.

Add the garlic, smoked paprika and harissa paste into the pan, then give everything a good stir to combine. Cover the pan with a lid and continue to sweat for another 3-4 minutes, or until everything is lovely and soft.

Add the passata, dried apricots and 400ml of water into the pan. Season generously and bring to a simmer. Let the pan bubble away gently for 20 minutes, uncovered, until rich and thick. Taste the tomato sauce and adjust the seasoning if required.

Dot the falafel around the pan, leaving the top poking out of the tomato sauce. Cover the pan with it's lid and simmer for a further 10 minutes.

Meanwhile, make the tahini dressing by mixing together the tahini and lemon juice with a big pinch of salt and 2 tbsp of water to loosen. Taste and adjust the seasoning.

Remove the lid from the pan, drizzle over the tahini dressing, sprinkle with chopped parsley, then finish with a crack of black pepper. Serve with toasted flatbreads.
Recipe Notes
GLUTEN-FREE: Check your falafels are gluten-free friendly.
For variations and tips on this recipe, see within the post