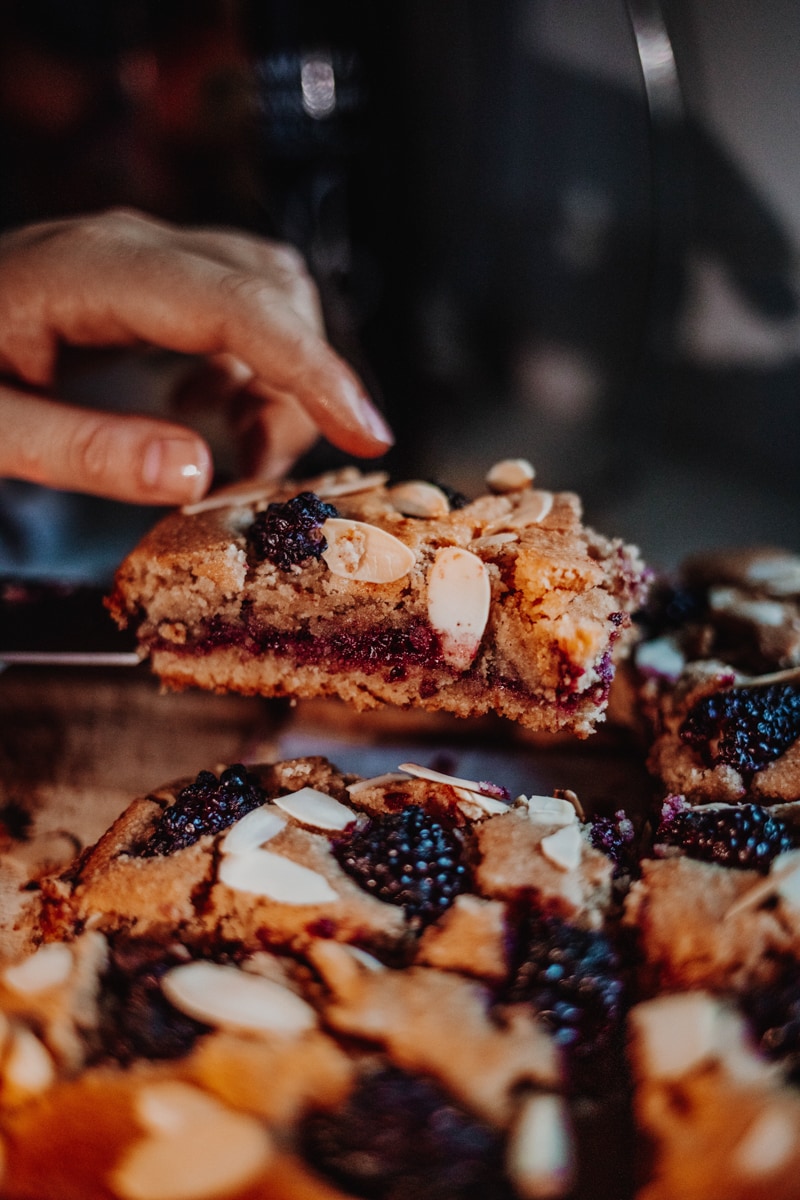 The Bakewell tart is a quintessential British classic. It's one of my favourite comforting puds and although I think the original recipe is wonderful, I wanted to give it a little modern makeover. These blackberry Bakewell bars have all the flavours of the original dessert but are lighter, perfect for autumn and will put a big smile on your face.
Jump to Recipe
WHY SHOULD I BAKE THEM?
The question really is, why wouldn't you bake them? Rich, almond infused blondie-esque sponge enveloping a tart blackberry chia jam, finished with fresh blackberries and a sprinkle of flaked almonds. Beware though, these beautifully rustic bars are the definition of moreish.
WHAT'S THE OCCASION?
A spot of baking on a relaxing weekend, for winning the office 'bake-off', or just when you think you deserve a little treat. They can be served warm with yoghurt for a delicious dessert, or just as they are as a mid-afternoon treat.
HOW LONG WILL THEY TAKE ME?
Although these blackberry Bakewell bars are super easy, they do have a few steps to them. From start to finish, they take roughly an hour and 15 minutes, with about 25 minutes of actual hands-on time.
IS IT DIFFICULT?
Baking is a science and therefore there is less room for error. But if you follow the instructions correctly and you should be just fine. This recipe is for everyone, no matter whether you are a baking novice or expert! For difficulty, it's a 6/10.
WHY ARE THEY HEALTHY?
I want everyone to be able to have their cake and eat it. Although I can't deny that these blackberry Bakewell bars are a little indulgent, they are also packed with ingredients that will nourish you from the inside out. Blackberries are a rich source of many vitamins and minerals including Vitamin A, C, E, potassium, magnesium and calcium. They are also notably high in anthocyanins, a powerful antioxidant that give blackberries their gorgeous rich purple colour.
WHAT EQUIPMENT DO I NEED?
Scales, measuring spoons, a large mixing bowl and wooden spoon, one square brownie tin, parchment paper and a small saucepan.
TIPS FOR THE BEST BLACKBERRY BAKEWELL BARS EVER:
Stick to the recipe! You know I am ordinarily an advocate for making a recipe your own but please, for me, just do this one as it is written. Baking is an art! Be sure to accurately weigh out your ingredients – I promise you will reap the rewards.
Chill the jam. Once you have made the blackberry chia jam, pop it straight into the fridge so that it can cool down and thicken up as quickly as possible. This means that by the time you come to use it within the recipe, it is the perfect consistency.
Gently does it. To create the 3 distinct layers within these blackberry Bakewell bars, you need to be gentle. Take your time and try not to mingle the layers together, especially when adding the final layer of cake mix. I find it easiest to take spoonfuls of the mixture and carefully lay them over top of the jam, before giving the top a final smooth over.
HOW ABOUT SOME VARIATIONS?
As always, I like to help you make my recipes your own and to help you use whatever you may have in the fridge. I love these bars with blackberries, especially at the moment whilst they are bountiful and easy to forage, but for other times of the year, here are some more suggestions:
Winter & Spring: Rhubarb – Stew down the rhubarb into a compote, add the chia seeds, chill and use as per the recipe. Omit the fresh rhubarb sprinkled on top.
Summer: Strawberries, blueberries, cherries or gooseberries – use all as per the original recipe.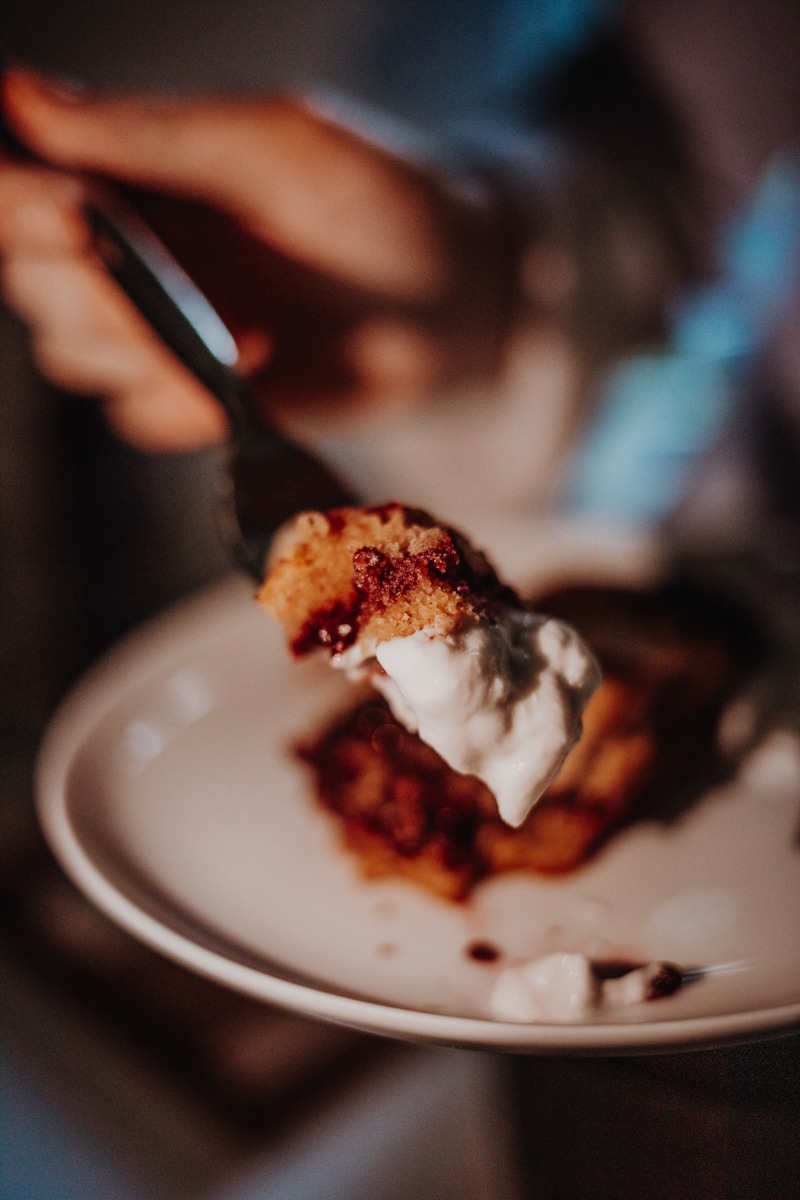 If you make these blackberry Bakewell bars please let me know! You can tag me in photos on IG @georgieeatsuk, use the #georgieeats or leave me a comment down below. If you want to check out my AMAZING photographer, you can do so here: @kirstyjaynerussell and here: kirstyjaynerussell.com. Keep smiling!
G x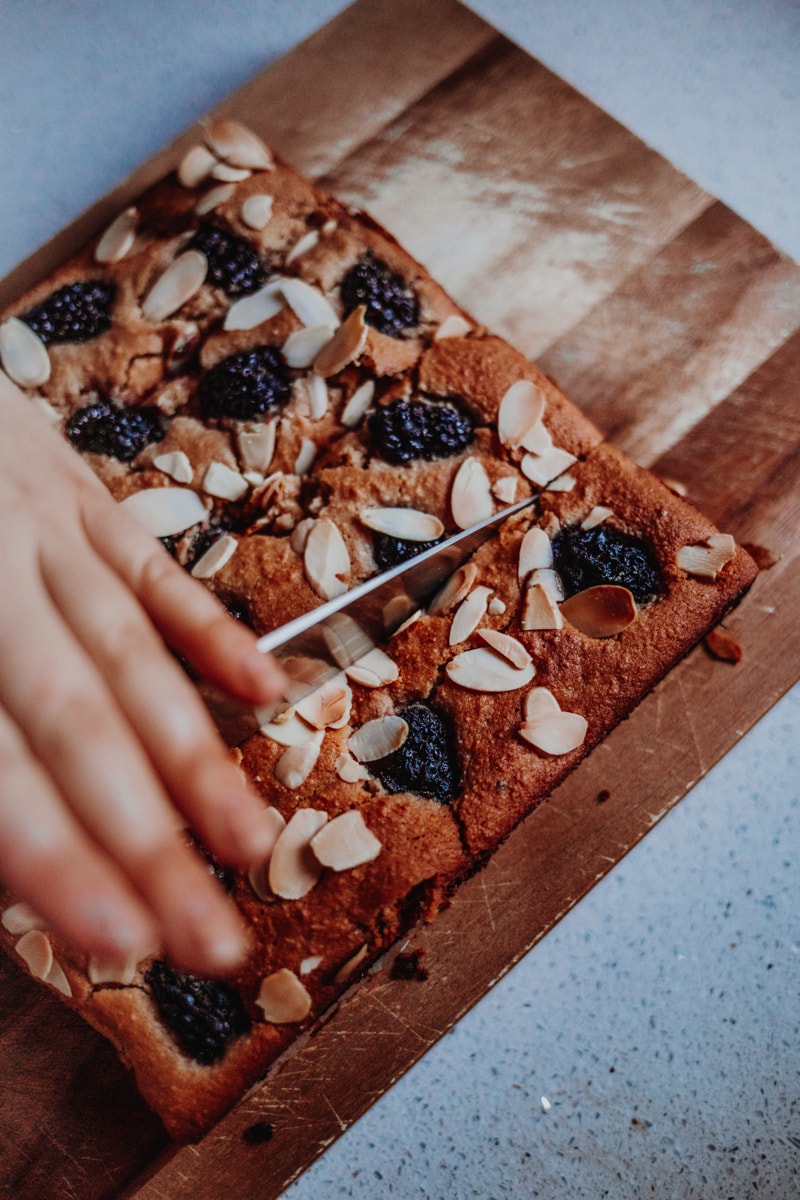 BLACKBERRY BAKEWELL BARS
Rich, almond infused blondie-esque sponge enveloping a tart blackberry chia jam, finished with fresh blackberries and a sprinkle of flaked almonds. Vegan & gluten-free.
Total Time
1
hour
15
minutes
Ingredients
400

g

blackberries

fresh or frozen

1.5

tsp

chia seeds

200

g

ground almonds

100

g

plain gluten-free flour

120

g

light brown soft sugar

1.5

tsp

baking powder

zest of

1

lemon

pinch of

salt

50

g

coconut oil

melted

50

g

smooth almond butter

175

ml

oat milk

or any plant-based milk

large handful

of

flaked almonds
Instructions
Preheat the oven to 180°c (fan-assisted)/200°c/390°f and line a square brownie tin with parchment paper.

Begin by making the blackberry chia jam. Heat the 3/4 of the blackberries in a small saucepan over a medium heat until they begin to break down. Use a fork to further mash the berries into a puree, then simmer gently for 5 minutes or so, or until slightly reduced. Stir in the chia seeds and cook for another minute before removing from the heat and cooling in the fridge whilst you continue with the recipe.

Combine the ground almonds, flour, sugar, baking powder, lemon zest and salt in a large bowl. Add the melted coconut oil, almond butter and oat milk, then stir well until the mix is smooth.

Spoon a 1/3 of the mix into the baking tin and smooth it out into one thin even layer. Bake for 10 minutes, until partially cooked, then remove from the oven. Pour on the blackberry chia jam, then carefully spoon over the rest of the cake mixture. Place the remaining whole blackberries on top, then sprinkle over the flaked almonds. Return the tin to the oven to bake for 40 minutes, or until golden brown.

Once baked, let it cool in the tin for 20 minutes before removing and slicing into bars. Serve warm or chilled.
Recipe Notes
For variations and tips on this recipe, see within the post.
These bars should be stored in an airtight container in the fridge and will keep fresh for up to 3 days.