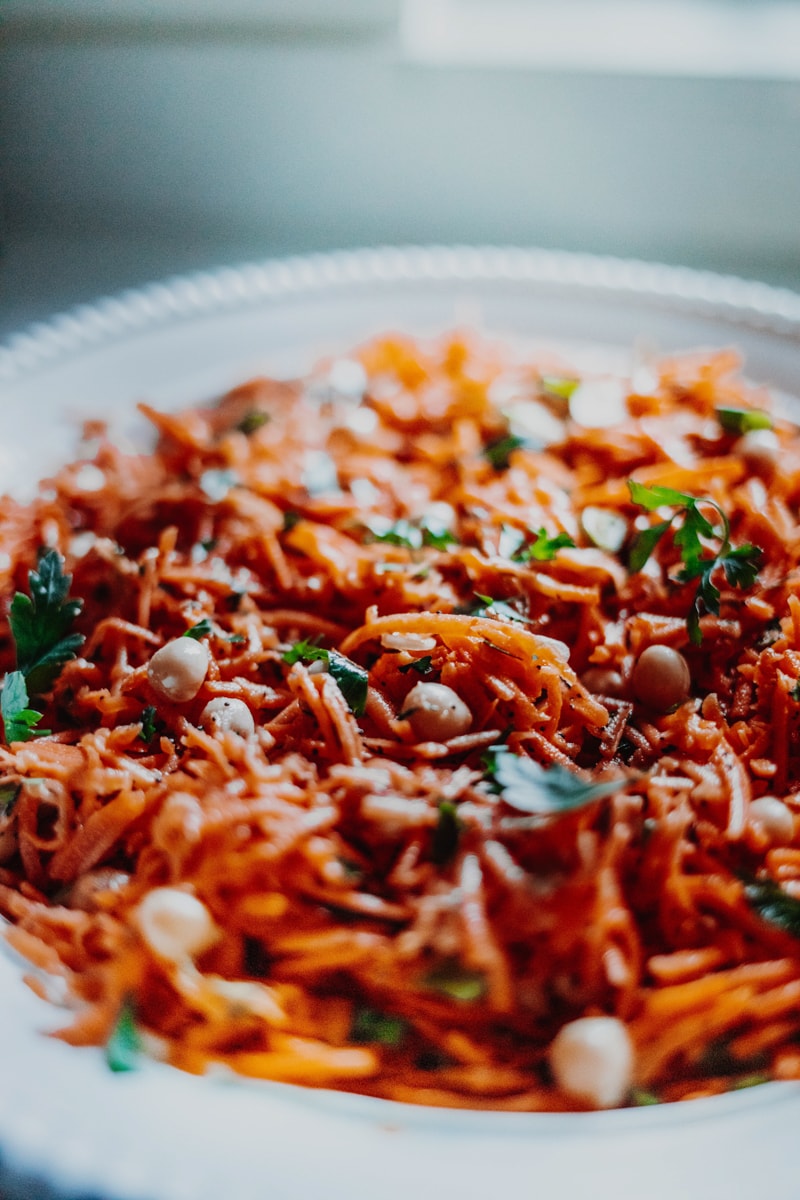 Days are getting darker but your dinner plans shouldn't be! This Moroccan carrot & chickpea salad is perfect for autumn. Filling, fresh, crunchy and colourful. It's a unique way to bring the warmth of North Africa to your table, whilst celebrating the most humble of vegetables.
Jump to Recipe
WHY SHOULD I COOK IT?
Fresh, crunchy carrot and tender chickpeas laced with delicate Moroccan spices, fresh parsley, spring onion and earthy poppy seeds, all united in a tangy lemony mustard dressing. It's the most beautiful of rustic salads.
WHAT'S THE OCCASION?
An impressive and unique side dish for a weekend lunch with friends, getting ahead in a meal-prep or as part of a beautiful buffet-style salad spread.
HOW LONG WILL IT TAKE ME?
From start to finish, only about 15 minutes. This Moroccan carrot & chickpea salad doesn't require any cooking, meaning it is super-duper quick to make. Howbeit, I do recommend letting the salad marinate in the fridge for at least 20 minutes before serving, to allow the ingredients to marry. So ideally, start making this salad about 45 minutes before you would like to eat it – or even the day before!
IS IT DIFFICULT?
My carrot & chickpea salad is remarkably simple to make. If you opt to use a food processor to grate the carrot instead of the manual alternative, it also requires very minimal effort. For difficulty, it's a 4/10.
WHY IS IT HEALTHY?
I don't think it is any secret how wonderful carrots are for you. Carrots get their vibrant orange color from beta carotene, an antioxidant that converts into vitamin A once within the body. Vitamin A is important for the promotion of good vision, which is why you may have heard the age-old saying that 'carrots help you to see in the dark'. Eating the carrots raw helps to preserve some of their nutrients and antioxidants, making this dish more nutrient-dense than a cooked alternative.
WHAT EQUIPMENT DO I NEED?
A food processor fitted with a grating attachment or a box grater, a sharp knife and chopping board, a large mixing bowl, one smaller bowl/jug for the dressing, something to mix it all together and if you would like to serve the salad as I have done, a big serving bowl or platter.
TIPS FOR THE BEST RAW BROCCOLI SALAD EVER:
It's all in the marinating. Marinating is such a wonderful thing. It allows the flavours of this Moroccan carrot salad to marry and mingle, whilst slightly softening the carrot and amplifying it's natural sweetness. I would like to recommend a minimum of 20 minutes to allow this salad to rest, however, a few hours is even more ideal.
No need to peel. I never peel my carrots. As well as being a bit of a faff, I also think it is an unnecessary waste of precious time. Instead, I just give my carrots a really good scrub in the sink with a brush or a wire scourer to remove any dirt and debris. After that, you only need to top and tail them and voila, they are ready to go.
Seasoning is key! I'm always banging on about seasoning, I know. However, I can't stress the difference proper seasoning makes to this salad. It's magical! Season the dressing well, season the salad well, then taste and adjust the seasoning once they are both combined. You may find you need a little extra salt, pepper, lemon juice or cumin. Add only a little at a time, tasting in between, until it's just right.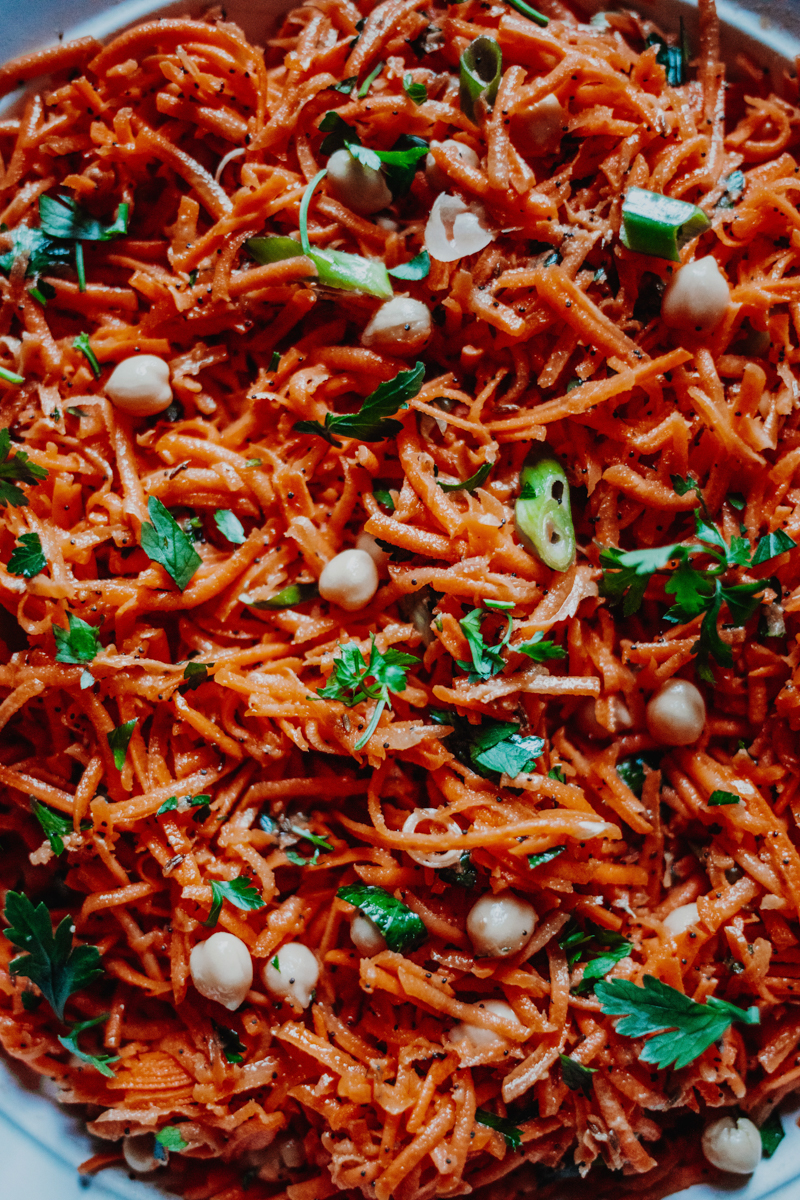 If you make this Moroccan carrot & chickpea salad please let me know! You can tag me in photos on IG @georgieeatsuk, use the #georgieeats or leave me a comment down below. If you want to check out my AMAZING photographer, you can do so here: @kirstyjaynerussell and here: kirstyjaynerussell.com. Keep smiling!
G x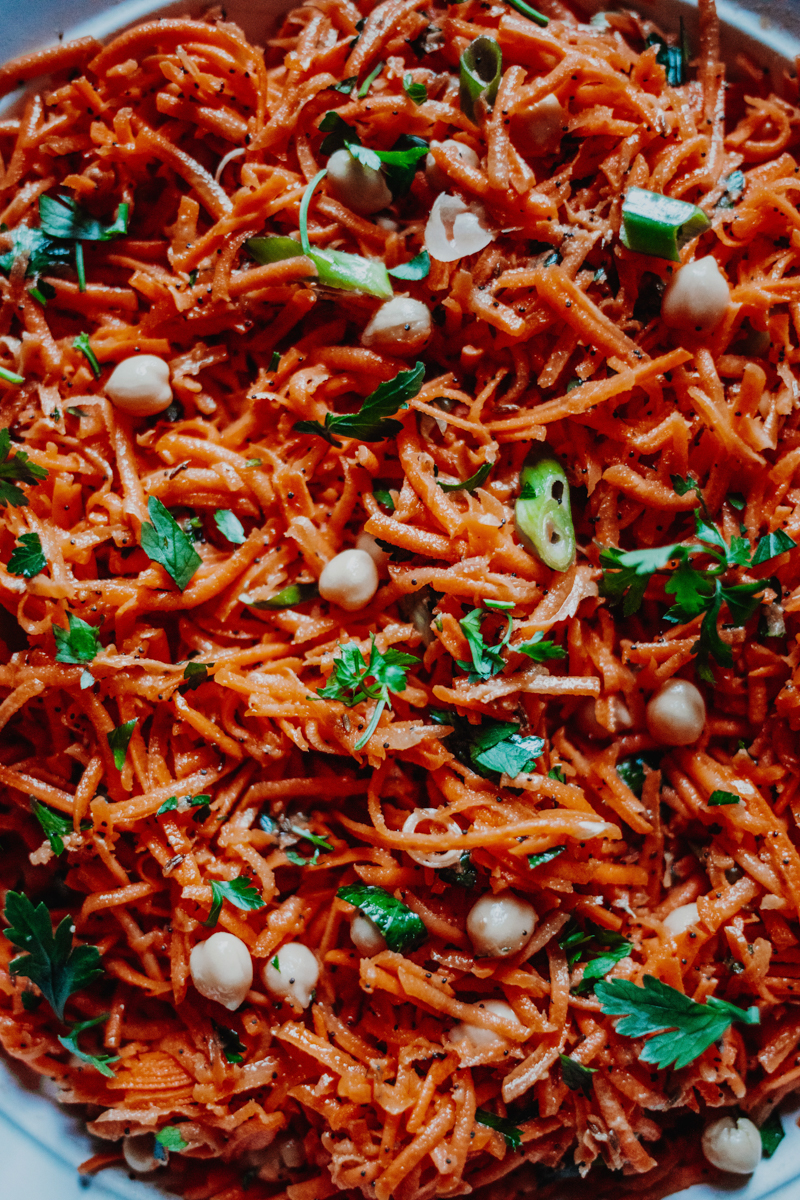 MOROCCAN CARROT & CHICKPEA SALAD
Fresh, crunchy carrot and tender chickpeas laced with delicate Moroccan spices, fresh parsley, spring onion and earthy poppy seeds, all united in a tangy lemony mustard dressing. Vegan & gluten-free.
Ingredients
1

kg

carrots

1

400 g can

chickpeas

drained & rinsed

15

g

fresh parsley

finely chopped

2

spring onions

finely sliced

2

tsp

cumin seeds

1

tbsp

poppy seeds
FOR THE DRESSING
1.5

tbsp

Dijon mustard

juice of 1

lemon

4

tbsp

extra virgin olive oil

2

tsp

honey or maple syrup

sea salt & freshly ground black pepper
Instructions
Scrub the carrots, then use either a food processor fitted with a grating attachment (much faster!), or the largest holes on a box grater to coarsely grate the carrot.

Transfer the grated carrot into a large bowl and combine with the chickpeas, chopped parsley, sliced spring onions, cumin seeds and poppy seeds. Add a generous sprinkle of salt and a few nice cracks of black pepper before giving everything a good mix.

To make the dressing, whisk together the Dijon mustard, lemon juice, olive oil, honey/maple syrup and a big pinch of salt and pepper. Taste and adjust the seasoning.

Pour the dressing over the carrot mixture and stir well to combine, then transfer into a serving bowl to serve. This salad can be served straight-away, but it is far better after it has had time to chill and marinate in the fridge (I would recommend at least 20 minutes).
Recipe Notes
This Moroccan carrot & chickpea salad can be kept in covered in the fridge for up to 4 days.
For variations and tips on this recipe, see within the post. 
Vegan: Use maple syrup rather than honey.