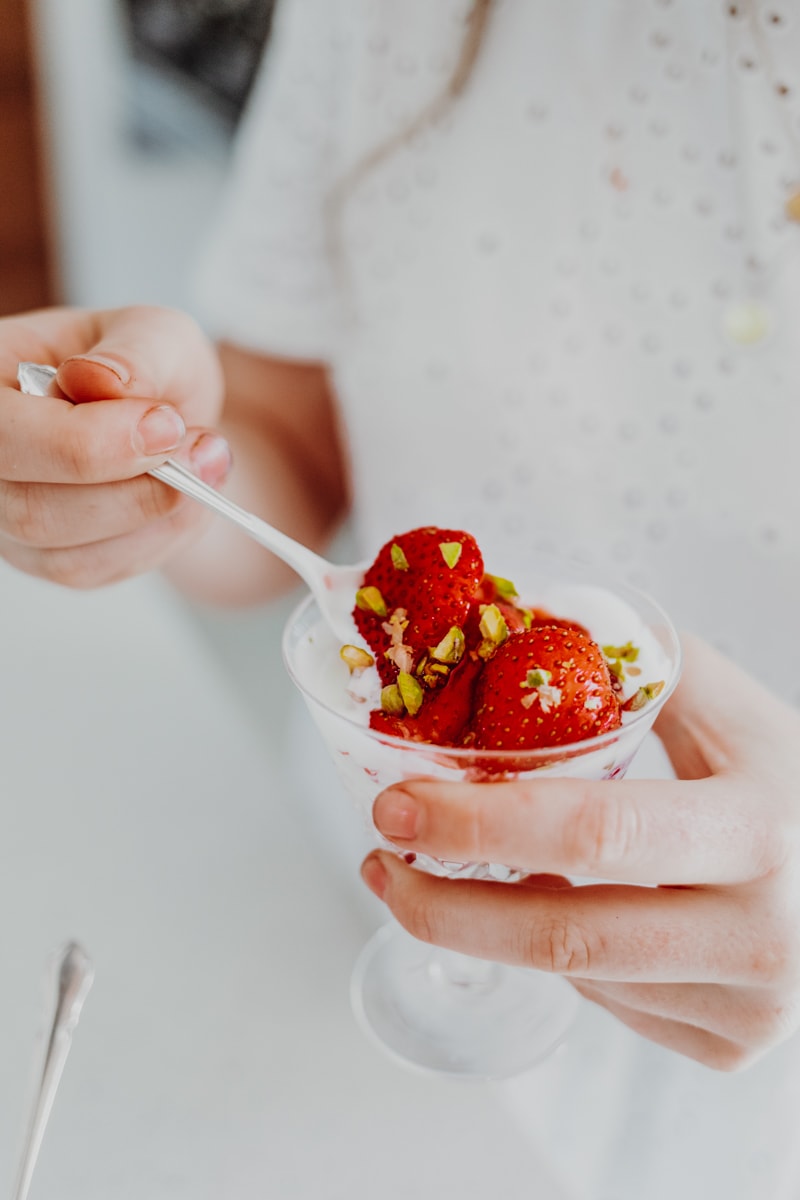 Can anything beat the humble British strawberry? With Wimbledon cancelled this summer, there is sure to be plenty of surplus to enjoy. So as a tribute, I've matched the perfect doubles pair. Don't be fooled by the name. These strawberry & elderflower fools are an absolute winner.
Jump to Recipe
WHY SHOULD I MAKE THEM?
Fresh silky yoghurt subtly spiked with elderflower and layered between jewels of sweet roasted strawberries and a crunch of pistachios. This easy-peasy 4 ingredient dessert is light, refreshing and the perfect way to end a sunny day.
WHAT'S THE OCCASION?
An extraordinarily impressive but secretly simple dessert for a summer dinner party, an al fresco brunch with friends, or an inventive way to use up strawberries which have gone past their best.
HOW LONG WILL IT TAKE ME?
These strawberry & elderflower fools will take you 25 minutes from start to finish, including only 5 minutes hands-on.
IS IT DIFFICULT?
Absolutely not. In fact, this could be the easiest recipe I have published on GE to date. These strawberry & elderflower fools are really just an assembly of four wonderful ingredients. For difficulty, it's a 2/10.
WHY IS IT HEALTHY?
Strawberries are an excellent source of vitamins C and K as well as providing a good dose of fibre. They contain a vast selection of phytonutrients and flavonoids which contribute to their gorgeous ruby red colour. Roasting the strawberries brings out their natural sweetness and flavour even further, meaning no extra sugar needs to be added. These fools feel so light and nourishing, yet still give you all the satisfaction of dessert.
WHAT EQUIPMENT DO I NEED?
A sharp knife and chopping board, one baking tray, parchment paper, a mixing bowl, a measuring jug and 4 pretty serving dishes.
TIPS FOR THE BEST STRAWBERRY & ELDERFLOWER FOOLS EVER:
Use the best ingredients. When a recipe is this simple, there isn't anywhere to hide. Buy fresh yoghurt, local strawberries and the best elderflower cordial you can find. I promise you will taste the difference!
Roast, roast, roast. Roasted strawberries are a REVELATION. 20 minutes in the oven is just long enough so that they keep their shape, but enough time for them to sweeten, soften and become almost candy-like. You could also make these strawberry & elderflower fools without roasting the strawberries for an ultra-quick dessert, but that would be doing yourself an injustice now wouldn't it.
It's all in the presentation. Served in pretty glasses or delicate bowls, these fools must be one of the most beautiful desserts I've seen. With the right presentation, you have the power to trick even the foodiest of foodies into thinking these had you slaving away in the kitchen for hours.
HOW ABOUT SOME VARIATIONS?
As always, I like to help you make these dishes your own and to use whatever you may have in the fridge. I love the combo of ingredients used in these fools, but here are a few suggestions if you feel like mixing it up:
Strawberries: In the summer, instead of strawberries, why not try gooseberries, raspberries or cherries? In spring, rhubarb would be delicious and for autumn, go for blackberries.
Greek yoghurt: To make these strawberry & elderflower fools completely plant-based, use a dairy-free yoghurt. I personally love coconut yoghurt in this combination.
Elderflower cordial: If using for blackberries or gooseberries, a ginger cordial would be delicious. Or, for something slightly stronger, a shot of amoretto (or two) would be a great addition.
Pistachios: I enjoy the colour pistachios bring to this dish, however, feel free to switch them out for your favourite nuts. Toasted flaked almonds, chopped hazelnuts or even a sprinkle of pumpkin seeds would complement. Or if you wish, you could use a sprinkle of crunchy granola instead.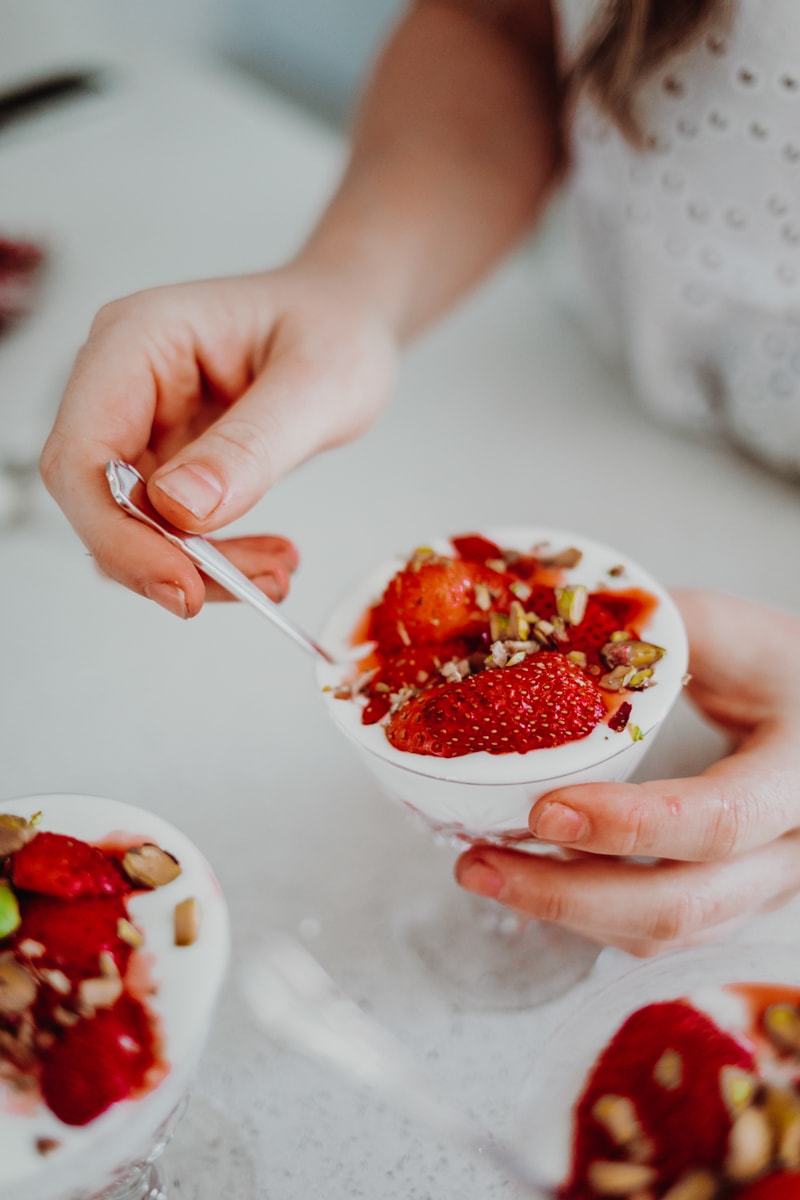 If you make these strawberry & elderflower fools, please let me know! You can tag me in photos on IG @georgieeatsuk, use the #georgieeats or leave me a comment down below. If you want to check out my AMAZING photographer, you can do so here: @kirstyjaynerussell and here: kirstyjaynerussell.com. Keep smiling!
G x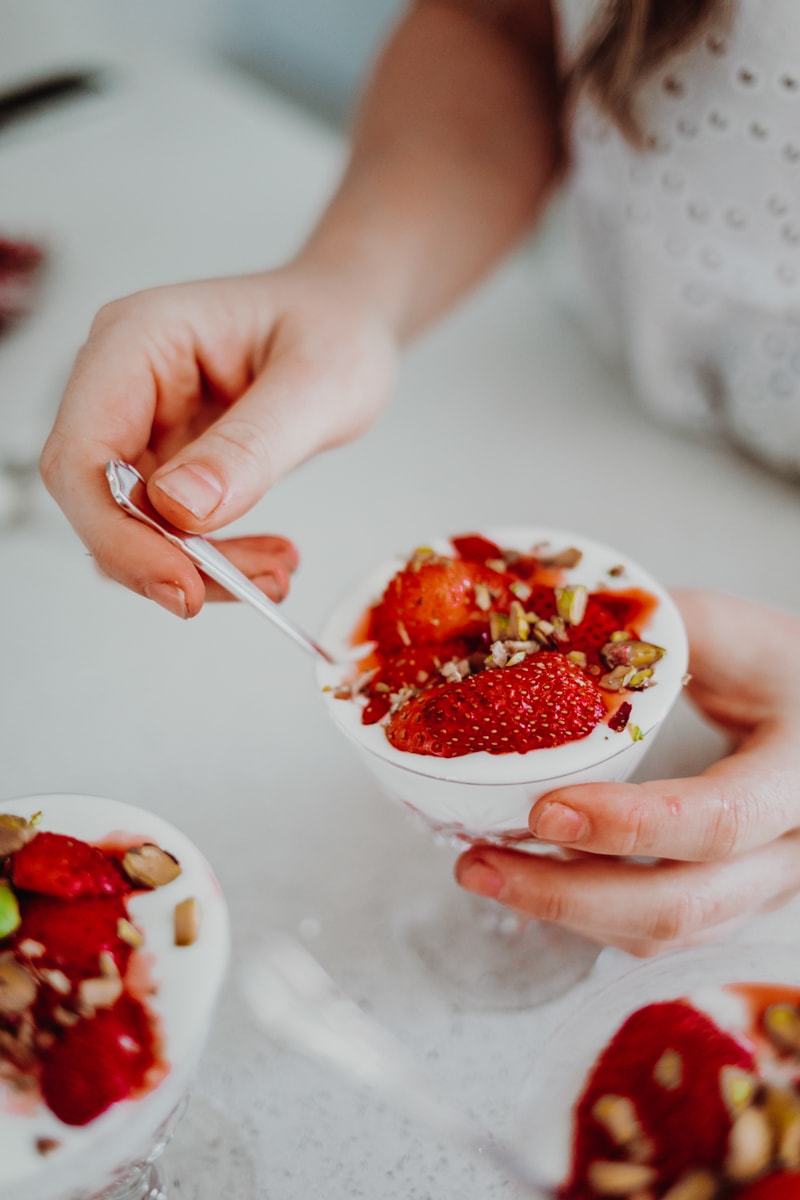 STRAWBERRY & ELDERFLOWER FOOLS
Fresh silky yoghurt spiked with sweet elderflower and layered between jewels of sweet roasted strawberries and a crunch of pistachio nuts. This easy-peasy 4 ingredient dessert is light, refreshing and perfect for summer. Gluten-free & vegan option.
Ingredients
400

g

strawberries

450

g

thick Greek yoghurt

(dairy-free if nessesary)

125

ml

elderflower cordial

a sprinkling of

chopped pistachios

to serve
Instructions
Preheat the oven to 150°c (fan assisted)/170°c/gas mark 3.

Hull and halve the strawberries, then place them onto a lined baking tray. Roast for 20 minutes, or until soft but still holding their shape. Remove from the oven and allow them to cool a little (to speed this up, you can pop them into the fridge).

Combine the yoghurt and elderflower cordial in a bowl and beat well with a spoon until smooth and creamy.

Layer the strawberries and yoghurt between glasses or small bowls, then top with the chopped pistachios. Either serve immediately, or, chill until cold, then serve (recommended).
Recipe Notes
All the components of these strawberry & elderflower fools can be stored separately in the fridge for up to 3 days and combined just before serving. Leftovers make a fab breakfast!
VEGAN: Use dairy-free yoghurt.
For variations and tips on this recipe, see within the post.