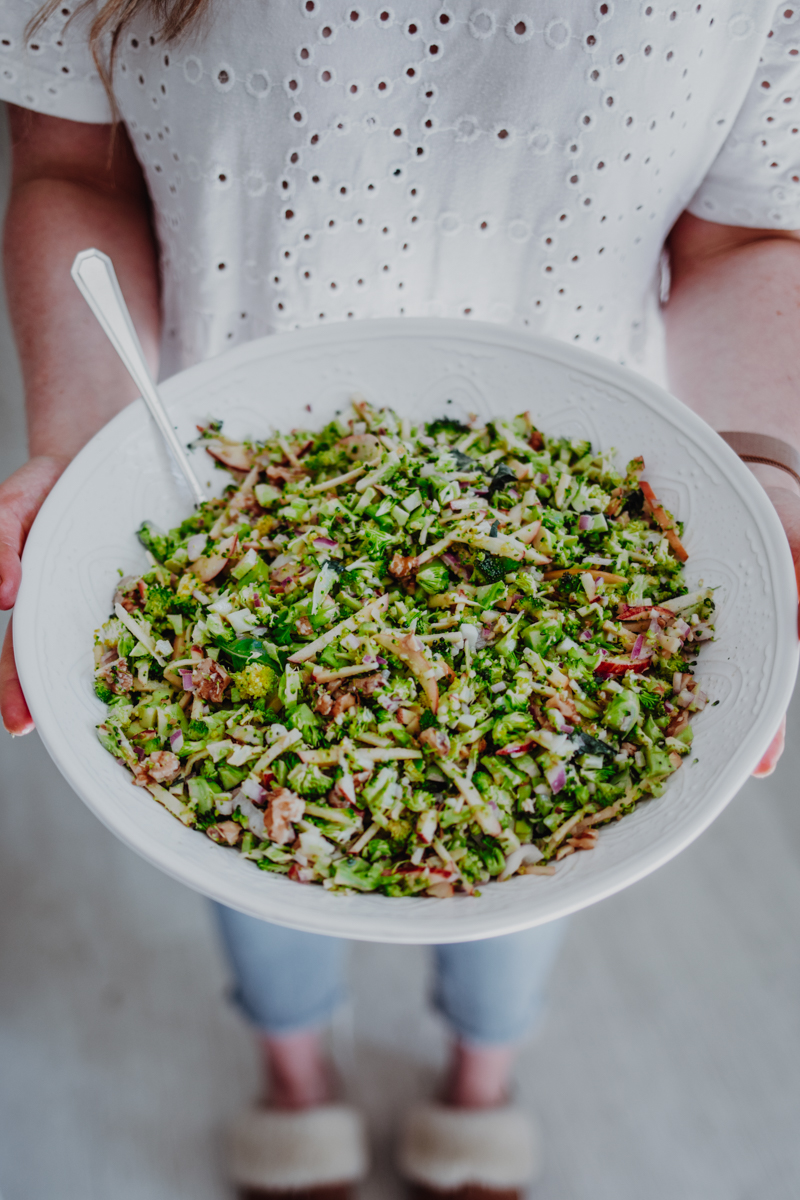 For me to label something as a favourite, I think, is rather a big deal. However, since this raw broccoli salad has not only become a favourite of mine, but also a favourite of my family and friends, I believe it satisfies the criteria. I'm obsessed with everything about it. It's fresh, crunchy, tangy, vibrant and every mouthful fills me with joy. It makes a marvellous side dish, yet on its own is equally as adequate for a light summer lunch. You'll be making it non-stop.
Jump to Recipe
WHY SHOULD I COOK IT?
Fresh and crunchy broccoli laced with the tang of red onion, the sweetness of red apple and the crunch of earthy walnuts, all united in a maple mustard dressing. It's the perfect balance of sweet and savoury.
WHAT'S THE OCCASION?
An impressive and unique BBQ side dish, a light summer lunch eaten al fresco, getting ahead in a meal-prep, or as part of a showstopping salad spread.
HOW LONG WILL IT TAKE ME?
From start to finish, only about 15 minutes. This raw broccoli salad doesn't require any cooking, meaning it is super-duper quick to make. Howbeit, I do recommend letting the salad marinate in the fridge for at least 20 minutes before serving to allow the ingredients to marry. So ideally, start making this salad about 45 minutes before you would like to eat it – or even the day before!
IS IT DIFFICULT?
This salad is really simple to make, even with the small amount of chopping involved. If you use the sharpest knife you have and take your time to make sure everything is in lovely, small, even pieces, it will make all the difference! For difficulty, it's a 6/10.
WHY IS IT HEALTHY?
I don't think it is any secret how good broccoli is for you. Part of the cruciferous vegetable family, broccoli is packed full of iron, vitamin C, vitamin A, selenium and magnesium (just to name a few!). Eating the broccoli raw helps to preserve some of these nutrients as well it's anti-oxidants, making this dish more nutrient-dense than a cooked alternative. One main-sized serving of this raw broccoli salad also counts as 2 of your 5 a day and contains over a third of your daily recommended intake of fibre.
WHAT EQUIPMENT DO I NEED?
A sharp knife and chopping board, a large mixing bowl, one smaller bowl/jug for the dressing and if you would like to serve the salad as I have done, a big serving bowl or platter.
TIPS FOR THE BEST RAW BROCCOLI SALAD EVER:
It's all in the marinating. Marinating is such a wonderful thing. It allows the flavours of this raw broccoli salad to marry and mingle whilst softening the piquant flavour of the onion and amplifying the sweetness of the apple. I would like to recommend a minimum of 20 minutes to allow this salad to rest, however, a few hours is even more ideal.
Slice slice, baby. Chopping everything so small may seem like a bit of a faff, but it really makes all the difference. To save time when I was testing this recipe, I grated all the veggies/fruit with the attachment on my food processor. This is certainly an option if you would prefer, but I just think there is something quite brilliantly rustic about it being hand-chopped.
No waste needed. Too many people don't eat the stalk of the broccoli, when, in my opinion, it's the best bit. Use both the broccoli stalk and florets in this recipe – it adds more texture as well as being less wasteful. I also like to keep the skin on the apple here to showcase it's gorgeous red colour. The other half of the red onion needn't be wasted either. Why not double this recipe and keep the rest in the fridge for lunchboxes? Or, for something different, make my quick-pickled onions.
If you make this raw broccoli salad please let me know! You can tag me in photos on IG @georgieeatsuk, use the #georgieeats or leave me a comment down below. If you want to check out my AMAZING photographer, you can do so here: @kirstyjaynerussell and here: kirstyjaynerussell.com. Keep smiling!
G x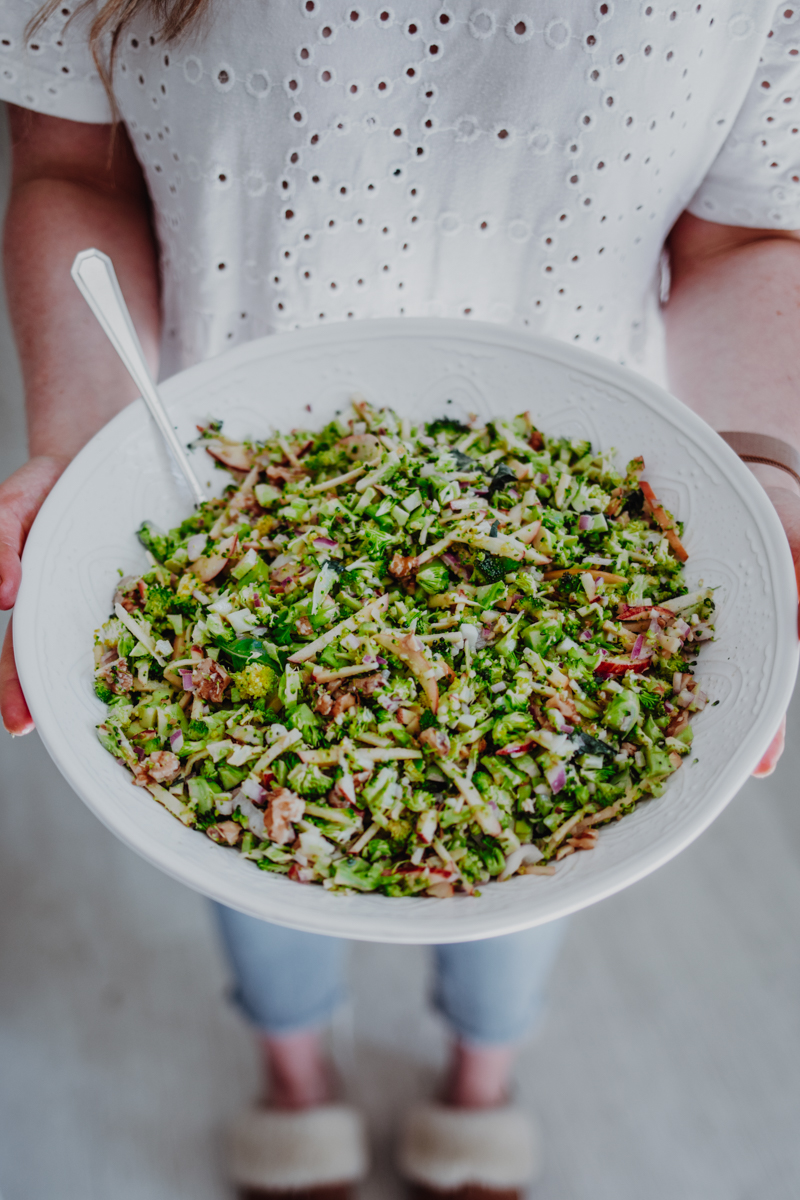 MY FAVOURITE RAW BROCCOLI SALAD
Fresh and crunchy broccoli laced with the tang of red onion, the sweetness of red apple and the crunch of earthy walnuts, united in a maple mustard dressing. Vegan & GF.
Servings
2
servings as a main, or 4 as a side
Ingredients
1 large

broccoli

½

a

red onion

1

apple

1 handful of

walnut halves
FOR THE DRESSING
3

tbsp

extra-virgin olive oil

1.5

tbsp

apple cider vinegar

2

tbsp

Dijon mustard

1

tbsp

maple syrup

1

medium clove garlic

minced

sea salt & freshly ground black pepper
Instructions
Chop both the florets and stalk of the broccoli into small even pieces, finely dice the red onion, slice the apple into thin matchsticks and roughly chop the walnuts. Combine in a large bowl.

To make the dressing, whisk together the olive oil, apple cider vinegar, dijon mustard, maple syrup, minced garlic and a generous sprinkle of sea salt and black pepper. Taste and adjust the seasoning.

Pour the dressing over the broccoli mixture and mix well to combine before transfering into a serving bowl to serve. This salad can be served straight-away, but it is far better after it has had time to chill and marinate in the fridge (I would recommend at least 20 minutes).
Recipe Notes
This raw broccoli salad can be kept in covered in the fridge for up to 4 days.
For variations and tips on this recipe, see within the post.