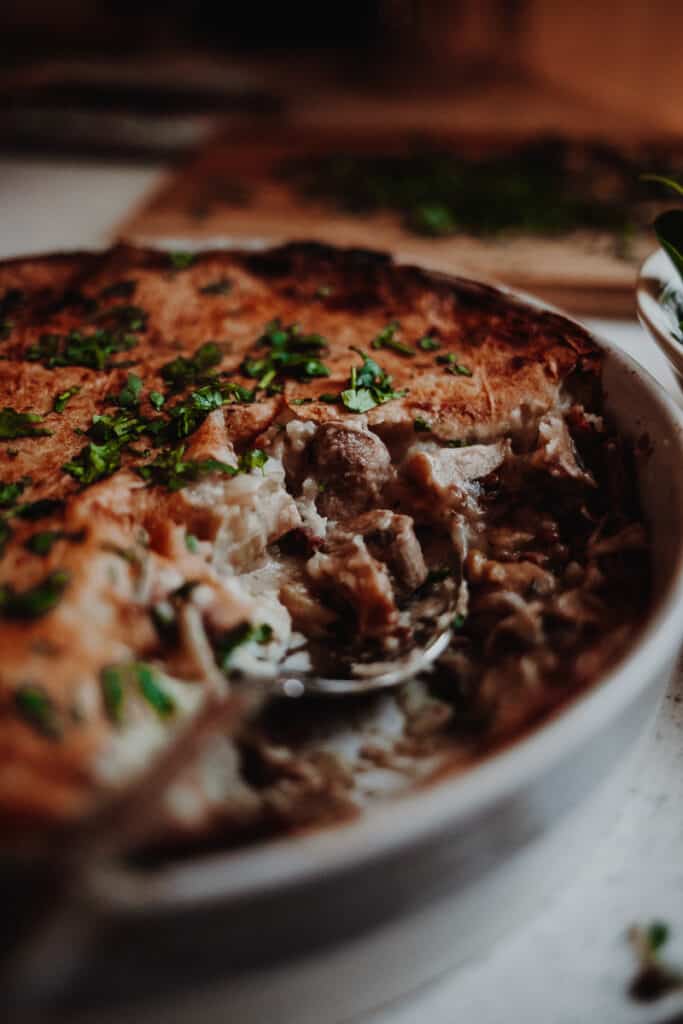 I am yet to meet anyone who doesn't like pie. Just the thought of it is enough to have you drooling. I realised that there is a disgraceful lack of pie recipes here on GE and it was about time something was done about it. My leek & mushroom pie is a slice of comfort food heaven. Although it's completely plant-based, the meaty filling will easily satisfy even the biggest of meat-eaters. Everyone I have fed it too has loved it – it's really quite delicious.
Jump to Recipe
WHY SHOULD I COOK IT?
Whether you are completely vegan or just like to take part in #meatfreemonday, this leek & mushroom pie is ideal. Sweet leeks, meaty mushrooms and tender lentils all united in a velvety white sauce with a touch of mustardy heat and finished with creamy mashed potato. Need I say more?
WHAT'S THE OCCASION?
A cosy 'day off' dinner by the fire, a Sunday lunch special or a 'make-ahead' weeknight supper.
HOW LONG WILL IT TAKE ME?
Although this leek and mushroom pie is reasonably simple, it may be one for the weekend. From start to finish it should take you just over an hour – roughly 35 minutes hands-on and 25-30 minutes in the oven. If you wanted to enjoy this on a weeknight, you can always make it ahead. Once you have assembled the pie, cover it and store in the fridge. When ready to eat, pop the pie in the oven to cook according to the recipe.
IS IT DIFFICULT?
Nope. In fact, for a pie, it's rather easy. There isn't any difficult chopping or unusual techniques and quite simply, the more rustic this dish is, the better. I have even found a way to simplify the most temperamental part of this recipe – the white sauce – so that it is utterly foolproof. For difficulty, it's a 6/10.
WHY IS IT HEALTHY?
The best thing about this leek & mushroom pie is that it is as nourishing for the body as it is for the soul. Mushrooms are one of the few plant-based sources of vitamin D, vital for anyone living in areas of low sunlight (I'm looking at you UK). They are also rich in selenium, which helps to support the immune system and protect against oxidative damage. Amongst other things, leeks act as a brilliant source of fibre and lentils are a rich source of protein. Finishing the pie with mashed potatoes rather than pastry makes it all the more nutritious without compromising the flavour.
WHAT EQUIPMENT DO I NEED?
A knife and chopping board, two saucepans, one lidded saucepan, a measuring jug and a whisk, tongs, a potato masher and a medium pie dish.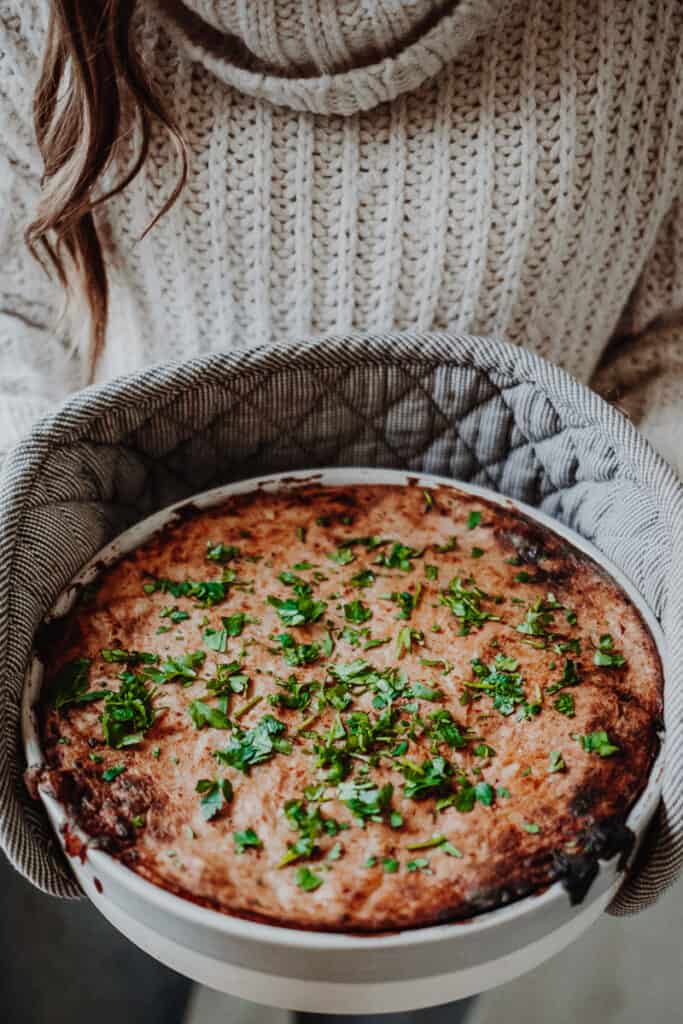 TIPS FOR THE BEST LEEK & MUSHROOM PIE EVER
No lumps, please! Is there anything worse than lumpy mash? I don't think so. Everyone has there own way to make the perfect mash, but here are my tips: Use floury potatoes such as King Edward's or Maris Piper's; allow the potatoes to completely dry out before mashing; mash with either an electric hand whisk (very little effort), a potato masher (an arm workout), or a potato ricer (kinda messy but maybe the best results), then beat in a dash of milk and lots of seasoning with a wooden spoon until totally smooth and creamy.
Whisk, whisk. whisk. To guarantee a silky smooth white sauce, make sure the mix is lump-free before adding it to the saucepan. To do this, vigorously whisk the flour as you slowly pour in the milk. If you feel any lumps forming, stop pouring and keep whisking. When the sauce is cooking, whisk constantly to assure it thickens evenly.
Want extra crispy bits? Is this a silly question? Everyone loves the crispy edges of a pie, it's probably the best bit. For maximum crispiness, once the pie has finished cooking, shove it under the grill for a few minutes until it is bubbling around the edges.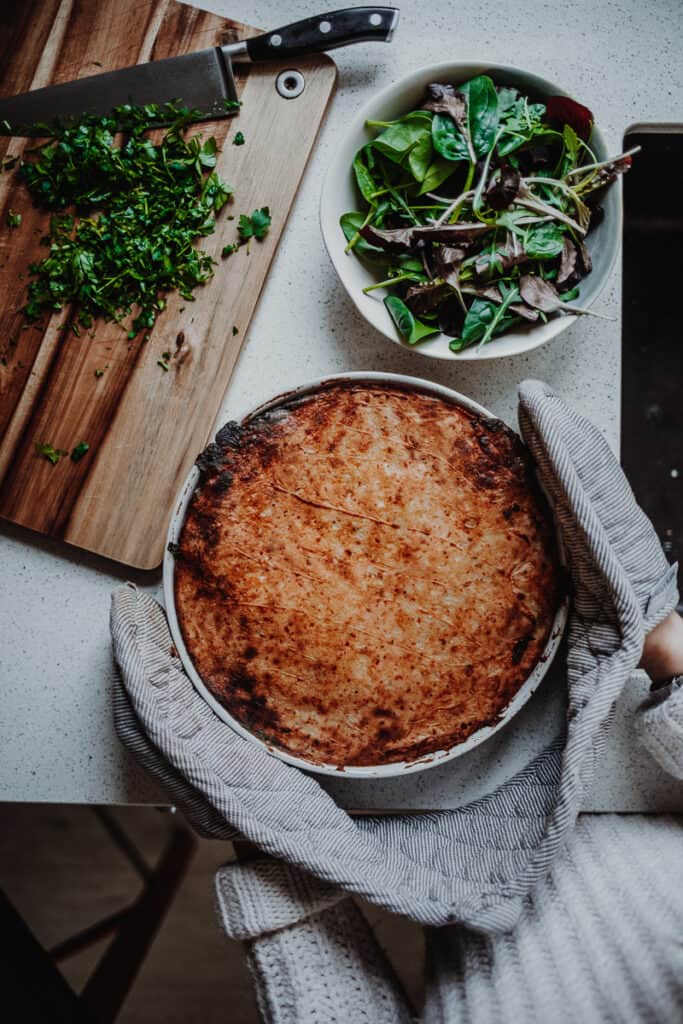 If you make this leek & mushroom please let me know! You can tag me in photos on IG @georgieeatsuk, use the #georgieeats or leave me a comment down below. If you want to check out my AMAZING photographer, you can do so here: @kirstyjaynerussell and here: kirstyjaynerussell.com. Keep smiling!
G x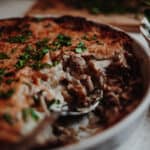 LEEK & MUSHROOM PIE
Sweet leeks, meaty mushrooms and tender lentils all united in a velvety white sauce with a touch of mustardy heat and finished with creamy mashed potato. It's nourishing plant-based comfort food at it's finest! Vegan & GF.
Total Time
1
hour
10
minutes
Ingredients
750

g

potatoes

375

ml

plant-based milk

(I use oat milk)

2

tsp

wholegrain mustard

2

tbsp

extra virgin olive oil

3

leeks

sliced

500

g

mushrooms

quartered

3

cloves

garlic

minced

2

tsp

herbs de Provence

1

400g can

green lentils

drained & rinsed

25

g

gluten-free flour

25

g

olive oil

2

tbsp

nutritional yeast

(optional)

15

g (1/2 bunch)

fresh parsley

Sea salt & freshly ground black pepper
Instructions
Preheat oven to 180°c fan/200°c/390°f.

Peel and cube the potatoes. Bring a large pan of salted water to the boil and add the chunks of potato. Let them cook for 15 minutes, or until very tender. Transfer the potatoes to a colander to drain, then return to the pan and let them dry out over a very low heat for 2 minutes. Add a dash of the plant-based milk into the potatoes along with 1 tsp of wholegrain mustard and a generous amount of salt and pepper. Mash until smooth.

Heat a large lidded saucepan over a medium heat and add the 2 tbsp of extra virgin olive oil. Once hot, add the leeks and cook, uncovered, for 5 minutes until slightly softened. Add the mushrooms and garlic and cook for a further 5 minutes, then stir in the lentils and herbs. Lower the heat and cover the pan with a lid. Sweat for 10 minutes or until everything is browned and has collapsed in size.

Meanwhile, make the white sauce. In a jug, whisk the flour along with just enough of the remaining plant-based milk to make a paste. Slowly pour in the rest of the milk, whisking as you go to create a smooth mixture, then stir in the olive oil. Transfer the mix into a saucepan and bring to a light simmer over a medium heat. Mix constantly for 5-8 minutes, or until the sauce has thickened enough to drop off a spoon. Stir in the remaining mustard and nutritional yeast (if using), then season liberally with salt and pepper. Remove from the heat.

Pour the sauce into the leek and mushroom mixture and stir to combine. Transfer the pie mix into a medium dish before spooning the mash over top. Bake in the oven for 25-30 minutes or until the pie is golden on top and crispy around the edges. Top with fresh parsley and serve.
Recipe Notes
You can make this leek & mushroom pie up to 3 days ahead. Once you have assembled the pie, cover it and store in the fridge. When ready to eat, pop the pie in the oven to cook according to the recipe.
Nutritional yeast is a powder often used in vegan dishes to give a cheesy flavour. You can find it in most supermarkets, but if you would prefer you can subsitute this with equal quantities of parmesan cheese (or dairy-free equivalent), or leave it out all together.