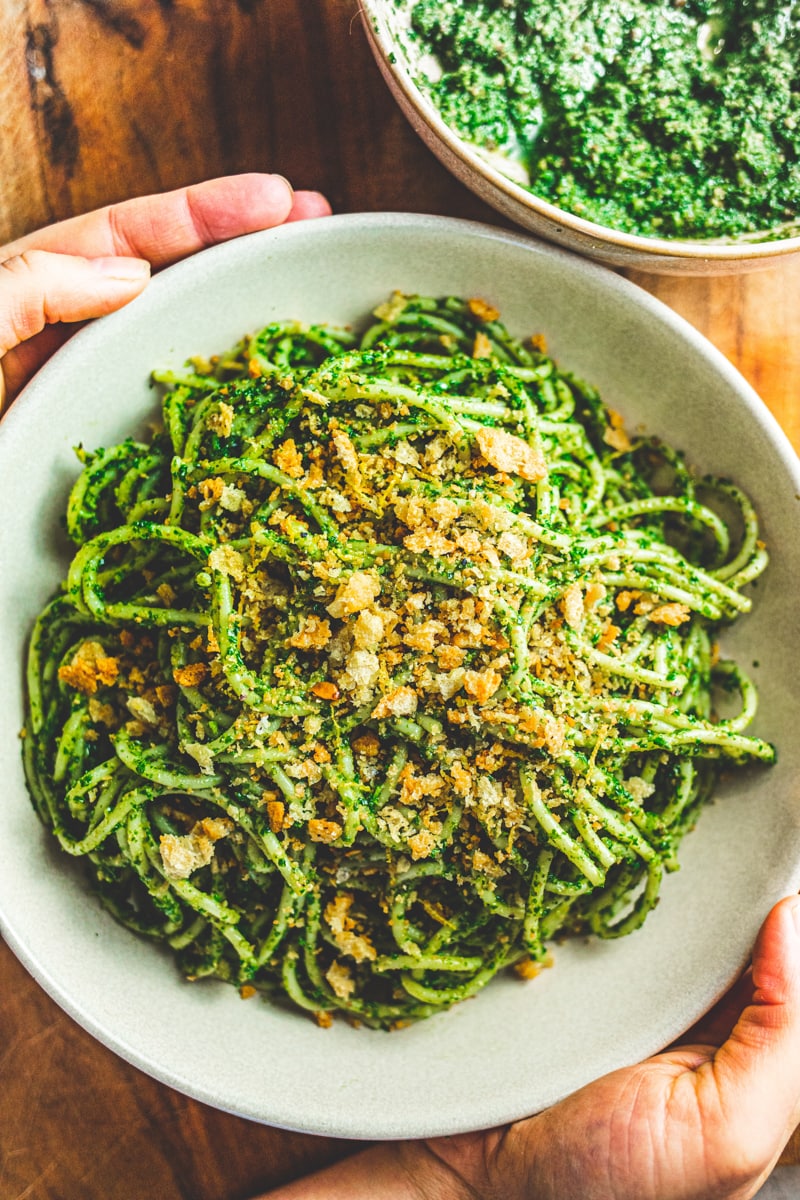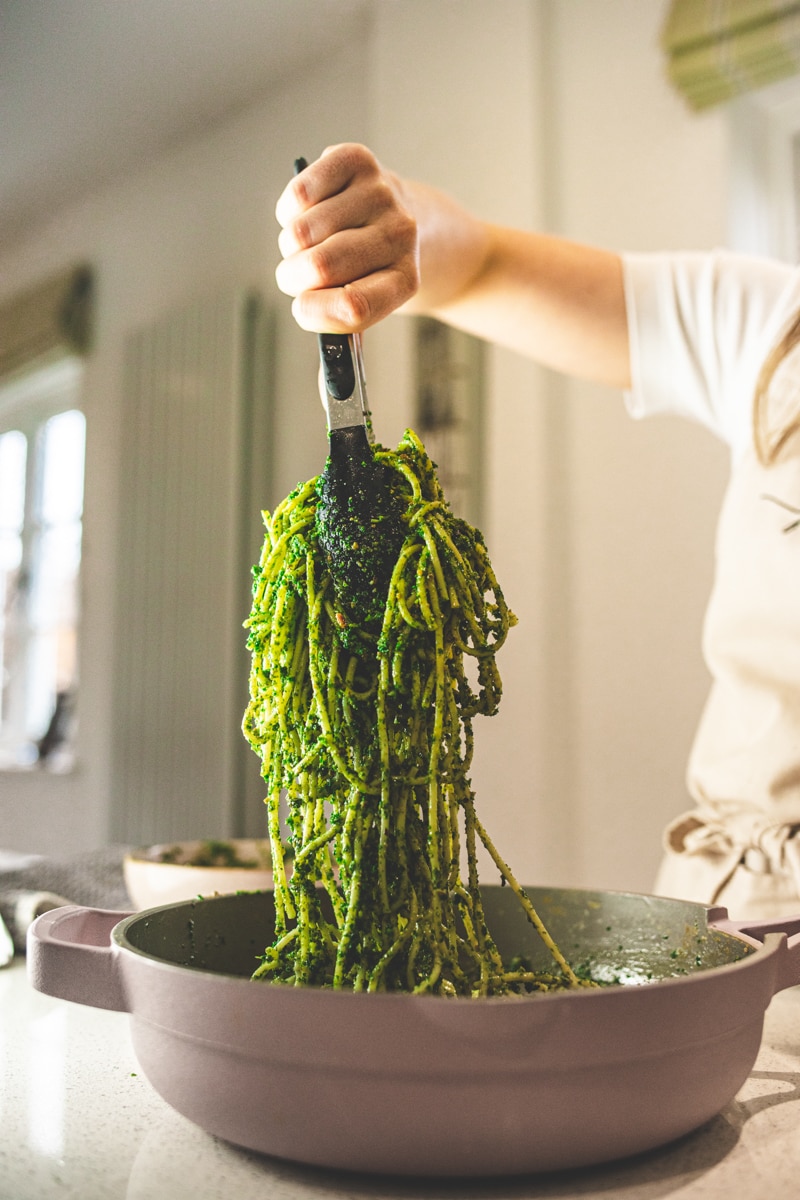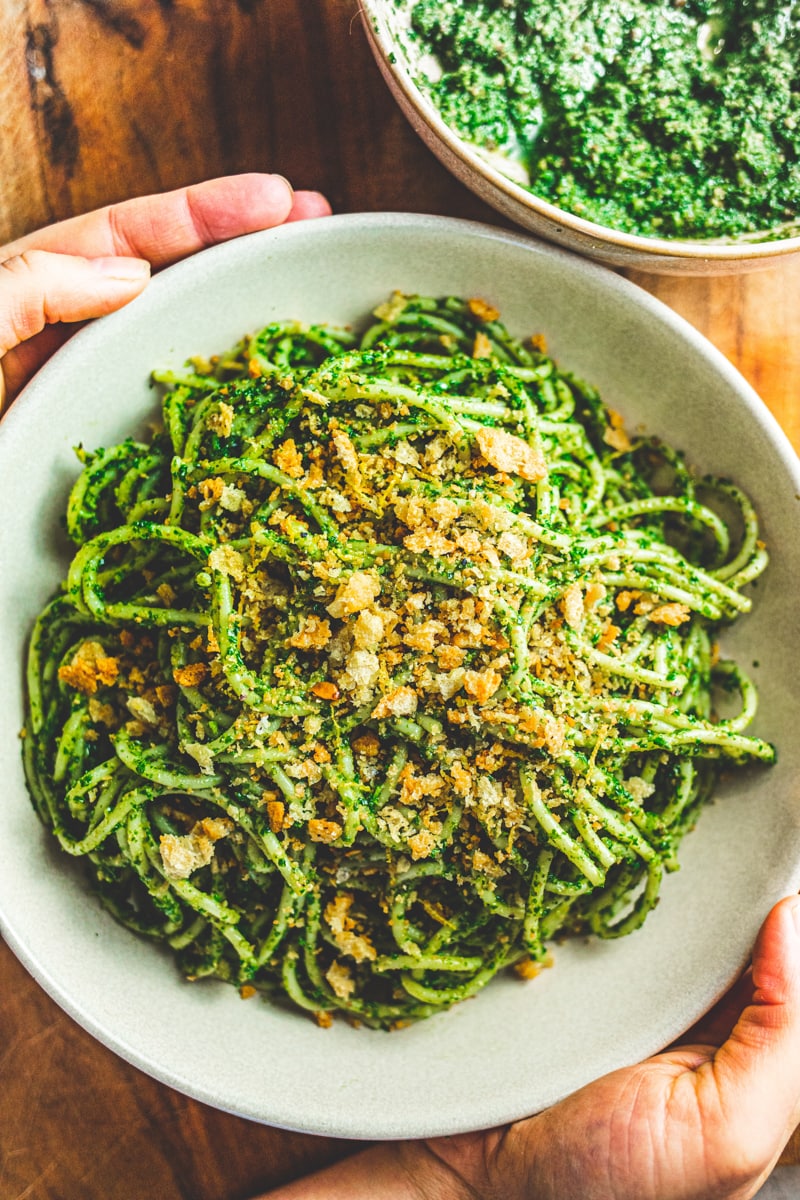 KALE PESTO PASTA WITH SOURDOUGH CRUMB
A gorgeously green toasted walnut & kale pesto with a crunchy, zesty sourdough crumb. It's the best pesto pasta you'll ever eat.
Servings
2
servings (with leftover pesto)
Ingredients
70

g

walnuts

2

small cloves of garlic

100

g

kale

weighed after woody stems are removed

30

g

basil

stalks and all

juice of 1 lemon

125ml-175ml

extra virgin olive oil

to serve: 2 portions of pasta

whichever you like
SOURDOUGH CRUMB
65

g

sourdough bread

roughly chopped

1

tbsp

olive oil

2

tsp

pine nuts

1

clove

garlic

minced

zest of 1 lemon
Instructions
Preheat the oven to 180°c (fan assisted)/200°c/gas mark 6.

Start with making the crumb. Combine the sourdough, olive oil, pine nuts, garlic and a pinch of salt and black pepper in a food processor. Blitz into chunky breadcrumbs, then pour out onto a baking tray and bake for 5-8 minutes, until golden and crisp. Mix in the lemon zest and set aside.

Spread the walnuts out onto a baking tray and bake for 7-8 minutes, keeping a close eye on them so they don't burn, until lightly browned. Transfer the walnuts into a food processor along with the garlic, kale, basil, lemon juice and a generous amount of salt and pepper. Blend, adding the extra virgin olive oil in a slow drizzle, until almost smooth (you want it to retain a little bit of texture). Taste and adjust the seasoning, adding a little more of any ingredient you think it may need.

Cook the pasta according to the packet's instructions. Drain then stir through just enough pesto to coat each piece. Divide into bowls, top generously with the sourdough crumb and serve immediately.
Recipe Notes
Leftover kale pesto and sourdough crumb will keep refrigerated in airtight containers for up to 5 days.
Love my Kale Pesto Pasta? You'll love this Beetroot Risotto too.