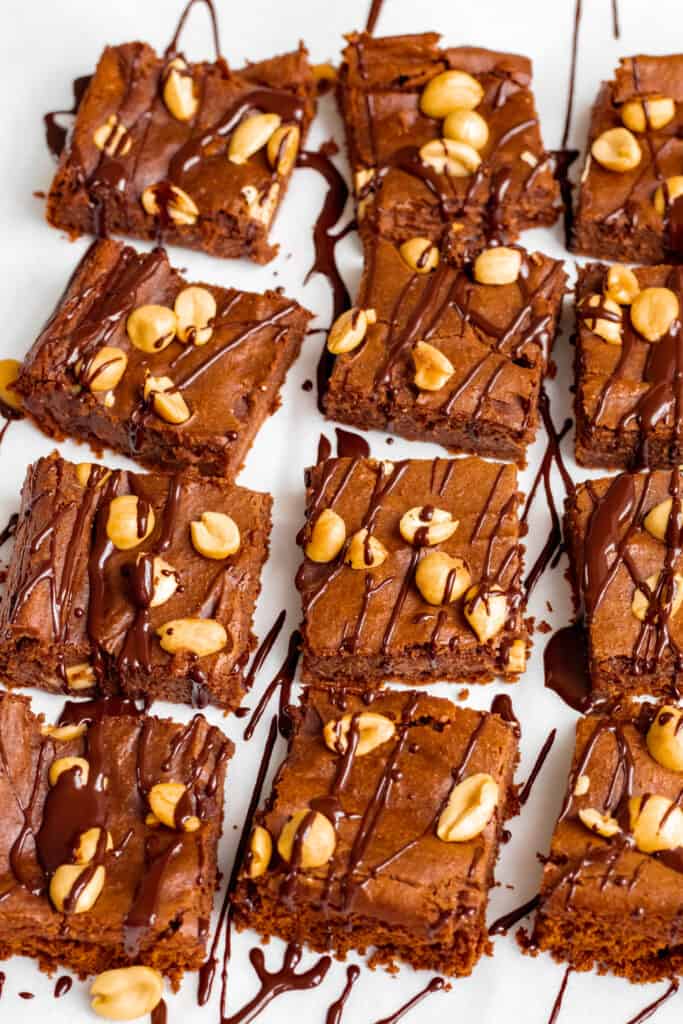 I cannot tell you how many chocolate brownies I've eaten the past few weeks. Perfecting this recipe really was no joke. Batch after batch of brownies were made, tasted, tasted again, adjusted, tasted, adjusted, tasted, tasted a bit more and… no. I was stumped. I mean, they all tasted good, but the perfectionist in me wanted needed great. Before giving up, I decided to try one more time… and VOILA. I present to you: my peanut butter chickpea chocolate brownies. *DROOL ALERT*.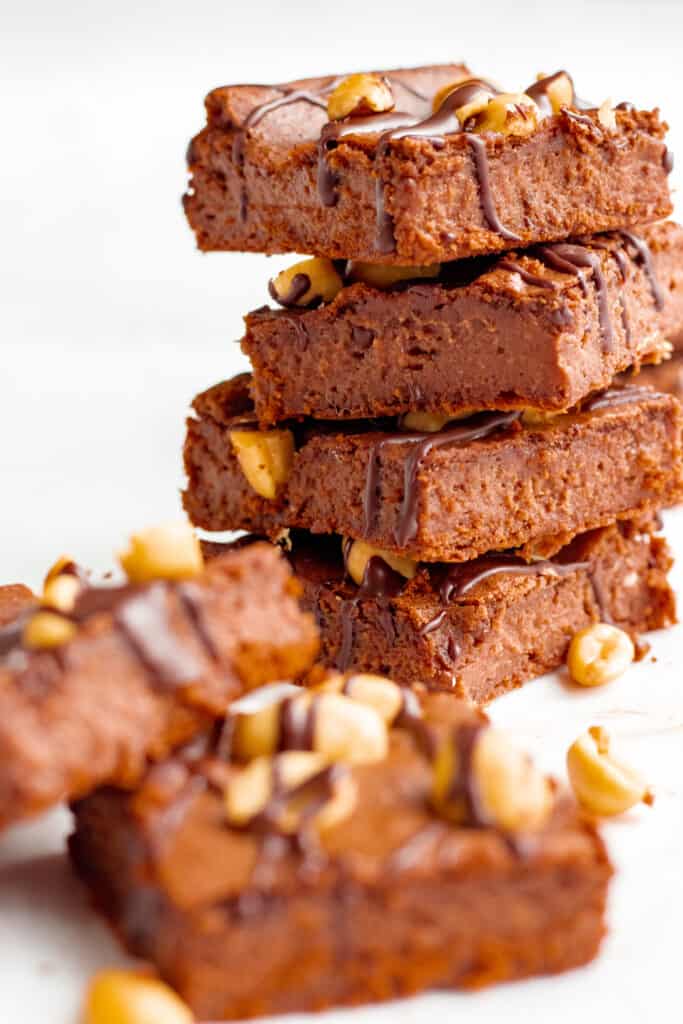 No, thats not a typo. These brownies really are made with chickpeas. Now before you think I've gone completely mad, just trust me on this. I have fed these chocolate chickpea brownies to multiple guests with not one person able to guess the secret ingredient. In fact, before I said anything, they weren't aware these were healthy at all!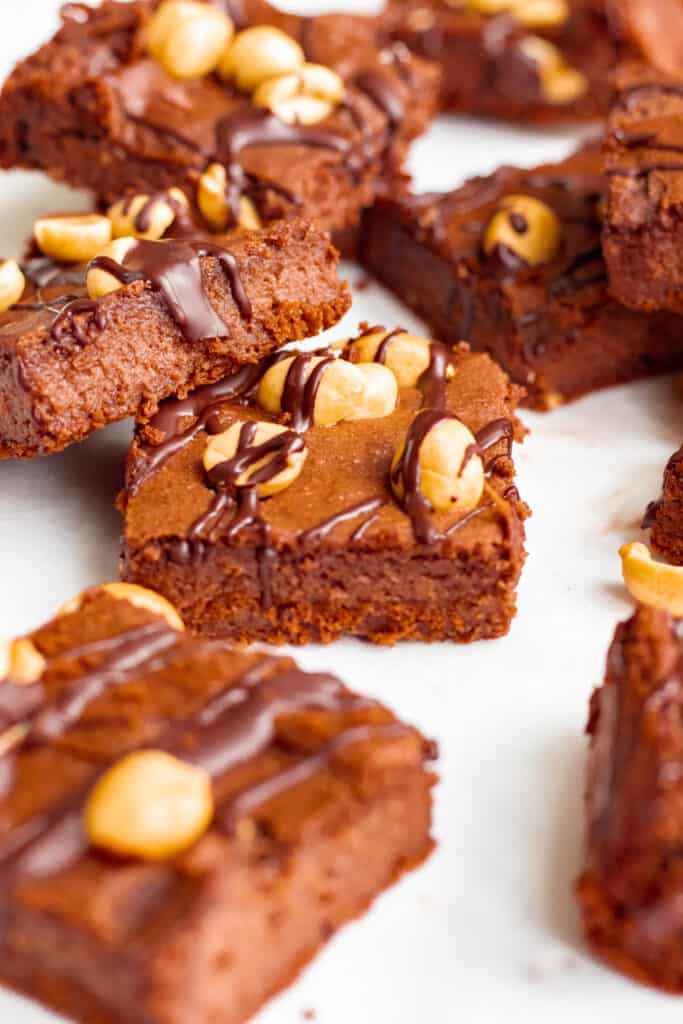 You can knock up these chickpea chocolate brownies in no time at all. Whack everything in the blender, throw it in the oven and 30 minutes later you have yourself some beautiful, gooey, fudgy brownies. Effortless and mess free – it's a win win.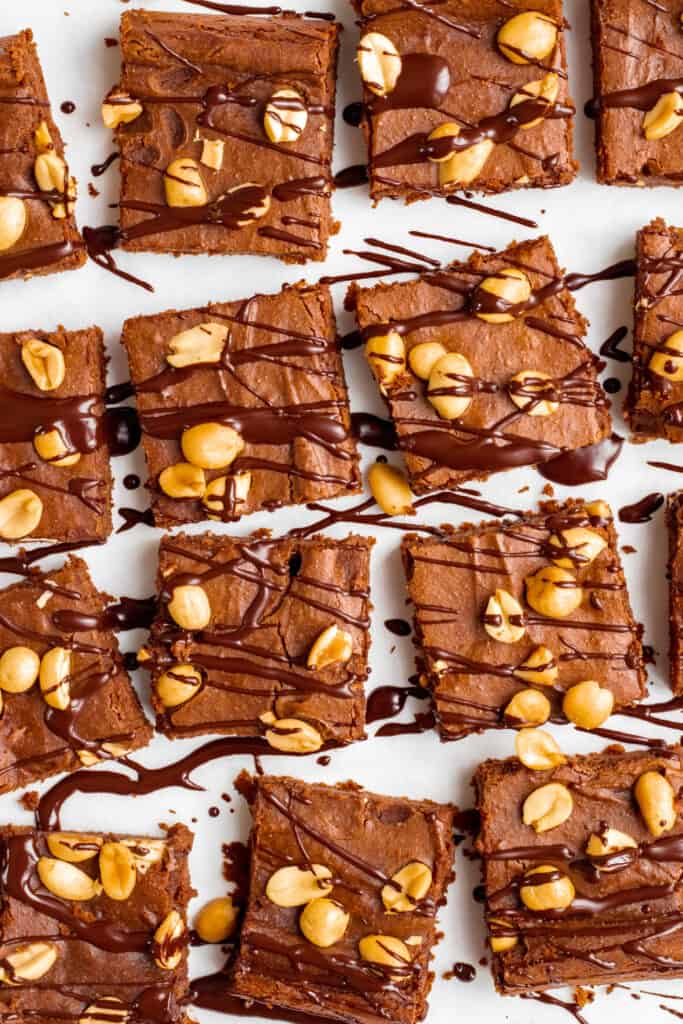 BUT I DON'T LIKE PEANUT BUTTER?
I am aware that many (strange) people don't like the taste of peanut butter. It's ok! I have got you covered. Everyone can enjoy a slice of these chickpea chocolate brownies with the variations below:
Almond Butter Brownies: Swap out the peanut butter for the same quantity of almond butter. Top the batter with chunks of dark chocolate before baking.
Raspberry Brownies: Use cashew nut butter in place of the peanut butter. Stir a few handfuls of fresh raspberries into the brownie batter before pouring into the dish to bake. Drizzle with melted dark chocolate to serve.
Nut-Free Brownies: Omit the peanut butter and use the same quantity of tahini instead. Sprinkle with dark chocolate chips and a little sea salt before baking.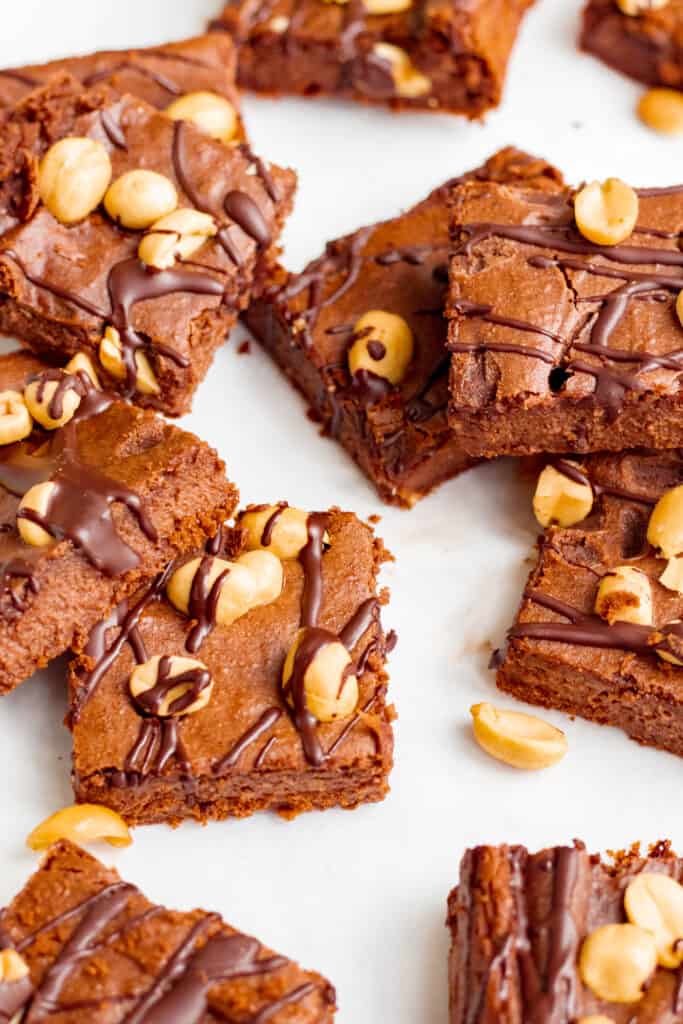 As you can tell, I am very excited about these chickpea chocolate brownies. They were a long time coming and I have to admit that right now, as chief brownie taster, I may be a bit brownied out. Oh, it's a hard life…
If you make these, please send me a picture to my IG @georgieeatsuk, use the #georgieeats, or leave me a comment down below. Keep smiling!
G x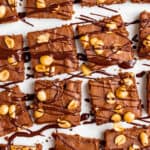 PEANUT BUTTER CHOCOLATE BROWNIES
These fudgy chickpea peanut butter chocolate brownies are so decadent you won't believe they're healthy! Packed with protein, vegan, GF and utterly divine!
Ingredients
30

g (1/4 cup)

oats

1

400g can

chickpeas

drained & rinsed

2

tbsp

coconut oil

melted

170

g (1/2 cup)

maple syrup/honey

150

g (1/2 cup)

smooth peanut butter

100

ml

milk

(I used oat milk)

30

g (1/4 cup)

cacao powder

½

tsp

baking powder

40

g (1/4 cup)

roasted unsalted peanuts

Pinch

salt
To Decorate
25g

dark chocolate

melted
Instructions
Preheat the oven to 160°c fan/180°c/350°f and line an 8"x8" baking dish with parchment paper.

Add the oats into a food processor and whizz into a flour. Add the chickpeas, coconut oil, honey/maple syrup, peanut butter and milk and blend until completely smooth. Then add the cacao powder, baking powder and salt and blend again until just combined. Your mixture should be thick.

Pour the brownie batter into the lined baking dish, smooth out, then scatter the peanuts evenly over the top. Bake in the oven for 30-35 minutes until the edges are firm and the middle is just set.

Remove the brownies from the oven and allow them to cool completely in their dish before transferring them to a board. Cut the brownies into 12 squares before drizzling liberally with melted chocolate. Store in the fridge until ready to serve.
Recipe Notes
These brownies will keep for up to 5 days in an airtight container stored in the fridge.
For variations on this recipe, see within the post.
Vegan: Use a plant-based milk and maple syrup rather than honey.
Gluten-free: Make sure you are using GF certified oats and a GF baking powder.
A few ingredient notes:
If you can find it, try to use raw honey as it is less processed. If using maple syrup make sure it is 100% maple syrup and not maple 'flavoured' syrup. You could also use agave nectar if you prefer.
Try to use peanut butter that is made with 100% peanuts. It should be runny and will need to be stirred before using!
I have used cacao powder here instead cocoa as it is richer in nutrients, but you could also use the latter if you prefer.
If you love chocolate recipes, you will LOVE my chocolate date truffles too!!