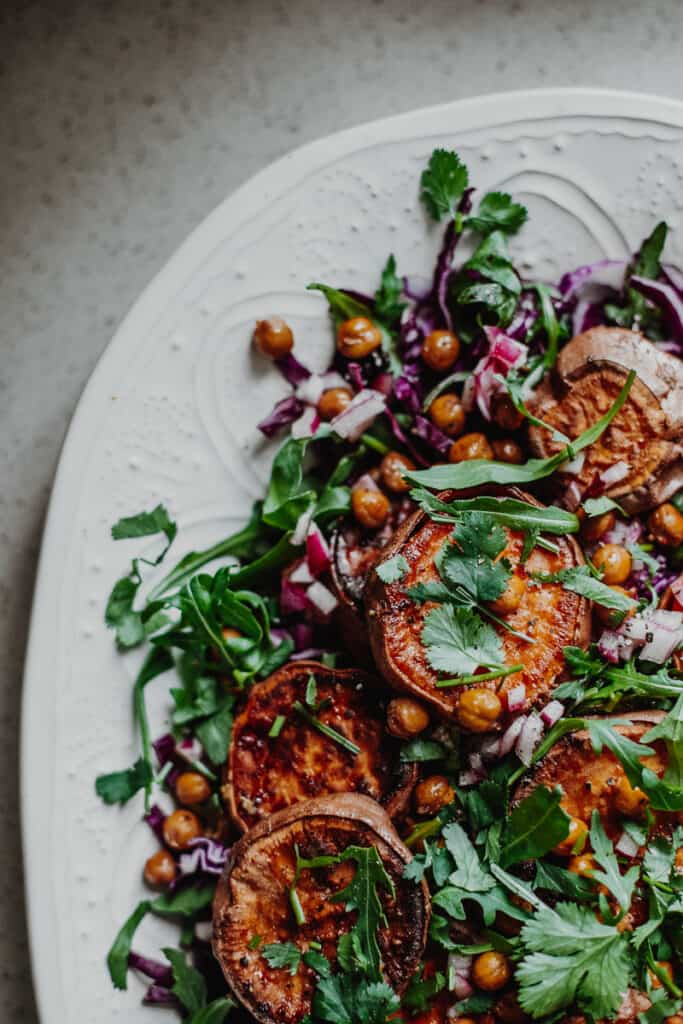 I'm gonna say it: This black rice & sweet potato salad is probably my favourite recipe to date. You all know I'm obsessed with sweet potatoes anyway but my GOSH, this is on another level. It's everything I love in a dish – sweet, crunchy, fresh, vibrant and just so gorgeous. It's fantastic on its own or works brilliantly as a side dish. You are going to love it.
Jump to Recipe
WHY SHOULD I COOK IT?
Caramelised rounds of golden sweet potato on a bed of peppery red cabbage and wild rocket, nutty black rice and crunchy chickpeas, sprinkled with fragrant fresh coriander and dressed with sweet macerated onions. It's the perfect balance of sweet, piquant, bold and delicate.
WHAT'S THE OCCASION?
An impressive lunch with friends, a light autumn supper eaten al fresco or a showstopping side dish for your family's Sunday lunch.
HOW LONG WILL IT TAKE ME?
From start to finish, roughly an hour and a quarter, however, the actual hands-on time is only about 15 minutes. If you are in a time crunch, each component can be made up to a day in advance and kept separately in the fridge until you are ready to serve.
IS IT DIFFICULT?
Although there are a few different components to this sweet potato salad, each one is super straight forward. If you use the sharpest knife you have, even the chopping should be a breeze! The hardest part is making it look pretty! For that, I would suggest using the largest platter you have and layering it up so you can see each individual element and colour. For difficulty, it's a 6/10.
WHY IS IT HEALTHY?
Every element of this sweet potato salad is bursting with an extensive selection of vitamins, minerals and antioxidants. Black rice, sometimes called forbidden rice, contains more than 4x the fibre of brown rice and is one of the richest food sources of the antioxidant anthocyanin. One serving also counts as 4 of your 5 a day. Madness!
WHAT EQUIPMENT DO I NEED?
A sharp knife and chopping board, a baking tray, two small bowl for mixing, a saucepan with a lid and if you would like to serve the salad as I have done, a large platter or plate.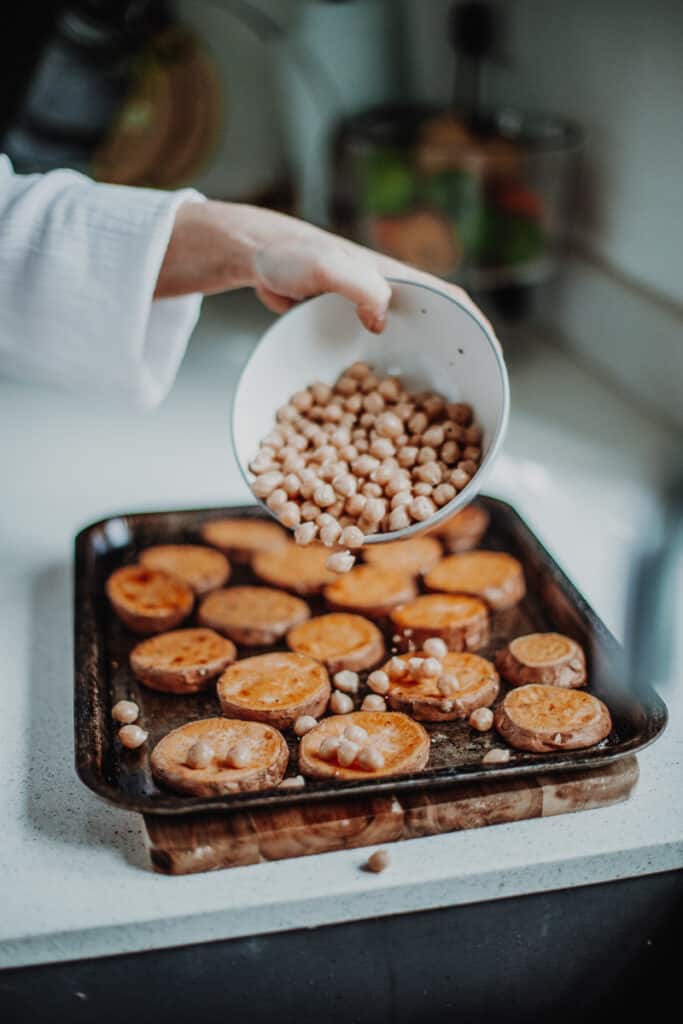 TIPS FOR THE BEST BLACK RICE & SWEET POTATO SALAD EVER:
It's all about the roasting. You want the sweet potato to roast until it is golden and beginning to caramelise, which gives it a gorgeously rich flavour. It's up to you whether or not you want to leave the skin on – I always do as it's less effort and I like the texture the it offers.
Slice slice, baby. To avoid the red cabbage overpowering the texture of this sweet potato salad, slice it as thinly as possible. A mandoline is perfect for this if you have one, or for something quicker, the slicing attachment on your food processor. However, a good ol' old fashioned knife (make sure it's sharp!) will do the job perfectly fine as well.
Give them time to relax… No, not your guests, I'm talking about the onions! The acid from both the apple cider and white wine vinegar in this dressing will start to relax, soften and cook the red onion to remove its sharp flavour and bring out its sweetness. Make sure it macerates for at least 15 minutes, but really, the longer the better.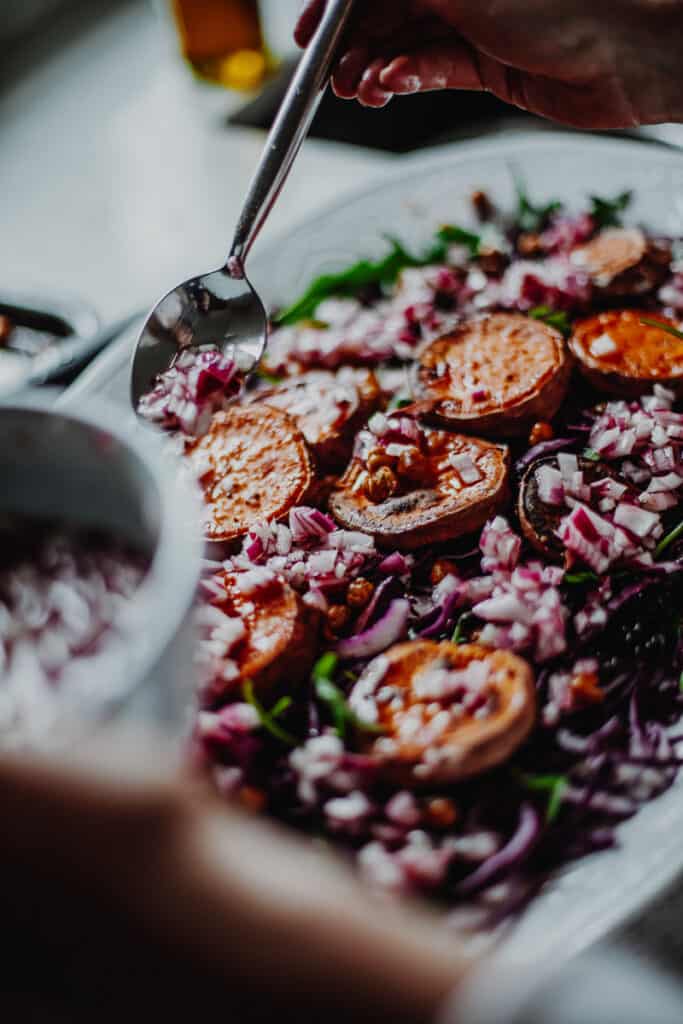 HOW ABOUT SOME VARIATIONS?
As always, I like to help you make these dishes your own and to use whatever you may have in the fridge. I love the combo of veggies used in this sweet potato salad but here are a few suggestions if you feel like mixing it up:
Sweet potatoes: Swap out the sweet potato for chunks of butternut squash or pumpkin.
Black rice: White, brown or wild rice, quinoa, couscous or lentils will all be delicious.
Red cabbage: Shredded white cabbage or Brussels sprouts would be lovely, or extra peppery salad leaves such as rocket, watercress or lambs lettuce.
Apple cider/white wine vinegar: I've found that the combinations and quantities of vinegar given within the recipe works best, however you could try another type of cider vinegar or red wine vinegar too. Not malt vinegar though – the flavour is far too strong.
Maple syrup: This dressing is also delicious with honey!
Extras: To pimp up this sweet potato salad even further, you can serve it with a side of crispy tofu, tempeh or if you are a meat-eater, some lovely organic roasted chicken.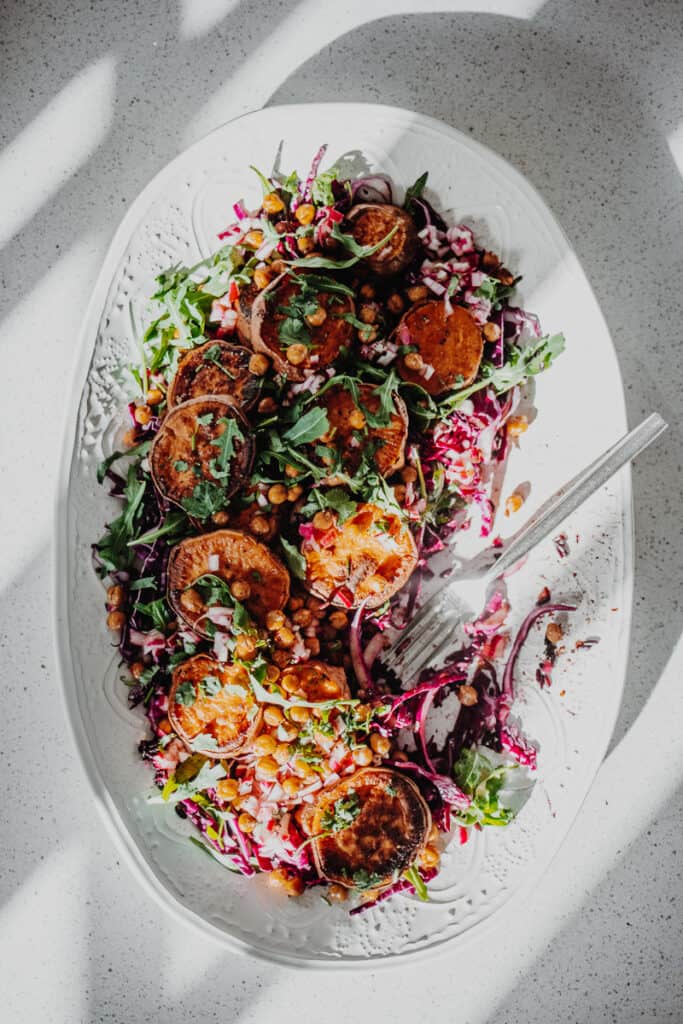 If you make this sweet potato salad please let me know! You can tag me in photos on IG @georgieeatsuk, use the #georgieeats or leave me a comment down below. If you want to check out my AMAZING photographer, you can do so here: @kirstyjaynerussell and here: kirstyjaynerussell.com. Keep smiling!
G x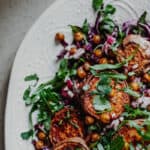 BLACK RICE & SWEET POTATO SALAD
Caramelised rounds of golden sweet potato on a bed of peppery red cabbage and wild rocket, nutty black rice and crunchy roasted chickpeas, sprinkled with fragrant fresh coriander and dressed with sweet macerated onions. Vegan & GF.
Total Time
1
hour
15
minutes
Ingredients
800

g

sweet potatoes

skins scrubbed

2

tbsp

extra virgin olive oil

175

g

black rice

1

400g can

chickpeas

drained & rinsed

1/2

a small red cabbage

very thinly sliced

15g

(1/2 bunch)

fresh coriander

roughly chopped

30

g

wild rocket

sea salt & freshly ground black pepper
FOR THE DRESSING
2

red onions

very finely diced

8

tbsp

white wine vinegar

6

tbsp

apple cider vinegar

6

tbsp

maple syrup
Instructions
Preheat the oven to 200°c fan assisted/220°c/425°f.

Cut each sweet potato into rounds 1-1.5cm thick and arrange them on a baking tray. Drizzle with half of the olive oil, then season generously with salt and pepper. Roast for 30 minutes.

Meanwhile, place the black rice, 500ml of water and a generous pinch of salt into a saucepan. Bring the pan to a boil, then cover it with a lid and turn the heat down to a simmer. Let it bubble gently for 40-50 minutes, or until the rice is tender and there is no water left in the bottom of the pan.

Mix the chickpeas with the remaining olive oil and a pinch of salt and pepper in a bowl. Sprinkle the chickpeas over the top of the sweet potato, then return everything to the oven for a further 25-30 minutes, or until the sweet potatoes are soft and the chickpeas are crispy.

To make the dressing, combine the diced onion, both kinds of vinegar, maple syrup and a large pinch of salt and pepper in a small bowl. Set aside until serving.

To serve, spoon the rice over the bottom of a large platter, or between plates. Spread the red cabbage, rocket, sweet potato, chickpeas and fresh coriander over top, then drizzle with half of the dressing, keeping the rest for the table.
Recipe Notes
Any leftover components can be refrigerated separately in airtight containers for up to 4 days and are delicious hot or cold.
For variations and tips on this recipe, see within the post.