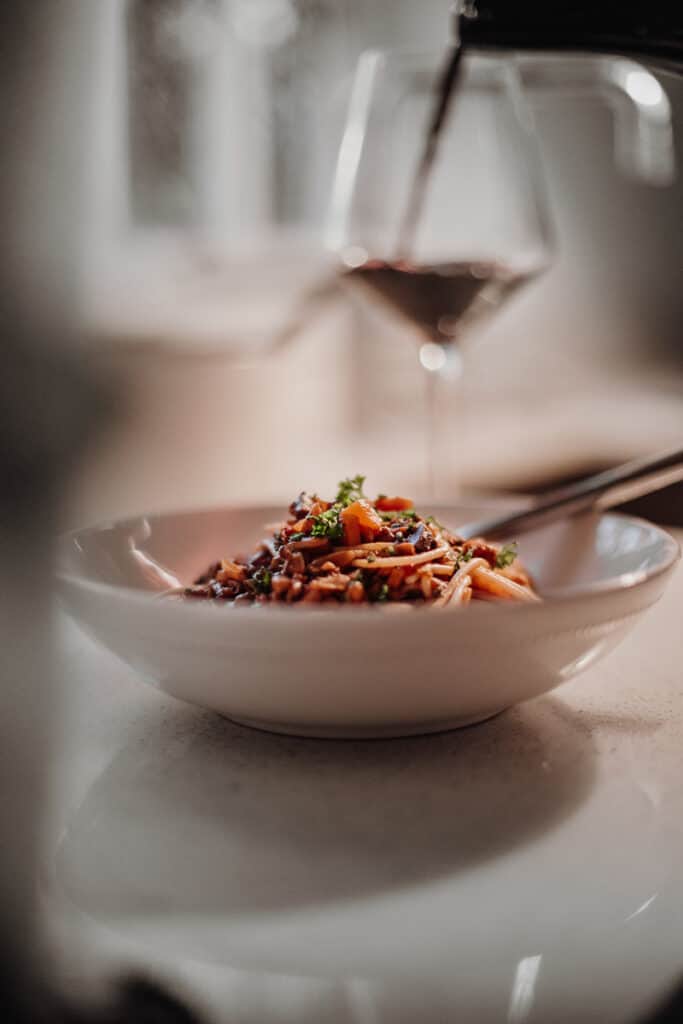 As boring as you may think this is, spaghetti bolognese is probably my most favourite dinner. I've never once met anyone who didn't like it – it's the ultimate comfort food crowd pleaser. My best ever lentil bolognese is a new, fresh take on the classic. It's full of nourishing ingredients and will please anyone you may feed it too. Honestly, I just can't get enough.
Jump to Recipe
WHY SHOULD I COOK IT?
A rich and hearty bolognese sauce, deep with umami flavour and bursting with tender lentils, fragrant herbs and loads of veggies. It's a one-pot wonder that won't break the bank, yet feels rather luxurious when served with a glass of red.
WHAT'S THE OCCASION?
Prep this on the weekend for a quick, comforting weeknight supper, feed a crowd with no-fuss or keep a batch in the freezer for those end of week 'empty fridge' situations. It's ideal for feeding plant-based eaters, but satisfying enough that the carnivores will love it too!
HOW LONG WILL IT TAKE ME?
15 minutes to prep and about an hour and 10 minutes to cook. The actual hands-on time is around 25 minutes, with the occasional stir here or there whilst the pot is bubbling away.
IS IT DIFFICULT?
Not at all! Depending on your knife skills, you may find chopping the veg into small equal pieces a little laborious, but that's by far the hardest bit. My lentil bolognese is also made all in one pot, which means the washing up is easy too. For difficulty, it's a 5/10.
WHY IS IT HEALTHY?
Lentils are fantastic! Part of the legume family, they are high in fibre, a brilliant source of plant-based protein, count towards your 5-a-day and are far more affordable than meat or meat alternatives. I have done a few calculations and one serving of this lentil bolognese with whole-wheat pasta has over double the dietary fibre of the traditional recipe. Now how about that!!
WHAT EQUIPMENT DO I NEED?
If you have one, a cast iron pot is ideal for this lentil bolognese, if not a lidded saucepan will do absolutely fine. You will also need a knife, a chopping board and something to stir all the goodness together.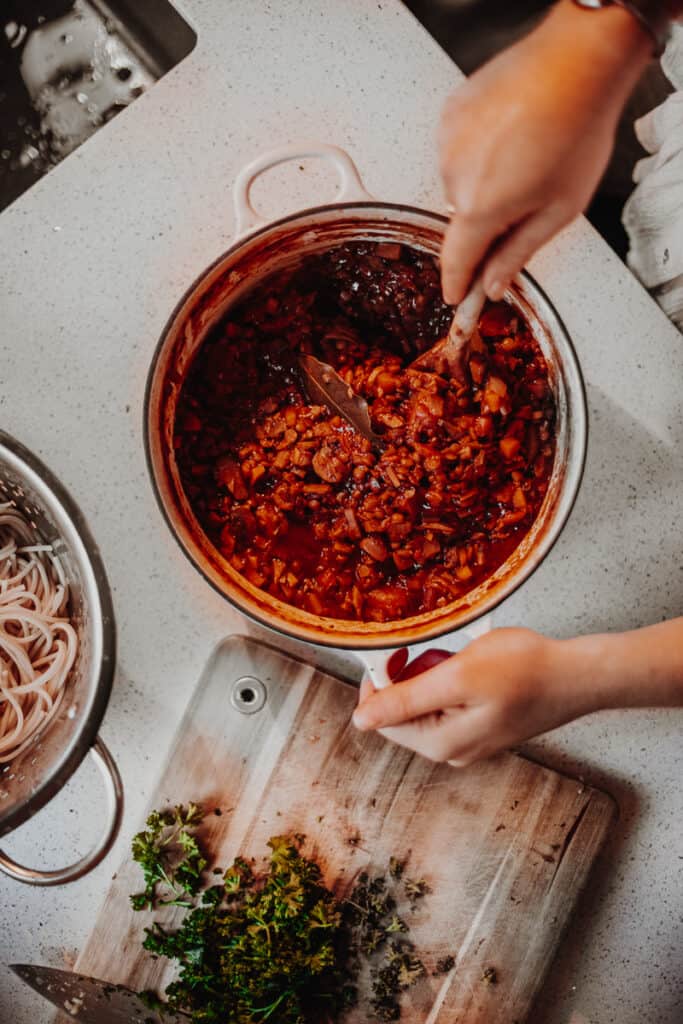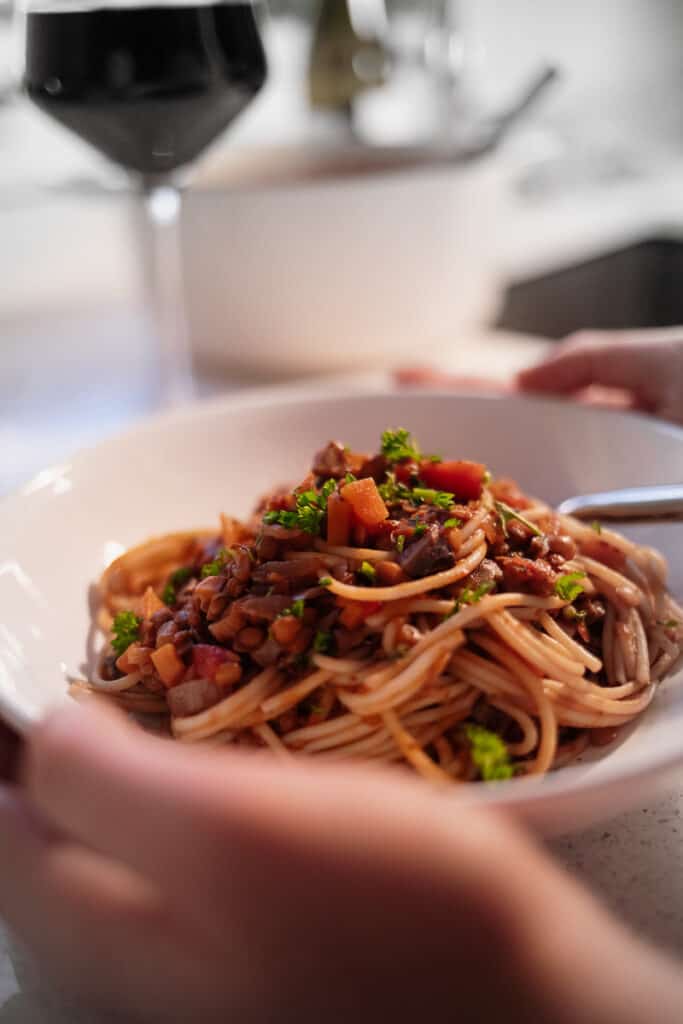 TIPS FOR THE BEST LENTIL BOLOGNESE EVER
Sweat, sweat, sweat. Don't rush the sweating of the onion, carrot and mushrooms. Fry them until they are soft to the bite before adding in the rest of the ingredients. Otherwise, you may end up with crunchy bits of veg in your final lentil bolognese and no one wants that.
Season properly! Fat = flavour, so in meat-free dishes seasoning is key! Season lightly as you go and then a little harder to finish. I always use Maldon sea salt, not the finer table salt, so keep that in mind when you see me measuring in tsp.
Don't skip the aromats! You may find there are a few ingredients in this lentil bolognese that you aren't used to seeing in the traditional recipe – namely miso paste, balsamic vinegar and soy sauce. They have all been strategically placed to give the rich, deep umami flavour that you may find lacking from some meat-free dishes. Personally, I think red-wine is indispensable in the flavour of a bolognese, but if you would like, it can always be substituted with more vegetable stock.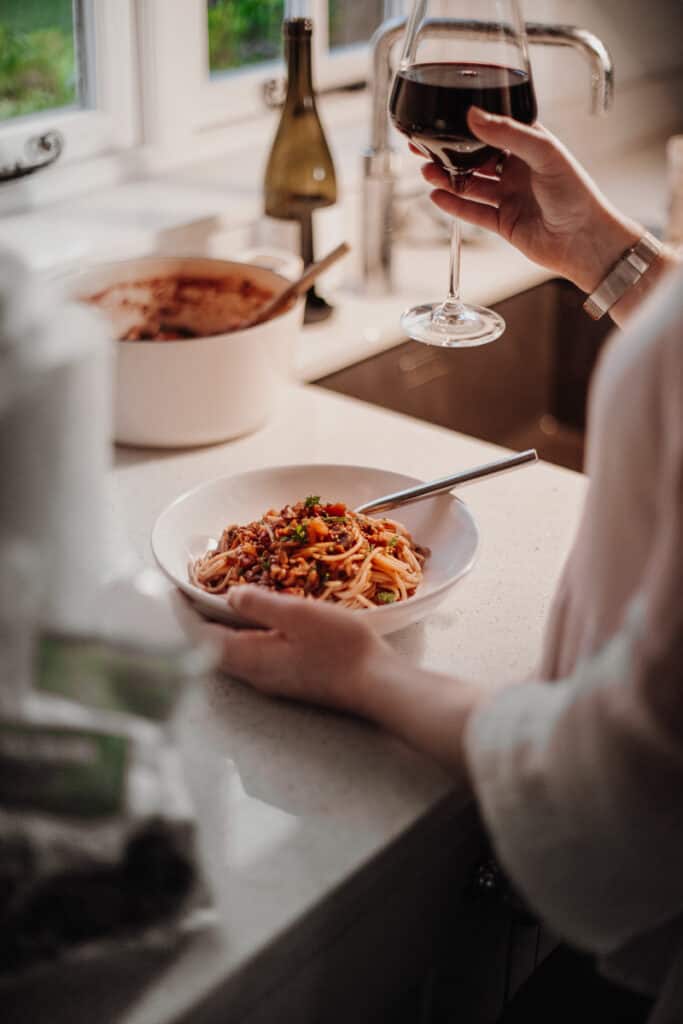 I know you will love this lentil bolognese. I suppose I am a tiny bit bias, but it really is the best ever. It's a dish that I have, and will, make time and time again. Whether you are a vegan, or just taking part in #meatfreemonday, it's a fab one to try out.
If you make this please let me know! You can tag me in photos on IG @georgieeatsuk, use the #georgieeats or leave me a comment down below. If you want to check out my AMAZING photographer, you can do so here: @kirstyjaynerussell and here: kirstyjaynerussell.com. Keep smiling!
G x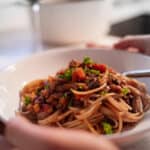 BEST EVER LENTIL BOLOGNESE
A rich and hearty bolognese bursting with tender lentils, plenty of veg and deep umami flavour. This one-pot, nourishing recipe is brilliant for batch-cooking and is loved by vegans and meat-eaters alike! Vegan & GF.
Cook Time
1
hour
10
minutes
Total Time
1
hour
25
minutes
Ingredients
2

tbsp

extra virgin olive oil

1

large onion

finely diced

1

carrot

peeled & finely diced

250

g

mushrooms

finely diced

3

clove

garlic

minced

1 400

g can

chopped tomatoes

2

tbsp

tomato puree

550

ml

vegetable stock

150

ml

red wine

or more vegetable stock

2

tbsp

soy sauce/tamari

2

tbsp

balsamic vinegar

1

tbsp

miso paste

100

g

dried puy lentils

2

bay leaves

2

tsp

dried oregano

1

tsp

dried thyme

sea salt & freshly ground black pepper
TO SERVE
your favourite spaghetti or pasta

fresh parsley

roughly chopped
Instructions
Heat a large cast iron pot or saucepan over a medium heat and add the oil. One hot, add the diced onion, carrot, mushrooms and a pinch of salt and fry, stirring occasionally, for 7-10 minutes or until soft and translucent.

Add the garlic into the pan and fry for a further minute or so before stirring in the chopped tomatoes, tomato puree, vegetable stock, red wine, soy sauce/tamari, balsamic vinegar and miso paste. Stir well and bring to a gentle simmer.

Next, add the lentils, bay leaves and herbs into the pan. Season generously with salt and pepper, then bring the pan to the boil. Reduce the heat to low and cover with a lid to simmer gently for 40 minutes.

Remove the lid from the pan and continue to simmer the bolognese for a further 15-20 minutes, or until it has reduced and is thick and glossy. Taste and adjust the seasoning. Serve ladled over spaghetti or pasta and sprinkled with fresh parsley.
Recipe Notes
This veggie chilli will keep for up to 4 days in the fridge, or for 3 months in the freezer. Defrost it slowly in the fridge, then reheat until piping hot.
Puy lentils are also known as French lentils. They are not the same as green lentils. You can easily find them at all good supermarkets or online. 
Gluten-free: Make sure your soy sauce is certified gluten-free or use tamari instead.