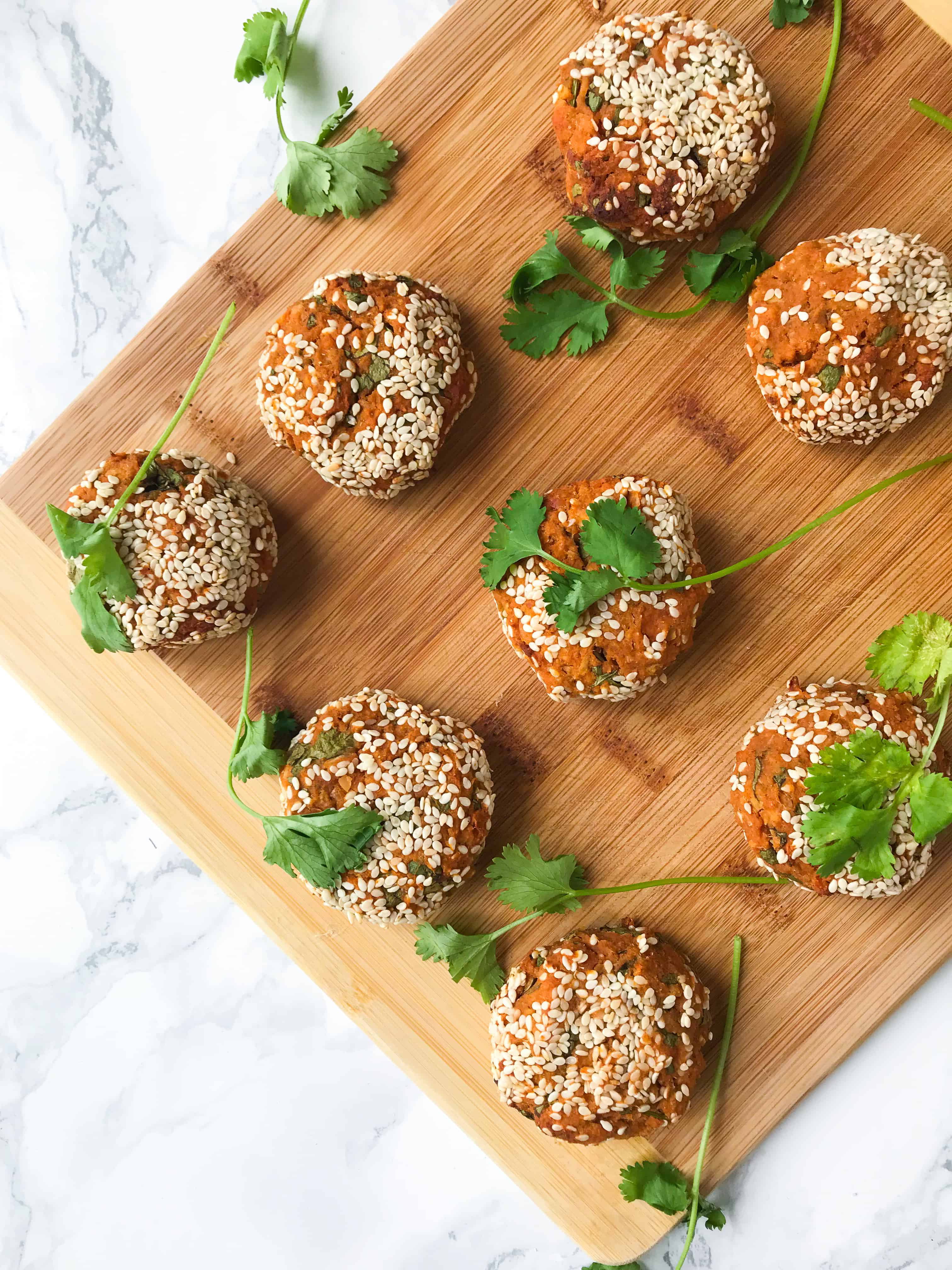 If you are a fan of Middle Eastern food like me, then you will LOVE these sweet potato falafel. They are absolutely delicious, nutritious, super versatile and can make any meal more satisfying and exciting!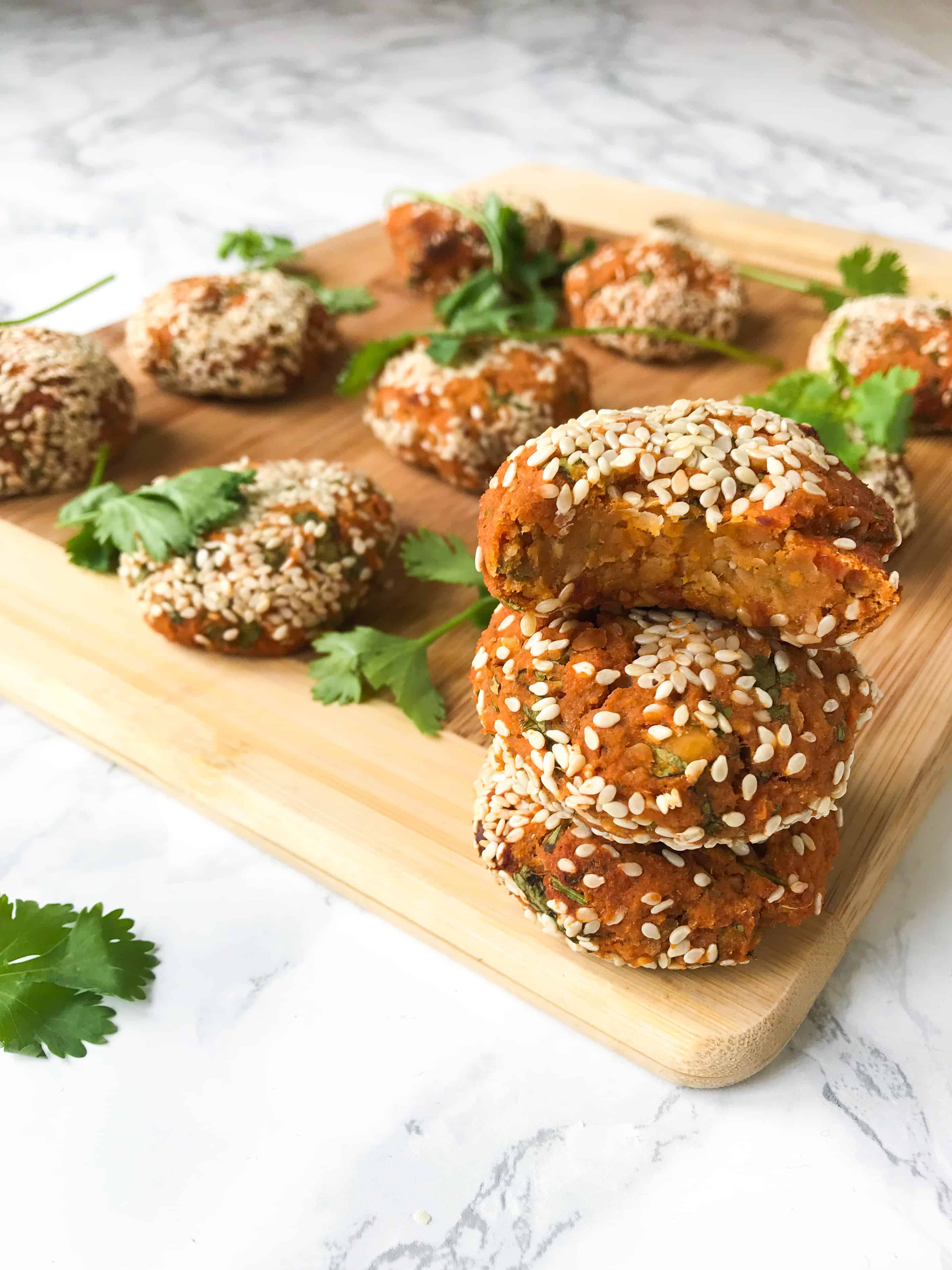 Shop brought falafel just do not cut it for me i'm afraid – I always find that they are dry, tasteless and more often than not the ingredient list is as long as my arm! So, I prefer make my own, which you may think sounds like a bit of a faff, but I promise you it really isn't! This recipe is actually super easy, relatively mess free and SO worth trying. One bite of these sweet potato falafel, and suddenly any thing else will seem inadequate.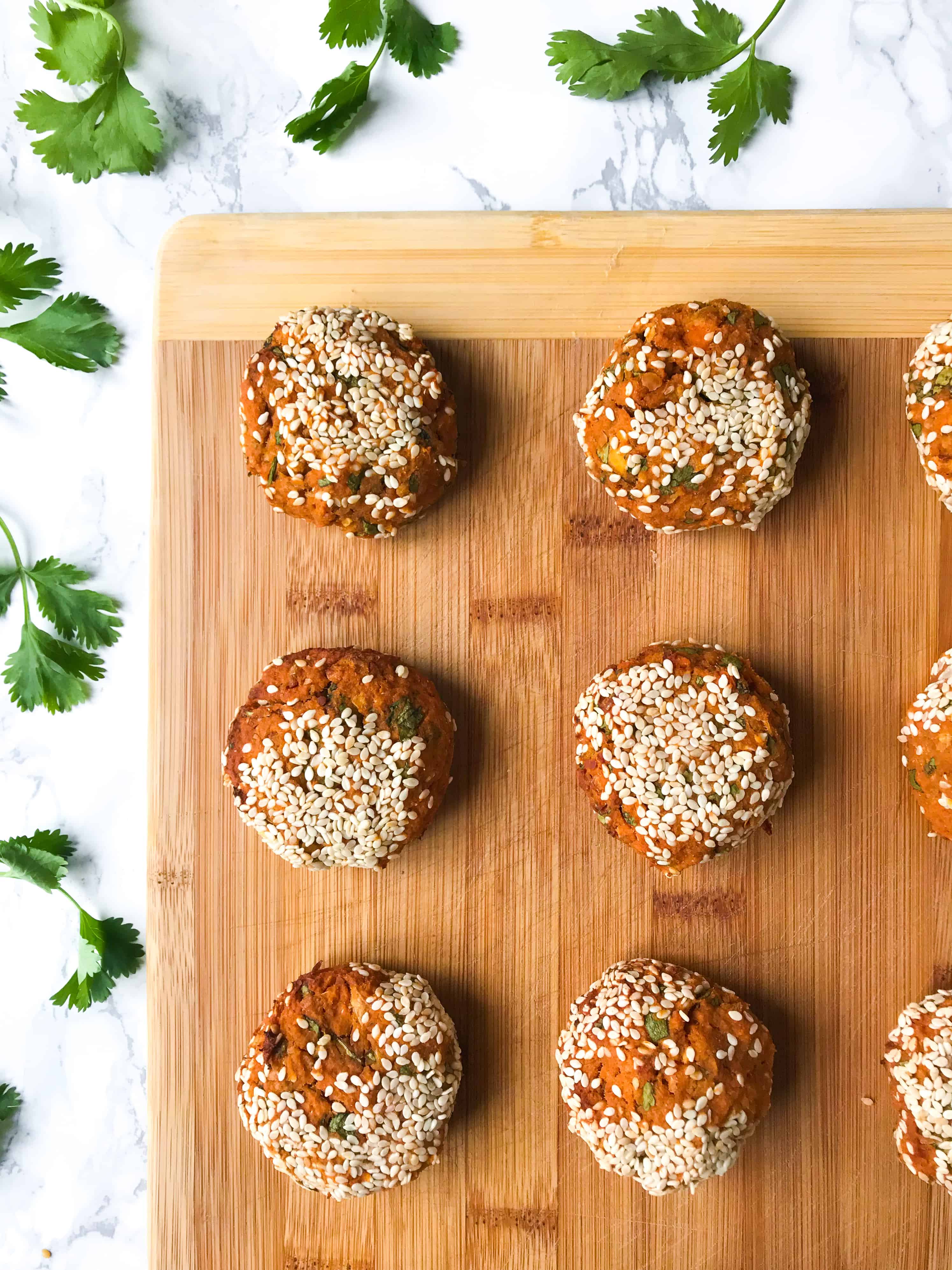 You know here on Georgie Eats I like to keep it healthy, so these sweet potato falafel are baked and not fried. But do no not worry! They are just crispy on the outside and just as deliciously squidgy on the inside as traditional falafels, but a WHOLE lot better for you. I love coating the outside of these with sesame seeds for extra crunch and texture, but also because it just makes them look so pretty!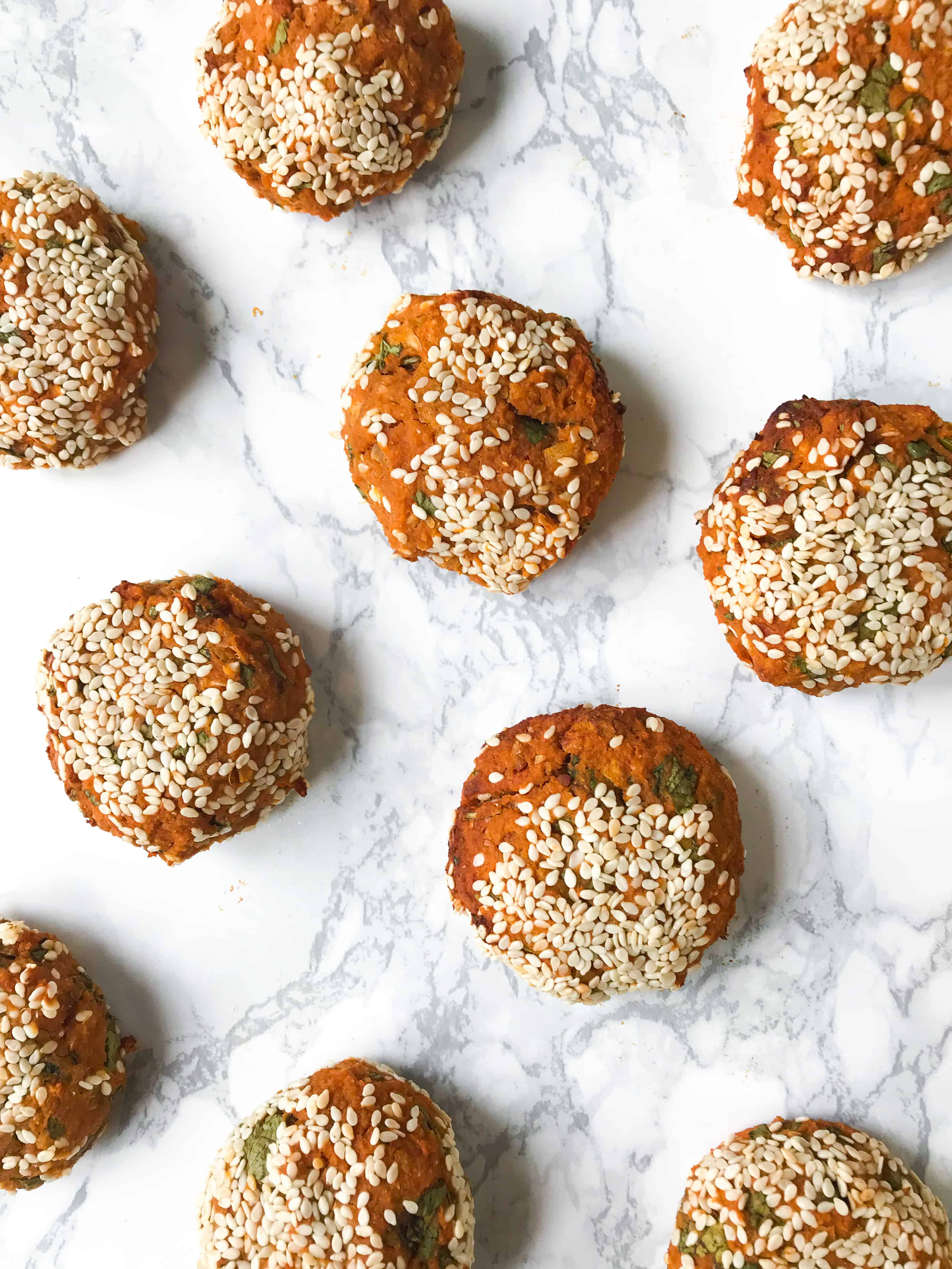 My sweet potato falafel are so beautifully spiced I would happily just eat them all on their own. Although, I have to say that they are EVEN better when dipped into hummus, thrown into wraps or used to top salads. These beauties even got approval from my harshest critic (my boyfriend), so they must be good…
If you make these, be sure to send me a picture on IG @georgieeatsuk, use the #georgieeats, or leave me a comment down below. I hope you all have a fabulous week, here is the recipe:
G x
BAKED SPICED SWEET POTATO FALAFEL WITH SESAME SEEDS
Perfectly spiced and absolutely delicious! These falafels are baked and not fried making them much healthier but just as crispy and tasty and as traditional recipes. Vegan, Gluten Free & Paleo.
Ingredients
600

g (about 2 medium)

sweet potatoes

400

g (1 can)

chickpeas

drained and rinsed

3

cloves

garlic

finely chopped

1

tsp

sea salt

1

tsp

cumin

1

tsp

ground corriander

1

tsp

paprika

1/2

tsp

ground cinnamon

20

g (small handful)

fresh corriander

roughly chopped

40

g (1/3 cup)

sesame seeds

1

tbsp

extra virgin olive oil
Instructions
Preheat the oven to 180°c fan/200°c/390°f.

Place the whole sweet potatoes onto a baking tray and bake in the oven for 1 hour until very soft.

While the sweet potatoes are baking, add the chickpeas and garlic into a food processor and pulse until the chickpeas are broken up and starting to resemble mash (You can use a fork to mash the chickpeas here, it will just take a little longer). Empty the mixture into a large bowl.

Once the sweet potatoes are soft allow them to cool for 15 minutes before using your hands to peel away the skin (this should be very easy if the potatoes have cooked for long enough). Add them into the bowl with the chickpea mixture along with the salt and all the herbs and spices. Use a fork to throughly mash and combine everything together.

Empty the sesame seeds onto a plate and line and lightly oil a baking tray.

Using your hands, make small golf ball sized patties of the sweet potato falafel mixture before rolling in the sesame seeds and placing on the baking tray (If you would like extra crispy falafels, you can brush the tops with a little extra oil). Bake in the preheated oven for 40-45 minutes until golden brown and crispy.
Recipe Notes
I think that these sweet potato falafel are best served straight out of the oven but any leftovers can be stored in an airtight container in the fridge for up to 3 days (I would recommend reheating the leftovers in the oven for 15 to crisp them up again, as they can tend to go a little soggy after a few days).
I use olive oil to brush the falafels in this recipe as I like the flavour it brings, but feel free to use any oil you prefer.