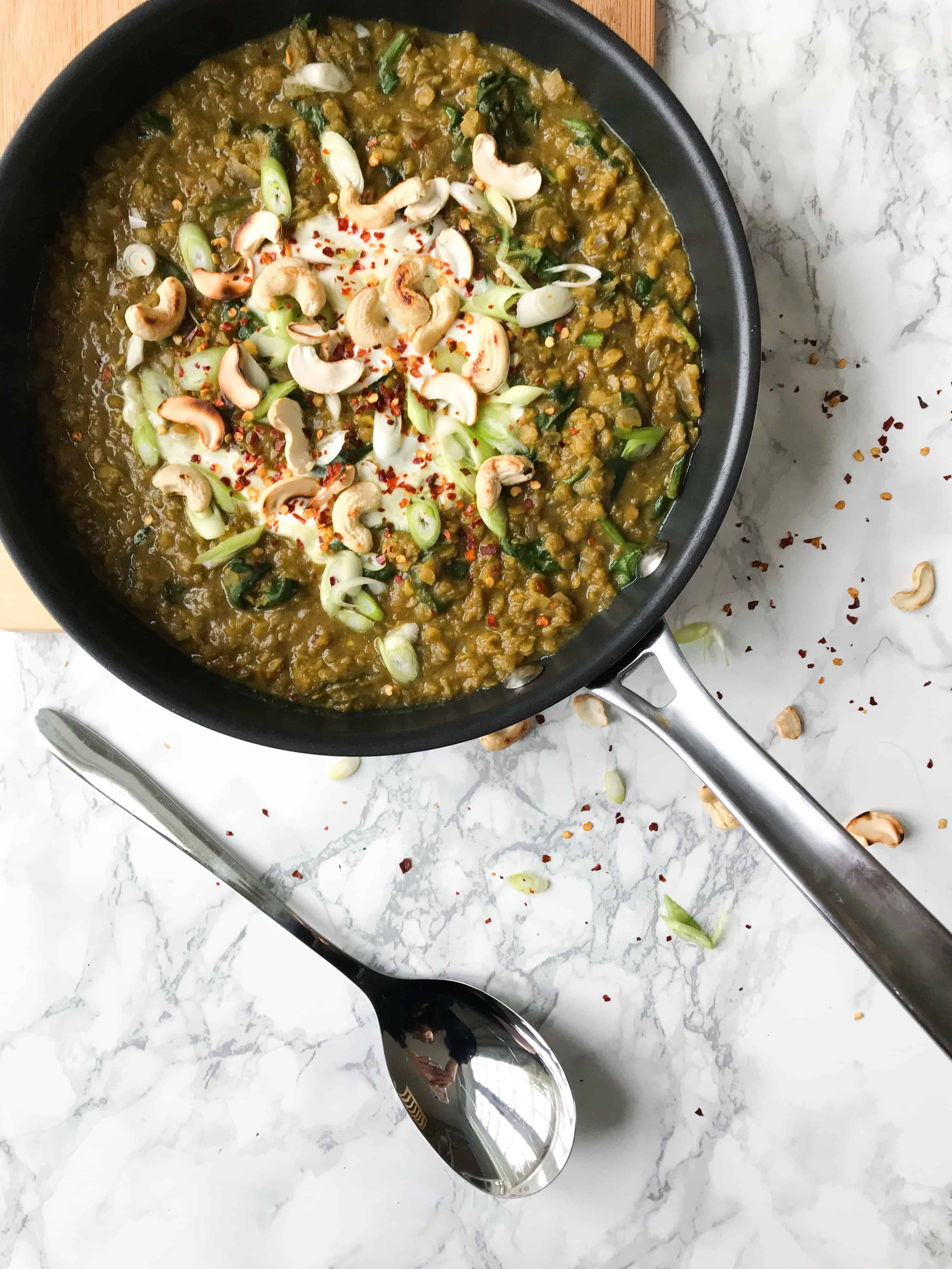 Picking a favourite recipe I have created I guess is like picking a favourite child – they are my babies, how could I possibly choose?!!! But, if I had too… It would be this creamy spinach and coconut lentil curry (please don't tell the others!!). This is AMAZING. Like Uh-MAZING. Vegan, gluten free, paleo, healthy and super nutritious this lentil curry is better, quicker and way cheaper than any Indian takeaway.
Many of my newest recipes seem to unintentionally include lentils. I haven't planned it, I think I am just going though a stage…. Lentils are virtually fat free, an excellent source of fibre, high in protein, dense in B vitamins and a source of iron – I mean what more can you want from a food!? Whether you are a vegetarian / vegan or you just want to cut down on your meat consumption, lentils are the perfect substitute and in my opinion, something everyone should eat more of.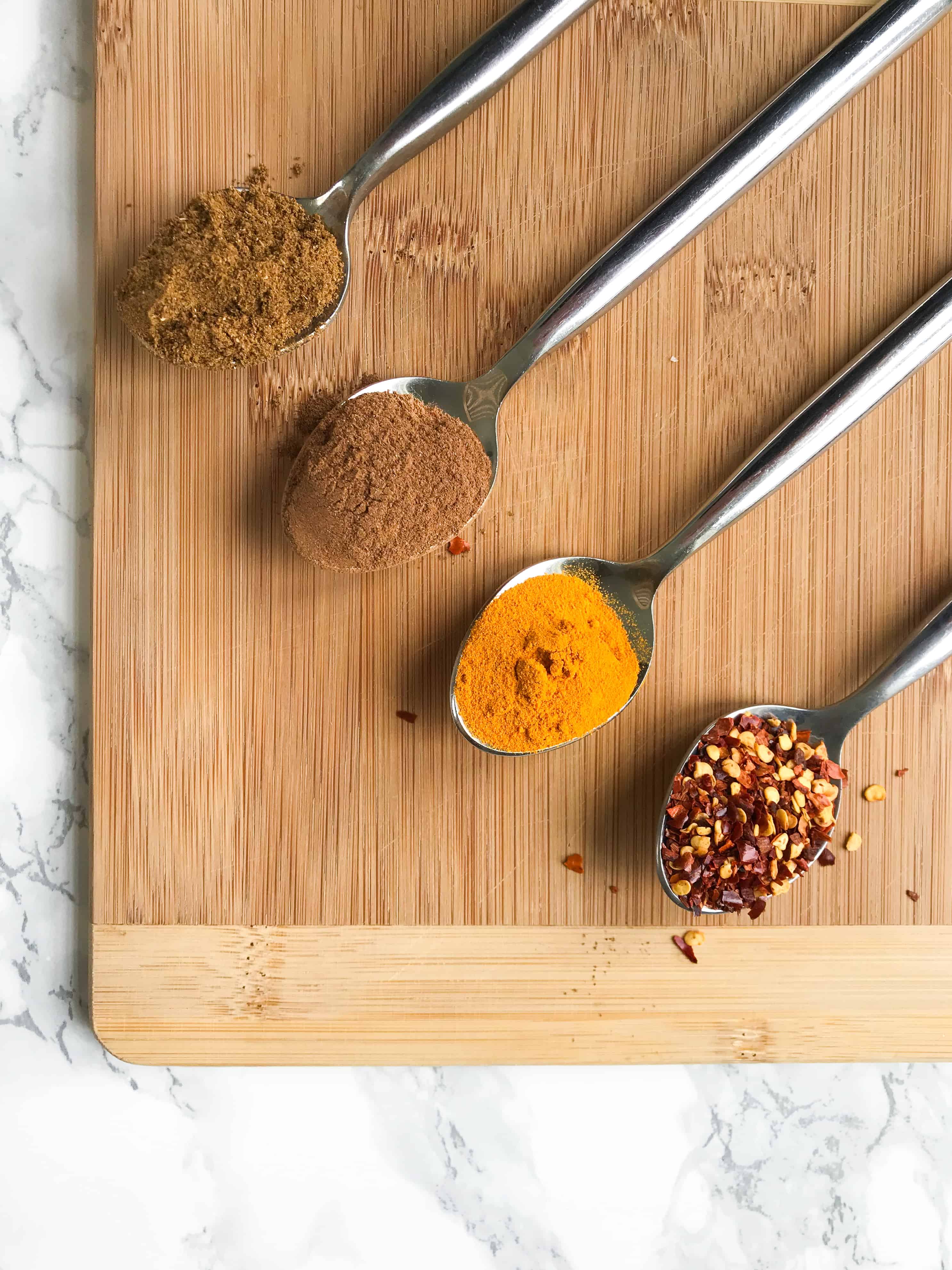 I think it is just a universal thing that everyone likes curry, am I right? I honestly think I could eat some sort of curry everyday without ever getting bored because it is just SO versatile. There are thousands of different spice mixes and combinations out there – but I think the one I have used in this coconut lentil curry is perfect. The spice blend is also quite customisable, so if you don't have one of the spices I have used here just have a play around and use something else or add more of one of the other spices. You can't go too wrong (don't hold me to that…).
I loveeee spice, but I know that many people do not. So, I have created this coconut lentil curry recipe with just a tiny weeny kick that can be enjoyed by all! If you are a spicy food lover like me, just add an extra 1/2 – 1 teaspoon of chilli flakes into the spice mix and Bob's your uncle. Or, if you are feeling fancy, you could even add a finely chopped fresh chilli into the pan for extra layer of depth and heat.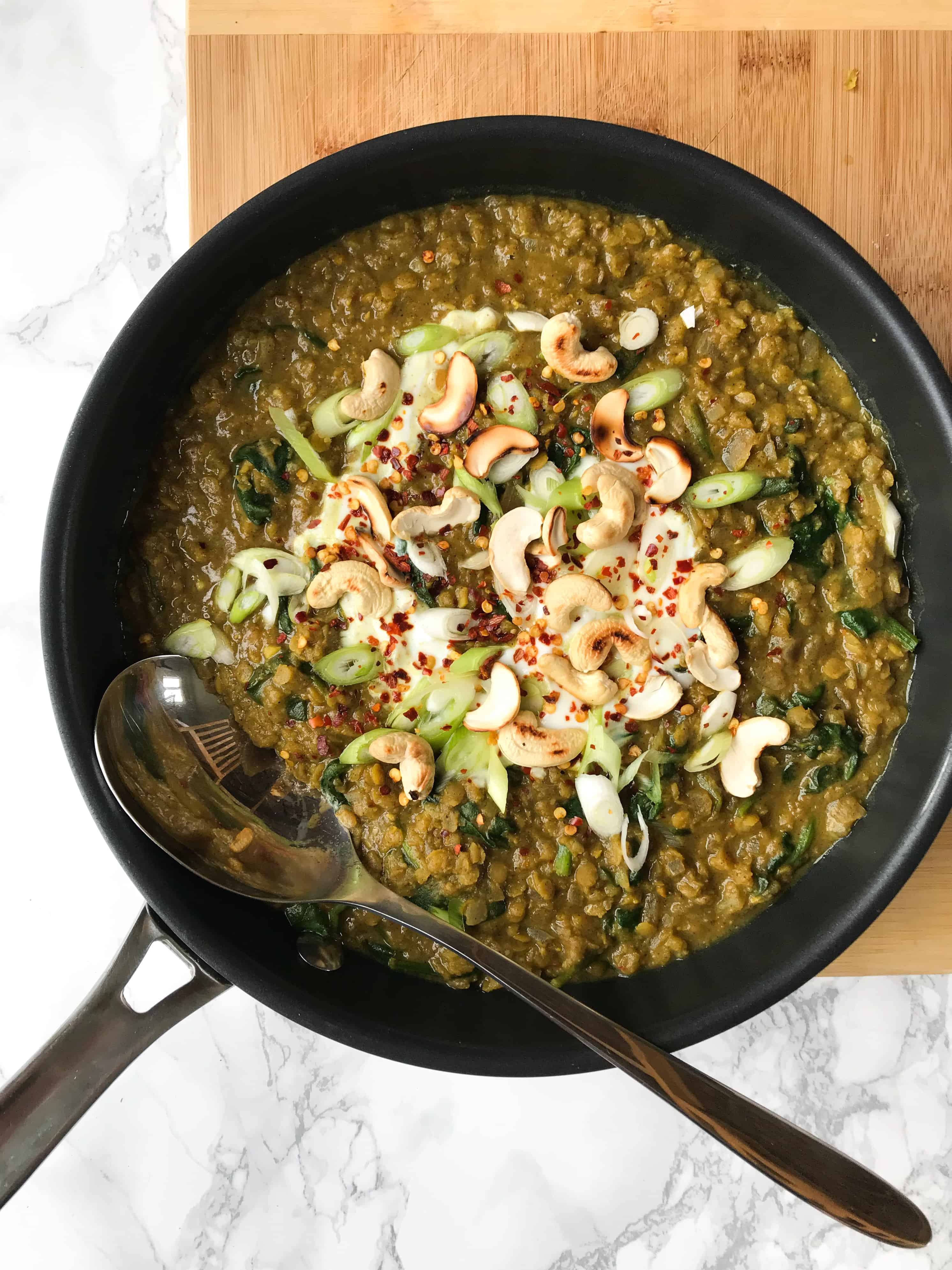 Now, this recipe may look like a lot of ingredients but most of them are spices and actually you may be able to find pretty much everything you need to make it in your cupboards already waiting for you. This is the perfect recipe for students as it is super affordable, easy, and only uses one pan! I like to make a double batch of this coconut lentil curry and freeze half for when I want a uber quick dinner, or for when I am craving curry (you know the days) without the grease or the guilt.
If you are wondering what creamed coconut is, it's basically just a solid block of coconut cream. I much prefer using creamed coconut in recipes rather than coconut milk as it is less processed. If you look at the ingredients of a tin of coconut milk more often than not you will find some sort of stabiliser (or worse), whereas creamed coconut has only the one ingredient! Creamed coconut is just as readily available as coconut milk, but if you can't find it you can alter the recipe by using a 400ml tin of coconut milk and only 200ml of vegetable stock. Easy!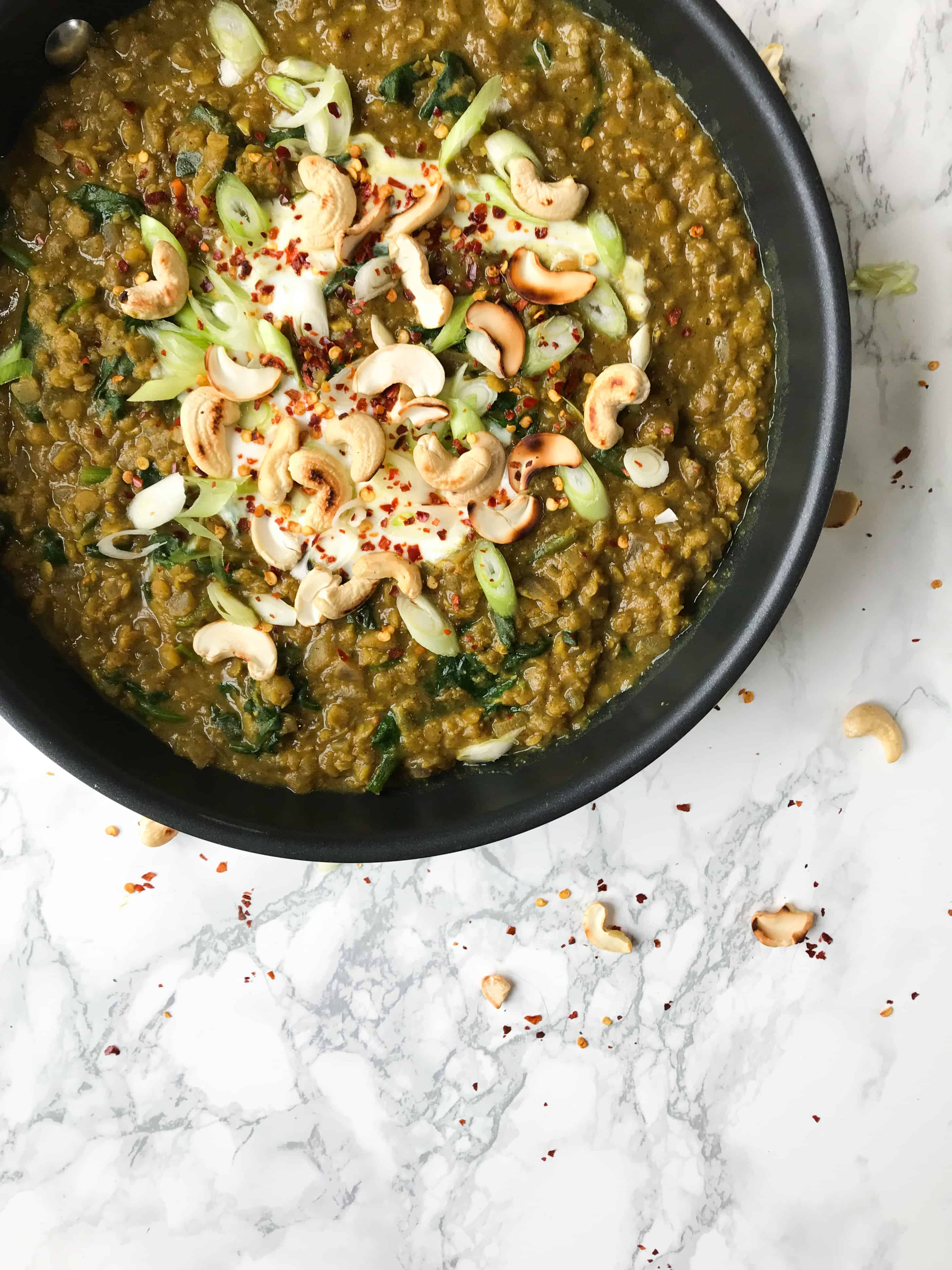 I probably am posting this recipe at the worst time possible, as suddenly in the UK it feels like summer! The sun is out and curry is probably the last thing you want to eat, but hey-ho you can save this for a rainy day (quite literally), that I'm sure we will be graced with soon.
Ok, that is quite enough rambling for one day. Please try this!!! If you only ever try one of my recipes, let it be this creamy coconut lentil curry. IT IS TO DIE FOR.
You can tag me in any pictures on IG @georgieeatsblog or leave me a comment down below. If you have any recipe requests please let me know – I would love to create them for you all. Have a fabulous time in the sun! Now, here is the recipe:
G x
SPINACH, RED LENTIL AND COCONUT CURRY (VEGAN)
SO yummy and SO easy, this super affordable weeknight meal can be made in under 35 minutes.
Ingredients
1

small

red onion

finely diced

1

clove

garlic

finely diced

100

ml

water

125

g (1/2 cup)

dried red lentils

rinsed

100

g (1/2 block)

creamed coconut

600

ml

vegetable stock

1

tsp

raw honey / maple syrup

2

tsp

white wine vinegar

100

g (1 small pack)

spinach

washed

salt and pepper

to taste
Spice Mix
2

tsp

garam masala

1/2

tsp

chilli flakes

1/2

tsp

ground corriander

1/2

tsp

cumin

1

tsp

ground cinnamon

1

tsp

turmeric
To Garnish (optional)
4

spring onions

sliced

1

tbsp

natural coconut yogurt

25

g (1/4 cup)

cashew nuts

lightly toasted

1/2

tsp

chilli flakes
Instructions
Into a high-sided pan over a medium heat add the diced onion and garlic, water and spice mix. Cook for approximately 5 minutes, stirring constantly, until the onion has softened and the spice mix has turned into a paste.

Add the lentils, creamed coconut, vegetable stock and honey / maple syrup into the pan and bring to a boil. Stir to dissolve the creamed coconut before lowering the heat and simmering for 20-25 minutes stirring occasionally until the lentils are soft.

Once soft, stir in the white wine vinegar, spinach and salt and pepper to taste. Simmer for 2 more minutes to allow the spinach to wilt.

Serve immediately whilst still piping hot, garnished with spring onion, coconut yogurt, toasted cashew nuts and chilli flakes (if you can handle the extra heat!).
Recipe Notes
For the traditional 'curry experience' serve with brown rice and flat breads.
Allow any left overs to cool completely before storing in an air tight container in the fridge for up to 3 days. 
If you would prefer to use coconut milk instead of creamed coconut, you can do this by substituting the creamed coconut with a 400ml tin of coconut milk and use only 200ml of vegetable stock.