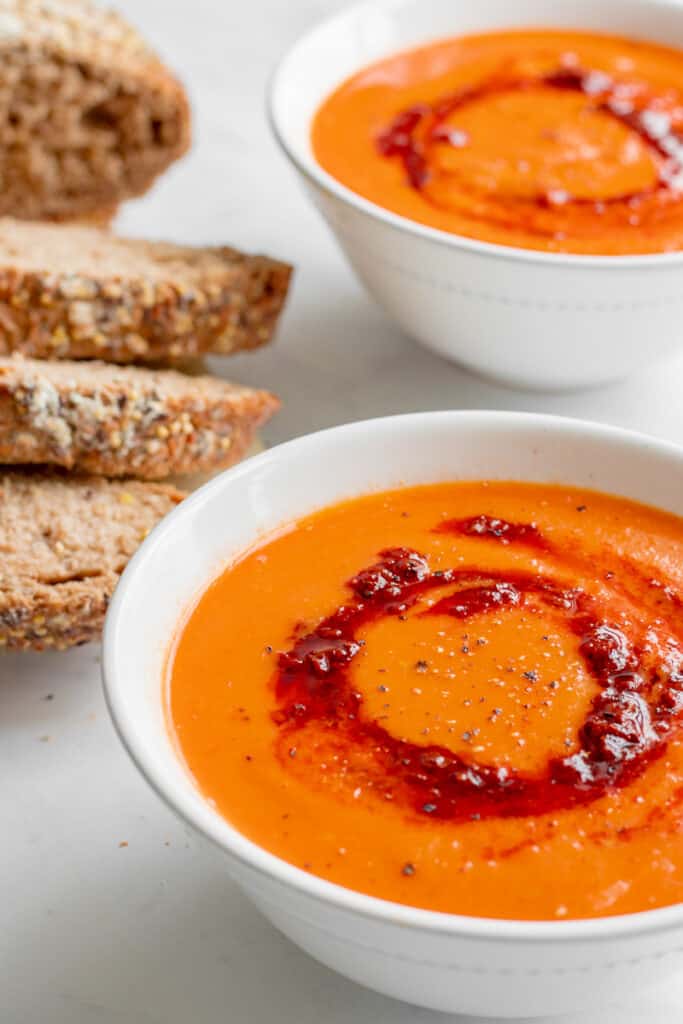 Tomato soup will be eternally comforting to me. Buttery white bread dunked into a steaming hot bowl of Heinz was a childhood favourite supper and one I hold close to my heart. This spicy roasted tomato & harissa soup is a homage to those days. It's the classic soup, but better, fresher and far more exciting.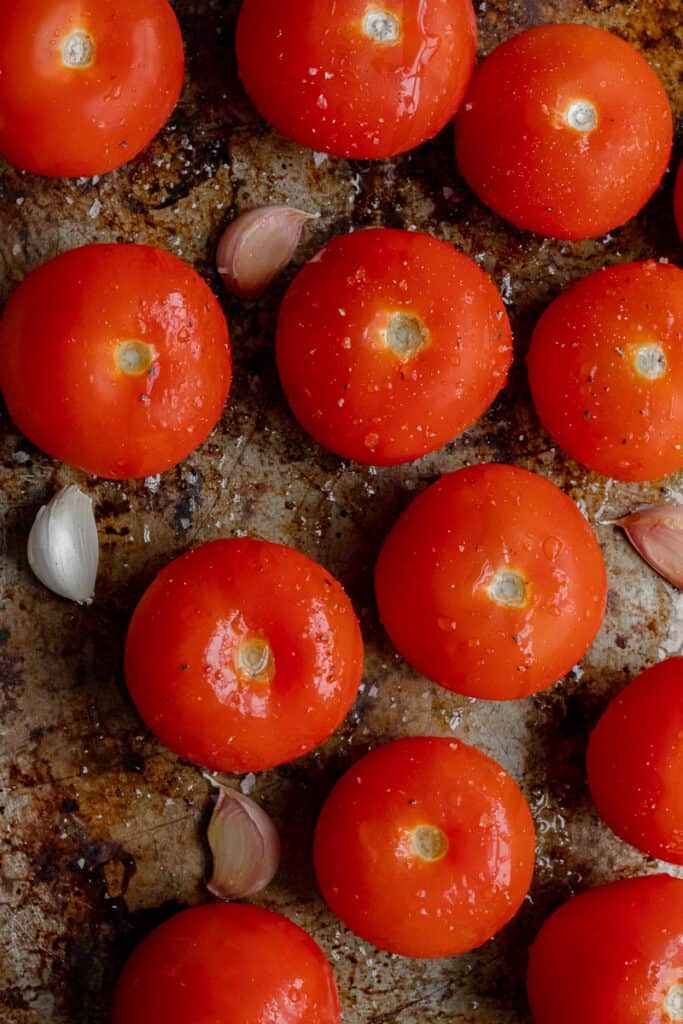 HOW DO I MAKE ROASTED TOMATO & HARISSA SOUP?
This soup recipe is so easy even my dad could make it…
It's ready in just five simple steps:
STEP 1: Roast the tomatoes & garlic. This brings out the tomatoes natural sweetness whilst mellowing the pungent flavour of garlic. DAMN does it make a difference. You can use whichever variety of tomatoes you have on hand for this soup, but if using ones smaller than in the pictures, reduce the roasting time slightly.
STEP 2: Fry the onion. You don't need to thinly dice the onion for this – roughly sliced is fine. It will all be blended anyway! Fry it until super soft and golden for added caramelised flavour.
STEP 3: Add the other ingredients and simmer. Keep in mind that harissa paste is rather spicy. If you are aren't the most keen on spice, you may find that 1 heaped tbsp is just a little too hot. Start with adding half the amount – you can always adjust it at the end.
STEP 4: Blend, blend, blend. Transfer the full contents of the pan into a blender and whizz until completely smooth. Top tip: If you don't have a very powerful blender or are using a stick blender, it may be worth removing the skins from the roasted tomatoes. This will help to keep the soup silky smooth.
STEP 5: Season & serve. Be generous with your sea salt and black pepper – it makes all the difference! If you want it spicier, now is the time to add a little more harissa. Generously ladle the soup into bowls and serve with lots of crusty bread for a meal made in comfort food heaven.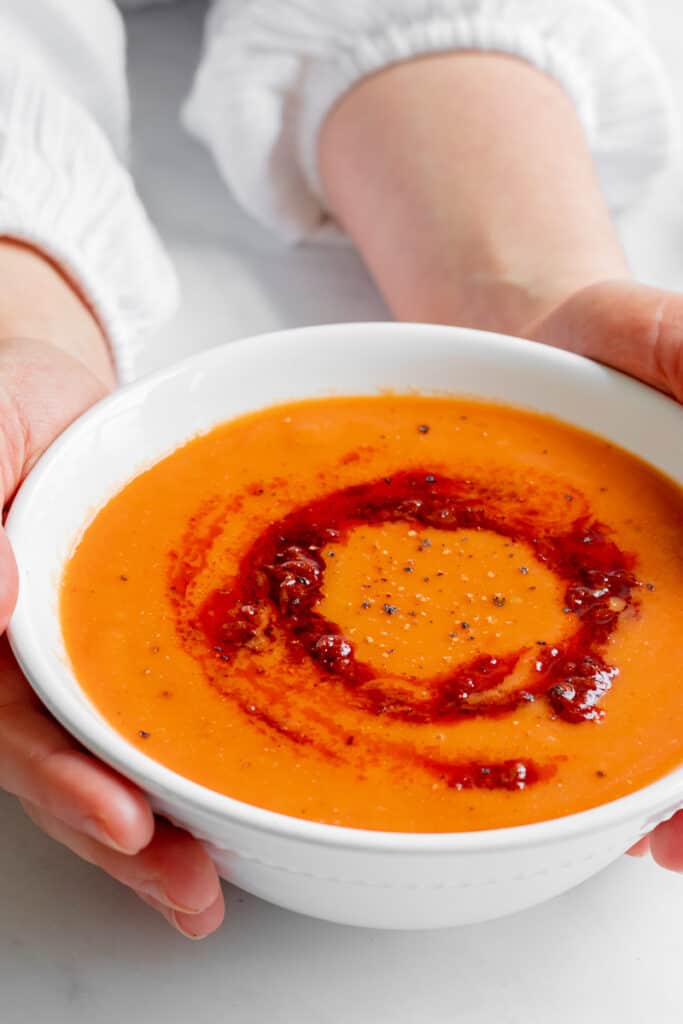 WHAT IS HARISSA?
Harissa paste is one of my kitchen staples. I use it regularly to marinate meats and tofu, jazz up plain hummus and to give salad dressing some spice. It's fantastically versatile. Harissa is used widely in North African and Middle Eastern cuisine. It is a paste traditionally made from dried red chillies, garlic, salt, fresh coriander, caraway seeds and olive oil. It packs a serious punch of flavour which takes this roasted tomato and harissa soup from meh to YEAH.
If you like to meal prep, this tomato & harissa soup is perfect for you! Make it on a Sunday night to be sorted for lunches throughout the week. You can reheat it in the microwave or, if you are an old lady like me, bring it with you in a flask. It also freezes well and will save you in times of when, god forbid, you have an empty fridge.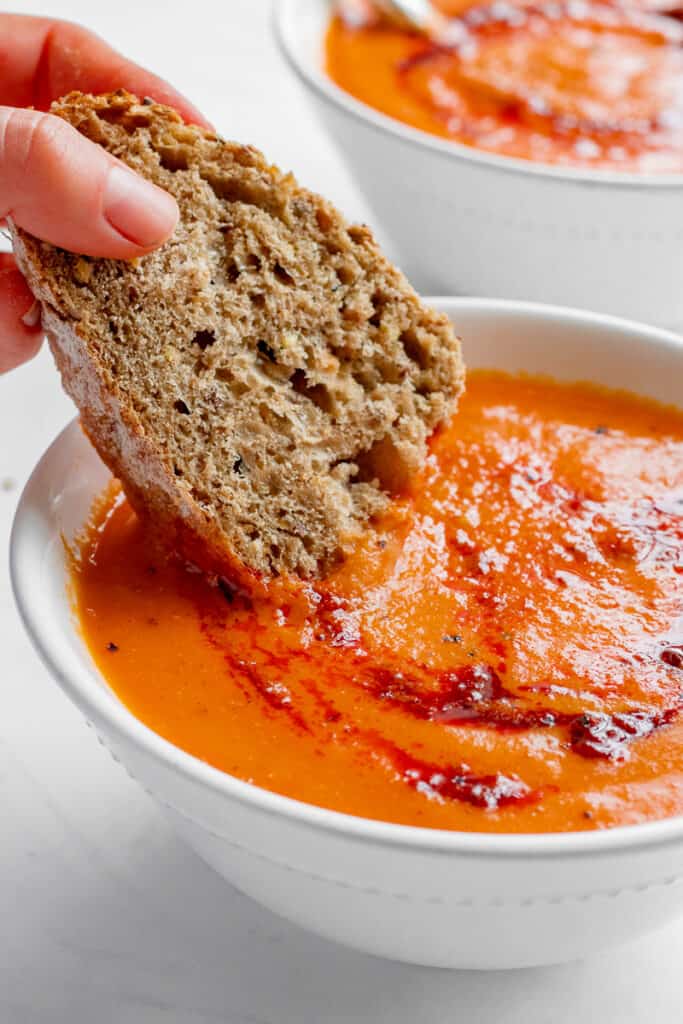 I really hope you enjoy this spicy roasted tomato & harissa soup. It's a simple recipe, yet complex in flavour and just actually pretty incredibly delicious. If you make it, please tag me in pictures of your creations on IG @georgieeatsuk, use the #georgieeats, or leave me a comment down below. Keep Smiling!
G x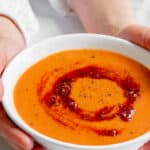 SPICY ROASTED TOMATO & HARISSA SOUP
Sweet roasted tomatoes and deep spicy harissa paste, perfectly blended into a bowl of silky, comforting goodness. Vegan, GF & healthy.
Ingredients
1.5

kg

tomatoes

2

tbsp

extra virgin olive oil

4

cloves

garlic

1

onion

finely sliced

1

heaped tbsp

harissa paste

1

tsp

honey/maple syrup

250

ml

vegetable stock

Sea salt & freshly ground black pepper
To Serve
Harissa paste

Crusty bread
Instructions
Preheat the oven to 200°c fan assisted/220°c/450°f.

Spread the tomatoes out on a baking tray and drizzle with 1 tbsp of oil and a generous amount of salt and pepper. Pop the unpeeled cloves of garlic between them, then roast in the oven for 45 minutes, stirring once halfway through. Let the tomatoes cool a little before using your fingers to remove any overly charred pieces of skin.

In a large saucepan, heat the remaining oil over a medium heat. Once hot, add the onion and a pinch of salt. Fry gently for 8-10 minutes, or until very soft.

Remove the roasted cloves of garlic from the baking dish and use your fingers to squeeze the flesh out of the skin and into the saucepan. Then add the roasted tomatoes and any juice from the baking tray, harissa paste, honey/maple syrup and vegetable stock. Give everything a good stir and simmer for 5 minutes to warm everything through.

Transfer the soup into a food processor/blender and blitz until very smooth.

Return the soup to the heat. Season generously to taste, then warm until very hot. Divide between bowls and serve topped with a swirl of extra harissa paste and warm crusty bread.
Recipe Notes
This soup will keep in an airtight container in the fridge for up to 4 days, or in the freezer for up to 3 months. Defrost in the fridge and reheat over the stove until piping hot. 
For an extra smooth soup, you can remove the skins from the roasted tomatoes before combining with the rest of the ingredients. If you have a really powerful blender you may not need to do this, but if using a stick blender, this is recommended. 
Vegan: Use maple syrup rather than honey
Gluten-Free: Assure your vegetable stock is certified gluten free.
A few ingredient notes:
Try to find a harissa paste without any added preservatives or flavourings.
If you can find it, try to use raw honey as it is less processed. If using maple syrup make sure it is 100% maple syrup and not maple 'flavoured' syrup.
To make my vegetable stock I use 1 + 1/2 stock cubes dissolved in boiling water. Personally, I like the Kallo Very Low Salt Stock Cubes as they do not contain any added flavourings or preservatives.