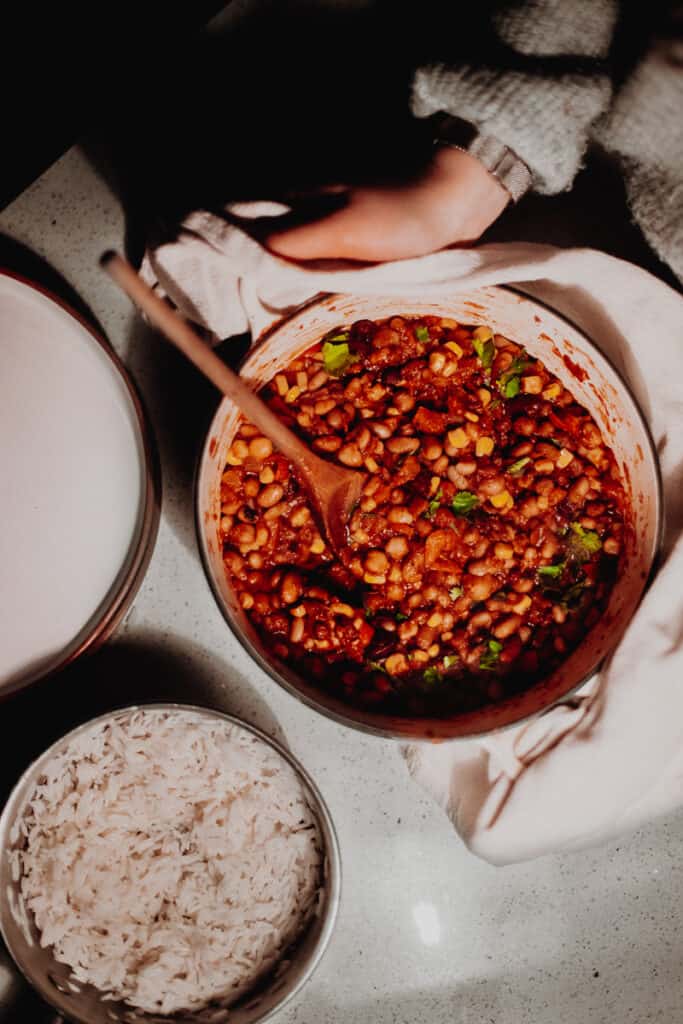 When the weathers like this, I can't think of anything better than a steaming hot bowl of chilli. It's comfort food central. This not so modestly named mixed-bean veggie chilli recipe is indeed the best one ever. It's ridiculously easy to make, a real crowd pleaser and won't break the bank. Have it over rice, a slice of thick crusty bread, or with a fuffy jacket potato topped with masses of fresh guac. That's dinner sorted!!
Jump to Recipe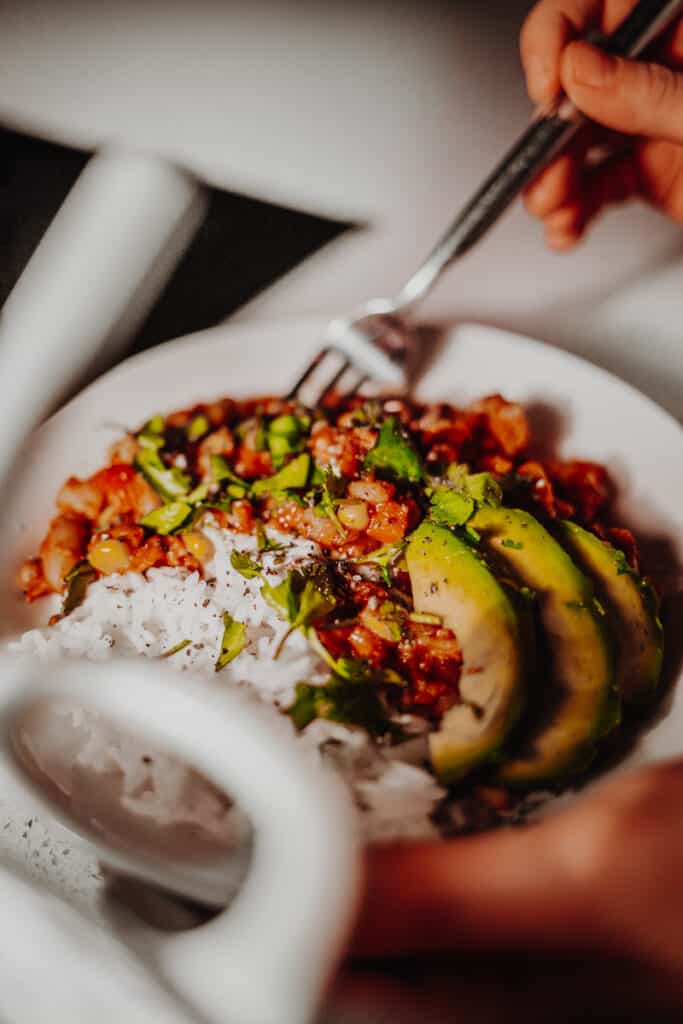 WHY SHOULD I COOK IT?
Tender mixed-beans in a luscious, smoky tomato sauce, speckled with kernels of golden sweetcorn and colourful red pepper. It's a marvellous batch-cook that will nourish you throughout the week and freezes brilliantly for when you have a case of the empty fridge.
WHAT'S THE OCCASION?
Prep this on the weekend for a quick weeknight supper, make a batch for a 'serve yourself' casual dinner or feed a crowd with no-fuss. It's ideal for feeding plant-based eaters, but satisfying enough that the carnivores will love it too!
HOW LONG WILL IT TAKE ME?
5 minutes to prep and about 45 minutes to cook. The actual hands-on time is around 15 minutes, with the occasional stir here or there.
IS IT DIFFICULT?
No! As I said, this is pretty damn simple. If you can chop an onion, this chilli will be as easy as pie (well, much easier than pie actually). It's all made in one pot which means the washing up is easy too. For difficulty, it's a 4/10.
WHY IS IT HEALTHY?
Pulses are amazing. They are high in fibre, a brilliant source of plant-based protein, rich in vitamins and minerals, count towards your 5-a-day and are far more affordable than meat or meat alternatives. I have done a few calculations and one serving of this mixed-bean veggie chilli with rice gives you over half of your recommended daily protein and two-thirds of your fibre. Now how about that!!
WHAT EQUIPMENT DO I NEED?
If you have one, a cast iron pot is ideal for this mixed-bean veggie chilli, if not a lidded saucepan will do absolutely fine. You will also need a knife, a chopping board and something to stir all this goodness together.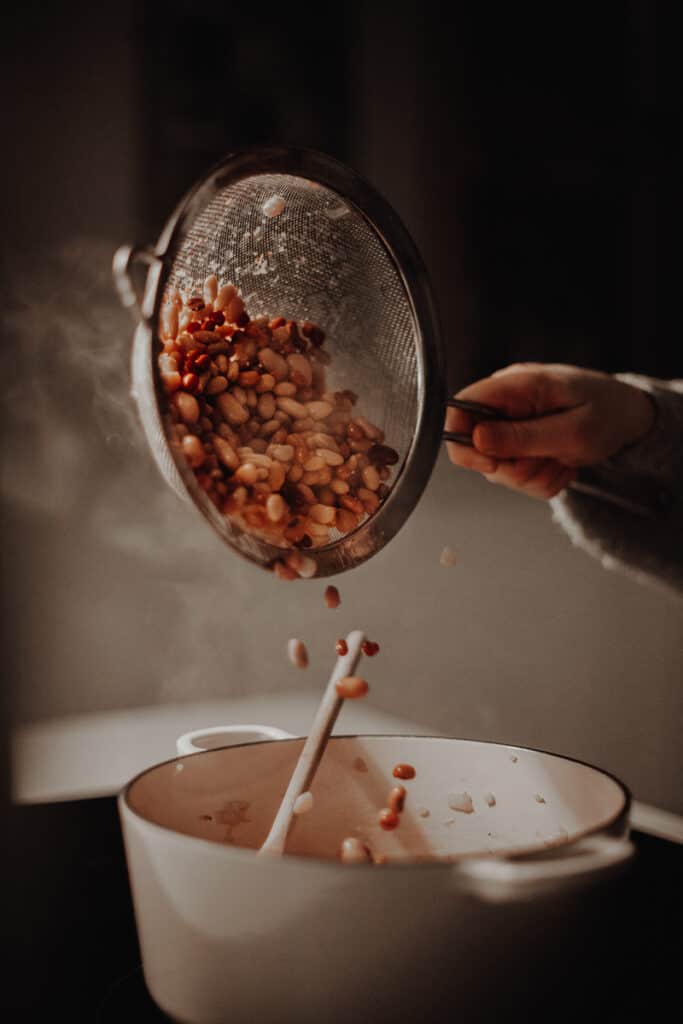 TIPS FOR THE BEST MIXED-BEAN VEGGIE CHILLI EVER
Sweat, sweat, sweat. Don't rush the sweating of the onion and pepper. Fry them until they are soft to the bite before adding in the rest of the ingredients. Otherwise, you may end up with crunchy bits of onion in your final chilli and no one wants that.
Season properly! Fat = flavour, so in meat-free dishes seasoning is key! Season lightly as you go and then a little harder to finish. I always use Maldon sea salt, not the finer table salt, so keep that in mind when you see me measuring in tsp.
How spicy?! This mixed-bean veggie chilli is probably mild-medium on the spicy scale. If you want your chilli with extra chilli, go for 2 tsp of chilli powder, if you are a bit of a wimp, stick to a 1/2 – 1.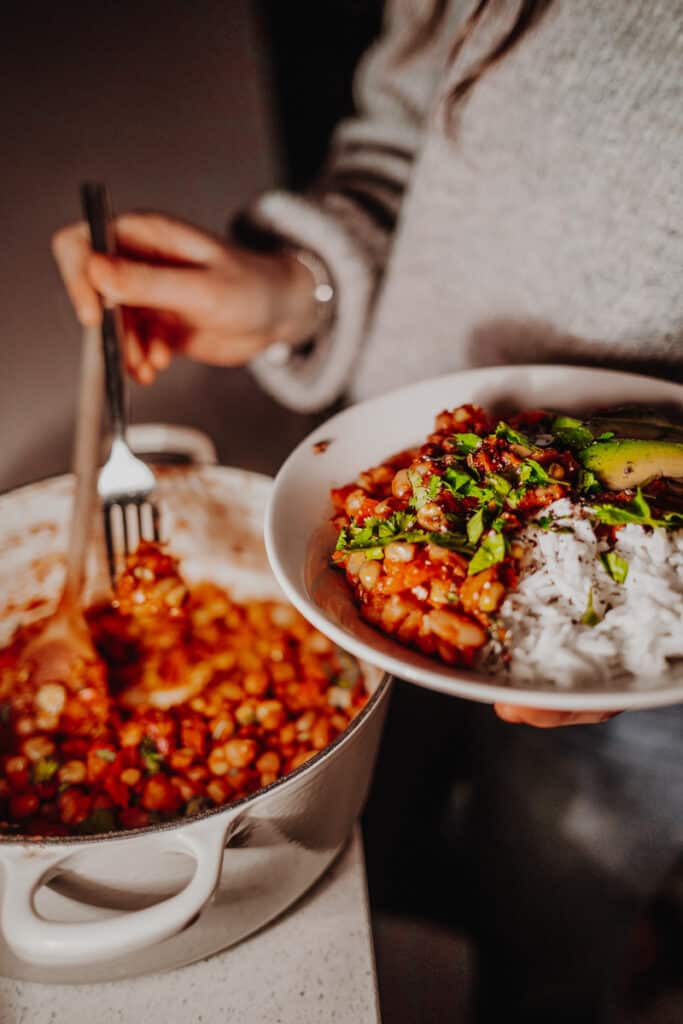 I know you will love this mixed-bean veggie chilli. I suppose I am a tiny bit bias, but it really is the best ever. It's super fuss-free and makes such a cosy supper in front of the fire. Whether you are a vegan, or just taking part in #meatfreemonday, it's a fab one to try out. Everyone loves it!
If you make this please let me know! You can tag me in photos on IG @georgieeatsuk, use the #georgieeats or leave me a comment down below. If you want to check out my AMAZING photographer, you can do so here: @kirstyjaynerussell and here: kirstyjaynerussell.com. Keep smiling!
G x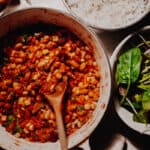 BEST EVER MIXED-BEAN VEGGIE CHILLI
A smoky, spicy veggie chilli bursting with tender mixed-beans, sweetcorn and red pepper. This easy, nourishing recipe is brilliant for batch-cooking and is loved by vegans and meat-eaters alike! Vegan & GF.
Ingredients
2

tbsp

olive oil

1

white onion

finely chopped

1

red pepper

finely diced

2

cloves

garlic

minced

1

400g can

chopped tomatoes

2

tbsp

tomato puree

2

400g cans

mixed beans

drained & rinsed

1

200g can

sweetcorn

drained

1

tbsp

honey/maple syrup

1

heaped tsp

chilli powder

1

tsp

smoked paprika

1

tbsp

paprika

1

tbsp

dried oregano

1

tbsp

cumin

sea salt & freshly ground black pepper
To Serve
Rice, jacket potatoes or sliced crusty bread

Sliced avocado or guacamole

Fresh Coriander

roughly chopped
Instructions
Heat a large pan or cast-iron casserole dish over medium heat. Add the oil and once hot, the onion and red pepper. Sweat the veg for 10 minutes, stirring frequently, until soft and translucent. Stir in the garlic and season everything with a pinch of salt and pepper.

Add the chopped tomatoes, tomato puree, mixed-beans, sweetcorn, honey/maple syrup, spices, 1-2tsp of sea salt and lots of black pepper into the saucepan. Swirl a little water round the can from the chopped tomatoes and add that in too. Give everything a really good stir, then bring to the boil.

Reduce the heat to a simmer and let the chilli gently bubble, uncovered, for 15 minutes. Add the lid and simmer for another 15 minutes or until thickened and reduced. Taste and adjust the seasoning accordingly.

Serve the chilli your favourite way, topped with slices of avocado or guacamole and sprinkled with lots of fresh coriander.
Recipe Notes
This veggie chilli will keep for up to 4 days in the fridge, or for 3 months in the freezer. Defrost it slowly in the fridge, then reheat until piping hot.
Vegan: Use maple syrup rather than honey.