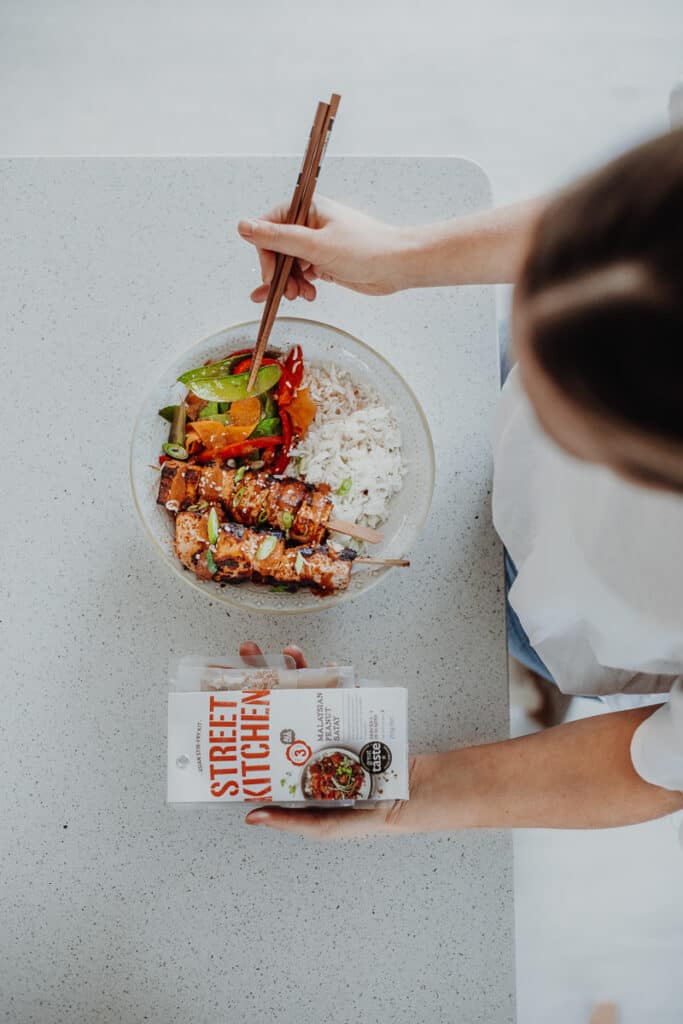 I have shared my passion for all things peanut butter more times than I can count. Although it's fab in puddings, or just from the jar, I particularly love satay sauce. When the lovely team at Street Kitchen asked me if I wanted to collaborate on a post to celebrate Chinese New Year with them, I thought, satYAY. How could I resist! My rainbow stir-fry with satay tofu skewers is a winning supper and thanks to this Malaysian Peanut Satay kit takes only 20 minutes from start to finish. That's #veganuary sorted.
Jump to Recipe
WHY SHOULD I COOK IT?
Skewers of delicate tofu with a crisp coating of salty peanutty goodness, vibrant veg laced with the punchy flavours of garlic and ginger and fluffy white rice, all drenched in an aromatic satay sauce. It's drool central.
WHAT'S THE OCCASION?
A weeknight dinner or an affordable alternative to your weekend takeaway. These satay tofu skewers can even be grilled on the BBQ in the summer.
HOW LONG WILL IT TAKE ME?
20 minutes start to finish. Yep, that is it!
IS IT DIFFICULT?
Not at all. Thanks to the Street Kitchen kit all the hard work is done for you! The kit includes a ginger & garlic paste, dried onion & garlic mix and a delicious satay sauce. So there is no skilled chopping involved, no measuring and no fancy techniques. The hardest part is cooking the rice… For difficulty, it's a 4/10.
WHY IS IT HEALTHY?
This plant-based dinner is packed with so many nourishing ingredients. Tofu is one of the few plant sources of complete protein, meaning it contains all 9 essential amino acids. It's also a great source of non-haem Iron and calcium – making it a fantastic source of nutrients if you don't consume animal products. A rainbow of colourful veggies gives you a vibrant selection of vitamins and minerals and the white rice will keep you satisfied and fuller for longer. It's the epitome of a balanced meal.
WHAT EQUIPMENT DO I NEED?
2 frying pans, 1 lidded saucepan, a knife and a chopping board, tongs and 8 wooden or metal skewers.
WHERE CAN I GET A KIT?
In the UK, you can buy these kits from Sainsbury's, Tesco's and the Co-op.
TIPS FOR THE BEST SATAY TOFU SKEWERS EVER
Prep the tofu properly! The whole process of pressing and drying the tofu may seem like a bore, but it's essential to remove the moisture if you want a crisp finish. Also, try to cut the tofu into as even-sized chunks as possible, to assure equal cooking.
Keep it hot hot hot. If your pan is too cool, the veggies will sweat rather than fry. You need to get your wok/frying pan to at least a medium-high heat. If you are confident, a high/the highest heat is even better. When you add the oil it should shimmer in the pan. If it doesn't – make it hotter!
Be prepared. They say success is in the preparation, and this stir-fry with satay tofu skewers is no different. Have everything prepared and ready to go; when you start the stir-fry, you want no distractions. Think of stir-frying like a high-maintenance boyfriend. It requires your full attention, at all times.
Don't be scared! There will be smoke, there will be steam and there will be a lot of sizzling. Don't be afraid! Just use a long pair of tongs and keep everything moving constantly to avoid any burning.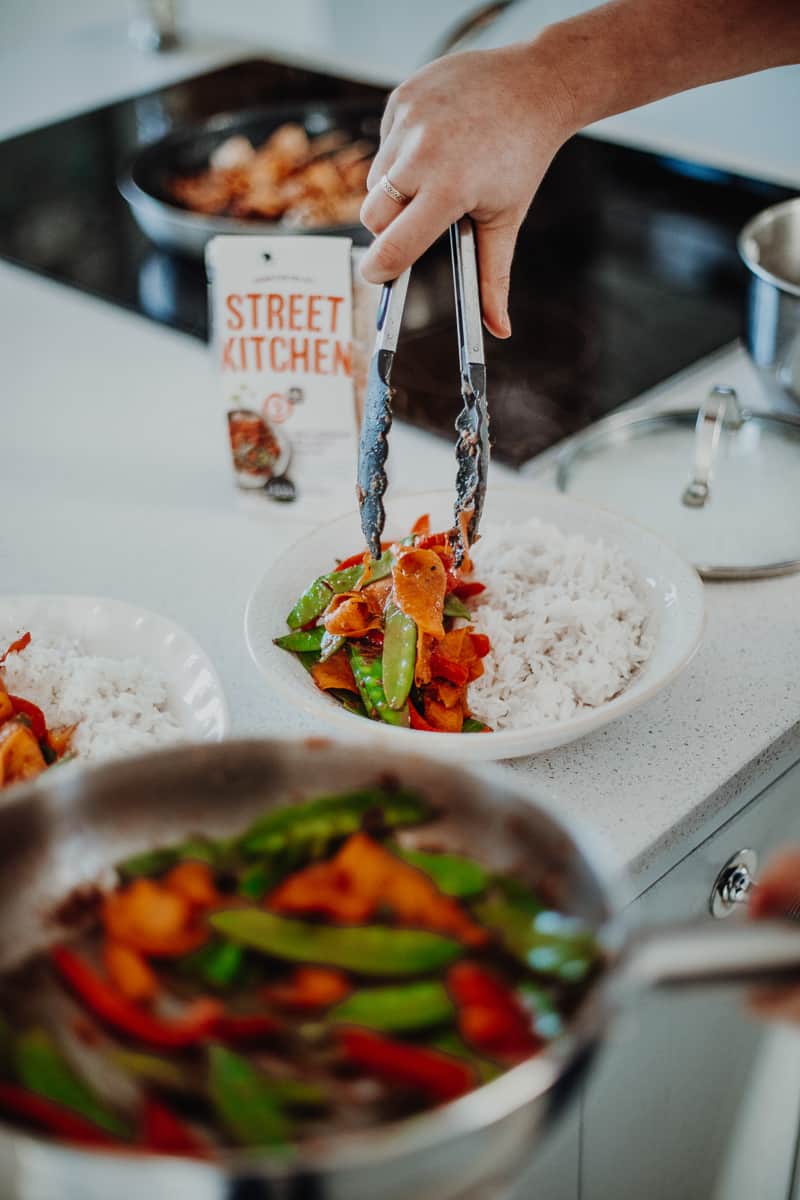 HOW ABOUT SOME VARIATIONS?
As always, I like to help you make these dishes your own and to use whatever you may have in the fridge. I like the combo of veggies used in this dish but here are a few more suggestions if you feel like mixing it up:
broccoli florets
shredded red cabbage
pak choi
baby corn
courgette
green beans
You can also swap the tofu for tempeh and the white rice for brown. Just bear in mind that the cooking times for all of these ingredients will vary slightly!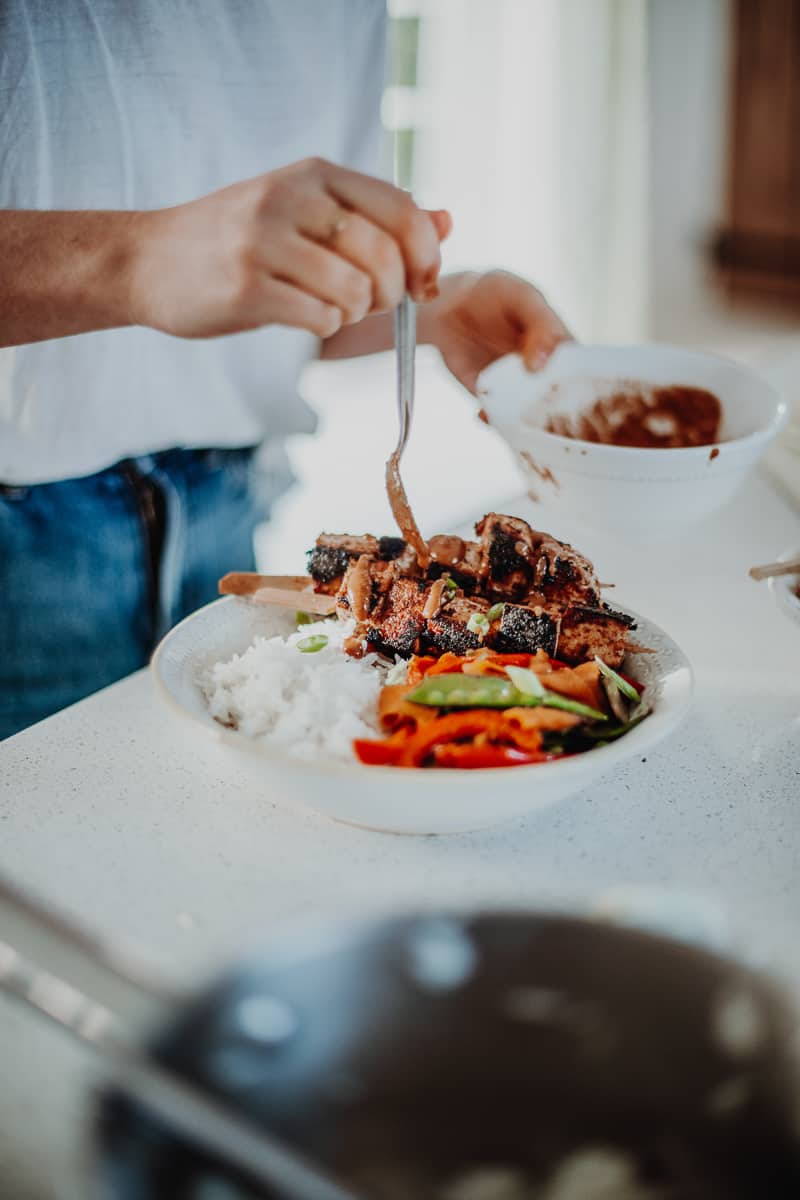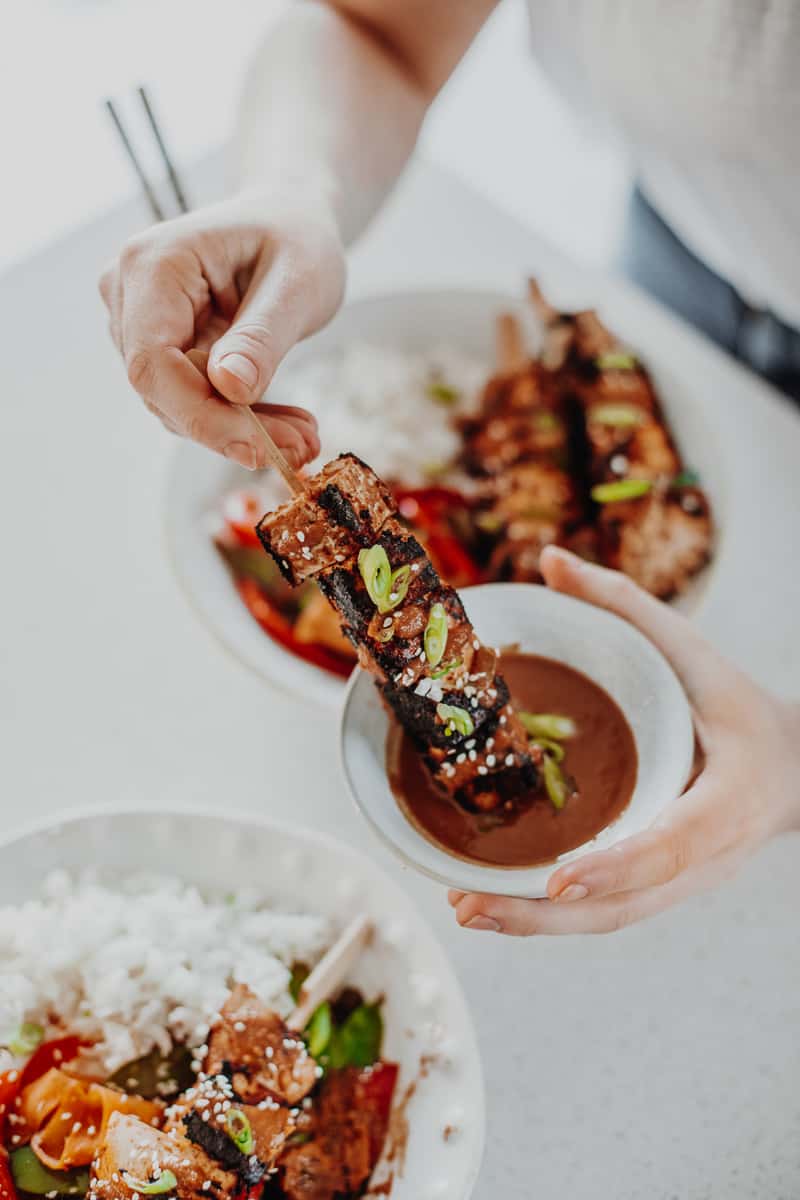 So guys, I really hope you enjoy this rainbow stir-fry with satay tofu skewers recipe! It's so simple but something about the skewers makes it look rather impressive. I would highly recommend giving it a go the next time you have a spare 20 minutes.
Also!! What do you think of the pictures! I will be working with the fantastic Kirsty (Find her here: @kirstyjaynerussell and here: kirstyjaynerussell.com) from now on for all the photography on GE.co.uk, so I hope you love them as much as I do. She certainly knows how to work a camera… Go check her out!!
Aaaaanyway, if you make this please let me know! You can tag me in photos on IG @georgieeatsuk, use the #georgieeats or leave me a comment down below. Keep smiling!
G x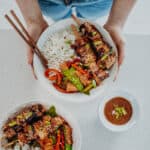 RAINBOW STIR-FRY WITH SATAY TOFU SKEWERS
Crispy peanut tofu skewers topping fluffy white rice and a vibrant vegetable stir-fry laced with punchy garlic and ginger, all drenched in aromatic satay sauce. It's the perfect 20-minute dinner! Vegan & GF.
Ingredients
2

280g packs

extra firm tofu

1

pack

Street Kitchen 'Malaysian peanut satay' kit

300

g (2 cups)

white rice

1

red pepper

1

large carrot

200

g

mange tout

2

tbsp

tamari/soy sauce

Extra virgin olive oil for frying

Sea salt & freshly ground black pepper

8

wooden/metal skewers
To Serve
2

spring onions

finely chopped

Sesame seeds
Instructions
Drain the tofu, then use a tea towel to press down on it several times to remove any excess moisture. Cut the tofu into cubes and press down on each one again until no visible moisture is left on the surface. Place them into a bowl, coat with half of the satay sauce, then leave them to marinate whilst you prepare the other ingredients.

Put the rice on to cook according to the packet instructions. Once cooked, drain and cover the pan with a lid until serving.

Meanwhile, slice the red pepper into thin slices, peel the carrot into ribbons and wash the mange tout, then divide the tofu pieces between the 8 skewers.

Heat 2 tbsp of olive oil in a large frying pan over a high heat. Once hot, add the dried onion and garlic, garlic-ginger paste and red pepper. Fry for 5 minutes, stirring frequently, then add the mange tout and carrot. Stir constantly for another 3-4 minutes, or until the vegetables are vibrant and cooked through. Season with lots of black pepper and a little salt, then remove the pan from the heat and stir through the soy sauce.

Whilst the vegetables are frying, heat another large frying pan over medium-high heat and add enough oil to thinly coat the bottom. Once hot, fry the tofu skewers for 1-2 minutes each side until they are crispy and slightly charred. Depending on the size of your pan, you may need to do this in batches, or, you can use two pans.

Divide the rice and rainbow stir-fry between bowls. Top each one with the skewers, then sprinkle with chopped spring onion and sesame seeds. Serve alongside the remaining satay sauce.
Recipe Notes
For varitations and suggestions on this recipe, see within the post. 
The longer you can leave the tofu to marinate for, the better! If you have time, leave it to soak up the satay flavours in the fridge for a few hours, or even overnight.
Gluten-free: Use tamari or gluten-free soy sauce.
A few ingredient notes: 
It is important that you use extra firm tofu for this recipe. Other variants do not work as well!