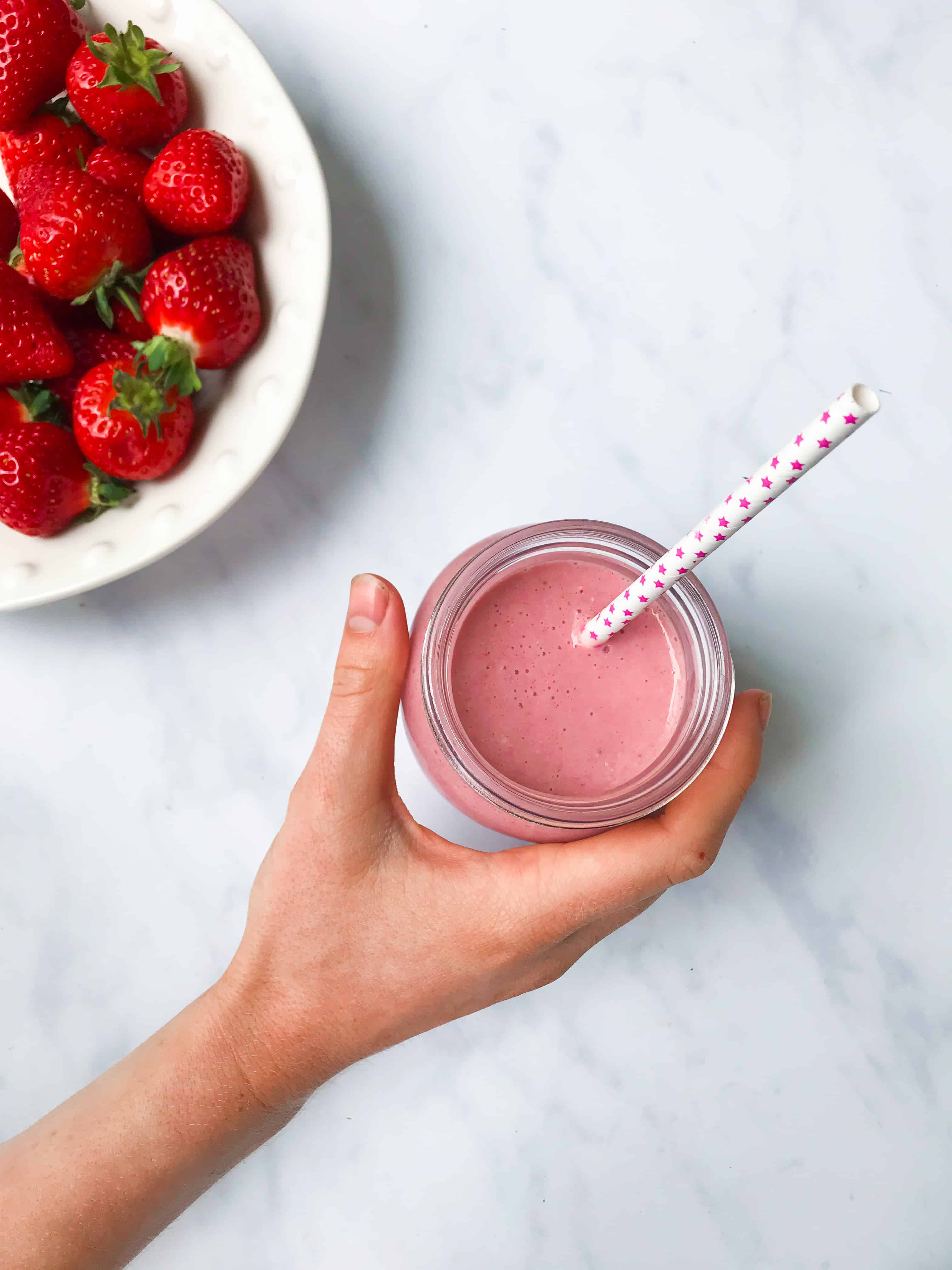 Last week I suddenly came over with an intense craving for a Mcdonald's strawberry milkshake. I have no idea how or where it came from, seeing as I haven't even step foot in a 'maccy D's' for some years now… But still, I decided that something needed to be done about it, I NEEDED that strawberry milkshake. So I made my own healthy version and suddenly all my cravings disappeared – It's thick, it's creamy, it's refreshing and it's downright delicious.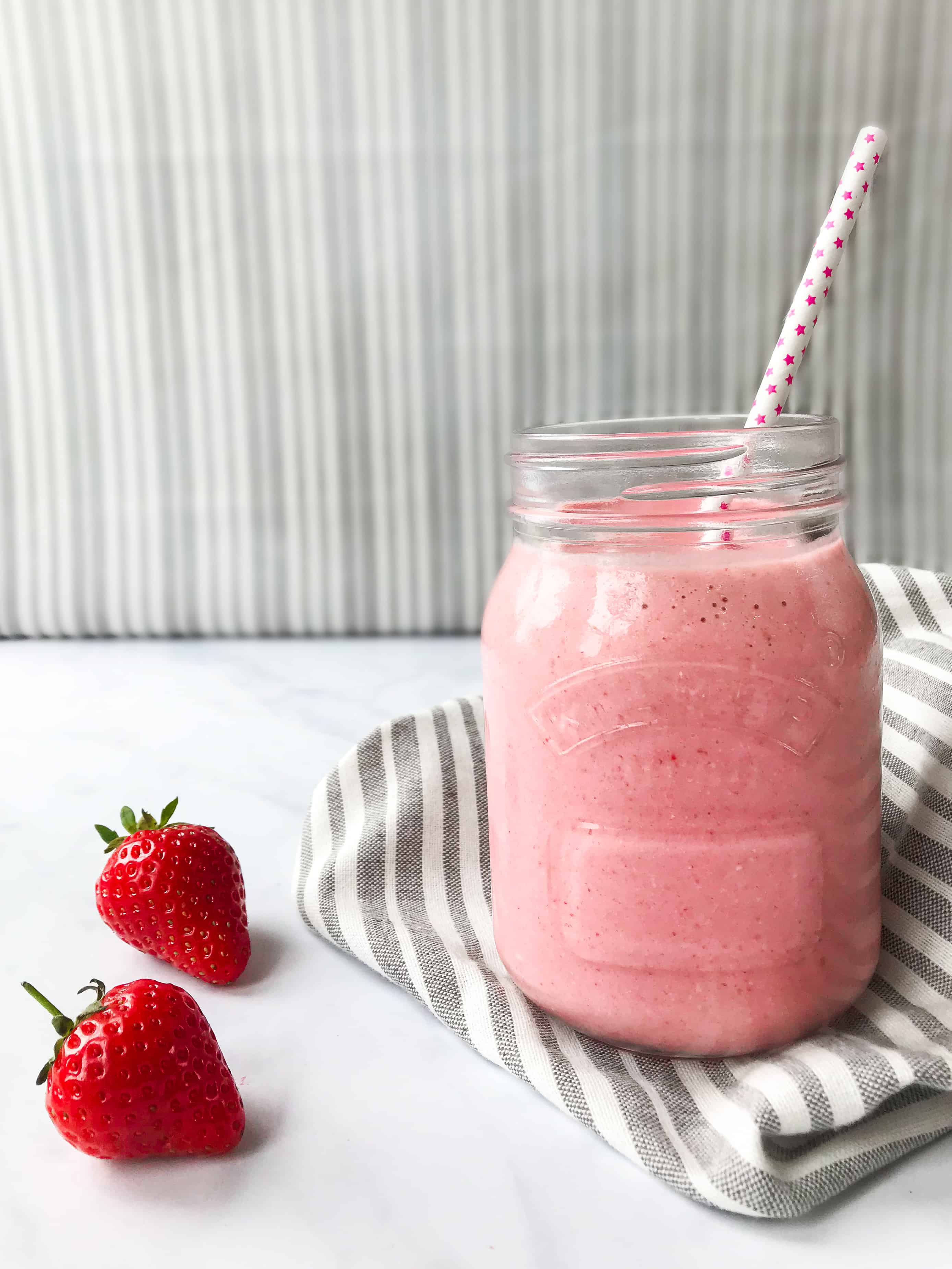 You may be reading this thinking – how hard can it be to make a strawberry milkshake? Surely it's just milk and strawberries? Well yes, it is… But if you, like me, want a super thick and luscious shake (Macdonald's stylie) then you are going to need a few extra simple ingredients.
I use frozen strawberries in this recipe because they are more reasonable than the fresh alternative and add an ice cream-esque element to the shake. As well as the milk, I also use cashew nuts for extra thickness and added protein, banana for sweetness and vanilla extract for a fast-food finishing touch.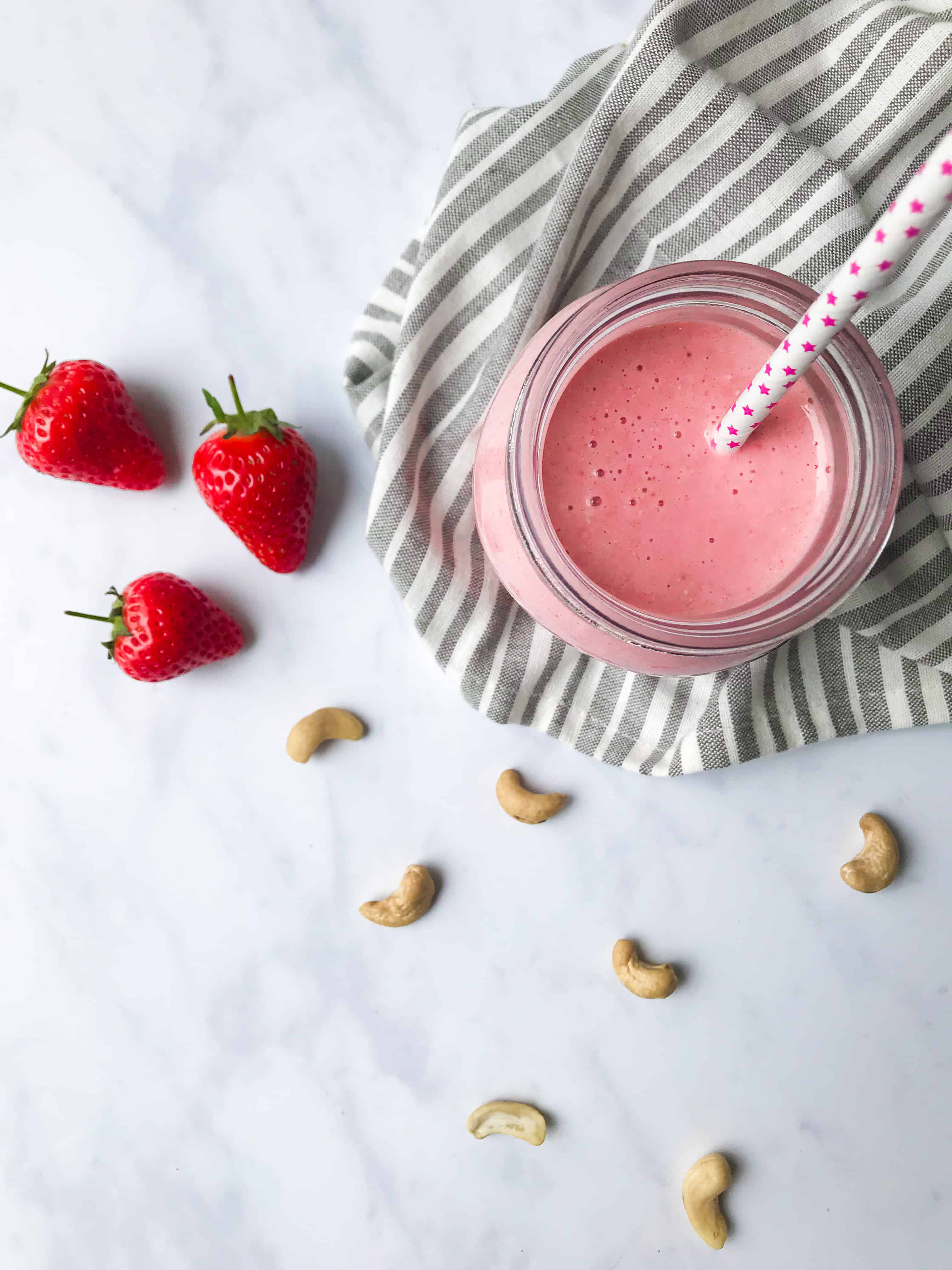 Now we have hit summer and supermarkets are stocking british / scottish strawberries, I like to enjoy them as much as I possibly can. Strawberries have one of the lowest sugar contents of any fruit and are full of vitamin C and vitamin K. They also contain significant amounts of phytonutrients and flavonoids both of which are responsible for that beautiful bright red colour.
I really can't stop drinking this strawberry milkshake!! It is PERFECT as a refreshing breakfast on hot mornings (especially with oat milk), as a afternoon snack or even as an after dinner treat. Give it a go and let me know what you think! You can tag me in pictures on IG @georgieeatsuk, use the #georgieeats, or leave me a comment/question down below. Have a fab week guys!
G x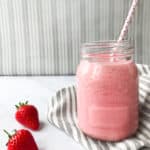 HEALTHY STRAWBERRY MILKSHAKE
Thick, creamy and incredibly delicious - this healthy MacDonalds style strawberry milkshake will satisfy your sweet tooth without the calories! A great pre/post workout snack, breakfast or after dinner treat. Vegan & GF.
Ingredients
250

ml

milk of choice

(see recipe notes)

250

g (1.5 cups)

frozen strawberries

1

medium

banana

peeled

20

g (1/8 cup)

cashew nuts

1

tsp

vanilla extract

1-2

tsp

honey / maple syrup

(optional)
Instructions
Add the milk, strawberries, banana, cashew nuts and vanilla extract into a blender and blend until completely smooth. If your blender is struggling, add a little more milk.

Taste and add the honey/maple syrup if desired. Blend again.

Serve in a tall glass and enjoy!
Recipe Notes
For this recipe, I like to use oat milk or almond milk as I think it gives the milkshake a super creamy texture, but feel free to use any milk you prefer. If using plant-based milk, watch out for any added sugar, emulsifiers or stabilisers on the label. If in doubt go for Rude Health - they are my favourite!
The addition of the cashew nuts makes this strawberry milkshake extra thick which is how I like it! If you prefer a thinner shake you can leave them out. 
Frozen strawberries are much more cost-effective so are perfect in recipes like this. They also act as ice without watering the milkshake down. If you wish to use fresh strawberries either freeze the banana before blending OR serve the milkshake over ice. 
This strawberry milkshake is best enjoyed straight away but will keep in the fridge for up to 2 days.