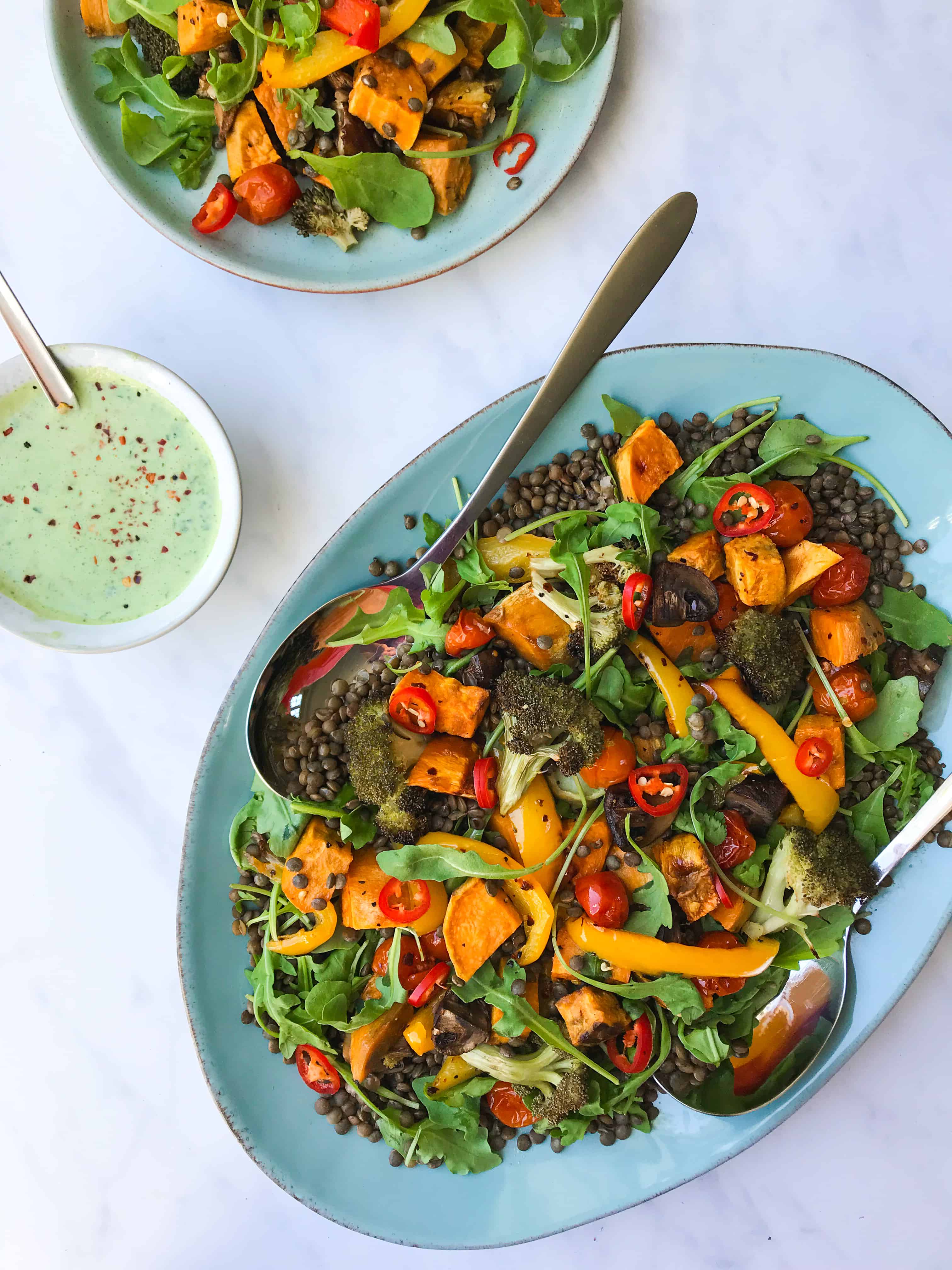 This roasted vegetable and lentil salad was birthed of immaculate conception. Whilst doing my usual best to reduce food waste – last weeks leftovers made a masterpiece. I knew from the moment the first mouthful reached my lips that I was onto something special. After a few tweaks I refined my creation to share with all of you. Chilli roasted vegetables, soft peppery puy lentils and a fragrant coriander yoghurt dressing – blimey is it good!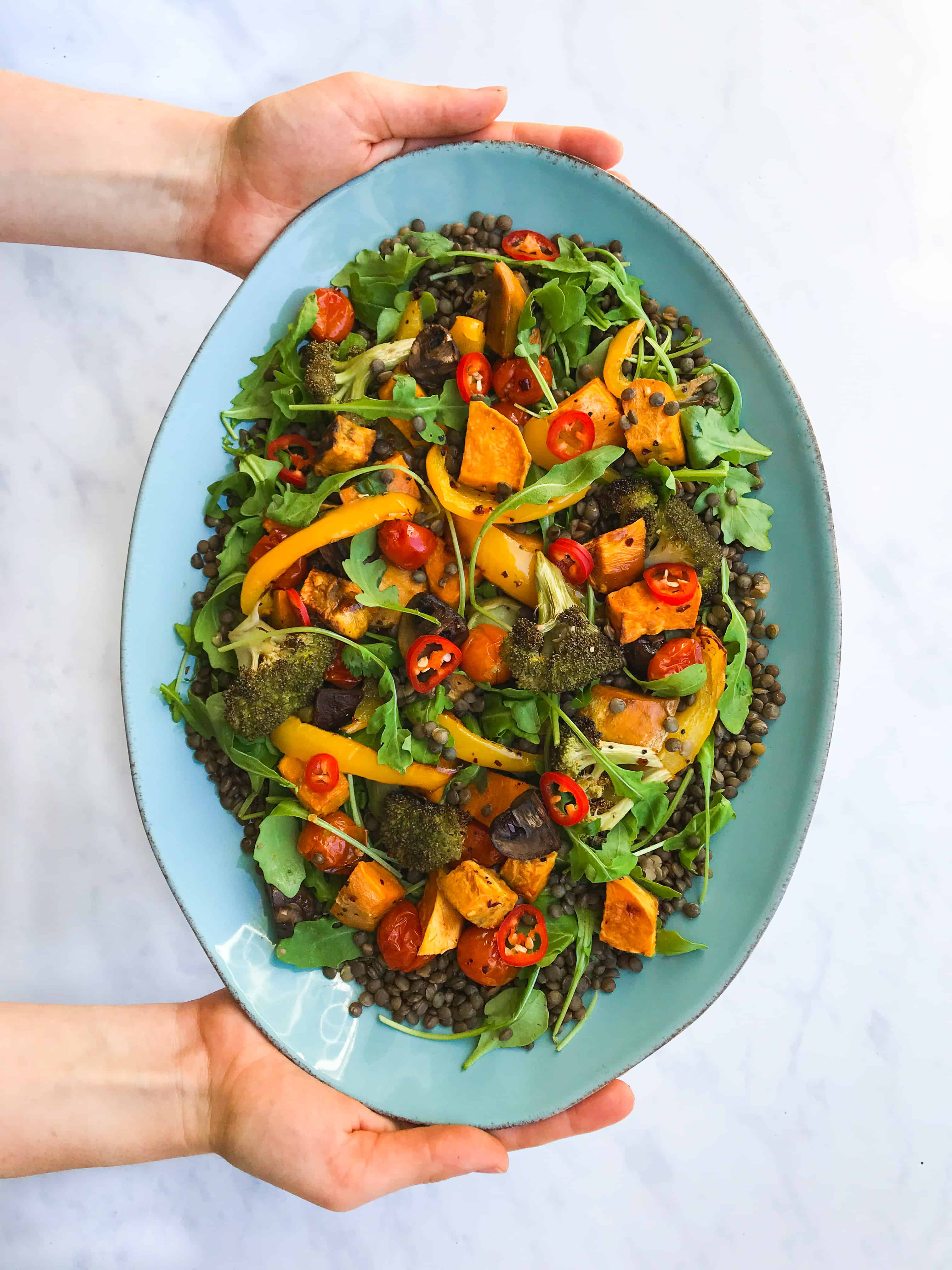 Simple salads are my go to when cooking, and especially when eating. Anything with minimal prep and fresh wholesome ingredients is a winner in my eyes. I adore this dish because it keeps so well in the fridge. Healthy eating is so much easier when you are prepared. So I always have pre-made meals like this in the fridge for when I need something quick and convenient. My roasted vegetable and lentil salad is ideal for lunch boxes as it travels well – just remember to separately store the dressing until time to serve!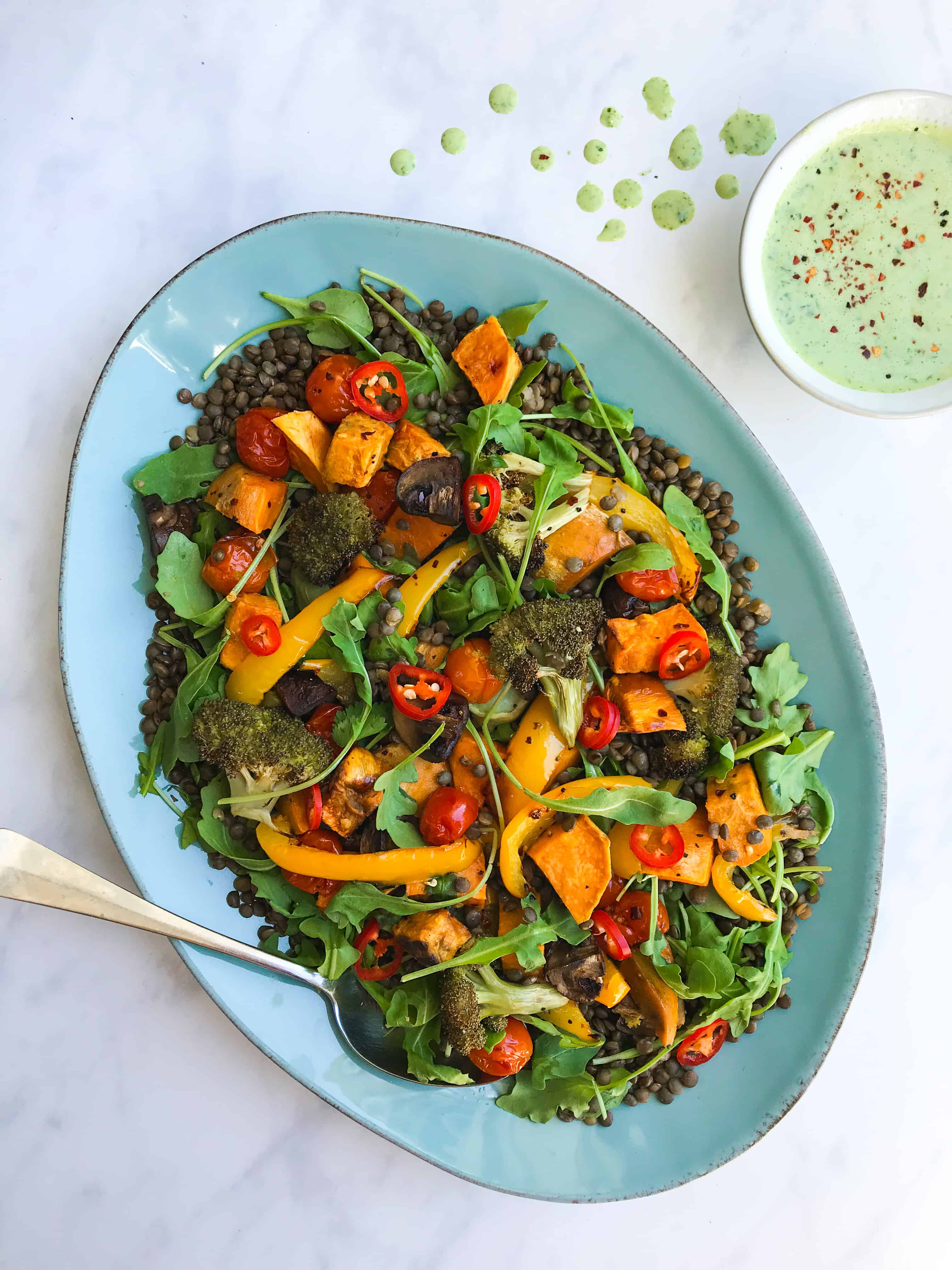 Lentils are slowly coming back into fashion and loosing their rep as 'hippy food' – and rightly so! Legumes are a staple food in my diet as they are super cheap, filling and also uber nutritious. Puy lentils / lentilles vertes are high in protein as well as being an excellent source of folate, iron and magnesium. Many studies have even shown the consumption of a legume rich diet, commonly practised in Spain and Italy can reduce your risk of all cardiovascular diseases. Is it a bird… is it a plane… no, it's a lentil!!!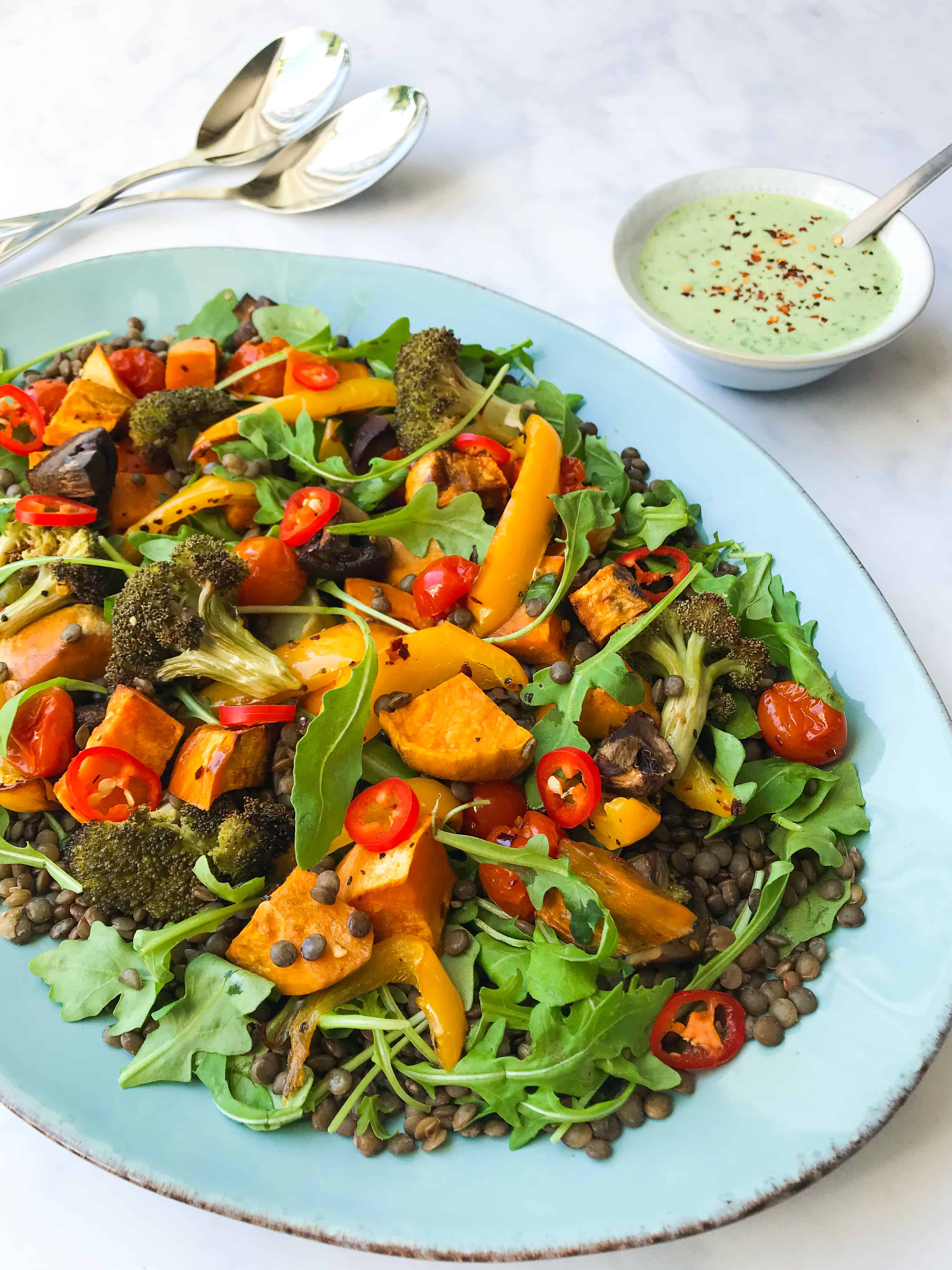 I want to say a big thank you to Aldi for supporting this roasted vegetable and lentil salad recipe post! Personally I shop at Aldi every week for all my fresh produce as the quality and price are unbeatable – making this cheap recipe even more affordable. I believe that being on a budget doesn't mean you have to compromise on taste. Little touches such as this gorgeous coriander yoghurt dressing help to create a restaurant style dish for next to nothing.
I really do hope that you try this roasted vegetable and lentil salad recipe – it has quickly become one of my new favourites! Whether it's for dinner parties, date night, BBQ's or just for lunch boxes this simple and versatile salad is sure to please anyone it feeds. If you make it, please send me a picture on IG @georgieeatsuk or leave me a message down below. Have a fab week guys!
G x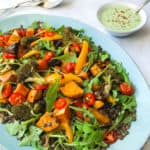 ROASTED VEGETABLE & LENTIL SALAD WITH CORIANDER YOGHURT DRESSING
Chilli roasted vegetables, soft peppery puy lentils and the most delicious fragrant coriander yoghurt dressing. This simple yet versatile salad is ideal whether you want to make lunch boxes or cook to impress! Vegan, GF, paleo & healthy.
Ingredients
2

small

sweet potatoes

peeled & cut into 1 inch cubes

100

g (1/2 pack)

chestnut mushrooms

quartered

10

cherry / plum tomatoes

1

yellow

pepper

sliced into 1/2 inch strips

1/2

head

broccoli

cut into florets

1/2

tbsp

olive oil

1

tsp

chilli flakes

Sea salt & freshly ground black pepper

100

g (1/2 cup)

dry puy lentils / lentilles vertes
For the Dressing
15

g (1/2 bunch)

fresh coriander

2

tbsp

natural yoghurt

1

clove

garlic

peeled

Juice

of

1/2 a lemon

Pinch

of sea salt
To serve
60

g (1 bag)

wild rocket

15

g (1/2 bunch)

corriander

leaves only

1

red chilli

thinly sliced
Instructions
Preheat the oven to 170°c fan/190°c/375°f.

Line a baking tray with parchment paper and spread over the sweet potato. Roast for 10 minutes.

Remove the tray from the oven and add the mushrooms, tomatoes, pepper and broccoli to the sweet potato. Drizzle over the oil, chilli flakes and a generous pinch of salt and pepper before giving everything a mix. Return to the oven for another 30-35 minutes until the vegetables are soft and cooked through.

Meanwhile place the lentils in a medium sauce pan and cover with cold water. Bring the pan to boil before reducing the heat and simmering gently for 18-20 minutes until tender. Drain and set aside.

To make the dressing place the coriander, yoghurt, garlic, lemon juice and salt into a blender / food processor. Blend until smooth. Taste and adjust the seasoning if needed.

To assemble, mix the rocket, lentils and 2/3rds of the roasted vegetables together in a large bowl. Transfer onto a serving platter and top with the remaining roasted veg, coriander and chilli slices. Liberally drizzle over the dressing and serve!
Recipe Notes
This salad can be enjoyed hot or cold! To serve cold just allow all the elements to cool completely before assembling and storing in the fridge. Add the dressing just before serving. 
This salad is ideal for lunch boxes as it keeps really well for a up to 4 days in the fridge. I like to make a double batch of this roasted vegetable and lentil salad at the beginning of the week to keep for a quick and healthy lunch.
You can change up the vegetables in this salad to what ever you have at home / what is in season. I love this with courgette and aubergine too - just remember that cooking times will vary!! 
For this lentil salad I use puy lentils / lentilles vertes (not to be confused with green lentils) which you can easily find in any supermarket. If you are feeling lazy you can also use 250g of pre-cooked lentils - I sometimes use these ones!
To make this salad vegan just swap the yoghurt for a dairy free alternative such as soya yoghurt in the dressing.