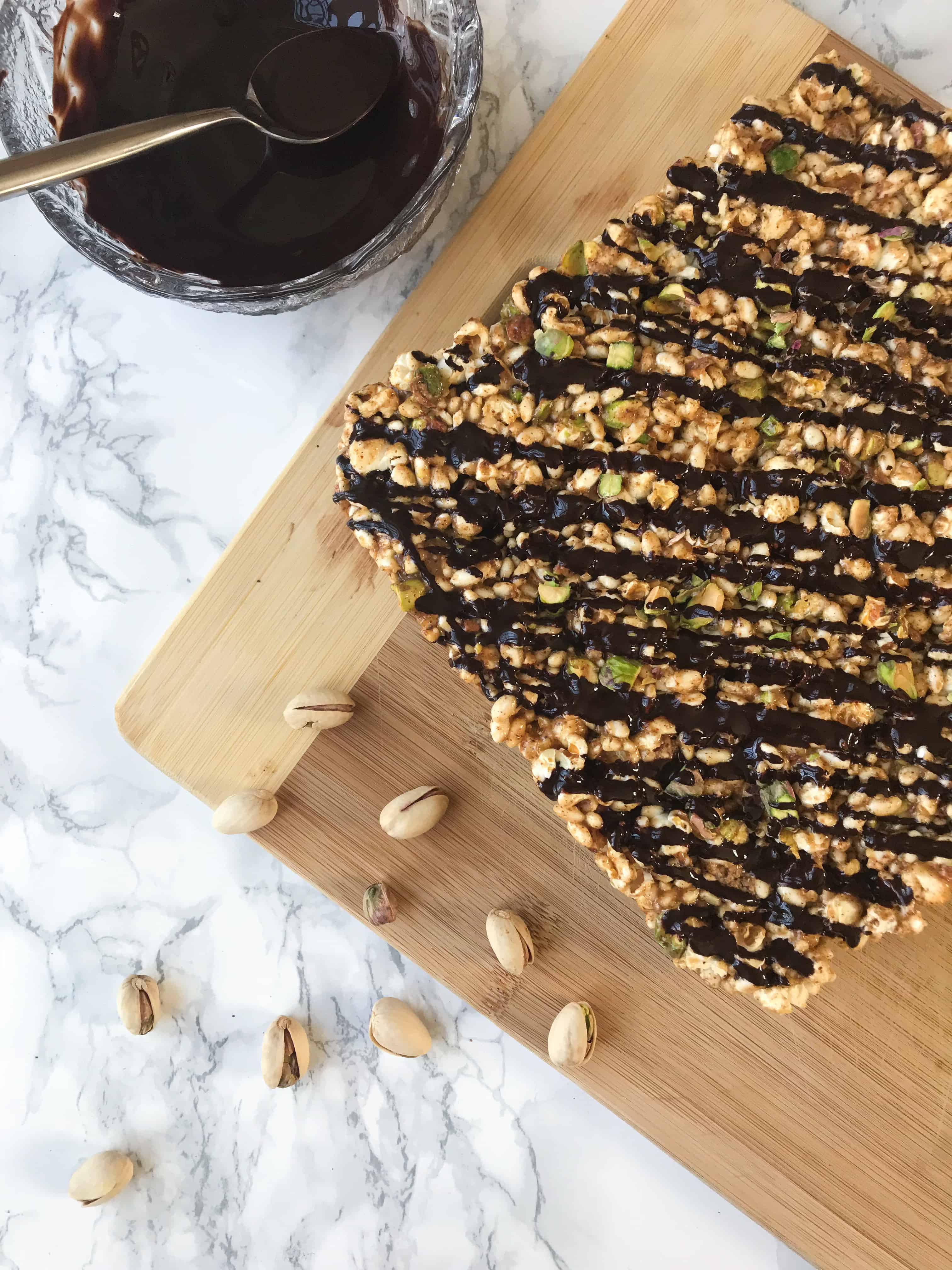 GUYS – I cannot tell you how good these are. Like, actually unbelievable. Think about a rice-crispy treat that has grown up and got more expensive taste – ooh la la! With dark chocolate and pistachio, these popcorn bars could no doubt win an Oscar (please pardon the terrible, terrible pun. Sorry nut sorry).
I came up with these when my boyfriend (very selfishly) made white chocolate marshmallow rice-crispy treats the other night and took quite a lot of joy from eating them in front of me – can you believe it?! So I thought you know what, I am going to make a MORE delicious healthy whole-food version that I can eat too – and that is exactly what I did.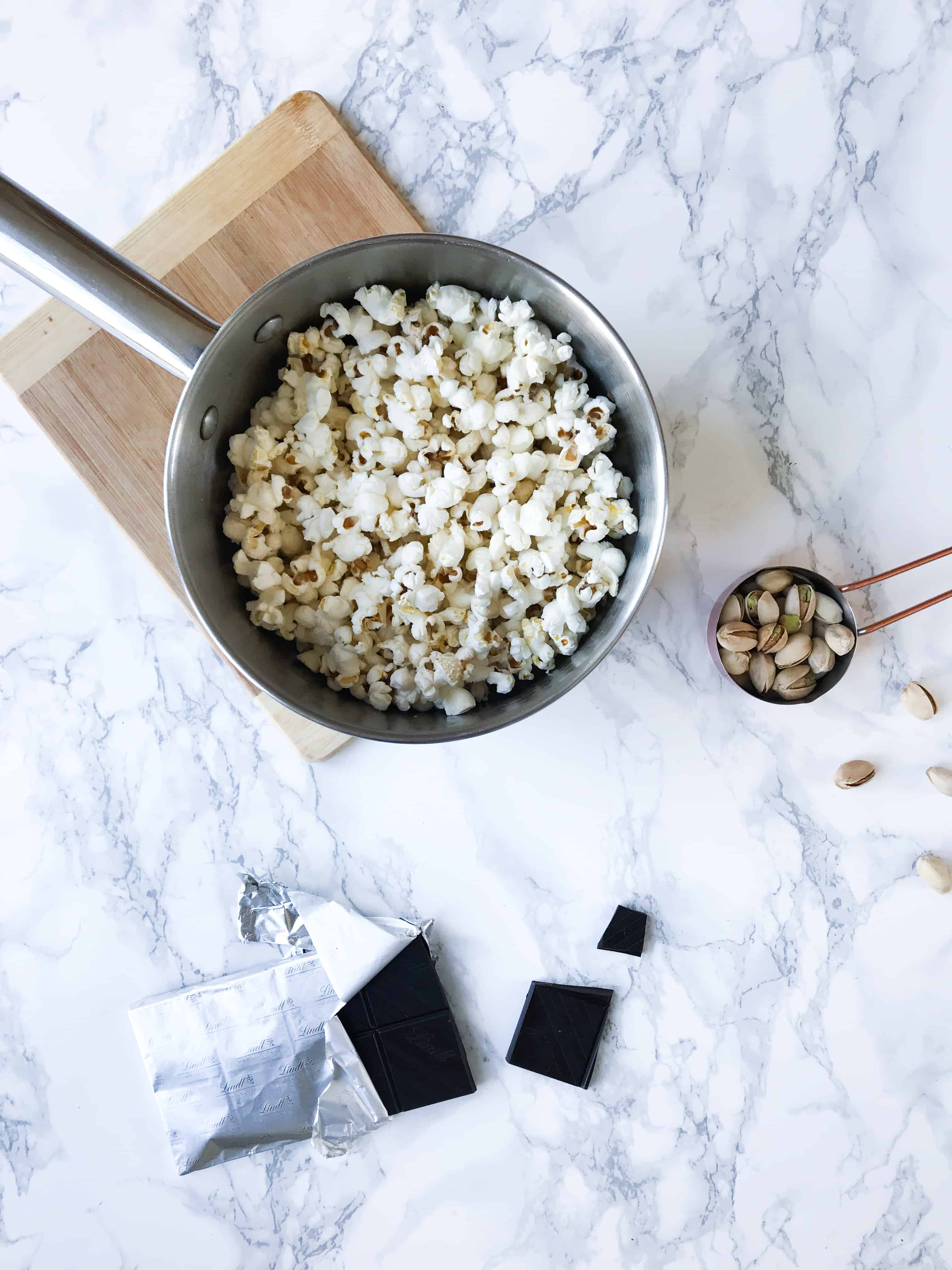 These popcorn bars are refined sugar free, gluten free, and easily made vegan. (Just swap the honey for maple syrup.) Not to mention nutritious. Here are the facts:
Popcorn: A whole-grain full of fibre and antioxidants.
Puffed rice: Brilliant source of vitamin B (helps convert food into fuel), zinc (essential for the immune system) and magnesium (for energy production).
Pistachios: Source of protein and a good source of mono-unsaturated fatty acids which promote the decrease in bad cholesterol.
Almond Butter: Very high in vitamin E and other antioxidants which act to nourish and hydrate the skin whilst reducing signs of ageing.
Raw Honey: Source of energy and a antioxidant powerhouse. Proven to boost the immune system with its disease combating flavonoids.
Dark Chocolate (at least 90%): Helps lower blood pressure as well as being high in iron (supports the formation of haemoglobin which carries oxygen around the body) and magnesium.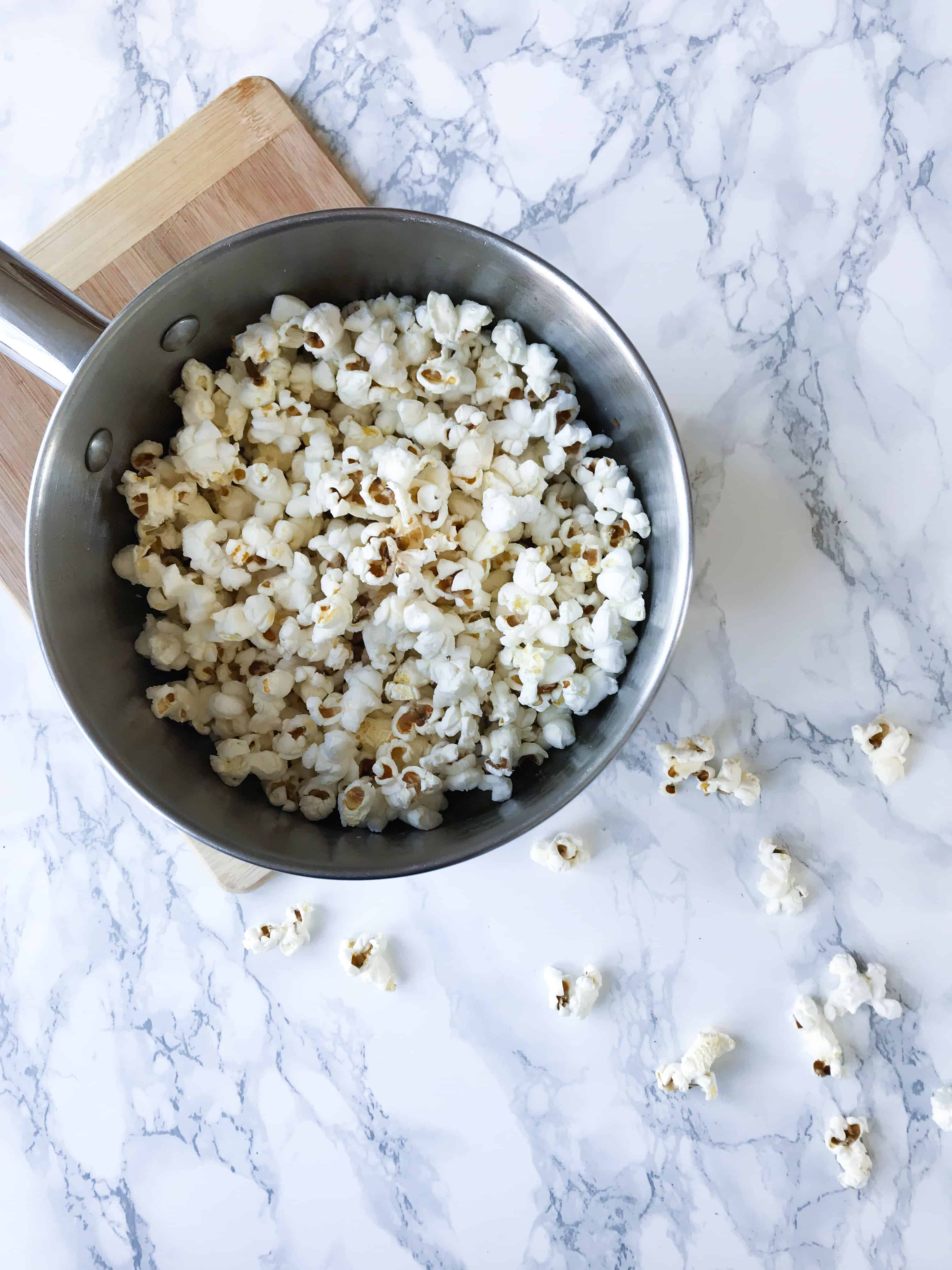 I had lots of fun watching the popcorn 'pop' whilst developing this recipe; if you have never made your own before I would highly recommend it. Surprisingly exciting. You may be tempted to use pre-popped popcorn in this – but please don't! From personal experience it is extremely hard to find plain popcorn that hasn't been covered in oil and or sugar. On that subject, watch out for the puffed rice as well, the big brands like to add sugar to theirs. For this recipe, I suggest Kallo or any other 100% puffed brown rice. If you aren't sure, just remember to always check the label. You never know what weird things may have been added.
Speaking of ingredients labels, I personally think everyone should always read them on any packaged food, unless you are re-purchasing. A few rules I follow are:
Watch out for sugar! So many sweet AND savoury items unnecessarily contain refined sugar for some reason – just stay well clear. If you are after something sweet, look for natural sweeteners such as honey, maple syrup and dates.

If a product contains oil, look for coconut, rapeseed or olive as an alternative to sunflower and vegetable oil.

If you have no idea what one of the ingredients is or why it is in the food, my guess is it is probably a artificial colouring, flavouring or a preservative. As a rule of thumb if you can't pronounce it – don't buy it!
Let me know if you would be interested in seeing a more in depth blog post about this, I would be happy to write it!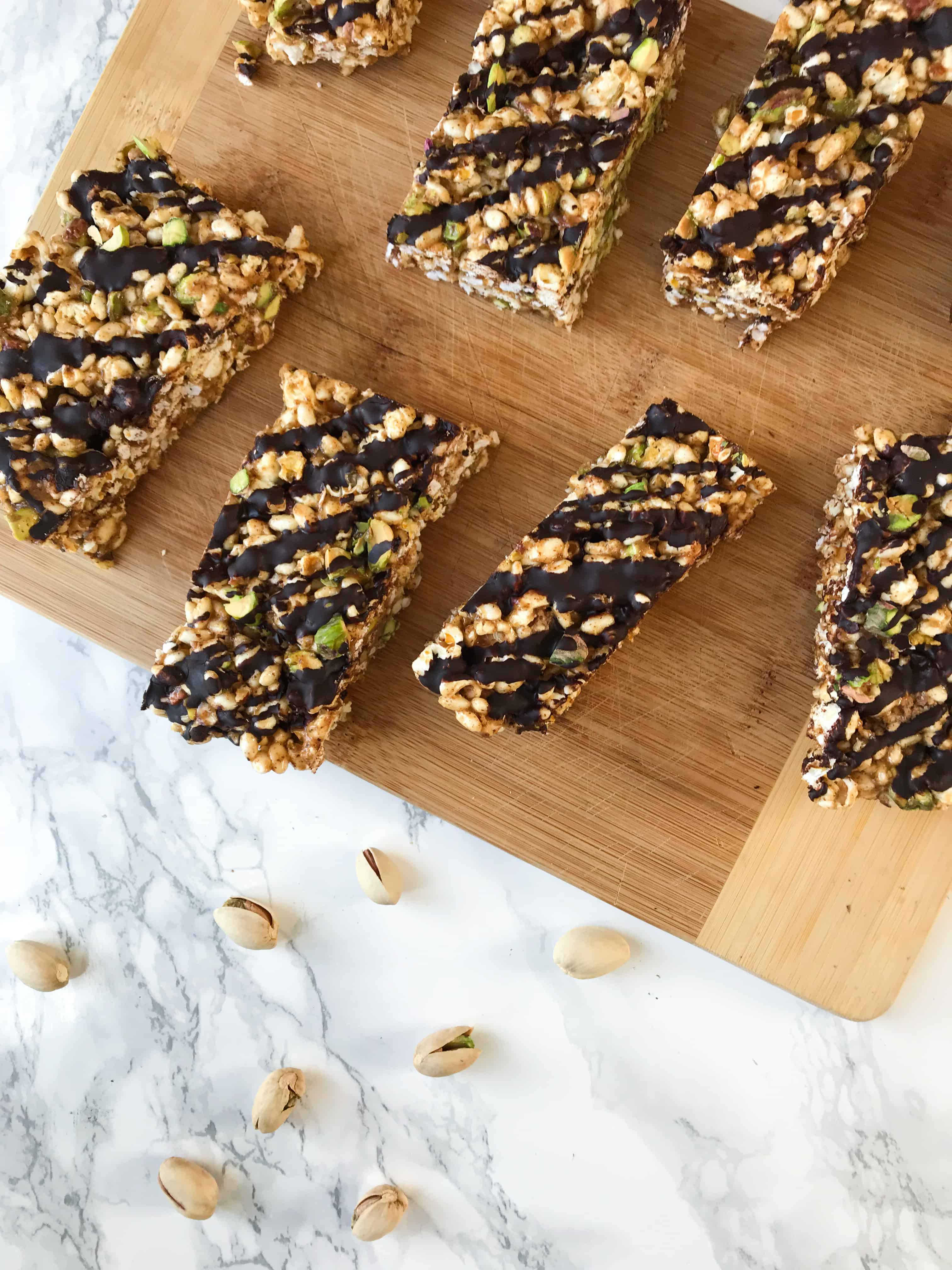 Anyway, I really do love these. A popcorn bar + hot cup of tea = ultimate bliss. The combination of the almond butter and the honey creates this chewy caramel like coating and UGH it is just to die for. I will have to hide these in my house the next time I make them though, as they seemed to disappear far too quickly for my liking.
Please try these for me! I want everyone to experience the joy of a popcorn bar… Leave me a comment and let me know how you got on. Now for the recipe:
G x
CHEWY DARK CHOCOLATE AND PISTACHIO POPCORN BARS
These healthy popcorn bars are so utterly delicious, nutritious, guilt free and a reminder of childhood snacks.
Ingredients
1

heaped tsp

coconut oil

4

tbsp

popcorn kernels

25

g (1 cup)

plain puffed rice

40

g (1/3 cup)

deshelled roasted pistachios

roughly chopped

125

g (1/2 cup)

almond butter

smooth or crunchy

160

g (1/2 cup)

raw honey

30

g (a few squares)

dark chocolate

90%
Instructions
In a medium sized saucepan with a lid heat the coconut oil over a medium heat until melted. Add the popcorn kernels and shake the pan gently to coat the kernels with the oil before covering with the lid.

Continue to shake the pan every so often as the kernels begin to pop. Once the popping sound has stopped (approximately 4-5 minutes) remove from heat and keep covered for 30 seconds before transferring the popcorn into a large bowl watching out for any un-popped kernels.

Add the puffed rice and pistachios into the bowl with the popcorn and mix with a wooden spoon until evenly combined.

In a saucepan over a low heat, melt the almond butter and raw honey together until just combined but not bubbling (about 4 minutes). Pour the liquid over the popcorn mixture and mix thoroughly until everything is evenly coated.

Tip the mixture into a lined 9x9 baking dish and flatten with the back of the spoon before transferring to the fridge for 30 minutes.

Once the popcorn bars have set, remove from the fridge. Using the baking parchment to help, remove the large square of popcorn bar from the dish and transfer to a chopping board. (If you are having trouble removing the popcorn bars in one piece return to the fridge for another 15-20 minutes, before trying again.)

Melt the dark chocolate slowly over a bain-marie before generously drizzling over the popcorn bar and allow to set.

Once set, cut the bar into 9 individual portions and serve.
Recipe Notes
These popcorn bars are best served at room temperature.
Can keep for up-to 5 days (if they last that long!) in an airtight container.