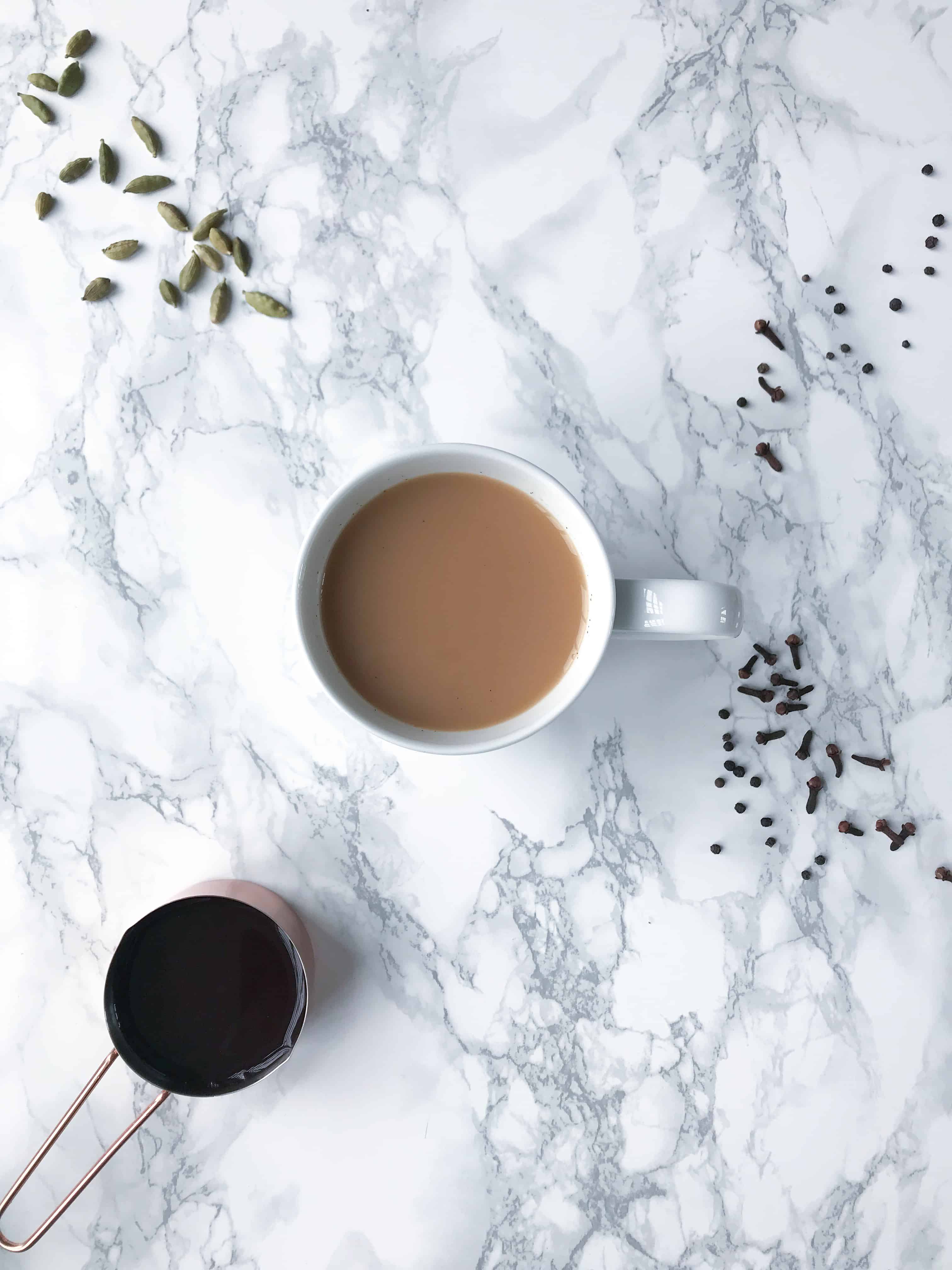 A few years ago the chai latte was my ultimate drink of choice. Most days when walking home from my secondary school I would past a Costa and too often seemed to find myself spending the majority of my lunch money on one over priced hot cup of sugar. Luckily those days are over and I have since started to eat clean and healthily, but whilst sitting in a coffee shop with a friend the other day, I found myself relishing in the sweet festive scent that makes the chai latte so unique and at that moment realised how much I have missed them.
So what to do but develop a recipe right?!
Obviously this is A LOT healthier than the ones you will get in any coffee shop, and I have chosen not to sweeten this too much as personally I don't think it needs it. But feel free to add more honey / maple syrup to taste if you have a slightly sweeter tooth.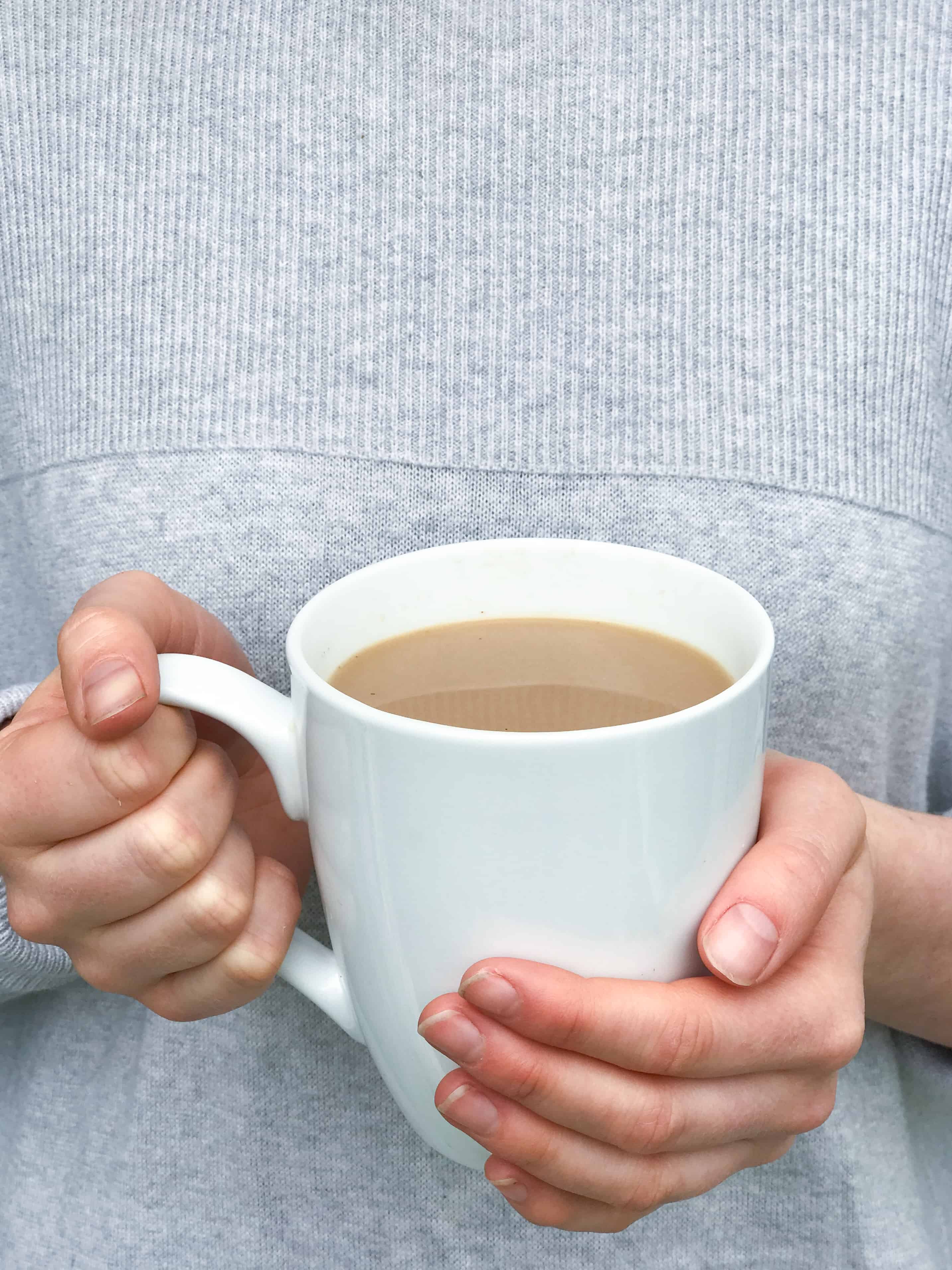 For recipe this I have used coconut milk. My go to is the Rude Health one as the ingredient list is super simple with no preservatives and I find it to be thicker and a more realistic milk-like consistency than others I have tried due to it also being made with rice. I think the spices and coconut flavour go hand in hand, but if you aren't such a fan of coconut you could also try almond or oat milk.
I remember my father giving me a daily allowance of a few pounds whilst I was in high school to buy my lunch in the school canteen. The little entrepreneur in me worked out that I could actually make a profit from this if I only brought a 50p biscuit or two each day and then secretly raided the fridge once I got home. This went on for years with me making enough money sufficiently fund my chai latte addiction. Looking back on it now, I now understand why I struggled with such bad skin…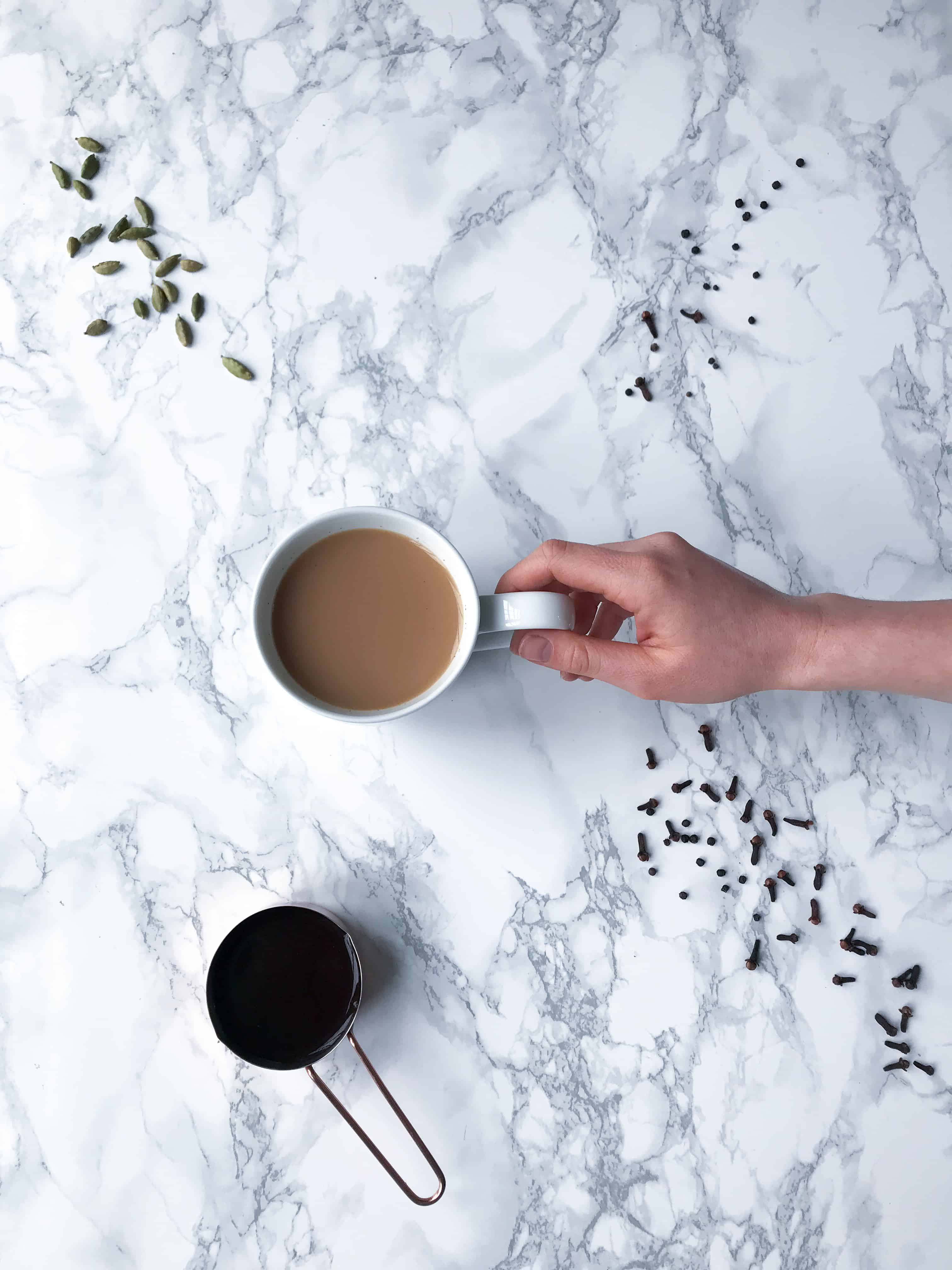 Currently the UK has just suffered (yes, suffered) with another drop of snow which unfortunately stopped me working out this morning. Best to say the snow and I aren't the best of friends at the moment. Anyway, these warming spices are my absolute favourite and I would put them into every meal if I could. Perfect for when you are snowed in and warming up by the fire with a blanket and a rom-com on the telly. Or actually, maybe you don't need snow to do that – it sounds like my average Sunday!
So if you want a mug of comfort without sacrificing your full daily intake of calories, give this a go.
Have a lovely weekend everybody. Leave me a comment and lets have a chat!
G x
HEALTHY VEGAN COCONUT CHAI LATTE
Feed your chai latte addiction without the calories, refined sugar or guilt!!!
Ingredients
Chai Tea
500

ml (2 cups)

Water

filtered

3

Black Tea Bags

2

whole

Cloves

1

tsp

Ground Cinnamon

1/2

tsp

Ground Ginger

2

Cardamon Pods

bruised

1/2

tsp

Ground Nutmeg

2

cloves

Black Pepper

1/2

tsp

Ground All Spice

1

tsp

Vanilla Extract

2

tsp

Maple Syrup / Honey
Chai Latte
125

ml (1/2 cup)

Chai Tea

175

ml (3/4 cup)

Coconut Milk

Maple Syrup / Honey

to taste
Instructions
In a large saucepan bring the water, cloves, cinnamon, ginger, cardamon, nutmeg, black pepper and all spice to a boil, stirring constantly to dissolve the spices.

Once the mixture has reached a boil, switch off the heat, add the tea bags, vanilla and sweetener and allow to infuse for 15 minutes.

Strain the Chai Tea mixture and transfer into jar to keep in the fridge.

To make the Chai Latte, bring the coconut milk and 1/2 cup of chai tea to the boil whisking to combine the liquids and to create a froth, once piping hot pour into a mug, sprinkle with cinnamon and serve immediately. Sweeten with a little more honey / maple syrup if desired.
Recipe Notes
The Chai Tea liquid can be kept in a glass jar in the fridge for up to 1 week ready for whenever you may fancy a delicious Chai Latte. 
If you are out of one or two of the spices, not to worry! Leave it out and substitute it with a little more of one of the others. The overall taste will be reasonably the same.