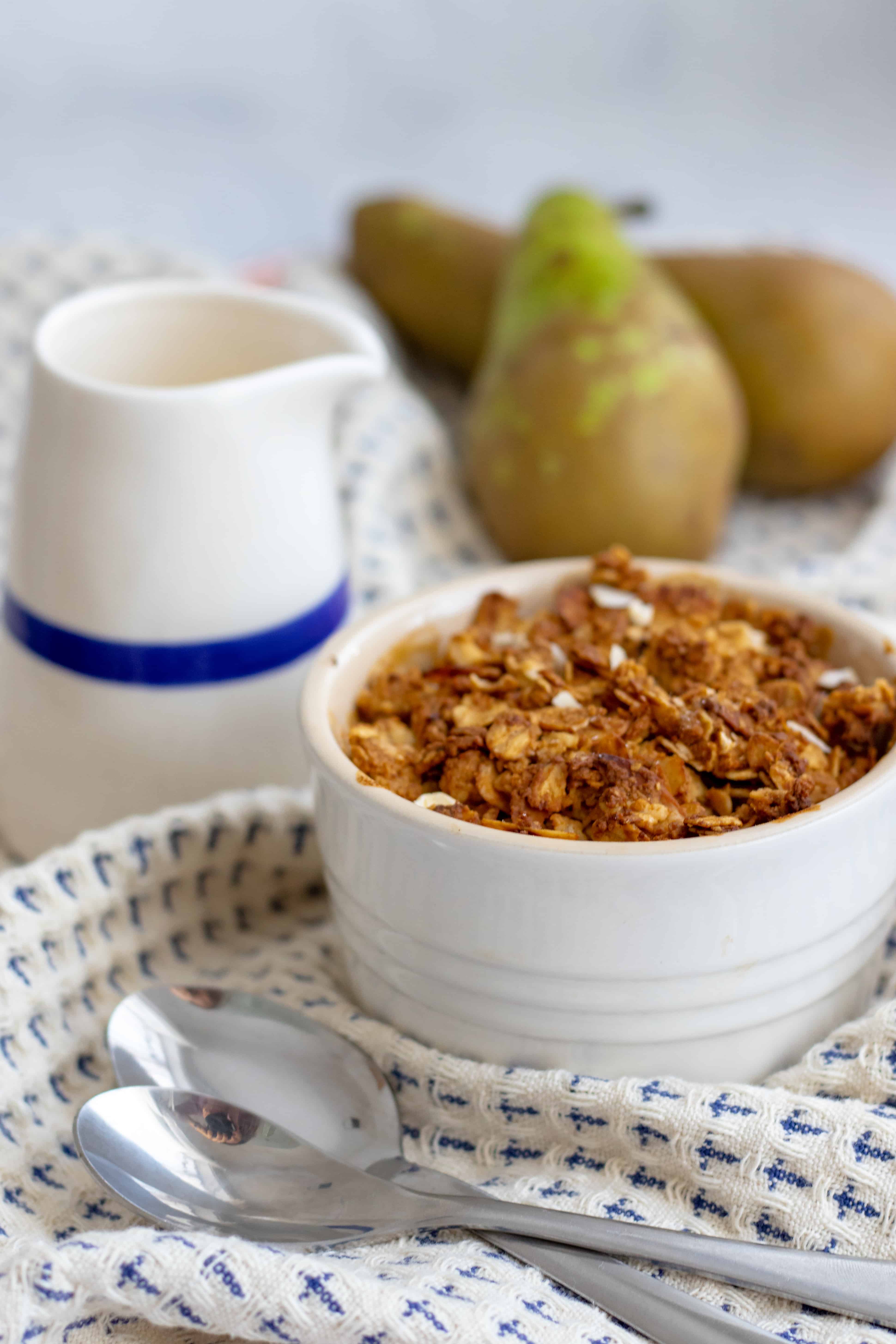 Crumble is the ultimate British comfort classic. I don't know a single person who wouldn't happily demolish a portion or two on a Sunday lunchtime. My pear and ginger crumble is healthy and sexy. Sweet juicy pears infused with fiery ginger and topped with clusters of nutty oaty goodness. Damn GIRL, it's good.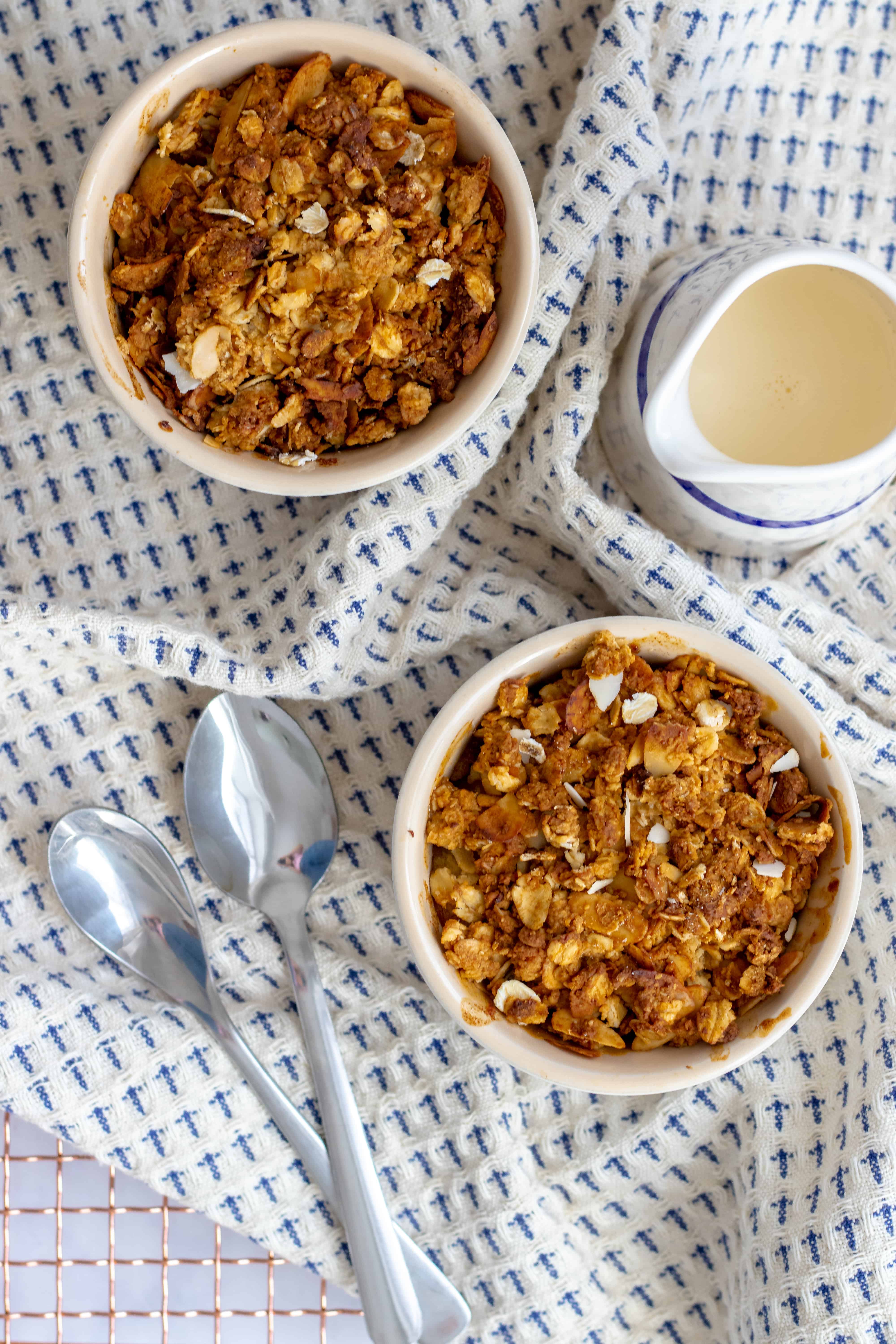 Crumbles were first invented in World War II when rationings were strife. Shortcrust pastry was substituted for a more economical crumble topping in what I would argue as the best swap ever made. I wouldn't call my pear and ginger crumble a ration; but you can certainly swap the pear for whichever fruit needs using up. It's a win win – one delicious pud, plus a reduction of food waste.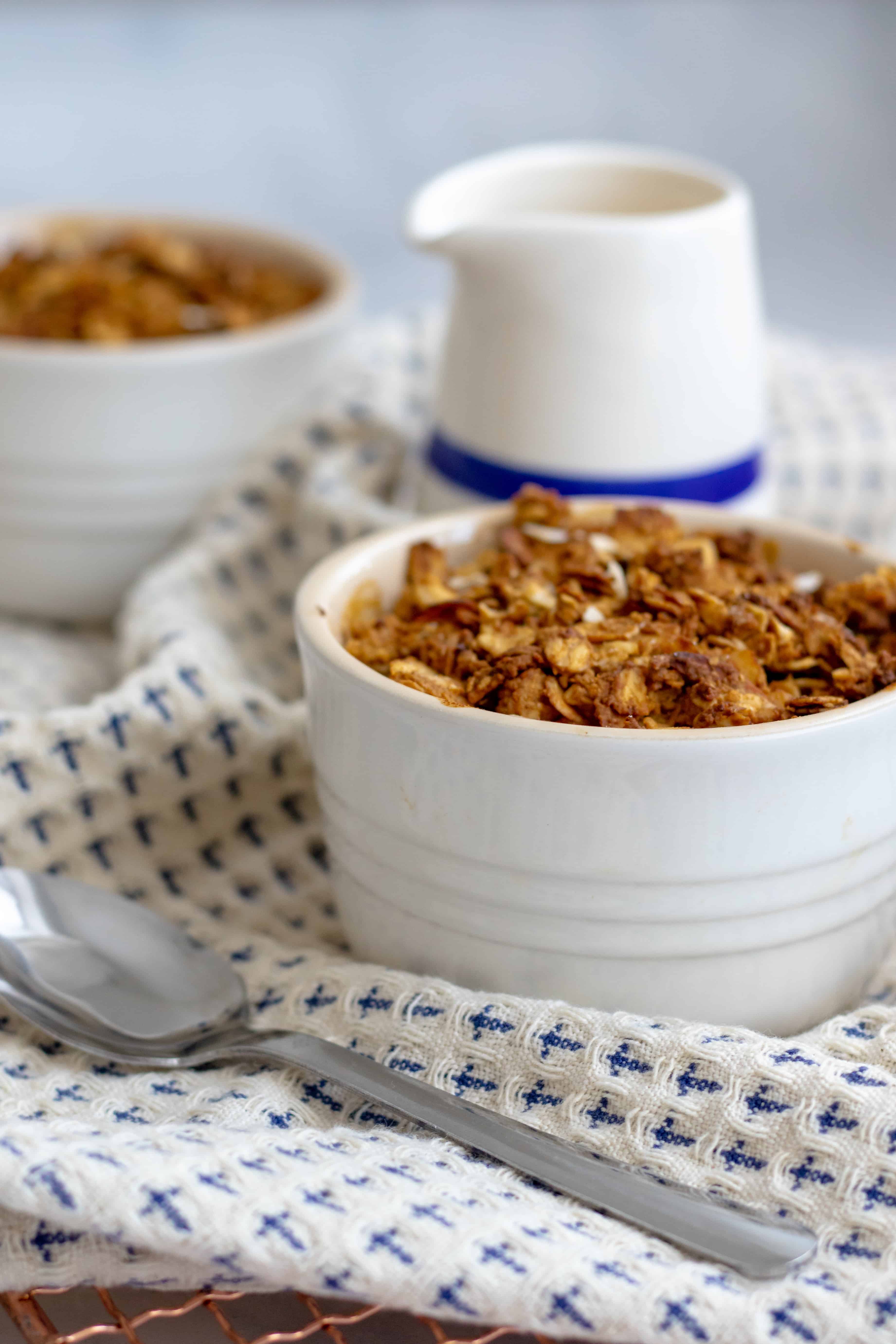 This pear and ginger crumble is jam-packed full of nutrients. Pears are a fantastic source of dietary fibre as well as being rich in vitamin C, vitamin K and copper. Ginger is also pretty amazing and currently centre of lot's of exciting research. It contains a compound called gingerols – a powerful anti-inflammatory substance used to treat illnesses including arthritis and nausea.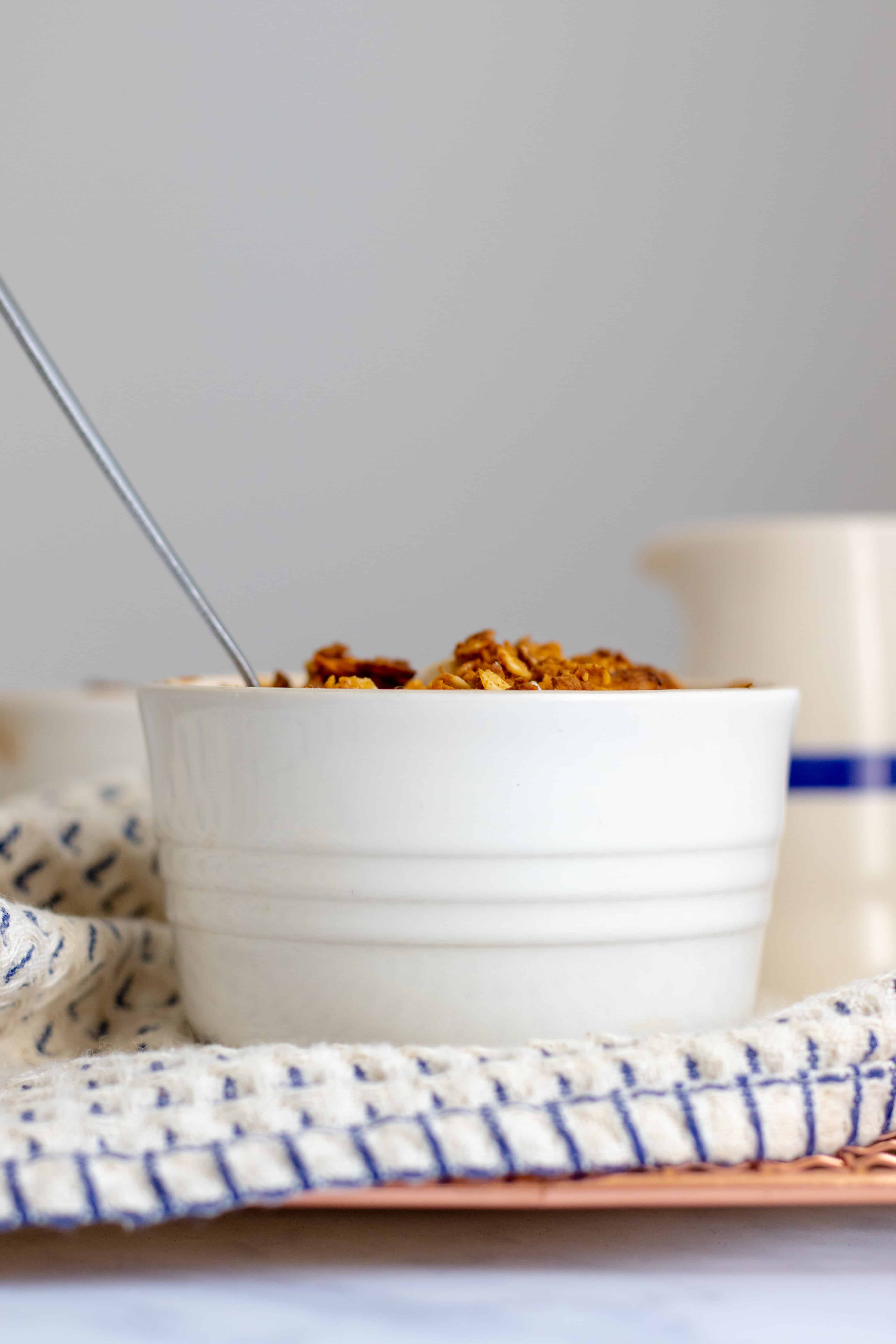 I like these pear and ginger crumbles in little ramekins partly because they look cute, but mostly because they stop me eating the whole thing in one go (who's portion control??). You can of course use a more classic dish, the cooking times remain the same.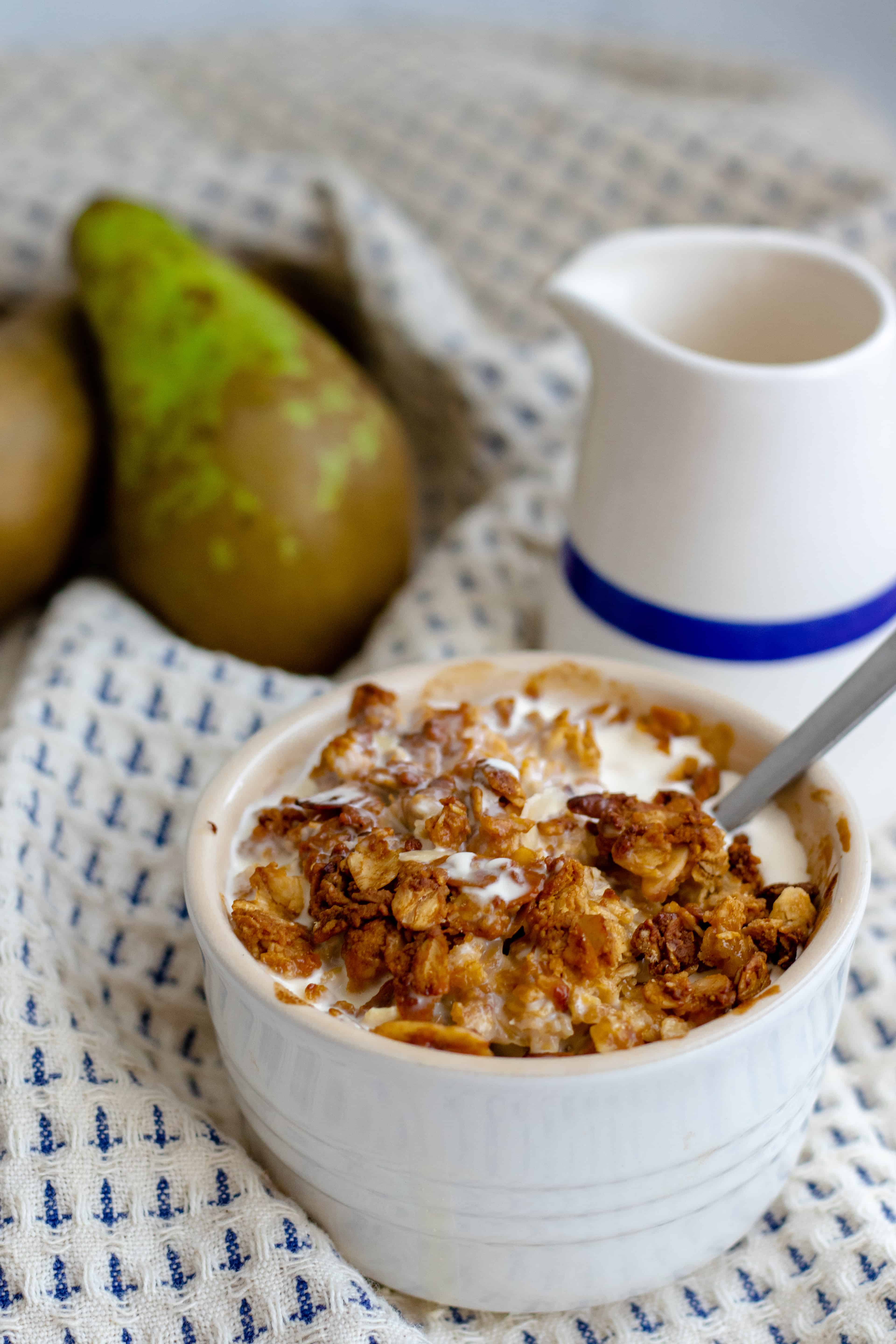 Serve this pear and ginger crumble with a splash of custard or scoop of ice-cream for a crowd-pleasing belly-warming dessert or eat them cold with a dollop of yoghurt for a winning weekend breakfast. Either way you will love it. As per, if you make this, be sure to send a picture to my IG @georgieeatsuk, or leave me a comment down below. Keep smiling!
G x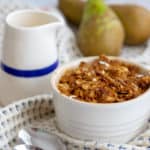 PEAR & GINGER CRUMBLE
The ultimate winter pud! Sweet juicy pears with a kick of gingery heat topped with a nutty oat crumble. Perfect for a dinner party or just a cozy night in. GF, vegan & healthy.
Ingredients
5

large

ripe pears

1

tbsp

lemon juice

1/2

tbsp

freshly grated ginger

1

tsp

ground ginger

1/2

tsp

cinnamon

1

tbsp

honey / maple syrup
For The Crumble Topping
2

tbsp

honey / maple syrup

2

tbsp

coconut oil / butter

50

g

oat flour

50

g

rolled oats

20

g

flaked almonds

1

tsp

ground ginger
Instructions
Preheat the oven to 170ºc fan/190ºc/380ºf.

Peel, core and cube the pears into 3cm chunks then transfer them into a large bowl. Add the lemon juice, grated ginger, ground ginger, cinnamon and honey/maple syrup and give everything a good mix. Divide the pears between four individual ramekins and bake in the oven for 10 minutes.

Meanwhile melt together the honey/maple syrup and coconut oil in a saucepan over a low heat. Once melted add the oat flour, rolled oats, almonds and ginger and mix well until everything is combined and crumbly.

Remove the ramekins from the oven and divide the crumble topping between them. Return the crumble to the oven for another 25-30 minutes until golden brown and crispy.

Serve warm with a dollop of yoghurt, a scoop of ice cream or a splash of custard.
Recipe Notes
This crumble can either made in four individual ramekins as in the recipe, or in one medium oven proof dish. The cooking times remain the same.
If you want to make my pear and ginger crumble in advance follow the recipe up until step 4. Divide your crumble mixture over the fruit then store covered in the fridge for up to 3 days until ready to bake. You can also freeze the crumble at this stage for up to 3 months. Just defrost before following the cooking instructions. 
This crumble topping works perfectly with any fruit. You can substitute the ground ginger with another spice or leave it out all together. A few of my favourite crumble combinations are: Apple, Blackberry & Cinnamon, Rhubarb & Ginger and Plum & Maple. 
Gluten Free: Make sure that your oats are certified gluten free.
Vegan: Use maple syrup rather than honey, and coconut oil rather than butter.
A few ingredient notes: 
I love using fresh and ground ginger in this recipe as they both bring a different depth of flavour. If you would prefer to just use ground ginger, double the amount to 2 tsp in the fruit filling.
If you can find it, try to use raw honey as it is less processed. If using maple syrup make sure it is 100% maple syrup and not maple 'flavoured' syrup. You could also use agave nectar if you prefer.
I make my own oat flour by just blitzing 50g of oats in a high speed food processor but it can also be brought in good supermarkets. If you would prefer if can also be substituted with a regular wheat flour or GF flour blend.
If you loved this recipe, you have GOT to try my rhubarb crumble recipe too!