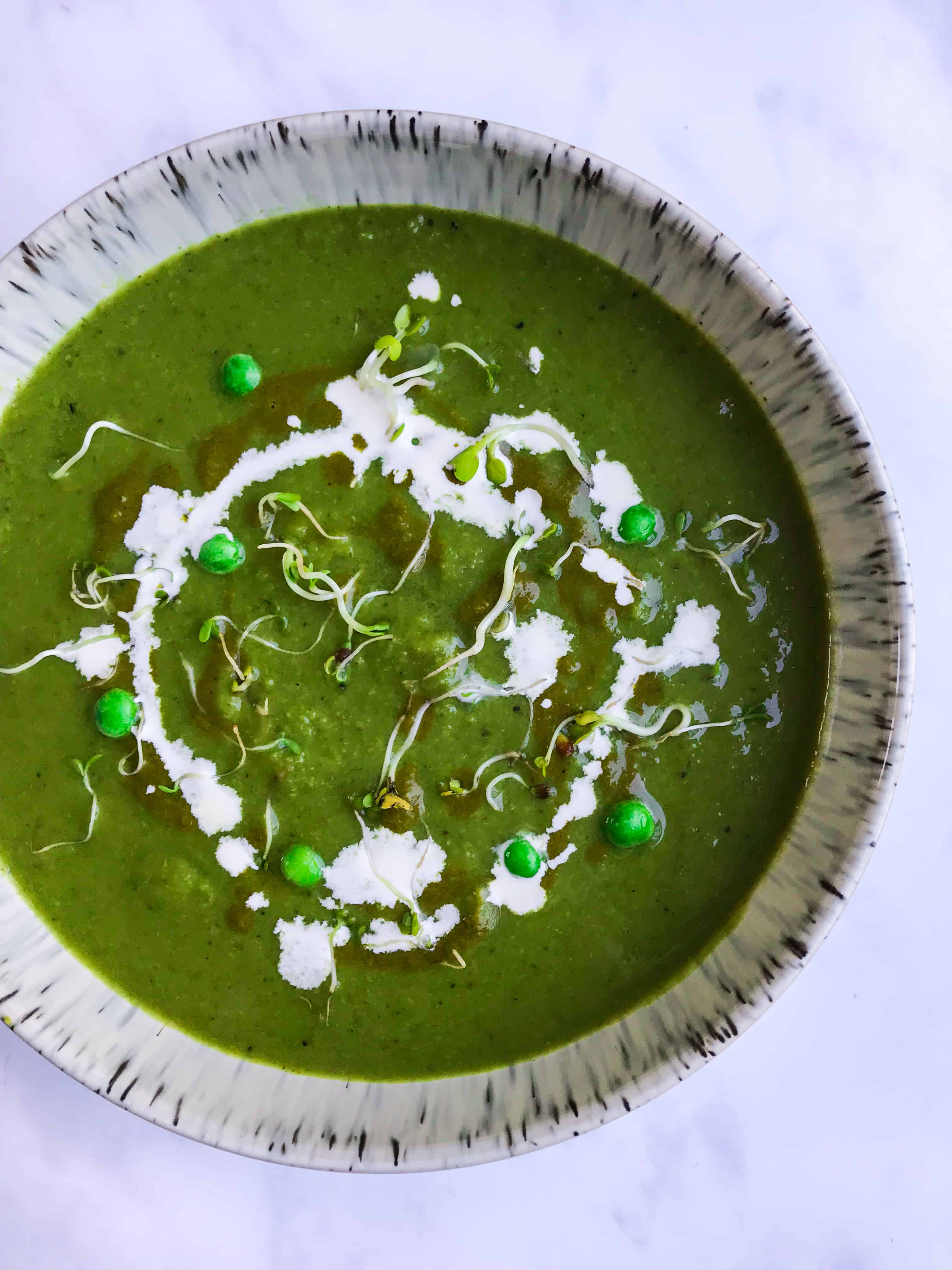 Big scarfs, evenings curled up by the fire and warming hearty food: Autumn has officially arrived. It may only be september but I am already declaring it soup weather and gosh do I have a recipe for you! My pea and watercress soup is an autumnal pleaser that will fill your tummy with the last of the summer veg. It's easy 'pea'-sy, super simple and downright delicious PLUS can be made in only 20 short minutes.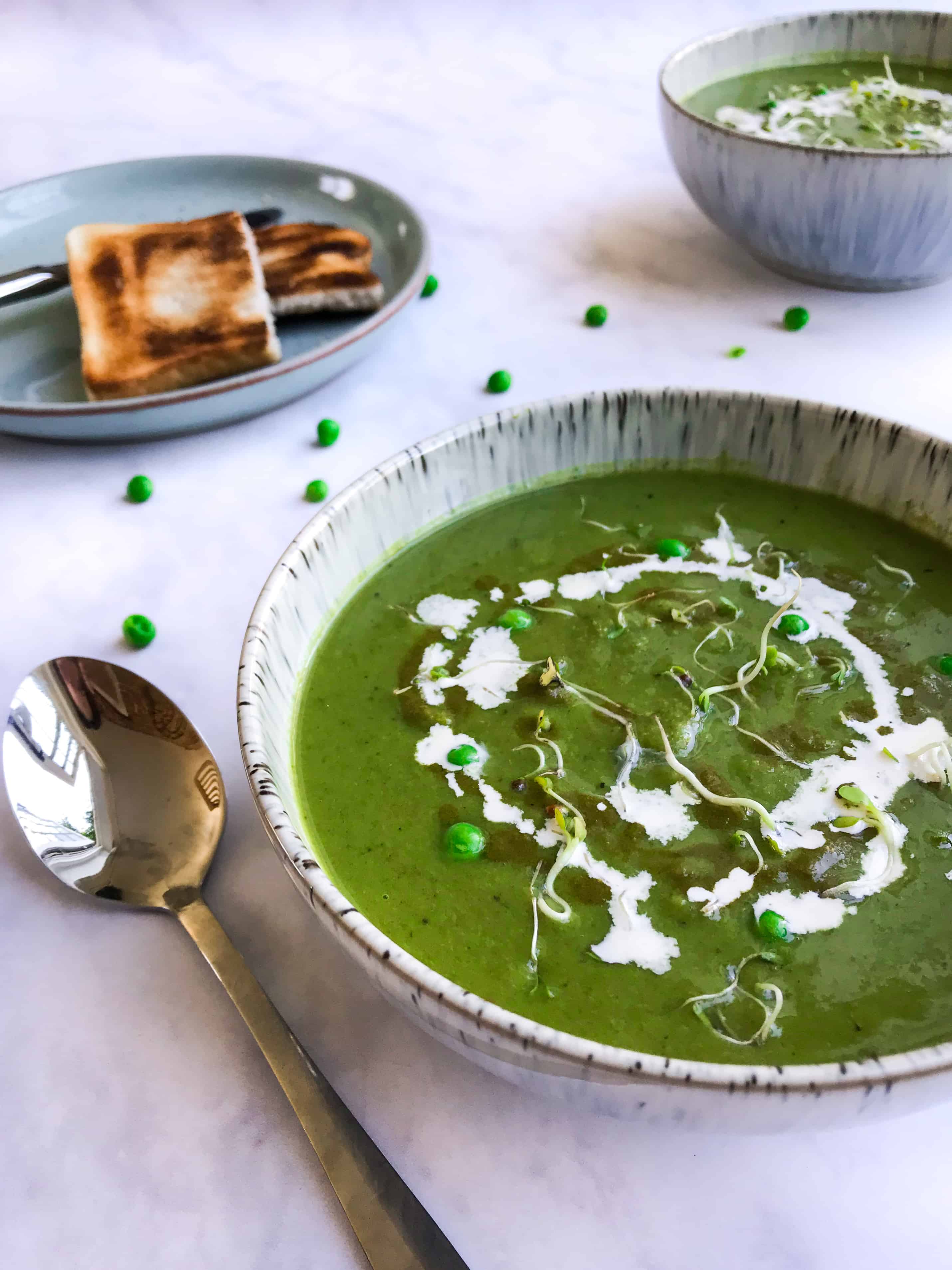 The green pea is a beloved British household classic. However, it is often overlooked when it comes to health. Peas are a fantastic source of plant based protein and fibre. These little bad boys also contain vitamin C, vitamin K, manganese and thiamin. To help retain optimum nutrients I would always recommend buying them frozen. Watercress is one of the most nutrient dense foods on the market. It is outrageously high in dietary nitrate, vitamin A, vitamin K, vitamin C, calcium and potassium. The Romans believed watercress to be food of warriors and as such it was consumed very agreeingly by their soldiers. Lucky them…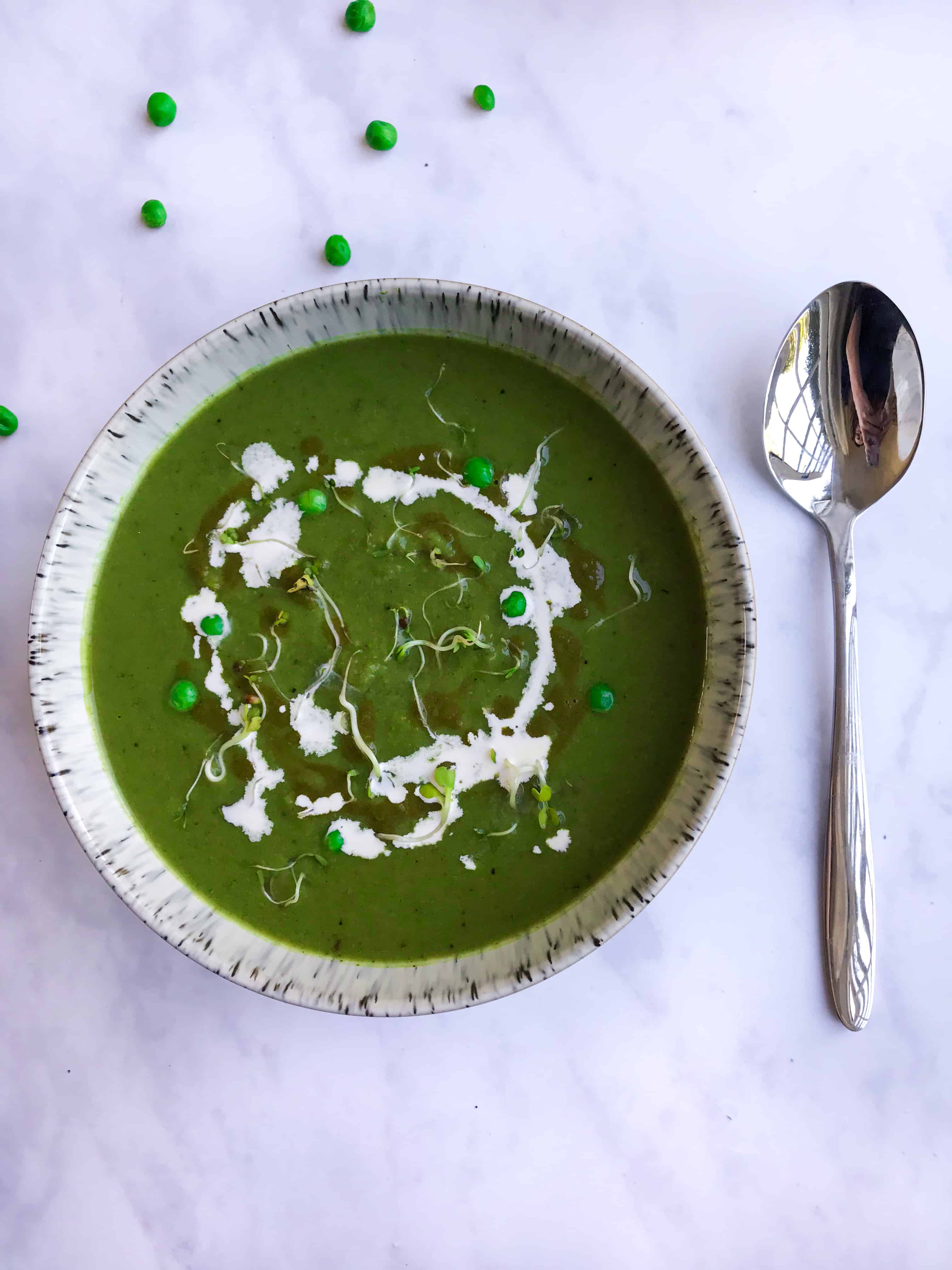 Until recently I have always been under the impression that soup wasn't satisfying. This pea and watercress soup has expanded my mind into the wonders and depths of soup's true potential – this b*tch doesn't even need bread (insert sassy emoji). It's healthy, quick and more cost efficient than buying pre-made tubs. I love making a double batch of this to keep me going for lunches throughout the week or making it look pretty to serve at a dinner party. It's a winner either way.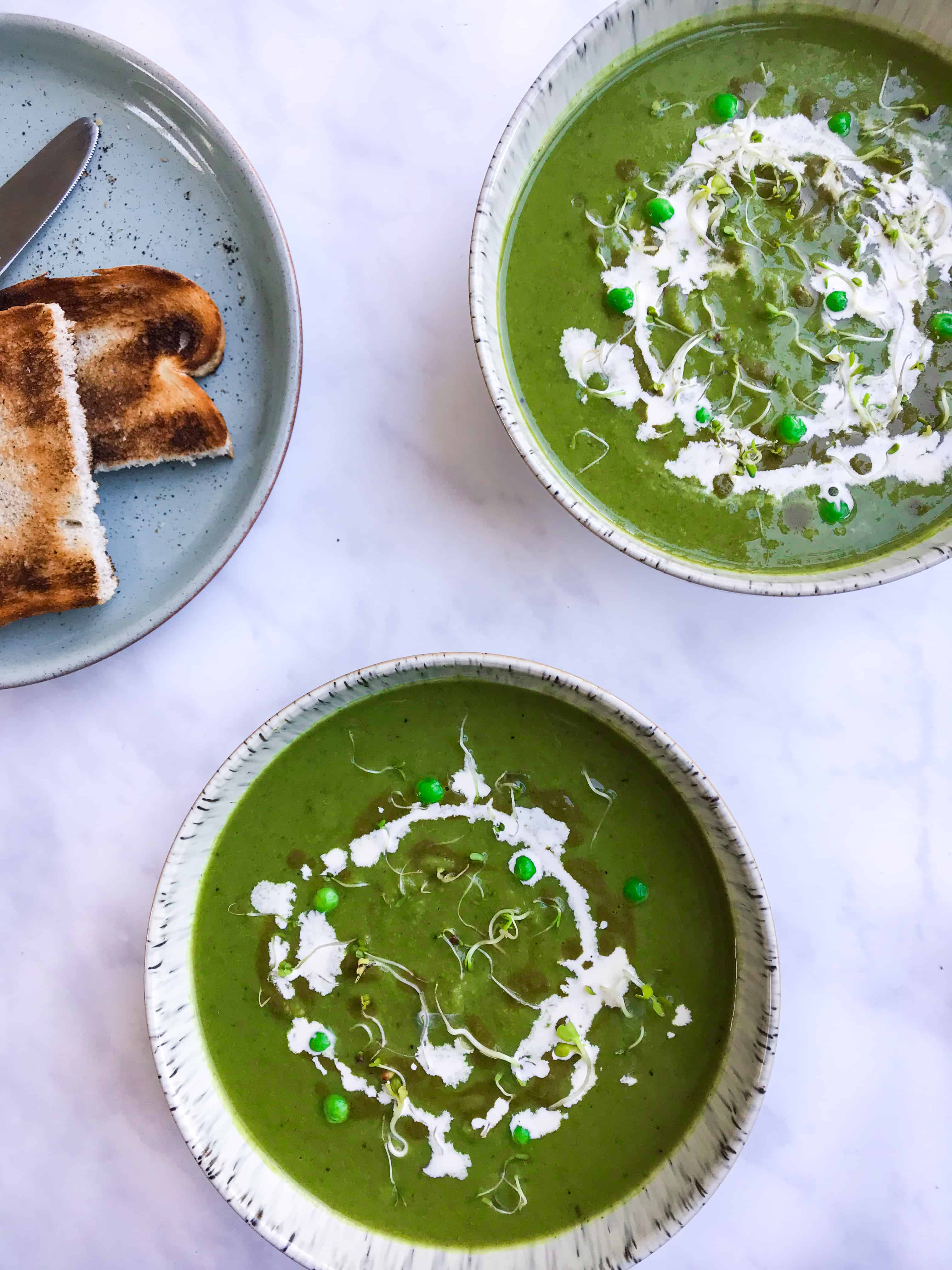 If you are bored of soggy sandwiches then this pea and watercress soup is the answer. You have 0 excuse for a mediocre midday meal, step up your packed lunch game and bring something yummy into your life. The soup is good on its own but I would highly recommend also making the herby drizzle – it elevates the whole bowl into another dimension.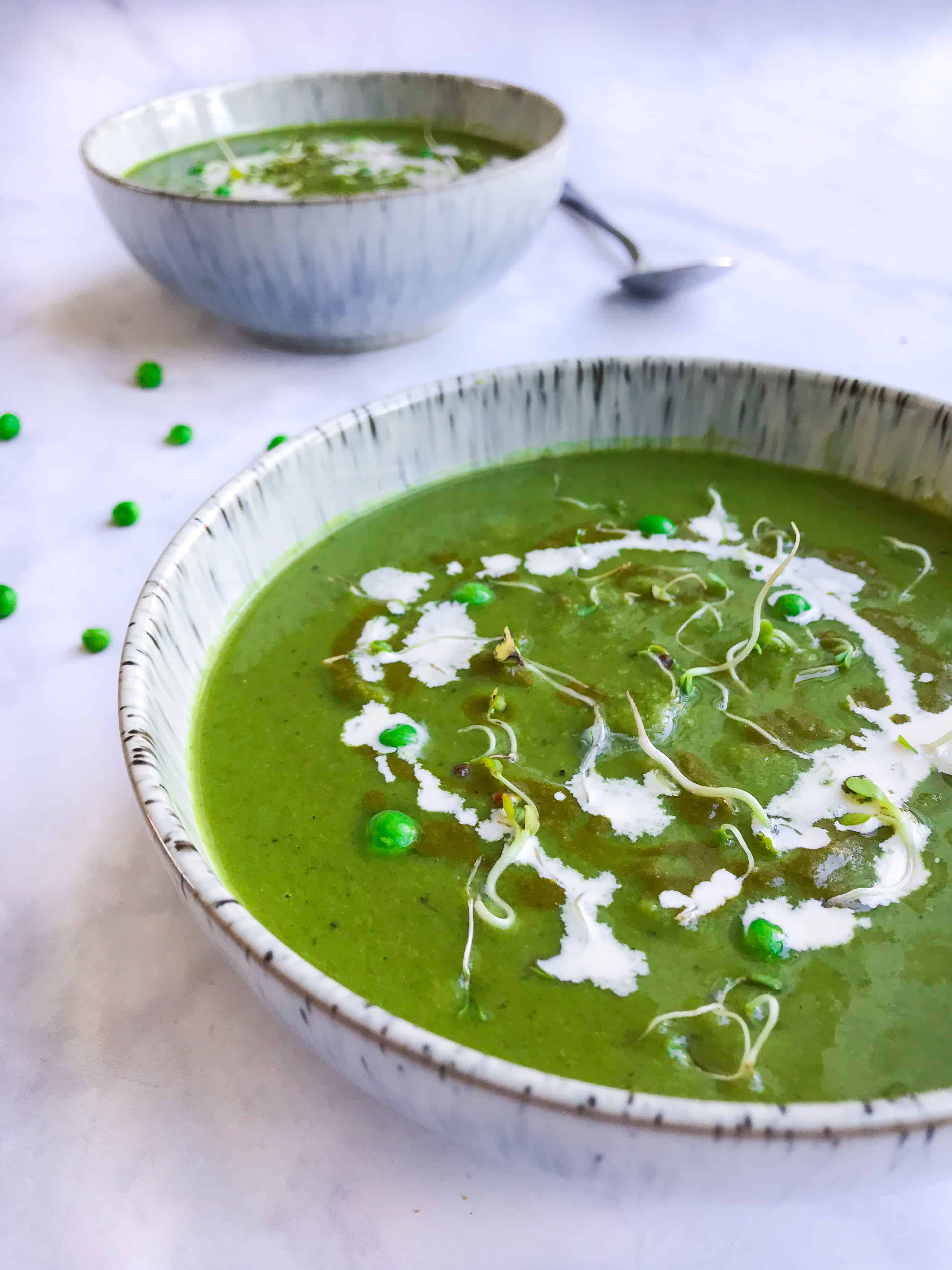 If you make this please let me know! You can leave me a comment down below or tag me in pictures on IG @georgieeatsuk. Keep smiling!
G x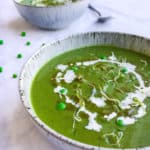 PEA & WATERCRESS SOUP WITH HERBY LEMON DRIZZLE
Perfectly peppery watercress and sweet pea soup with a tangy herby lemon drizzle. Made in under 20 minutes this no fuss minimal prep soup is perfect for lunchboxes or dinner parties alike. Simple but sexy. Vegan, GF & healthy.
Ingredients
1

medium

onion

roughly chopped

2

large cloves

garlic

crushed

800

ml

vegetable stock

500

g (3.5 cups)

frozen peas

80

g (1 bag)

watercress

2-3

tsp

sea salt

1

tsp

coarse ground black pepper
Herb Drizzle
3

tbsp

extra virgin olive oil

2

tbsp

lemon juice

15

g (1/2 bunch)

fresh parsley

stalks and all

15

g (1/2 bunch)

fresh mint

leaves only

Pinch

sea salt & black pepper
Instructions
In a large saucepan with a lid add the onion, garlic and a large dash of water over a medium heat. Cover and allow the veg to soften for 7-10 minutes, stirring occasionally until translucent.

Meanwhile make the herb drizzle. Add all the ingredients into a blender / food processor and whizz until smooth. If your mixture is too thick add a little water and blend again so that it can be easily poured. Transfer into a container and set aside. Give your blender / food processor a quick rinse.

Once the onion and garlic are soft add the vegetable stock and bring to the boil. Add the peas, bring back up to the boil and continue boiling for 2 minutes. Add the watercress, stir and count to 10 before removing the pan from the heat.

Transfer the contents of the pan into the blender / food processor and whizz until very smooth. Season with 2 tsp of sea salt and the black pepper. Blend again and taste. Adjust seasoning accordingly.

To serve, transfer the soup back to the pan and warm through until piping hot. Spoon into bowls before liberally drizzling with the herby oil, a dash of double cream (optional) and more black pepper.
Recipe Notes
Will serve 2-3 as lunch or 4 as a starter. 
To make ahead allow the finished soup to cool completely before transferring into Tupperware and storing in the fridge separate from the herb drizzle. Reheat the soup over the stove or in the microwave until piping hot before drizzling with the herb mixture and serving.
Any leftovers will keep happily in the fridge for up to 5 days or in the freezer for up to 3 months. 
I love my soup really thick but if you prefer your soup a little thinner just add 100-200ml more water / stock into the blender in step 4 and blend again.
A few ingredient notes: 
To make my vegetable stock I use 2 stock cubes. Personally I like the Kallo Very Low Salt Stock Cubes as they do not contain any added flavourings or preservatives. 
Try to use sea salt instead of table salt if you have it as it is less processed. If using table salt, start by only adding 1 tsp before tasting and adjusting seasoning.
If you love this recipe, why not try my Roasted Red Pepper & Sweet Potato Soup too!!